10 Best Dryers in Singapore [2021]
Gee, 3 years ago
7 min

read
15103
Over time, dryers have become one of the essential home appliances, primarily due to the ever-changing Singapore weather patterns. Dryers not only aid in drying your clothes, but they also come out wrinkle-free, meaning you will only require minimal pressing or none at all.
There are a wide range of variety of dryers in the market – 2-in-1 washer dryers, condenser dryers, heat pump dryers, and even vented dryers. They also come in different shapes, sizes, and prices. To make the task of finding the appropriate dryer in Singapore less daunting, we have compiled a guide of the ten best dryers in Singapore.
It's not a significant coincidence that LG has this type of product in the market, they are much known for producing sophisticated but quality home appliances over the years. Just as the name suggests, the LG TWC1408H3E Washer and Dryer acts as a dryer and washing machine at the same time.
This means while you'd have forked out money to get two devices, you'll go slightly overboard to get a tool that serves you on two occasions. The dryer works well if you're dealing with a small space at home.
Apart from just washing and drying, the washing machine cum dryer can get rid of 99% of allergens courtesy of Trusteam. True to LG's standard, the machine is eco-friendly in that it can save up to 5000 liters of water and 22,000 operating minutes per year! This is truly one of the best dryers in Singapore.
It's next to an impossibility to talk about dryers and fail to mention the name Samsung. When looking for a dryer, Samsung DV90N8289AW/SP Heat pump the ultimate must-have dryer. It's fast, smart, reliable, and to top it all, energy-efficient. With most dryers using electricity to heat the air resulting in drying, this Samsung dryer employs the use of a unique 'refrigerant' feature that makes it get the five tick energy efficiency tag.
It has a 9Kg capacity drum, which enables it to carry a massive load of clothes at one go. The one-of-a-kind 'superspeed' mode makes it possible for the dryer to dry your clothes at a record speed of 81 minutes. Considering its abilities, this dryer is definitely worth it.
Whirlpool HSCX90424 9Kg Heat-Pump Dryer is another extremely energy efficient and top of the art dryer that is often overlooked. Courtesy of the supreme heat pump function, this dryer can condense the moisture out of the air before reheating and resupplying it back into the dryer. Hence, it massively saves energy and has received the the five tick energy-saving certificates.
The dryer's tool excellence and steam care features enable it to take good care of wool garments and revive cloth textures. These are just some of the features that make Whirlpool HSCX90424 9Kg Heat-Pump Dryer stand out amongst the competition.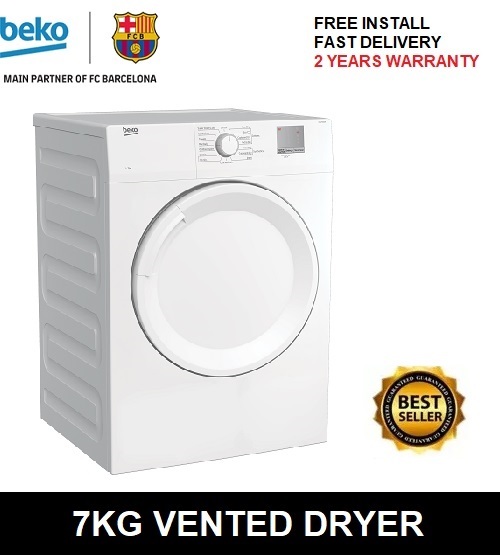 Are you in the market for an affordable, quality, yet energy-efficient dryer? Then Beko DTGV7001W 7kg Vented Tumble Dryer is what you need! Courtesy of its sensors that regularly check the moisture level in the drum, this dryer is able to automatically turn off by itself. By preventing over-drying, it helps to save lots of energy.
The Beko DTGV7001W 7Kg Vented Tumble Dryer also has cutting-edge technology. For instance, it has LED light indicators that enable users to monitor the drying process. In addition, inbuilt timed programs enable users to have complete control over the dryer and its functionalities. This is truly one of the best for value dryers in Singapore.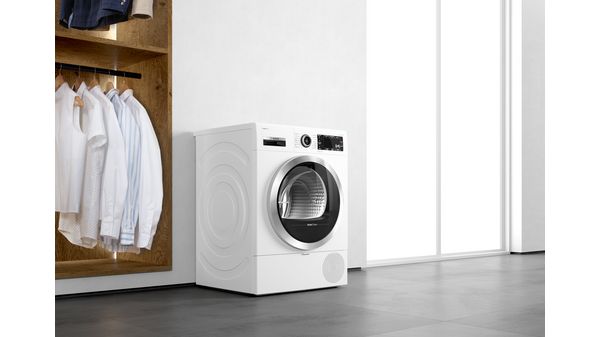 Space can be a determining factor when deciding on the type of dryer you want to purchase. Since dryers use a tremendous amount of electricity compared to other home appliances, you might want one that can dry a massive load of clothes at one go. That's where the Bosch condenser dryer comes in handy. This dryer comes in two capacities – 7Kg and 8Kg.
This dryer has a stainless steel drum that takes complete care of your clothes. Additionally, it has a soft textile care structure which dries your clothes gently. Above all, one of its significant advantages is its Duo Tronic sensors which helps to control time drying programs and monitor temperature so as to prevent overheating.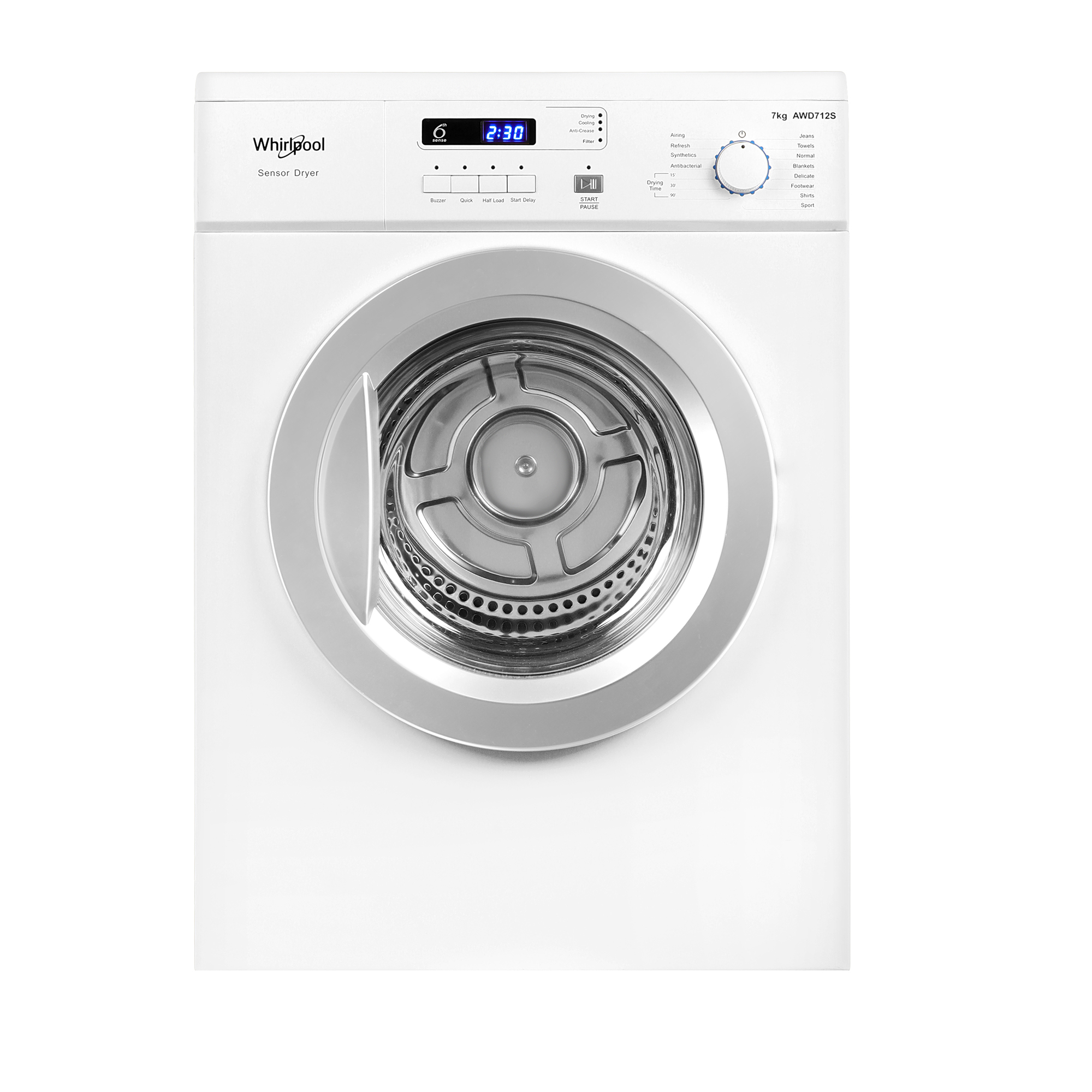 Not many dryers can take on such a broad range of fabrics like the Whirlpool Air-Vented Dryer AWD712s. Not only can you use it to dry a variety of your clothes, but it can also be used to dry shoes! All you need to do is just install the shoe rack that comes with, and you're good to go. It will dry your boots entirely with zero tumbling as the rack ensures that your shoes will remain in place.
It has an extra-large drum door for easy entry and retrieval of clothes. Moreover, it can open at an angle of 180 degrees! The periodic rotation when drying also ensures that your laundry is wrinkle-free and even bacteria-free courtesy of the anti-bacteria cycle. This is one of the best dryers you can find in Singapore today.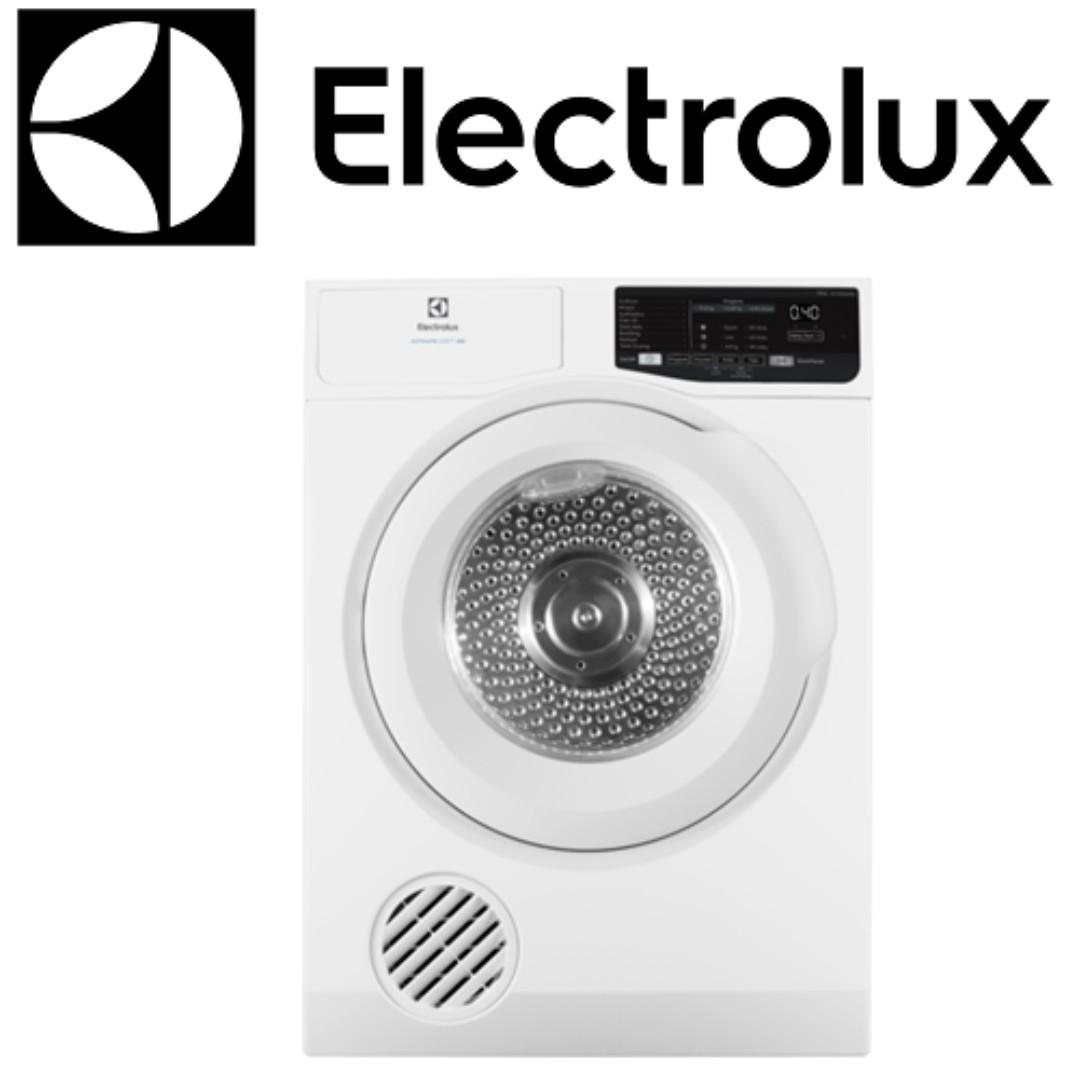 The Electrolux EDV705HQWA Vented Dryer is better than its predecessor on many fronts. They have just not made it more energy efficient. Still, they have also introduced new technology like the color care whose sole purpose is ensuring your clothes retain its vibrancy even after regular drying. It also prevents wrinkling courtesy of the unique alternating rotating cycles in the drying drum.
The customizable drying sensor timers also ensures that the quality of the fabric does not tamper during drying. The material will always receive the utmost care. It also has a stacking fit that you can use to stack on top of another device like a dishwasher if it can do so.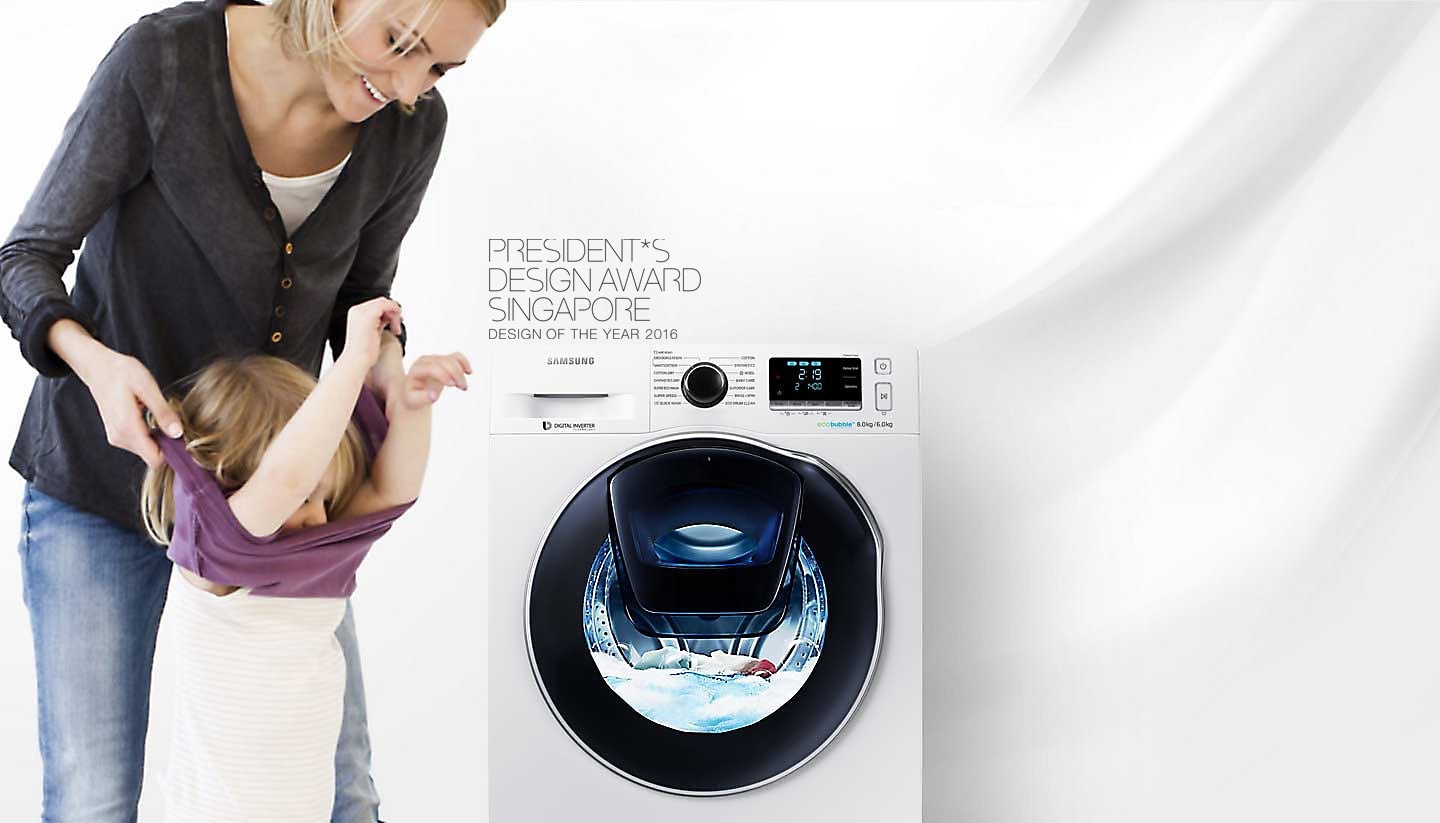 This is another washing machine cum dryer that makes our list. It's Eco bubble technology enhances the strength of the detergent, meaning that you'll probably get the same results when using cold water as using warm water. You can save a lot on operation costs that would be used on energy. Another piece of innovation is the air wash technology that enables you to sanitize your clothes with heated air to have not only super clean clothes.
Samsung Washer cum Dryer WD80K6410OW comes in two models based on load capacity. You can either chose to have the 10/7 Kg dryer or the 9/6 Kg one. The digital inverter motor system periodically reduces friction on the drum hence increasing the lifespan of the machine.
Fisher and Paykel DE7060M1 7Kg Vented Dryer will always win the battle of time when talking about the dryer's longevity. They use quality materials to give you the maximum amount of service from the dryer; this can easily be portrayed by the robust doors and hinges. Essentially, they are strong enough to withstand the test of time.
Just like many other dryers in the market, it also has auto-sensing capabilities to give the clothes only the required time to dry, which prevents over-drying or under drying. This feature also allows the dryer to be energy efficient. This is one of the best quality dryers in Singapore.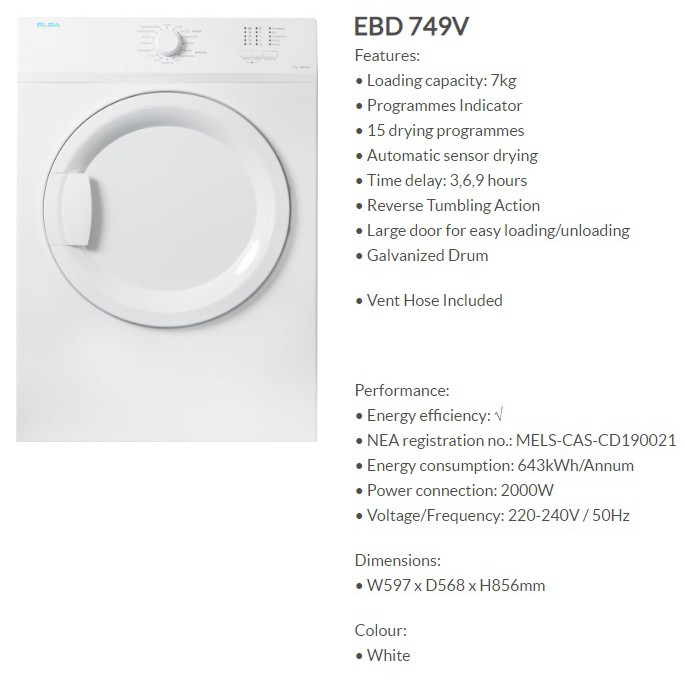 The Elba 7 Kg Front Load Vented Dryer is another budget dryer that is pure quality and pocket0friendly at the same time. It has 15 drying programs as well as a program indicator to ensure accurate monitoring when drying. Wrinkles are also not in this dryer's vocabulary primarily because it employs the reverse tumbling action that makes sure your clothes will be wrinkle-free.
Having a 7 Kg capacity, this dryer is excellent value for money. Additionally, it has large doors for easy loading and unloading and comes with a two-year warranty from the manufacturer.
Long gone are the times where doing laundry is a day-long affair. Dryers reduce the time spent waiting for clothes to dry by a third. After purchasing your dream dryer, you will no longer have to worry about the unpredictable weather conditions in Singapore.
Getting a dryer in Singapore has undoubtedly been made easy for you. Base your final judgment on either price, size, or type, and quickly add one to your shopping list today!
Related posts:
Related posts
Subscribe for newsletter
* You will receive the latest news and updates on Singapore's best trends!