11 Best Dog Bakeries in Singapore You Should Check Out [2022]
Rhyza D., 3 years ago
10 min

read
13417
Is your dog's barkday upcoming? Why not celebrate it in style? You may surprise him with the best birthday bash ever! You can set up balloons, party decors, party hats, and of course, the celebration wouldn't be complete without a cake. While dogs can not eat the regular cakes we indulge, they can enjoy custom cakes from a trusted dog bakery in Singapore. There are a number of dog bakeries around the island that your dog will surely love. And, because today is your lucky day, we have listed the best dog bakeries in Singapore right on this page!
Choose from an array of dog treats – cakes, dog treats, cupcakes, gourmets, and more on the best dog bakeries in Singapore.
1. Bossipaws
Want extra cute cakes for your dog's barkday? Then you should watch out for our first pick of the best dog bakery in Singapore! Our first placer is BossiPaws, a dog cake shop under Ah B Cafe. Whether you're looking for cakes or frozen foods for your dogs, BossiPaws will be very happy to prepare your dog's munchies.
They have three cakes that your dog will definitely be surprised by once they're greeted by these goodies! First is their fruit cake, which you and your pooch may both enjoy. They also have standard meat cakes if you want a more minimalist and simple design of your dog's paws.
And, of course, if you're eyeing dog-friendly cakes that are extra special, their 3D meat cakes are the best. These cakes can be customised according to your special requests – these including your dog's face!
Make your furkids happy with BossiPaws' dog-friendly treats. What we love best is you can get free items whenever you order. And by the way, if you want to take your dogs for a swim, Sunny Heights dog pool is nearby.
Tip: Order a week before your desired delivery!
| | |
| --- | --- |
| Contact Details | ahbcafe@outlook.com | 8858 6661 |
| Address | 81, Tagore Lane, Tag A, #01-02, Singapore 787502 |
| Opening Hours | Tue to Fri (11 am to 6 pm) Appointment is required. No walk-in. |
| Social Pages | Instagram | Facebook |
2. The Barkery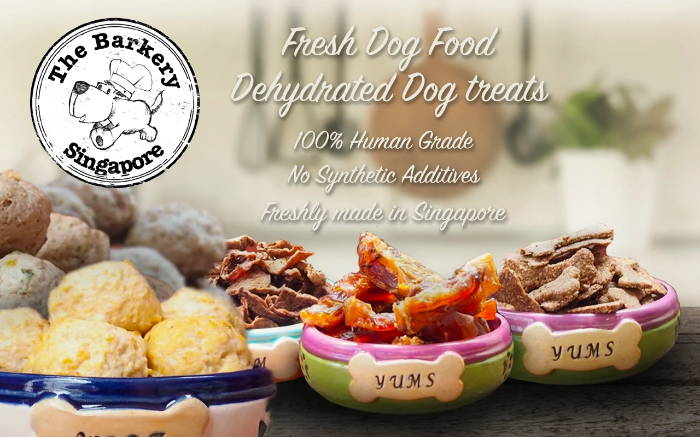 There's nothing more fulfilling than seeing your dog happy. If you want to see your dog's tail wagging out of joy, then you should take a look at The Barkery's all-natural cakes!
Being one of the best dog bakeries in Singapore, The Barkery offers an array of cakes, snacks, probiotics, raw food, and more. They have almost every cake type you're looking for. From doughnut cakes, dog face cupcakes, number cakes, big bones – name it! The Barkery can prepare your orders. Make sure to book days ahead!
| | |
| --- | --- |
| Contact Details | sales@sgbarkery.com 9155 6290 (Text) | 6247 7321 (Call) |
| Address | 326 Joo Chiat Road Singapore 427583 |
| Social Pages | Facebook | Instagram |
3. Knibbles
(Image Source: Facebook | Knibbles)
Let your dog enjoy treats and cakes made with dedication. At Knibbles, every goodie is handmade utilising fresh ingredients in town. All these nibbles are canine nutrition certified, so you're sure your furry buddy gets the best ingredients.
At Knibbles, you may order mini cakes, basic cakes, meatloaves, and pupcakes. Want your dog's face on top of his cake? Knibbles offers customised cakes, too! Make your pup's cakes extra special through an added personal touch. Check out their treats, toys, cakes, and more on this link!
4. Barkin Good
(Image Source: Instagram | Barkin Good)
Some of you have probably tried making your dog's goodies at home. That was the kickstart of the founder of Barkin Good, who preferred to prepare her dog's food than rummaging through stores of pre-made dog goodies. Because she refused to feed her dog with off-the-shelf treats, the birth of Barkin Good happened.
All treats in this Animal and Veterinary Service Licensed studio are made with human-grade ingredients. These goodies range from personal cakes, custom cakes, bento cakes, and more! Trust me, they have a lot of cakes to offer that will surely bring joy to your dog. Curious? Check their websites on this link. They have discounted dog accessories, too!
| | |
| --- | --- |
| Contact Details | woof@barkinggood.sg | 8129 3550 |
| Address | 114 Lavender St CT Hub 2 #10-72 Singapore 338729 |
| Opening Hours | 12.00 PM to 6.00 PM (Tuesday to Sunday) |
| Social Pages | Facebook | Instagram |
5. CoBam Cakes
(Image Source: Instagram | CoBam Cakes)
Every pet owner wants to celebrate his or her pup's day in the most special way. Through CoBam, you and your pup will enjoy designer cakes that look visually pleasing and satisfying. Not only that but these munchies are made with the best 100% natural ingredients!
They have two ingredient options for selection: CoBam's signature organic sponge cake or their grain-free meatloaf cake. For bundles, you may choose from Joyeux, Bloomsbury, and their signature designer cakes. To learn more about their cake collections, don't hesitate to send them your enquiries via email, or browse through their Facebook and Instagram pages.
6. US Dog Bakery
(Image Source: Instagram | US Dog Bakery)
For about ten years now, US Dog Bakery has been keeping furry ones happy and healthy. US Dog Bakery is among the best dog bakeries in Singapore, providing health and wellness to our adorable furballs. Loyal clients love their genuine care for their dog's diet, and, of course, their excellent cakes and dog treats.
Only using 100% fresh and human-grade ingredients, US Dog Bakery offers products that have been tested and approved by their board of pet doctors and nutritionists. This dog bakery is continuing its utmost service through the provision of fun dog pastries. These and more for the love and dedication in caring for the man's best friend – our furballs.
Contact Details
usdogbakery@gmail.com | +65 6634 2911 | +65 6904 0390
Address
Nex Mall: Inside Pet Safari,23 Serangoon Central,
#04-03Singapore 556083
VivoCity: Inside Pet Safari,1 HarbourFront Walk,
#03-03Singapore 098585
Opening Hours
1.00 PM to 8.00 PM (Monday to Sunday, except Thursday)
1.00 PM to 7.30 PM (Thursday)
Social Pages
Facebook | Instagram
7. Feed My Paws
(Image Source: Instagram | @littlepeanutbutter)
Looking for simple pretty-looking cakes? Then Feed My Paws' dog cakes might be your best choice! Being 100% natural, these cakes are surely healthy and safe for your dogs. They'll definitely get giddy upon the sight of these goodies! Truly, this dog bakery in Singapore has what it takes to be your dog's new favourite treat shop.
The sizes of their birthday cakes vary from 4 inches to 6 inches. For the protein ingredient, you may choose whether your dog's favourite is pork, beef, salmon, or chicken. For more information, do check out Feed My Paws' website here.
By the way, pet lovers who want to donate to animal shelters and organisations may do so via this link. Thanks to you and your pets in advance!
| | |
| --- | --- |
| Contact Details | info@feedmypaws.com |
| Address | Blk 4 Lorong 7 Toa Payoh #01-129 Singapore 310004 |
| Opening Hours | 12.00 PM to 3.00 PM (Friday to Sunday) |
| Social Pages | Facebook | Instagram |
8. Isa Pets and Bakes
(Image Source: Isa Pets and Bakes)
Because dogs are considered family, you want to give the best to them. Here at Best in Singapore, we only want the best for you and your dog! Thanks to Isa Pets and Bakes, their warm heart for your fur buddies are translated to treats made of premium quality ingredients, and 100% natural colours. Hands down, because this dog bakery in Singapore deserves to be included in the list of the best 10!
Treats range from Cuisines for dogs, Rainbow birthday cakes, and cupcakes to Air-dried treats. In addition, you can also look forward to their signature layered cake. Your fur puppies will definitely drool at the sight of cakes, furthermore, it's 100% preservatives-free!
Tell your dogs a little known secret to make them extra happy: Isa Pets and Bakes offers free delivery for orders above $100 (cakes, cuisines, and treats) and free mailing for Air-dried treats only for orders above $70.
Contact Details
WhatsApp Text Only: +65 9337 9879
pawme@isapetsandbakes.com
My Mail Box No.887625 Singapore 919191
Address
Self-collection: Hillview MRT Station (Exit B) opposite the Salvation Army
or Bukit Batok MRT Station or Bukit Batok Nature Park's Public Carpark
Opening Hours
11.00 AM to 7.00 PM (Tuesday to Friday)
9.30 AM to 12.30 PM (Saturday to Sunday)
Closed on Mondays and Public Holidays
Social Pages
Facebook | Instagram
9. The Snoring Dog Gourmet
(Image Source: Instagram | @con.the.corgi)
Another dog bakery in Singapore is The Snoring Dog Gourmet. They specialise in creating custom dog cakes and meals that your furry child will definitely love. Starting with their lovely bulldog at home and cooking for him, they built The Snoring Dog Gourmet in 2012, a dog bakery providing quality, healthy, and delicious food for your best furry friends.
Indeed, a healthy dog is a happy dog. Reward your dogs with treats or surprise them with cakes from The Snoring Dog Gourmet. All these are preservative-free, balanced, and freshly made! They have tofu cheesecakes, banana Caroba, and other meat cakes your buddy will surely enjoy.
If you think your dogs will love custom, fancy dog cakes for their upcoming barkday, then you should absolutely consider ordering from this dog bakery.
Contact Details
https://forms.gle/gE2j6yXMydDdasYt9 | 8100 8165 (WhatsApp)
Address
47 Mandalay Road S308227
Opening Hours
11.00 AM to 7.00 PM (Tuesday to Friday)
9.30 AM to 12.30 PM (Saturday to Sunday)
Closed on Mondays and Public Holidays
Social Pages

Facebook | Instagram
10. Pawlicious Dog Bakery
(Image Source: Instagram | @pawliciousbakery)
Spread paws–itivity through our next entry of the best dog bakery in Singapore. Here's Pawlicious Bakery, providing healthy and natural treats for your pups since 2013.
If you look at their website, you can see that their cake fondants are the best! The dog fondants complete the cakes and make everything extra special. Aside from these cute fondants, another concept that we love is that these cakes can be dressed with custom figurines, drawings, cookies, and pawsicles! If you couldn't decide what design to go for, then we suggest you send them a message through WhatsApp.
Contact Details
9876 7621 | pawliciousbakery@gmail.com |
WhatsApp: +65 9876 7621
Address
Self-collection address: Near Kovan Udders Ice Cream
Opening Hours
12.00 PM to 5.00 PM (Thursday and Sunday)
Deliveries are scheduled after 7 PM
Delivery available except in Sentosa and areas in the west*
Social Page
Instagram
11. Joey's Kitchen with MMBB
(Image Source: Joey's Kitchen with MMBB | Facebook)
Highlights:
Human-grade ingredients
Offers a wide variety of desserts and meals
Custom cakes available
The key to your dog's wagging tail is through his or her stomach. Be ready to fill it with cute and amazingly delightful food with Joey's Kitchen with MMBB, one of the best dog bakeries there are in Singapore. Made with human-grade ingredients, your fur buddy will surely enjoy their nutritious and yummy delights!
Joey's Kitchen with MMBB has a wide variety of food choices for your pup. You may order Bak Kwa, Pupcakes, Meat tarts, Yeastless Pizza, Durian Tart, Lemak Cake, Fruit Tarts, Durian Profiteroles, and a lot more. They even have Birthday Sets up in their store. Custom cakes are also available upon request – they can copy your dog's favourite toy! If your bud is celebrating his barkday soon, then this cake is the perfect gift.
For more information, visit Joey's Kitchen with MMBB's Facebook Page. You may also follow them on Instagram to stay up-to-date with their latest cakes and desserts!
Indeed, there are a number of ways to make your dog happy. One of the best ways is through their stomach! We hope our list of the best dog bakeries in Singapore has helped you decide which to go for healthy and delicious snacks for your beloved pets.
Want more articles like these? Click on the links below:
5 Best Online Pet Shops in Singapore
Best 9 Cake Shops in Singapore
Best 6 Cupcake Delivery in Singapore
Related posts
Subscribe for newsletter
* You will receive the latest news and updates on Singapore's best trends!