12 Best Disinfection Services in Singapore [2022]
Emily Hopkins, 3 years ago
13 min

read
4689
With the COVID 19 pandemic playing out right before our eyes, taking care of our health and our loved ones' health is extremely important. Apart from adhering to social distancing measures, making sure to avoid crowded places, as well as keeping our hands clean at all times, engaging the help of professionals in the form of disinfection services is a great way to go. To aid you in your search, we have put together this list of the best disinfection services in Singapore! So, read on to find one that will be best suited to your needs and preferences!
Highlights:
Access to professional methods unavailable to general consumers
Chemicals tested and approved to kill coronavirus
4-hour Response time for critical cases
Skilled and experienced technicians
Custom-built machines for disinfection
Given the current uncertain situation that COVID-19 has put us in, alleviating the risk of infections is crucial. Apart from removing surface-level dirt and dust, routine hygiene practices which focus on thorough cleaning and elimination of microorganisms that are not visible to the naked eye should be adopted. Due to the microscopic sizes of these fungi, bacteria, and viruses, physically cleaning the premises alone is insufficient in getting rid of them completely. Regardless of how thorough the surface-level cleaning is done, more than 10-30% of these microbes will remain. This is where Lumiair and its stream of deep cleaning services come in.
By using the latest treatment techniques and methods, the Lumiair team of decontamination experts can eradicate these particles on any exposed surface at a microscopic level. Lumiair boasts to remove 99.99% of germs and viruses, utilising Government-registered quality grade disinfectant solutions and custom-engineered tools to deliver top-notch treatment results. When you settle on their coronavirus disinfection services, they ensure optimal cleanliness of the area and promote wellness for the occupants.
Address
25 Kaki Bukit Pl, Singapore 416203
Contact Information
+65 6741 3777 | +65 8877 3311
sales@lumiair.com.sg
Business Hours
Open 24 Hours
Highlights:
Big staff and fleet
Uses hospital-grade disinfectants
Offer a variety of services
Home Cleanz has been operating in Singapore since 2004. Established by 2 young graduates from the School of Design & Environment, National University of Singapore, the company started out with a simple aim, which is to provide a variety of home cleaning services to busy professionals.
Popular for both home and industrial cleaning, Home Cleanz has been in operation since the year 2004. With a team of 70 well-trained cleaners as well as 10 vehicles operating across Singapore, this company is a force to be reckoned with. Its sheer capacity makes it a good pick for those in need of urgent cleaning services.
When it comes to the home, Home Cleanz offers more than just regular cleaning, it does painting, carpet shampooing, window cleaning, ironing, window cleaning, and disinfection. Their prices start from $160 for fortnightly cleaning. The price also depends on the size of the area to be cleaned.
Address
7 Jalan Saudara Ku Singapore 457444
Contact Information
+65 6440 3342
Business Hours
Monday to Friday: 9 AM to 6 PM
Saturday: 9 AM to 3 PM
Highlights:
Provide services to more than 100 companies
Uninterrupted cleaning schedule
Professionally certified as well as insured
Lukis Cleaning Service is a cleaning service company that follows premium standards while cleaning and providing services to your home. They make sure that the area that has been cleaned is spotless and is left sparkling. The company follows international standards as well as applies the best cleaning techniques. So, you can be sure that your home will be squeaky clean.
Many of their customers expressed that the company would always show a great sense of responsibility towards their work as well as service-level towards their employees. So, they are confident that you will hire them again and again!
In addition, Lukis has partnered with more than a hundred different companies and thousands of clients to provide their disinfecting services to them. In addition to office disinfecting services, Lukis also provide carpet cleaning, air conditioning, pest control, and upholstery cleaning.
| | |
| --- | --- |
| Address | 8 Burn Road #15-13, Trivex, Singapore 369977. |
| Contact Information | +65 67419968 | info@lukisclean.com |
| Business Hours | 8 AM to 10 PM, Daily |
Highlights:
No admin and agent fees
Customised plans
Trained as well as reliable cleaners
Sparkx Services is a cleaning service for both commercial and residential areas. They have a solid commitment to becoming the best cleaning service in Singapore by not only meeting their expectations but also exceeding them.
Providing a wide range of cleaning as well as disinfectant services, they charge no admin and agent costs. You can also choose a custom plan which will suit your cleaning needs best! Their workers are trained and reliable when it comes to cleaning as they understand the specific needs of residential and commercial. Their regular cleaning usually lasts for hours where you can provide the materials so that you can use the materials you trust.
In addition, their disinfecting services use a broad-spectrum disinfection misting service that targets all surfaces and inaccessible areas. They utilize Ultra Low Volume (ULV) treatment to disinfect all surfaces using Super-Q (406) concentrated QAC disinfectant, an alcohol-free as well as non-toxic disinfectant that removes 99.9% of germs and bacteria!
| | |
| --- | --- |
| Address | 1 Yishun Industrial Street 1#04-13A Posh Bizhub Singapore 768160 |
| Contact Information | +65 8522 5432 | sparkxservices@gmail.com |
| Business Hours | 9 AM to 9 PM, Daily |
Highlights:
Highly trained as well as screened crews
Great value for money
Offers a variety of services
Whissh is a one-stop home as well as an office service platform. Backed by a global investment initiative, the company strives to transform and improve the quality of urban living.
Whissh's stable of service companies with carefully curated collaborators seek to provide an integrated suite of quality, value, and trusted assets as well as facility management services for homes and offices. The company provides disinfection, home/office cleaning, laundry, air-conditioning servicing, plumbing, electrical maintenance, as well as other services.
Known for its emphasis on quality, Whissh has screened and highly trained cleaning staff. Moreover, it boasts of a robust review system that keeps you away from crews that you had previously poorly rated.
With insurance of up to $250,000, this company ensures that its customers and cleaning crews are covered in case of an accident or injury. Apart from its disinfecting services, Whissh also provides plumbing and electrical maintenance services.
| | |
| --- | --- |
| Address | 140 Paya Lebar Road, #07-26, AZ @ Paya Lebar, Singapore 409015 |
| Contact Information | +65 6221 8626 | contact@whissh.com.sg |
| Business Hours | 24 hours, daily |
Highlights:
Huge clientele
Gets rid of 99.99% of germs and bacteria
Established since 2008
SGDISINFECT is a company that focuses on the hygiene needs of the Singapore market derived from industry experts and case studies around the world on how to stay safe and get back to our normal life around covid-19.
To date, the company has, through its disinfecting services, protected numerous residential homes and leading organizations in Singapore. This includes offices, retail stores, schools, tuition centers, property developers, sports facilities (eg. gyms), country clubs, F&B outlets, restaurants, public transportation, as well as international hotel chains.
The anti-microbial ULV disinfection mist that SGDISINFECT uses can last up to three months and can get rid of 99.99% of harmful bacteria and viruses. So, keep your family safe with the services of SGDISINFECT today!
| | |
| --- | --- |
| Address | 89 Rosewood Drive #02-96 Singapore 737792 |
| Contact Information | +65 64062062 | sales@sgdisinfect.com |
| Business Hours | 9 AM to 5 PM, Daily |
Highlights:
Uses proprietary as well as lab-tested solutions
Leading supplier of hygiene as well as disinfection products and services
Effective and efficient products as well as services
Sureclean™ Pte Ltd is a leading supplier of hygiene as well as disinfection products and services, supporting various industries with the latest and most efficient hygiene solutions. They provide support and benefits to sectors such as Medical, Childcare, Education, Hospitality, F&B, Corporate as well as Residential.
Sureclean™ is also a trusted brand and leading hygiene supplier for the local childcare industry. The company supports them with their effective and efficient products and services encompassing anti-germ hygiene products, toiletries, automated disinfection systems, permanent anti-bacterial coating systems, disinfection decontamination services, as well as hygiene trainings.
As part of their disinfection service, the brand uses proprietary as well as lab-tested solutions Germclean Infused with Ionic Silver and Titanclean fortified with anti-microbial Titanium Dioxide. This powerful solution eliminates 99.999% of harmful bacteria and viruses to keep your home safe as well as clean! Do check out the full range of services on their website today!
Address
10 Bukit Batok Crescent #14-02 The Spire, 658079
Contact Information
+65 9772 4528
Business Hours
Monday to Friday: 9 AM to 6 PM
Saturday: 9 AM to 2 PM
Highlights:
Wide range of cleaning services
Powerful disinfection treatment system
Safe for use for children as well as pets
Clean Lab provides a range of comprehensive professional cleaning services and disinfection treatment to a wide range of industries from commercial, offices, gyms, laboratories, healthcare, pharmaceuticals, preschools, hospitality, food industries, retail as well as residential clients.
With a mission to provide quality cleaning services in Singapore, Clean Lab provides a new approach to cleaning as well as disinfection programs to protect what matters to you. Their cleaning, as well as disinfection programs, are designed based on science, with the use of environmentally friendly cleaning products.
At Clean Lab, you can rely on their disinfection services to thoroughly sanitise your premises. Clean Lab's disinfection treatment system releases electrostatically-charged particles that float down, wrap around untreated objects, and hard-to-reach spaces (like computer keyboards as well as doorknobs) ensuring double protection. It also flows through all the hard to reach areas of your home that regular cleaning session misses.
This disinfects most of the common bacteria and viruses such as E. coli, salmonella as well as spores. The EPA approved this chemical, and it is safe for your young children as well as pets. Whether you are looking for house disinfection services, commercial properties disinfection services, or restaurant disinfection services and beyond, Clean Lab Singapore has got you covered!
Address
25 Kaki Bukit Pl, Singapore 416203
Contact Information
+65 6741 1522
Business Hours
Monday to Friday: 8.30 AM to 6 PM
Saturday: 8.30 AM to 1 PM
Highlights:
Experienced team of cleaners
Affordable pricing
High-quality products used
Getz Cleanz is a licensed office as well as a commercial cleaning company in Singapore. Their team comprises of experienced trained cleaners who are professionals at what they do. To date, Getz Cleanz has served over 350 clients ranging from Starts up, Government Agencies, MNCs, as well as local SMEs.
Their disinfection services cover offices, homes, dormitories, as well as construction sites. The company is also extremely particular about the disinfectants used, so you can rest assured that you will be serviced with high-quality products and services.
In addition, the team at Getz Cleanz will provide full support and service to ensure the cleaning quality standard! So, for peace of mind, check out Getz Cleanz for their disinfecting services! A basic package for their disinfecting services cost only $250!
Address
10 Ubi Crescent, Lobby B #05-32, UBI TECHPARK, 408564
Contact Information
+65 8866 3030
Business Hours
Monday to Friday: 9 AM to 6 PM
Saturday: 9 AM to 12 PM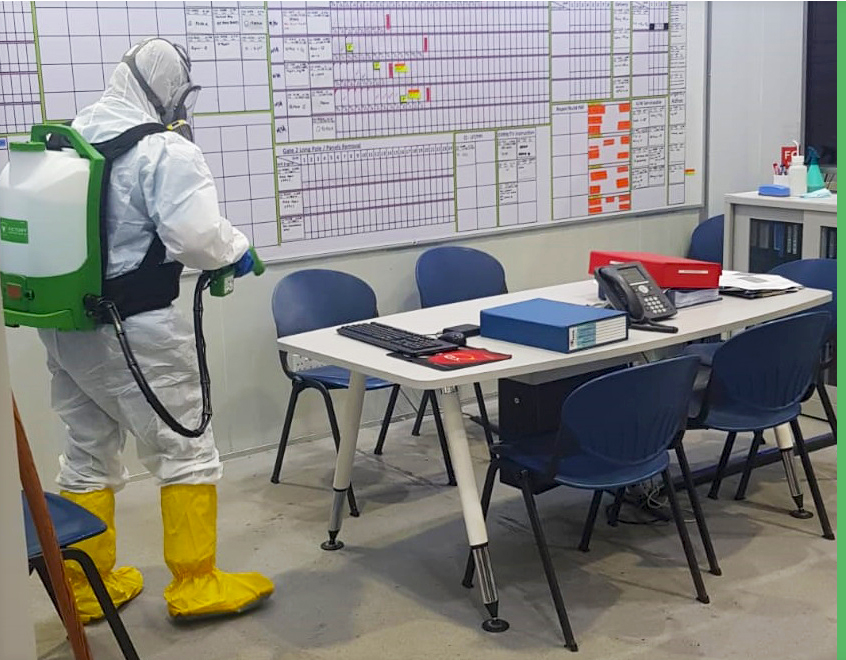 Highlights:
Professional cleaners
Non-toxic and child-safe disinfecting solution
Tailored to meet your budget
Abba Maintenance Services is founded with a vision to modernize the cleaning industry with efficiency and leading technology. They have built a continuous pursuit for excellence which results in consistent growth in our clients each year and a client retention rate of 96%. The company focuses on putting clients first – listening to their clients, understanding their needs, and providing top-notch cleaning service.
With a team of seasoned, trained, and professional cleaners at their disposal, you can ensure top-quality services when you choose Abba Maintenance Services. Providing end-to-end solutions and products to help you gain a working space that is spotless and liveable, they are the disinfecting service company that you can depend on.
The company's disinfecting treatment is safe and can be effectively used to combat and defend against the Coronavirus (COVID-19). Their professional disinfection service is proven and disinfects against 99.99% of harmful viruses, bacterial, fungi, mold, mildew, and any common virus. In addition, the solution is child-safe, non-toxic, non-allergic, and poses no risk to humans as well as the environment.
Tailored to meet your needs and budget with the best pricing, you can be sure that you will not break the bank by engaging them. In addition, they are accredited with an NEA Biz Safe 3 license. This means that they are able to provide quality, safe and secure services in the blink of an eye.
| | |
| --- | --- |
| Address | 10, #10-11 Anson Rd, International Plaza, 079903 |
| Contact Information | +65 8862 9623 |
| Business Hours | 24 hours, daily |
Highlights:
Competitive prices
NEA recognized disinfection chemical
Services used by hospitals, polyclinics, and many offices
Specializing in both corporate and residential cleaning, Arising Cleaning Management provides the best disinfection services in Singapore. The cleaning company uses reputable and up-to-date cleaning tools and chemicals. As a one-stop cleaning service portal, they take the extra effort to do all the quality control for you and they aim to provide you with the most reliable cleaning service, best suited for your cleaning needs.
As part of their disinfection services, Ultra Low Volume (ULV) Misting disinfection is dispersed into the air and every corner. It produces super-fine droplets of our chemical which is designed to destroy bacteria and viruses in exposed areas. Their chemical with Benzalkonium Chloride is effective against Coronavirus and is recognised by NEA.
In addition, their prices are competitive and are in line with their cleaning service standards. They also believe in completing each cleaning assignment entrusted to them on time and getting positive feedback from our clients every time. So, to get one of the best cleaning services in Singapore, get in touch with them today!
| | |
| --- | --- |
| Address | 27 Woodlands Industrial Park E1, #03-09A Hiangkie Industrial Building, Singapore 757718 |
| Contact Information | +65 8498 1216 |
| Business Hours | 24 hours, daily |
Highlights:
Wide range of treatment options
Non-toxic solutions used
Professional team
Disinfection2U is a leading commercial disinfection company in the Asia Pacific (APAC). With offices in Malaysia, Singapore, Australia, and Thailand we have protected leading organisations using broad-spectrum viricide misting and fogging technology.
The brand offers professional disinfection services for homes and offices that utilises Chlorine Dioxide – ClO² Gas, Benzalkonium Chloride, Hydrogen Peroxide or Lactic Acid-based Disinfecting Cleaner. This allows them to provide longer-term protection for you and your loved ones.
Disinfection2U offers a wide range of package options for you to choose from depending on your needs. You can go for a basic home infection, a professional home infection or an office and commercial disinfection.
In addition, all of their solutions are non-toxic and safe for environments with babies and pets. So, you do not have to worry about safety with Disinfection2U!
The brand's professional teams have provided professional disinfection to banks, hotel chains, and even Fortune 500 companies. You can rest assured that your disinfecting needs are in great hands.
| | |
| --- | --- |
| Address | 21 Merchant Road, SPACES, Clarke Quay, Level 4, Singapore 058267 |
| Contact Information | +65 88153055 |
| Business Hours | Monday to Friday: 10.00 am to 7.00 pm |
Whatever your budget or preference, this list of the best disinfection services in Singapore has got you covered. If you are looking for more ways to keep you and your family safe, check out our article on the best dehumidifiers in Singapore to safeguard your health!
Emily Hopkins
I'm an accomplished and detail-driven content writer with copious experience in producing compelling, engaging and flawless content for a variety of blogs and websites for several years.
Related posts
Subscribe for newsletter
* You will receive the latest news and updates on Singapore's best trends!