10 Best Products From Daiso Singapore [2022]
Joanne, 2 years ago
8 min

read
4687
Daiso is a $2 mega store that established in Japan in 1977. For the past decades, they have grown to be an international brand that we are all familiarized with. When the brand first hit the shores of Singapore, many of us had flocked to Daiso for massive shopping hauls.
Today, they have over 20 stores across the island of Singapore. Daiso Singapore offers a wide variety of products ranging from 15 categories. This includes household, kitchen, toys and games, art and craft, DIY, as well as gardening.
Browsing the well-stocked aisles is amazingly fun. More often than not, you will come across products and all kinds of little treasures you never knew you would find! Before long, you will end up with a basket (or even trolley) full with wonderful buys!
For the product prices fixed only $2, they are often of high quality and workmanship. Goods are able to last a long time and can be extremely useful as well!
With so many products for you to choose from, we have narrowed down for you the 10 Best Products To Buy From Daiso Singapore! So start gathering your $2 notes and let's get to shopping!
1. Organizing Boxes and Cases
Highlights:
Easy to browse
Well-stocked
Good quality
When it comes to organizing boxes and cases, Daiso is the place to visit. Their organizing boxes come in all shapes, sizes and colors. The quality is a value-for-money! Furthermore, you would most often find that similar, or even the exact product, is sold at much higher prices elsewhere.
Whether you need a box for your child's toys, your clothes, your make up products, your cables, or just any knick knack that you have, you will most probably be able to find the box you need to get your things organized at Daiso Singapore.
What's more, the staff at Daiso Singapore are always hard at work to display these boxes neatly so that you can have an easy time browsing for the exact box that you need to suit your needs!
These items are really popular, though! So they may be snagged up really quickly once they are stocked. So be quick!
2. Daiso Make Up Brush Cleaner
Highlights:
High quality
Much cheaper alternative
Effective
For those out there who are guilty of having make up brushes and sponges that have not been washed for ages, this product is for you. Not washing your brushes and sponges can lead to breakouts and other skin problems that you just want to avoid!
While most make up brush cleaners out there will set you back at least $20, this product, like any other product at Daiso Singapore, is just $2! It has a cult following.
Many users swear by this product. It works just as well as other more expensive alternatives, and it is easy and convenient to use.
How to use a make up brush cleaner, just follow these simple steps:
Fill a small bowl with Daiso's make up brush cleaner.
Put in your make up brush and swirl it around, until you see that the liquid changes colour.
Rinse your brush and lay it to dry.
There you have it, clean brushes that are good as new! This product is definitely not to be missed.
3. Baking Tools
Highlights:
Wide variety
Good quality
Durable
Many of us think about spending our weekends baking but do not want to spend too much money buying baking tools and equipment as we are afraid we will not bake too often. This is where Daiso Singapore comes in to help.
They offer a wide variety of baking tools. This includes silicon molds, measuring devices, whisks, spatulas and so much more!
On top of that, all of them come in extremely attractive colours and designs. The quality of their baking products are also comparable to those sold by other major brands.
So if you are new to baking, or are looking to start this new hobby, be sure to stock up on these baking tools from Daiso Singapore!
4. Hand Warmers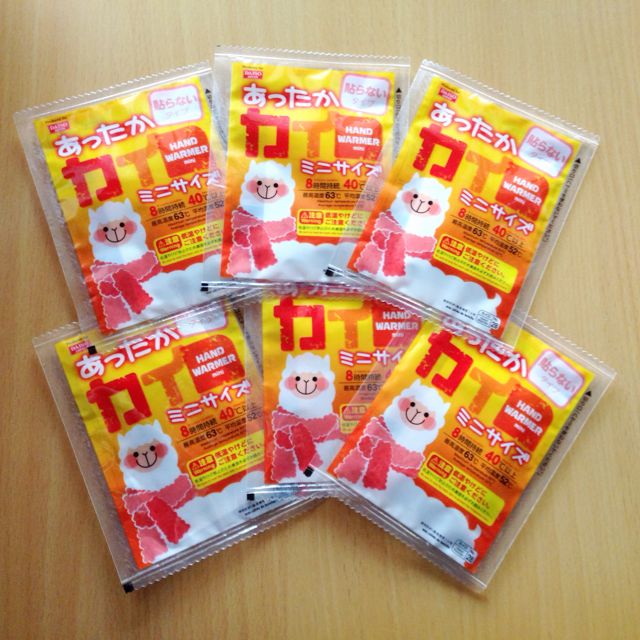 Highlights:
Effective
Good quality
Convenient packaging
Whenever we visit a cold country, our friends and family would gift us some hand warmers to bring on our vacation. More often than not, these hand warmers are purchased from Daiso!
Conveniently packed, the package comes with 9 individual hand warmers. It even comes with a cute design with a wooly alpaca on it!
Given the current travelling restrictions, you can get these handwarmers to keep you warm and cosy in your office! You could also give this to someone you know who is always cold!
This affordable choice is great as it works effectively, and its quality compares to those sold at travel stores.
5. Travel-sized Containers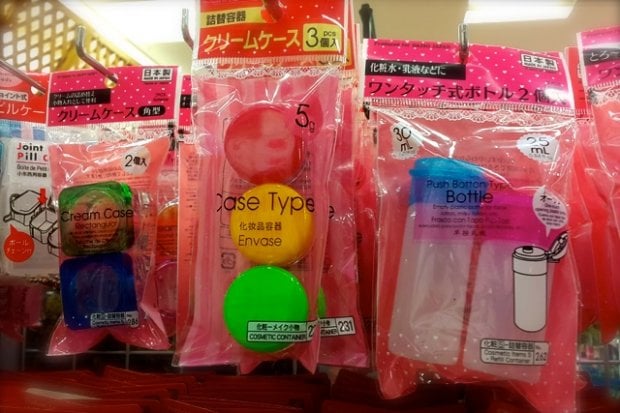 Highlights:
Variety of shapes and designs
Good quality
With many of us going on staycations these days, travel-sized bottles and containers are extremely handy. Instead of bringing a big bottle of soap, shampoo or conditioner to your next staycation, pack them into these nifty little bottles from Daiso Singapore!
The bottles come in various designs that differ in shapes and sizes. They have containers that are in squeeze tubes or screw top bottles. If you do not like plastic containers, Daiso Singapore also offers soft silicone tubes that are will not pop open or explode under airplane pressure.
These are useful for your next overseas trip. Some of them are packed in bottles of 3, so you are definitely getting your money's worth!
6. Cotton Pads
Highlights:
Cheaper alternative
Good quality
Convenient packaging
Another popular product by Daiso Singapore is their cotton puff. These cotton puffs come in convenient boxes for you to store them hygienically.
These bulk packs also come at very affordable prices that are cheaper than the alternatives that you can find in local pharmacies!
Furthermore, many customers cite that the quality is comparable, if not better than those from other brands. They will not leave any cotton residue on your face when applied to it, and can effectively remove make up as well.
So consider switching to Daiso's cotton puffs the next time your current cotton pads run out for its quality and better price!
7. Picnic Needs
Highlights:
Attractive designs
Convenient one-stop place for outdoor essentials
Wide variety
If you are planning a picnic or a day of outdoor activities with your friend, partner, or children this coming weekend, Daiso Singapore offers a wide range of outdoor essential products such as picnic mats, disposable cutlery, napkins, as well as paper cups all in one store.
Furthermore, there are many designs and prints that you can choose from to add some flair to your picnic and outdoor activities. At just $2 per item, you get convenience and good quality products that you can use for your weekend outing!
8. Reading Glasses
Highlights:
Trendy designs
Good quality
Many colors to choose from
Daiso Singapore has so many products that you can even get reading glasses there. Not only that, they come in a variety of colors and designs that you can choose from.
Unlike many reading glasses that are often dull-looking and boring, the ones at Daiso Singapore look trendy!
So, the next time your grandparents or parents require new reading glasses, bring them to Daiso Singapore to choose a pair.
9. Food
Highlights:
Unique selection
Value for money
Wide variety
Absolutely nobody can exit Daiso without spending some time at the food aisle. Daiso carries a wide variety of Japanese food that you cannot find elsewhere.
Some examples include sweet potato snacks, caramel corn chips, miso paste, soba noodles, as well as Japanese curry packets. Some of these Japanese groceries are priced doubly at local supermarkets.
So, if you are planning on whipping up some soba noodles or Japanese curry rice while you are at home, opt to do your grocery shopping at Daiso instead of a local supermarket for a good deal.
10. Art Supplies
Highlights:
Wide variety
Good quality
Value for money
If you are looking to look for art and craft supplies, perhaps you can consider a visit to Daiso Singapore. They have a wide range of products including clay, paint, brushes, markers, crayons, scrapbooking materials, and even wool and yarn for knitting.
At just $2, they are definitely cheaper than those sold at bookstores or craft stores. Indeed, the quality might not be suitable for you if you are a professional artist. However, this is more than enough if you are just picking up craft, or buying these supplies for your child.
With so many products at Daiso Singapore, this list just barely scratches the surface! Certainly, at $2 per product, you are able to find many value for money treasures. If you are looking for more Japanese products in Singapore, I recommend you to visit Don Don Donki!
Related posts
Subscribe for newsletter
* You will receive the latest news and updates on Singapore's best trends!
Trending Posts
May 30, 2023

What is Matcha? Matcha...

May 31, 2023

TLDR: As an audio...

May 31, 2023

TLDR: In this article,...