10 Best Co-Working Spaces In Singapore [2021]
Gee, 4 months ago
8 min

read
666
It's not surprising that co-working is all the rage right now that people choose to opt for these second alternatives instead of the conventional offices. Regardless of your job's professional needs, there is nothing to not love about these funky but conveniently ultra-cool workspaces. Below are the top ten hottest co-working spaces in Singapore to kick start your working day!
Staying true to its adage, Spaceship Singapore is the ultimate platform for Startups, e-commerce, and The Creatives with its flexible workspaces, shared facilities, collective benefits, and online logistics services. At Spaceship Singapore, its workspaces are divided into four different compartments that are a flexi desk, a fixed desk, a private room and, a no-frills room.
Due to that, you can opt for either of these rooms according to your liking and working needs. However, one of the major key highlights there is its access to amenities such as onsite operational facilities, internet and utilities, and irresistible discounts offered to each registered member!
Address: 3 Pickering Street, Nankin Row #03-06, Singapore 048660
Contact: Tel +65 6220 0126
Weekdays: 10 am–6 pm | Saturday: 10 am–2 pm | Sunday: closed
For those who are aware, we know that both the tech and startup community come hand in hand together. Good news for these two like-minded individuals as The Company Singapore is just the right thing for them. With an opportunity to build their network and growth, this co-working establishment is a portal for unlimited business opportunities.
At there, flexibility is also the key to their working environment. For example, you can opt for either The Flex Area, The Lounge and Private Office. Meanwhile, the minimalist private offices are refreshingly zen-inspired that it enhances the creative juices for teams to work together efficiently!
Address: #02-01 Odeon Towers, 331 North Bridge Rd, Singapore 188720
Contact: +65 6914 2677
Weekdays: 10.30 pm – 5 pm | Saturday and Sunday: Closed
Developed for all workers, ClubCo lets companies and individuals to harness their flexibility and skills while they work in comfort. Due to that, the company has launched new membership packages specially designed for those who want to work from home aka remotely. In addition, lifestyles enthusiasts are also in for a treat as ClubCo is not your regular co-working workspace. After a hard day's at work, you can unwind yourself as you party the night away with its secret rooftop space at The Quadrant. However, this is just the tip of the iceberg as the entire place can accommodate an entire capacity of up to 50 party makers. Not only that but the good people there have also thrown in other accompanying amenities such as a Hi-speed Wifi, Smart TV, and Sono speakers to name a few..etc.
Besides that, the meeting rooms at Clubco.sg are designed to suit smaller to bigger events. With each meeting room uniquely named as Roti Prata, Chicken Rice to ClubCo, this is also something amusing to banter over a cup of coffee. From private offices to 20 person boardrooms, there is just something for everyone!
Address: 25 Church Street Capital Square 3, #02-03, Singapore 049482
Quadrant space: 19 Cecil Street, #04-00, S66535300
Contact: +65 6222 8662
Weekdays: 8 am–12 am | Saturday: 9 am-12 am | Sunday: Closed
Let's say that one's creativity can never fuel without any inspiration or ideas. Case in point, a boring office environment. That's where The Cocoon Space comes in to give the ultimate creative space for working professionals in the creative industry to work together professionally. At there, you can choose from co-working spaces such as virtual, nomad, habitat, and resident, whichever one that you fancy.
For tech enthusiasts, we highly recommend the virtual office as it includes amenities such as wifi to web conferencing. Also, its highly coveted event spaces can take you anywhere from a hearty breakfast session or even a serious panel discussion.
Address: 250 Orchard Rd, #02-01, Singapore 238905
Contact: +65 6735 8390
Weekdays: 9 am-6 pm I Saturday and Sunday: Closed
Mention CoCre8 and the word comfort is the first thing that conjures in your mind. As this co-working space is all about providing a comfortable and conducive environment, you can expect to find large desks and ergonomic desks there. Due to that, you can easily breeze through your working productivity even more efficiently.
Just a mere walking distance from Orchard MRT, there is no doubt that the time and cost of travelling to work is minimized greatly. With 24/7 operations, this means you can use the co-working space any time of the day in addition to some peace for uninterrupted work.
Address: 360 Orchard Rd, #08-02 International Building, Singapore 238869
Contact: +65 6511 9533
Opening Hours: Monday to Friday 9 am-6 pm | Saturday and Sunday: Closed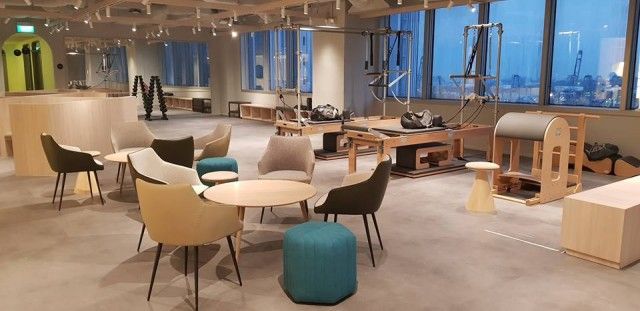 Core Collective is a community working space for fitness, health, and wellness professionals. With everything thrown in under one roof, you get state-of-the-art gyms, a personal trainer, yoga classes, and even a beauty centre for all your aesthetic needs.
Rather than the conventional office, Core Collective strives to be different from the rest through its cutting edge fitness training methods while giving clients unrivaled professional services. Although joining fee for classes are a little bit pricey, however, you get your money's worth with each session. After all, who doesn't want a beefy body, or set of 6 packs at the end of the day?
Address: 79 Anson Road Level 21 & 22 Singapore 079906
Contact: +65 6974 3228
Weekdays: 6 am-9 pm | Saturday: 7 am-2 pm | Sunday: Closed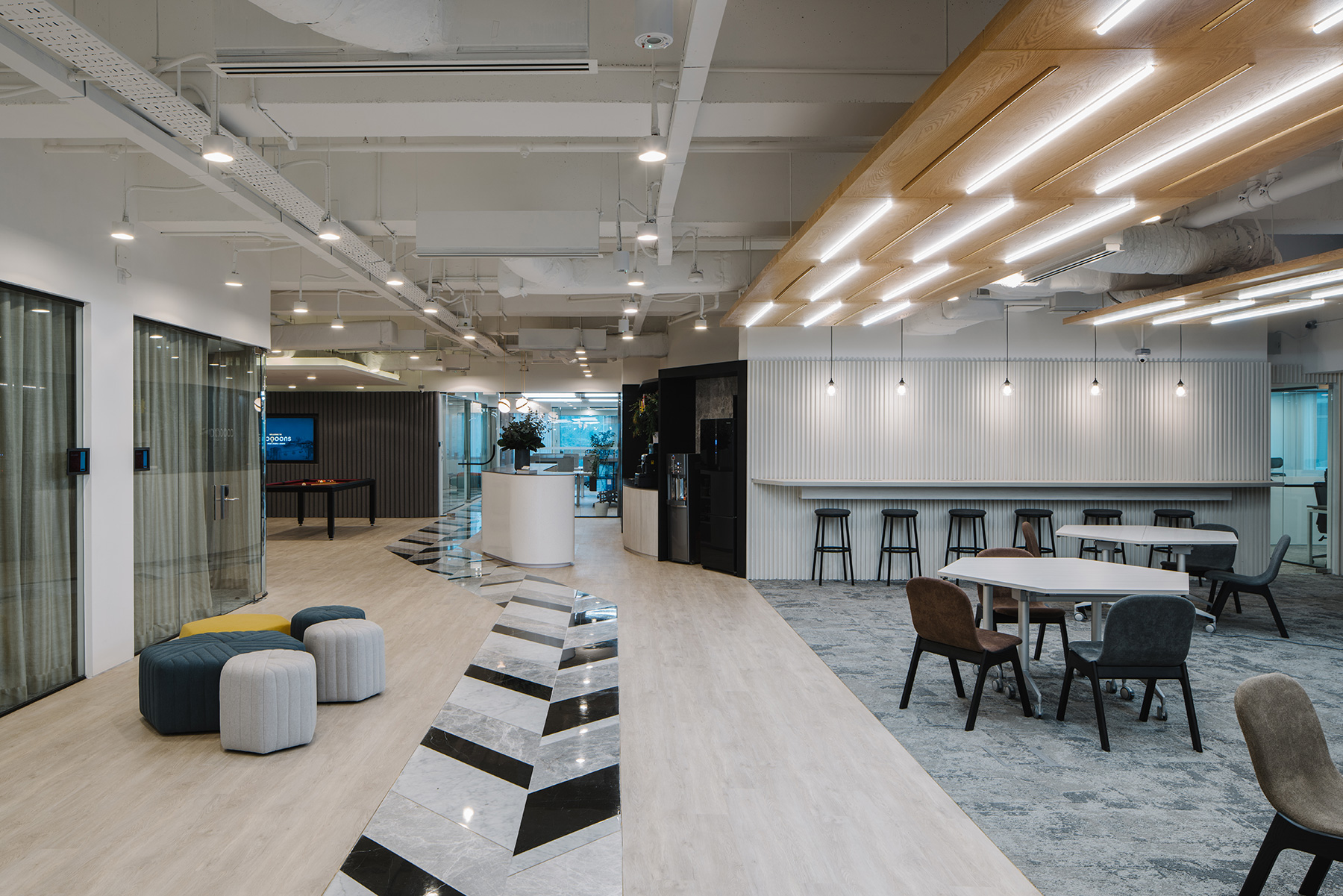 Just a mere walking distance from Vivocity Shopping Mall, CoQoons Coworking space will create fresh ideas for you even while you work due to its super pleasant environment. With its offices surrounded by bright natural lightning, this feature evokes a warm and fuzzy feeling – bringing you back to the comfort of your own home.
Due to that, you can bid adieu to slaving away your precious work hours in boredom and discomfort. To add on, its strategic location at HarbourFront Tower offers you a panoramic view of the sea and Sentosa island altogether.
Address: 3 HarbourFront Place, HarbourFront Tower 2, Level 11, Singapore 099254
Contact: +65 6350 5700
Weekdays: 9 am-6 pm | Saturday and Sunday: Closed
Founded by the visionary Dr. Hu Jing, Distrii Singapore was originally an epiphany to create customized solution smart offices. As one of the leaders in the co-working market, Distrii Singapore differentiates itself from its competitors by offering cutting edge technology infused into its productivity tools.
Boasting 4 areas of expertise, some of its main highlights include space customization and a high-tech workspace. Also, it doesn't hurt that this co-working space is located strategically in the heart of Singapore's main business district.
Address: 9 Raffles Place, Republic Plaza, Singapore 048619
Contact: +65 6932 5288
Weekdays: 9 am-6 pm | Saturday and Sunday: Closed
For a personalized touch, Found8 is just the answer to all your co-working needs. Whether you are looking for personalizable Team Rooms or permanent and flexible Desks, the good people at Found8 will make it happen albeit with a reasonable price tag according to your budget.
Moreover, you can choose from their list of attractive membership plan takes you directly to anywhere across the world. Located just within the heart of Singapore and KL, this co-working space is just the perfect place for innovative souls to host the next meeting.
Address: 79 Anson Rd, #23-01, Singapore 079906
Contact: +65 9833 2434
Weekdays: 9 am-6 pm | Saturday and Sunday: Closed
With globalization, times have changed and so do the needs of people everywhere. GatherCoWorkSpace is here to change all that with its fully furnished studio offices to networking sessions and social activities. Now, you can kill two birds with one stone by combining both work and pleasure altogether. Ain't that, awesomely cool to the brim?
Key highlights of this co-working space are its reception service, bar and, pantry, and 24-hour access – to name a few..etc. As a bonus, pet lovers can also bring their beloved fur babies there due to its pet-friendly space.
Address: 22 Martin Rd, #03-01, Singapore 239058
Contact: +65 6736 7222
Weekdays: 9 am-6 pm | Saturday and Sunday: Closed
Are you looking for a place to spice up your next brainstorming session? Good news for you as all of the co-working spaces mentioned above will bring your ideas at work to the next level. Whatever you fancy, they will get the job done for you, pronto. Besides giving you access to various cool amenities, you also get plenty of discounts and bargains if you join in as a member so that you can get your money's worth!
Check out our corporate gift baskets if you haven't!
Written By: Lim Su Yee
Related posts