5 Best Cordless Vacuum Cleaners in Singapore [2022]
Gee, 3 years ago
8 min

read
8839
In the market for vacuum cleaners, there are the canister vacuum cleaners, and the stick (cordless) vacuum cleaners.
Canister ones come in two parts, the stick part that sucks up dust and debris, and the 'motor and dustbag' which you drag with you around the home when you are vacuuming your home. With each room that you enter, you have to first plug it into a power socket, maneuver and park it in the right spot before you can begin to vacuum. While it arguably has greater suction power than a stick vacuum cleaner, canister vacuums will eventually add to your fatigue with all that repeated bending and plugging, and maneuvering.
In contrast, cordless vacuum cleaners are lightweight and convenient, as you only need to charge before using. No annoying cables, motors and dustbags to plug and unplug as you move from room to room, nor bulky canisters to drag around with you.
To help find one with the right suction power and vacuuming attachments that suits your household cleaning needs, we have listed 5 popular (and good) cordless vacuum cleaners that you can buy in Singapore.
18500Pa Suction
115W suction power
1.5KG
75dB(A)
55min max battery life
2.5 hours charge time
The Xiaomi Roidmi F8 has previously won the iF Product Design Award as well as a Red Dot Design Award in 2018.
Not surprising considering its attractive minimalist design that stands out from competing cordless vacuum cleaners. The F8 even comes with a simple magnetic white wall mount. If you have a white wall, it would be almost unnoticeable.
Its suction power of 18.5 Kpa ranks as one of the highest amongst the Chinese cordless vacuum models. Users also liked that they can customise the power setting. At its lowest power setting (80 W), the F8 has a cleaning time of 55 minutes. That's impressive for a cordless vacuum model.
The F8 also has a LED light that illuminates the ground so you can see where you're cleaning.
The F8 doesn't use a trigger button where you have to press and hold. Instead it comes with a traditional power button that you just need to switch on and off as and when you need it.
Users mentioned that for this bagless model, when it comes time to empty the dust cup, it can be a bit of a hassle as unlike a bag, this model needs you to actually pick ou any remnant dust or hair that might still be caught in the cup AFTER you have already emptied whatever you can. If handling dust and dirt is not your thing, you may like to look for another model where the dust cup contents are emptied with just the push of a button.
The Xiaomi Roidmi F8 retails for S$300.00. You can order it here.
2. Electrolux 2-in-1 Allergy Ergorapido
Allergen-busting function
18W suction power
2.5kg
48 minutes cleaning time
4 hour charge time
If you or anyone in your family suffers from allergies, this might be the cordless vacuum cleaner for you.
First off, this model is called 2-in-1 because it has a stick cordless vacuum function as well as a handheld vacuum function.
This model's Advanced Allergy Filter captures 99.99% of micro particles in the air. This test was carried out by the British Allergy Foundation. Because we're sure that the last thing you want is to get a conventional vacuum cleaner that actually disperses instead of sucking up micro dust particles into your home environment.
Users highlighted this model's BrushRollClean Technology that gets rid of tangled long hair and fibre, with just a step of the pedal. A godsend if allergies are your concern, because you don't ever have to touch any of that hair or fibrous dust when you clean out this vacuum.
This is a self-standing cordless vacuum so you can just place it in a tiny corner of your cupboard and forget about it till cleaning day!
Lightweight and mobile, this vacuum is a trusty addition to your family.
The Electrolux 2-in-1- Allergy Ergorapido retails at S$188.10. You can order it here.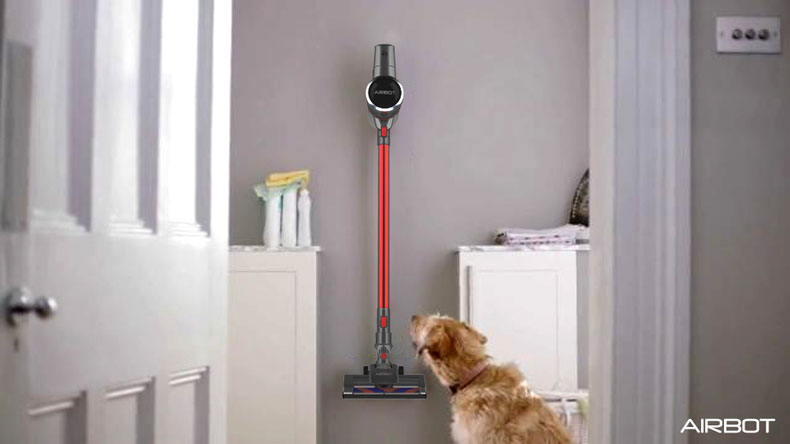 Upgraded model
Japan NIDEC motor 20% more powerful
120,000 RPM speed
Super silent 60dB
10-year lifespan
Not everyone has the budget for a pricey vacuum cleaner. Which is why the Airbot Supersonic 2.0 Cordless Vacuum Cleaner makes it to our list.
At just below S$100, most of us will be able to afford this handy dust-buster. With care, this model should be able to last you about a decade. What's not to like?
Attractive and stylish in design, this model comes with a wall mount so it is within easy reach.
In spite of its price, you'll be please with some impressive features such as its dual motor power that comprises a main vacuum motor and an auxilliary motor.
The main vacuum motor is capable of 31,000RPM with dust-air separation and dust-debris compression. The auxilliary motor extracts dust from carpets, removes stains from your floor and removes hairs on sofas effectively. Users love its powerful suction power and general cleaning ability.
What's great about this vacuum is its 360 degree cordless design that gives you reach into every corner and under furniture. And it gets better – its motorized brush brushes out stubborn dirt from gaps in your floor or carpet.
There are 2 cleaning modes – high spin mode which gives you 25 minutes of cleaning time, and low spin mode which gives you 45 minutes of cleaning time. If your apartment is about the size of a 3-room HDB flat, all you really need is general daily cleaning, 45 minutes on low spin mode should be sufficient.
The Airbot Supersonics 2.0 Turbo Cordless Vacuum Cleaner retails at S$95.90. You can order it here.
4. Karcher Handheld Vacuum Cleaner VC 4i PLUS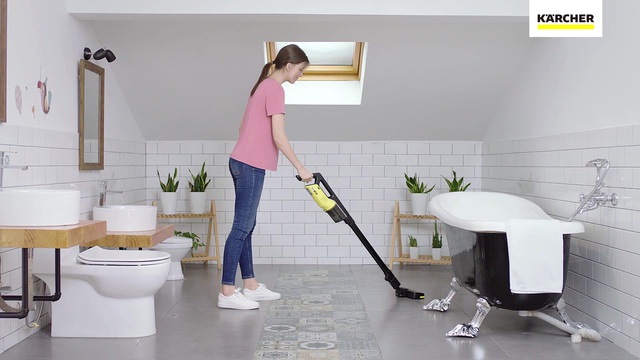 Upgraded model
Lightest handstick model 1.8kg
Extended runtime of 60 minutes
Superb manoeuvrability
3.5 hours charge time
Japan NIDEC motor 20% more powerful
This cordless vacuum cleaner makes it into our list because of its incredible lightweight feature. All users loved this particular feature because it can be carried around, lifted up and operated effortlessly, even over a prolonged period. This makes it suited to older users who likea cordless vacuum without all that excess weight. Its double handle also lets it sit comfortably in the user's hand at all times.
While this cordless vacuum is indeed nothing to rave about design-wise, but its functionality more than makes up for its look.
Called 2-in-1, this model works both as a stick vacuum and as we handheld vacuum, ideal for smaller places like car interiors or tabletops, cupboard crevices and beds.
Its brushless high-speed motor with 100,000 RPM, a 15,000 pA suction power and motorized floor roller extracts dirt in a jiffy. Fitted with a real HEPA filter, its powerful vortex system guarantees great suction power.
Users also loved the the upholstery nozzle which comes with this model, adding that it was ideal for removing hair and dust from upholstery. The crevice nozzle is also useful to clean hard-to-reach places.
In Energy Mode, this model allows up to 60 minutes of cleaning time, which is great for one-time cleaning of your entire home.
The Karcher Cordless Vacuum Cleaner VC 4i PLUS retails for S$268.00. You can order it here.
5. Philips SpeedPro Max Stick Vacuum Cleaner FC6823/61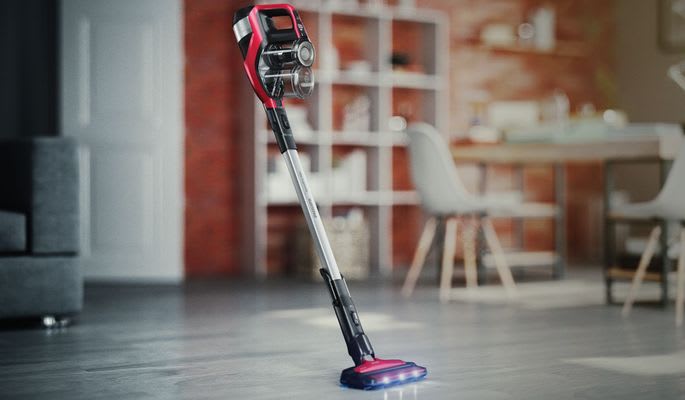 Over 1000 litres of airflow per minute
2.5kg
84dB
360-degree suction nozzle with LED lights
Built-in brush, always on hand
45min cleaning time
5 hour charge time
This cordless vacuum cleaner packs a punch. A direct competitor of the Dyson V10, this model features PowerCyclone 8 technology with longer and stronger suction. Combined with its Powerblade digital motor, you have a machine that gives you over 1000 litres of airflow per minute and 45 minutes of cleaning time on a full charge.
The strongest feature of this cordless vacuum cleaner, according to users, would be its 360 degree suction nozzle that comes with LED lights, ensuring 100% easier and swifter cleaning that really gets into the hard-to-reach crevices.
It is also lightweight and some users who suffer from arthritis are grateful for the ease and mobiliy that this vacuum cleaner gives them.
This cordless vacuum cleaner has several attachments, one of them being TurboPet which users say is great for picking up stubborn pet dander and long hairs. A thoughtful feature, the built-in brush also ensures uninterrupted cleaning.
Users also love how this vacuum cleaner glides smoothly over hard floors and carpets, making cleaning a breeze.
A downside may be its long charging time, but it could still be worth it considering its powerful suction that translates to cutting your cleaning time in half.
The Philips SpeedPro Max Stick Vacuum Cleaner FC6823/61 retails at S$544. You can buy it here.
Related posts
Subscribe for newsletter
* You will receive the latest news and updates on Singapore's best trends!