10 Best Places with Cooking Classes in Singapore [2022]
Joanne, 3 years ago
10 min

read
3562
During the circuit breaker period, many of us began to take an interest in cooking because we were not allowed to eat out. Scrolling through Instagram and Facebook and you will see beautiful plates of homecooked dishes by your friends and family. It was definitely really heartwarming to see that despite challenging times, some of us were able to spend such quality time with our family. Many of us also decided there and then that we wanted to explore the world of cooking in a deeper way. Cooking classes are a great way to do so! If you are unsure where to start, this article is great for you. We have round up the best places in Singapore with cooking classes for you to hone those MasterChef skills of yours!
Highlights:
Social enterprise
Conducting classes since 2012
Virtual and physical classes available
Food Playground is a hands-on cooking school offering online and in-person cultural cooking classes and corporate team building workshops since 2012. The company operates out of a pre-war heritage shophouse in the heart of Singapore's Chinatown. It also has a unique social mission of providing flexi-work employment opportunities for stay-at-home mothers and active seniors who have limited avenues to return to the workforce.
Being a social enterprise, Food Playground empowers these women through structured training in facilitation as well as public speaking to develop them into confident culinary instructors and event facilitators. So, a cooking class with Food Playground is for a meaningful cause while meeting your objectives of having an unforgettable cooking experience!
Food Playground's signature Cultural Cooking Class offers a cultural immersion experience for travellers and expatriates to learn more about Singapore's food heritage, while their customized team-building programmes help organizations bond as well as achieve various corporate objectives like assimilating new team members, breaking down silos, enhancing creativity and learning!
After your cooking class, you will walk away not only knowing more about the Singapore food culture and heritage but also with more motivation and "courage" to try out local cuisine!
| | |
| --- | --- |
| Address | 24A Sago St, Singapore 059020 |
| Contact Information | +65 9452 3669 |
| Business Hours | 24 hours, daily |
Highlights:
Leading chefs and bakers
Easy to follow
Wide range of dishes to learn
Brettschneider's Baking and Cooking School is headed by Dean Brettshneider. For the uninitiated, Dean is a global-based professional baker as well as patissier with an international following. He is also an award-winning author of twelve cookbooks as well as a presenter and judge on multiple TV shows. Dean also co-owns and is the founder of the successful artisan bakeries Baker & Cook and Plank Sourdough Pizza in Singapore.
At this cooking school, you will be able to attend classes taught by none other than Dean himself. Through the classes, you can also learn and discover the simple science behind baking beautiful breads, pastries, cakes and tarts. With weekly classes, you will also be able Ignite your passion for cooking.
Therefore, with such a professional team behind the cooking school, you can be sure that your learning and cooking education are in great hands!
| | |
| --- | --- |
| Address | 1 Greendale Ave, Singapore 289495 |
| Contact Information | +65 6463 5508 |
| Business Hours | 9 AM to 5 PM, daily |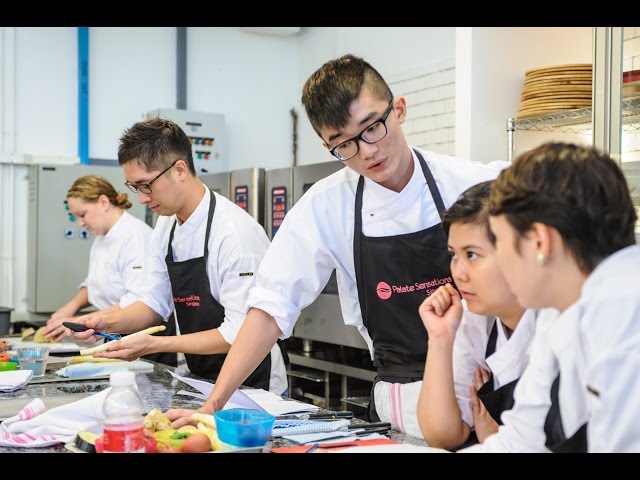 Highlights:
Baking classes for adults and children
For all abilities and levels
Wide variety of classes
Over the past decade, Palate Sensations Culinary School has helped countless home gourmands realize their dreams of becoming proficient cooks. The school has also helped professional chefs to improve their culinary and baking skills.
A highly sought after and leading training centre in Singapore, the school offers hands-on cooking as well as baking classes for adults and children of all abilities and levels. They also offer studio rental facilities, corporate team building activities, private parties as well as consulting services for businesses seeking proven expertise in the F&B industry.
Here, you will be spoilt for choice with the largest variety of cooking classes offered in Singapore. Focusing on culinary techniques instead of merrily replicating recipes, their classes offer in-depth learning experience with a hands-on approach.
The school's state of the art open concept kitchen is staffed by an Executive Chef, a Cuisine Chef, a Pastry Chef, an Operations Manager, as well as a team of guest chefs from renowned restaurants in Singapore. Focusing on culinary and baking techniques, courses cover a span of international cuisines. You can choose from French, Italian, Mediterranean, and Asian cuisines like Chinese, as well as Peranakan and Vietnamese.
| | |
| --- | --- |
| Address | Chromos #01-03, 10 Biopolis Rd, 138670 |
| Contact Information | +65 6478 9746 |
| Business Hours | NA |
Highlights:
Online cooking classes
French cuisine
For all skill levels
Whether for leisure, self-advancement or for mid-career change, the online courses offered by Ti Yan Academy will provide you with all the essential basics you need to master the French Cuisine such as French onion soup, Beef bourguignon, Chicken "cordon bleu" as well as macarons!
With the step by step explanations, tips, as well as guides given by professional chefs, cooking will become a piece of cake! From the online classes, you will also learn all the technical skills and know-how that will make you an accomplished cook.
Below each video recipe, you will also find recipe card that will allow you to adjust the ingredients depending on your number of guests, and you will even be able to print it for easier reference.
In addition, for those who want to professionally take up cooking or pastry, you will have access to academic textbooks that shed light on all the rules needed to work in a professional kitchen. In this professional formula, you will also have quizzes to help you progress in your knowledge acquisition. At the end of the final quiz, you will even get a certificate showing that you have successfully passed the test!
| | |
| --- | --- |
| Address | NA |
| Contact Information | Visit their website |
| Business Hours | NA |
Highlights:
Affordable, hands-on cooking class for all ages
State-of-the-art kitchen
Conveniently located near Tanjong Pagar MRT
Commune Kitchen is a Singapore-based cooking school that offers affordable as well as hands-on cooking classes across a broad spectrum of cuisines. You can choose from Chinese, Southeast Asian, Middle-eastern cuisines among others. For those who have dietary restrictions, you would be glad to know that Commune Kitchen offers Gluten-free as well as Vegetarian cooking classes!
Some popular cooking classes include traditional Chinese dumplings, Xiao Long Bao (soup dumplings), gluten-free dumplings, as well as middle-eastern dishes. These cooking classes are sought after by both locals and tourists alike.
In addition, all courses are taught by professional chefs in a state-of-the-art kitchen in Downtown Gallery. Participants are split into small groups into individual stations with plenty of room for hands-on cooking as well as practicing.
Apart from weekly cooking classes, Commune Kitchen also accepts bookings for kids parties, corporate team building sessions and private cooking sessions for up to 30 people.
| | |
| --- | --- |
| Address | 6A Shenton Way, #03-02/03 OUE Downtown Gallery, Singapore 068815 |
| Contact Information | +65 8821 4805| info@communekitchen.com |
| Business Hours | Monday to Saturday: 10 AM to 8 PM |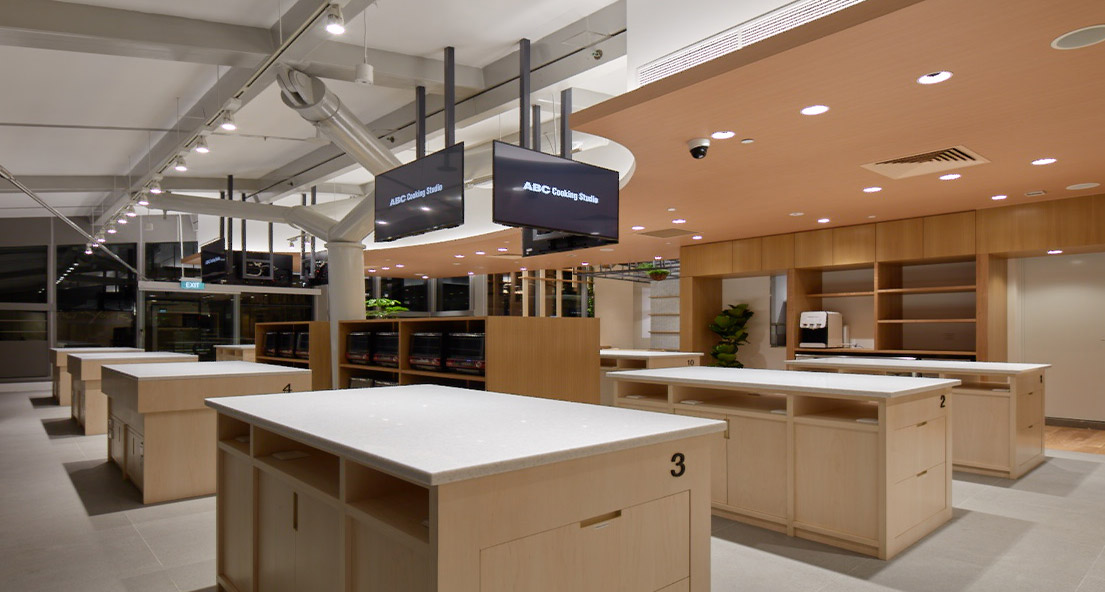 Highlights:
Casual environment
Fun and friendly team
From beginner to expert level
ABC Cooking Studio offers a wide variety of lessons such as Japanese style cooking, bread, cake, and traditional Japanese snacks from beginners to master level. The classes are great for those who want to brush up on their culinary skills. In addition, the team at ABC Cooking Studio ensures that their members have a great exclusive experience without the hassle of washing and cleaning. This is great for those who love cooking but dread the washing and clearing up!
The studio will asl plan your lessons such that classes are kept small and compact so that experts can quickly focus on their students and provide them with undivided attention.
All in all ABC Cooking Studio is a great place that provides fun and enjoyable lessons in a friendly and casual environment!
Highlights:
For all expert levels
After class support
Private classes available
Whether you are a complete beginner or own some baking equipment, but unsure how to use them, JusBaking is just the right place to start. You can choose from exciting recipes like egg mayo bun, cheese stick, hot dog, and cheese bun. Most of these are specially created for these classes.
At JusBaking, the team of teachers truly understand if your baking session fails and you need help. That is why they provide after-class support, so you have an opportunity to ask them questions anytime.
JusBaking also provides you the option to choose between going for a private class by yourself or with your group of friends. Just gather and decide what to bake and make an appointment. For each class, everything that will be required has been prepared for you. And after the class, you not only get to bring home the dish that you made! You get a printed recipe card as well!
| | |
| --- | --- |
| Address | Rivervale Walk, Block 107, Singapore 540107 |
| Contact Information | +65 9233 7935 |
| Business Hours | 8 AM to 9 PM, daily |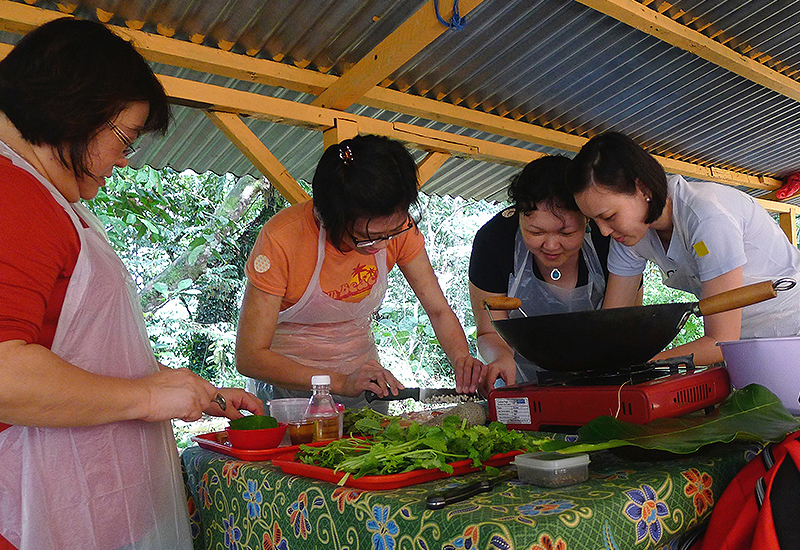 Highlights:
Authentic and traditional food
Cozy kitchen
Casual environment
At Cookery Magic, you will discover how to recreate the authentic tastes of signature Singapore and Asian dishes. Not only will you learn to cook them, you will also learn about the stories behind them in this Singapore cooking class.
From the casual classes, you will pick up the basics, add to your Asian food repertoire, or take your belachan up a notch. You will get a taste of real Singapore, served with cultural insights, good humour and a touch of magic in a cozy home kitchen.
The hands-on cooking classes are also often followed by a sit-down meal and pleasant conversation! Over the years, more than 25,000 people have come through Cookery Magic's kitchen for its cooking classes in Singapore! If a casual and fun cooking class is what you are looking for, this one is right up your alley!
| | |
| --- | --- |
| Address | 117 Fidelio Street Singapore 458492 |
| Contact Information | +65 9665 6831 |
| Business Hours | Monday to Saturday: 11 AM to 2 PM |
Highlights:
Vegetarian food
Secret family recipes
Everchanging menu
Little Green Kitchen is a cooking studio as well as a food consultancy. It is the brainchild of former lawyer Shalu Asnani to prove that vegetarian food is not boring! The cooking studio offers hands-on cooking classes as well as bespoke menus through their food consulting, private dining and corporate cooking services.
Combining the secret family recipes gained from the kitchens of her childhood as well as her modern take on vegetarian cuisine, Shalu Asnani, the woman behind Little Green Kitchen, offers mouthwatering and healthy vegetarian food spanning a variety of genres; from Asian street food to contemporary Western cuisine.
In recent years, Shalu has developed areas of specialization within the niche of vegetarian cooking including menus that are gluten-free, vegan, low-carb, child-friendly and superfood-rich. She constantly brings new ideas to her classes and showcases a variety of dishes that are incredibly tasty, so you can enjoy all the benefits of eating clean without compromising on taste!
| | |
| --- | --- |
| Address | 1 Hacienda Grove, Singapore 457908 |
| Contact Information | +65 9763 1483 |
| Business Hours | NA |
Nestled among shop-houses along Simon Road, the Chantilly Culinary Studio offers a neat and bright setting fully equipped for hands-on delivery of baking as well as cooking classes. The studio is also committed to maintaining a Halal environment. Do make sure to taste and smell the fresh herbs on the patio garden when you visit!
Approaching cooking and baking with the philosophy of simple, fresh and natural, Cecilia, the owner of Chantilly Culinary Studio, focuses on equipping participants with basic skills as well as knowledge to turn a recipe into really good tasting food.
Classes are suitable for children and adults alike. You can choose to learn how to cook dishes such as cookies, cakes, pasta, as well as tiramisu.
| | |
| --- | --- |
| Address | 1 Hacienda Grove, Singapore 457908 |
| Contact Information | +65 9763 1483 |
| Business Hours | NA |
Even though the circuit breaker has ended, many of us still choose to stay home to stay safe! So, instead of braving the crowds to eat out, why not choose to have homecooked meals? With these places with cooking classes in Singapore, you will be well on your way to better-homecooked meals! Besides, you can save money too!
Related posts
Subscribe for newsletter
* You will receive the latest news and updates on Singapore's best trends!