11 Best Cooker Hoods in Singapore [2022]
Gee, 3 years ago
8 min

read
20494
Are you looking to upgrade your kitchen gadgets? You should consider the best cooker hoods available in Singapore to give you long term comfort. The air in your kitchen gets contaminated as you cook and hence, it needs a good ventilation system.
You should be able to cook feeling content with fresh air in your kitchen. All the grime and oil generated while cooking needs to be removed at the same time. A good cooker hood will make airflow to bring freshness into your kitchen.
This will ensure that the smoke and grime do not settle on your kitchen counters and makes them look unkempt. We have listed some of the products along with some things you should consider while investing in a cooker hood.
Buying Considerations for Cooker Hoods
How much space does a cooker hood require?
This entirely depends upon the model of the cooker hood and the efficiency you are looking for in your kitchen. You can choose from sleek and compact designs to heavy-duty cooker tops with a triple fan system. A cooker top is designed to sit over the cooking area and does not cause any obstruction in the kitchen space.
Will it be easy to clean, or will it break my back?
The cooker heads come with removable aluminum and carbon filters. These filters can be washed and are easy to clean. So, no, you will not have to worry about cleaning your cooker heads.
Size Matters: Choosing the ideal size
In the case of the cooker head, the size does matter. But, something that you should emphasize more on is the airflow and the recirculation of the air into your kitchen. This will ensure the air is being replenished quickly.
Highlights:
Different speed controls
Washable filter
Cassette Charcoal filters
Get this sleek and beautiful UNO Glass chimney hood that will go with your modular kitchen. It has a robust motor suction cup that works at 800 cubic meter speed per hour. This high speed will ensure that you are breathing fresh air as you cook.
The chimney comes with two halogen lamps and a tempered glass roof. You can adjust the level of grease removal you need in the kitchen with the three different control speeds. To clean the chimney, all you need to do is unmount the filters and wash them. Overall, this cooker hood is truly deserving of the number one spot on our list of best cooker hoods in Singapore.
Price: $613 (U.P $712)
Highlights:
Built-in lamp
Stainless Steel
Sleek Design
Get this Turbo Incanto Chimney Hood and grace your kitchen with its sleek design with efficient and powerful machinery. It comes with a low power consuming lamp for ample lighting while you cook. Your kitchen will be grime and smoke-free with the three-speed mechanism. Additionally, there is a booster mode too that functions at the highest power to make the kitchen air fresh. 
You can cook peacefully with a low noise level at 74dBA. Moreover, with a high rate of airflow, the chimney prevents the settling of foul odor in the kitchen and the house. 
Price: $529.00
Highlights:
Rust-resistant body
Fire-resistant material
Strong fans
This classy and efficiently built Fujioh stainless steel chimney hood will be a great addition to your kitchen. It is active in eliminating oil build-ups and strong cooking odor around the kitchen. Along with this, cleaning is easier with the removable and washable filters that are also rust-resistant. The body of the chimney is fire resistant providing you an extra level of safety in the kitchen. 
The chimney comes with a powerful Sirocco Fan to provide efficient removal of cooking grease. The oil catch tray is an efficient addition to help the chimney work at maximum output. 
Price: $652 (U.P $785)
Highlights:
Japanese make
LED lighting
Brand assistance
This Fujioh slimline cooker hood model will be perfect for those who are looking to fit a cooker hood in a smaller space. The cooker hood has a slim and compact design that does not need too much space. The cooker hood has about 83% oil capturing ratio to leave your kitchen with fresh air.
Moreover, it has an oil-repellent steel coating that does not let any grime sit on the surface. You can easily clean the surface and filters by removing them. 
Price: $558
Highlights:
Mechanical control panel
High airflow
Efficient lighting
Consider this Rinnai Slimline cooker hood that operates with mechanical buttons for an easy control system. The cooker hood has halogen lights with separate control buttons. Rinnai cooker hood works with a charcoal filter that removes even the tiniest of the oil and grime particles from your kitchen. 
The cooker hood has an efficient airflow of up to 400 cubic meters per hour. This will make sure the heat and oil built up are quickly removed from your kitchen. Overall, definitely one of the best cooker hoods in Singapore.
Price: $230 (U.P $280)
Highlights:
Stainless steel body
Triple filters
Recirculation mode
This EF EFCH slimline cooker hood has an impressive stainless steel body that has an acrylic panel in black color. You can control the cooker hood with its three-speed modes for the fan, depending upon your needs. 
It has dual charcoal filters and triple aluminum grease filters to make sure the maximum removal of dirt and grime from the cooking space. The cooker hood also has a recirculation mode for refreshing your kitchen with fresh air. 
Price: $329 (600mm) / $359 (900mm)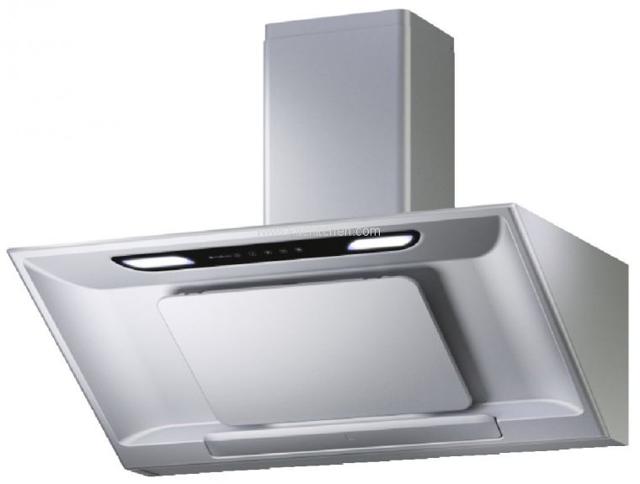 Highlights:
Hydrophilic Coating
Oil repellent
Oil catch tray
Bring home this Fujioh Chimney Oil Tech Cooker Hood with the innovative aqua slit filter. The filter has a hydrophilic coating that does not let any oil stick to it and build up over the use. The rectifier panel of the body has oil-repellent paint for a clean and dry surface.
The cooker hood is easy to clean and reassemble. Additionally, the glass panel and electrostatic touch switch give the cooker hood an attractive look while being functional. All in all, a worthy contender on our list of best cooker hoods in Singapore.
Price: US$1,103.80
Highlights:
Comes with digital display
High performing motor
Removal metal filter
Consider getting this Bosch stainless steel chimney hood that has a twin channel fan motor working at a very high speed. Your kitchen will smell fresh even after cooking a five-course meal with its intensive cleaning method. 
The digital display makes functioning and settings easy to operate along with the dimmer function for the lights. Even with a powerful fan system the chimney hood works at a very low noise level as if there is no machinery working. This also ensures there is no energy wasted, and all the power is being efficiently used. 
Price: $1,368
Highlights:
It comes with indicator light.
Has a carbon filter
Three-speed control settings
The Turbo Incanto conventional hood that comes with a built-in lamp to help you work in the kitchen at night time. It has carbon filters to filter out the maximum grease and grime in the air from all the heavy cooking working at three different speed settings. 
The maintenance of the cooker hood is easy with the detachable and washable metal grease filters. Moreover, it has a low noise output of 50dBA while working, which ensures highly efficient operation while being silent. 
Price: $279
Highlights:
3 booster speed settings
Low noise level
Aluminum washable filter
This Ariston cooker head has uniquehas a unique aluminum grease filters that have polyurethane foam. This combination helps in eliminating up to 98% of all grease particles, food odors, and smoke. Moreover, it comes with a sensor that automatically detects the level of impurities and works accordingly. It's like having a smart chimney in your kitchen that knows what to do. 
The cooker head comes with a stainless steel surface that is finger-print resistant and stays clean throughout. You can also use the timer feature to refresh the air in your kitchen in just ten minutes. Overall, indeed one of the best cooker hoods in Singapore!
Price: US$592.70
Highlights:
Comes with Aluminum Slot Filter
Fire-retardant Body
Free installation
The Fujioh cooker hood has a slim design and comes with an aluminum slot filter. The filter works to get rid of any oil build seen while cooking. The slimline cooker hood is washable and easy to clean so that you don't need to break a sweat cleaning. A high-power German motor ensures that there is no food odor and smoke left inside your kitchen.
The rectifier panel is removed for easy cleaning. Also, it has an oil catch tray and a utility light to help you save energy while you cook. The cooker hood has an efficient 85% oil suction rate, so you can enjoy cooking as much as you want to. 
Price: $438 (U.P $599)
Related Articles:
Related posts
Subscribe for newsletter
* You will receive the latest news and updates on Singapore's best trends!