10 Best Compression Socks in Singapore [2022]
Joanne, 2 years ago
9 min

read
3029
When you hear of compression socks, the socks that people wear on long flights may come to mind. You might think that it is pointless to think about compression socks during a pandemic. However, contrary to popular belief, compression socks can and should actually be worn through a typical day too! Compression socks and stockings are intended to provide relief from swelling. They gently massage your legs and ankles to encourage blood supply from your legs to your core. The socks can also assist with swelling and discomfort in the ankles and thighs.
With so many different brands of compression socks available on the market, choosing one for yourself or your loved ones can be a confusing process. One thing is for sure: not all compression socks are made equal! Today, we round up the best compression socks that you can find here in Singapore! Read on to learn more!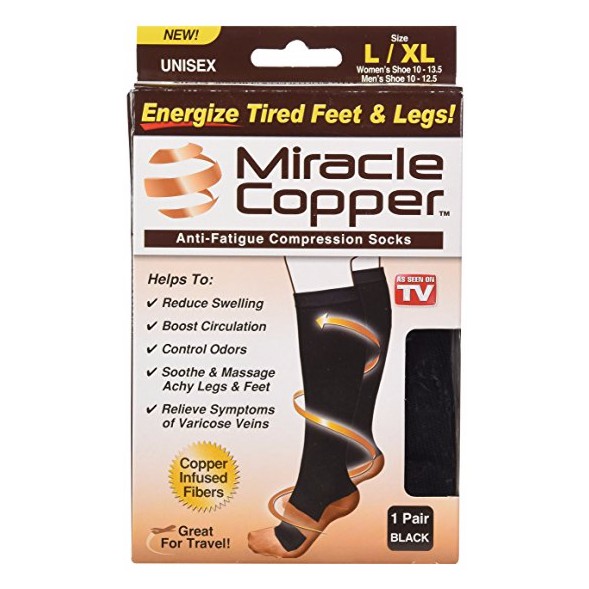 Highlights:
Machine washable
Unisex design
Affordable price
This pair of compression socks by Miracle Copper would be familiar to those who have seen their advertisements on TV. For just less than $3 you get a decent pair of compression socks that does its job well! It is great for those who are on a tight budget.
This wallet-friendly pair of compression socks also make the perfect gift for someone you love. It is perfect for use at work, home and when travelling. Comfortable and easy to put on, this pair of compression socks are made of breathable fabric that will fit any shoe size. The anti-microbial properties featured also mean that you do not have to worry about smelly feet as it is able to naturally eliminate odours.
As for its health promoting features, the Miracle Copper Socks can help reduce swelling, boost blood circulation, soothe and massage tired legs and feet, relieve symptoms of varicose veins, as well as reduce stiffness. You also do not have to worry about making them dirty, because the socks are machine washable. To reap the benefits of this affordable pair of compression socks, just add them to your cart on the Shopee app!
Buy it here!
Highlights:
Bee Hive mesh design
Good circulation
Helps to prevent Deep Vein Thrombosis
If your job requires you to stand for long hours, this next listing will be particularly useful for you so pay attention! Ebene Bio-Ray Compression Socks helps prevent Deep Vein Thrombosis (DVT), helps to minimize pain, swelling, and leg ache due to long hours of standing and sitting and relieve tired achy legs and feet.
The compression socks help stimulate blood and oxygen circulation, which decreases the risk of blood clots. It is thus able to help to relieve tired, achy legs and feet. These socks by Ebene also feature a Bee Hive mesh design which allows great air circulation. You never have to worry about stinky feet with this pair of socks!
These socks are usually priced at $59.90. However, the brand often runs promotions where you can get them at almost half the price at $29.90. So do keep a lookout!
Buy it here!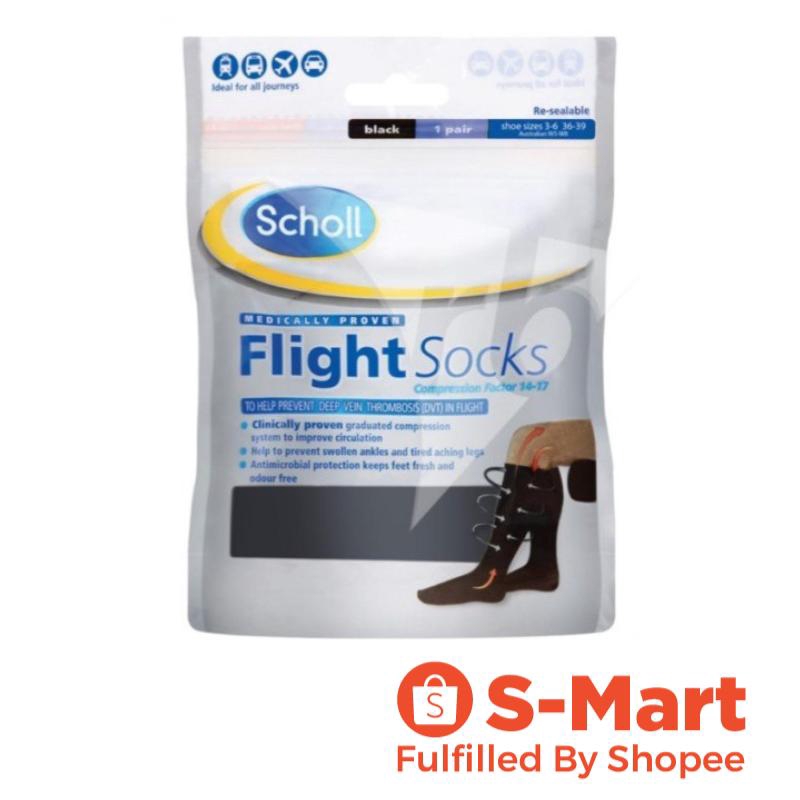 Highlights:
Medically proven to help improve blood flow
Designed for comfort
Look and feel like normal socks
Scholl is a brand that most Singaporeans will be familiar with. Their version of a pair of compression socks is the Scholl Cotton Feel Flight Socks. Many of us will remember buying a pair right before hopping onto a long haul flight to a country far away!
Although it is priced slightly higher than other compression socks on this list, Scholl's socks are medically proven to help improve blood flow. It effectively helps to relieve tired aching legs and swollen ankles so that you arrive at your destination feeling refreshed and your legs feel revitalized.
For the fashionistas out there, you'd be glad to know that these socks look and feel just like normal socks. They will not clash with your outfit and will not stand out! With an ultra-soft and comfortable material, these socks are designed for continuous comfort.
Besides for use during flights, these socks can be used for those who experience long periods of inactivity, combined with cramped conditions and dehydration!
Buy it here!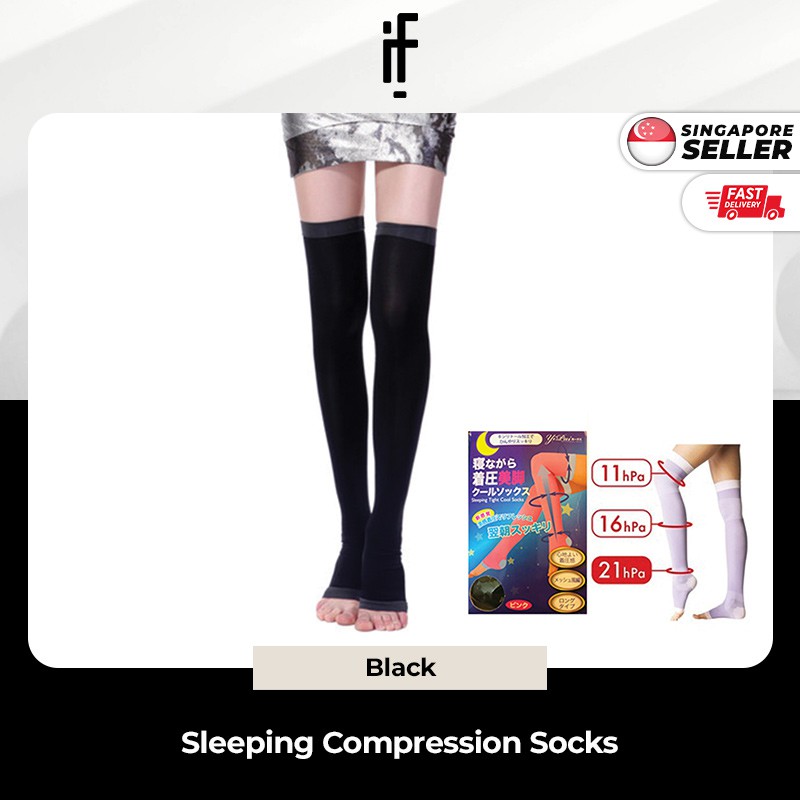 Highlights:
Multiple sizes available
Designed for comfort
Can be worn at night while sleeping
Many professionals advise against wearing compression socks during sleep because compression socks move blood flow away from your feet and may block blood flow when you're lying down. However, this next pair of compression socks are specially designed to be worn during sleep.
The Sleeping Compression Socks features a low compression pressure that is optimized for sleeping and tightens the legs all the way from the thighs to the ankles. Made of a soft fabric with 95% Nylon and flexible texture, the socks can stretch comfortably to fit you. It also features an elastic fabric on the heel for your comfort.
On top of improving blood circulation, this pair of socks helps eliminate water retention and slimming! It is machine washable and comes in a variety of sizes.
Buy it here!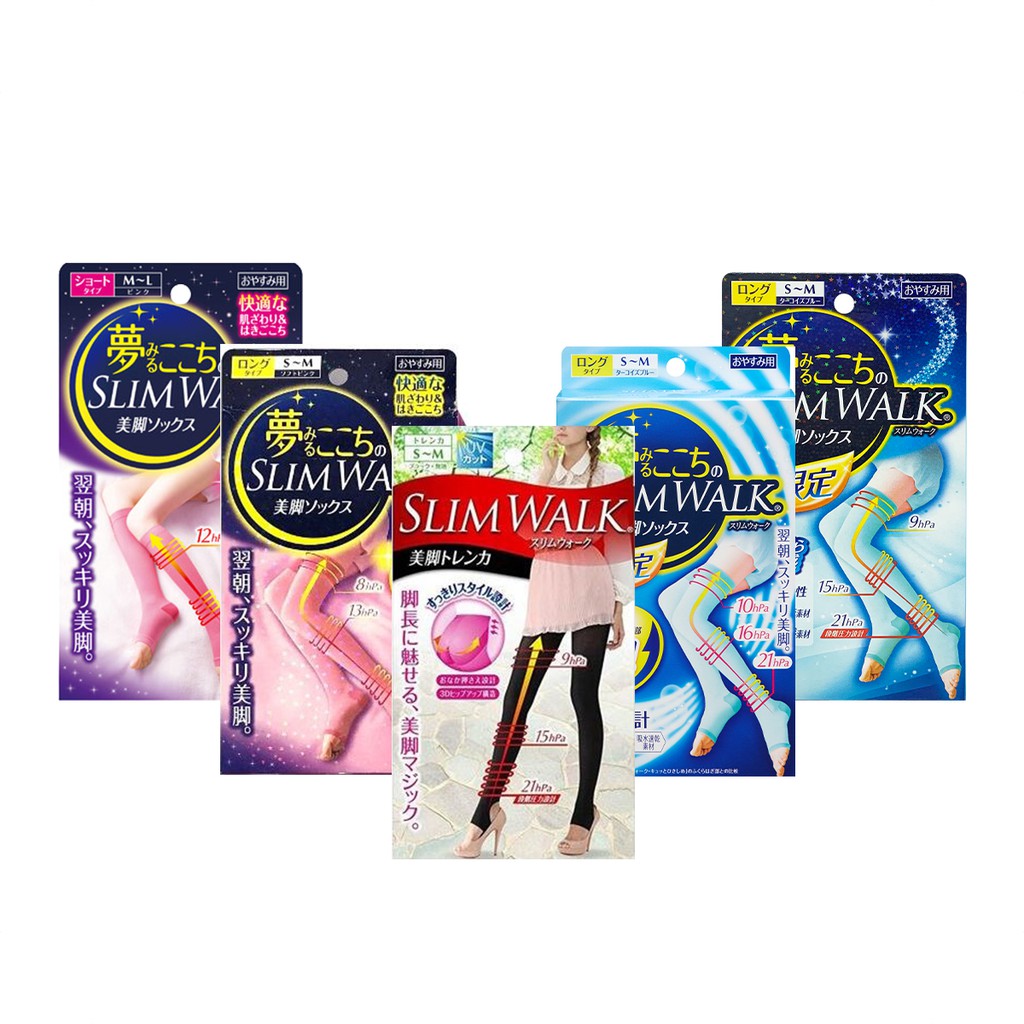 Highlights:
Gentle on skin
Cooling fabric
Soft material
Multiple colors and design options
Made in Japan, Slimwalk Compression Socks features a four-section compression design that takes good care of your entire leg from the base of the thigh. The compression decreases as it goes up from the ankles with "Graduated Compression Design". With gradual tightening to lift the legs to some extent, the blood that accumulates underneath will more easily flow back to the heart. Therefore, the socks help to reduce clots, lymphatic flow and improve blood circulation caused by oedema.
Designed to firmly support and lift the hip, inner thighs, and knees, these socks are comfortable, soft, firm, and tight from your ankle to your waist. It fits and clings well, but is at the same time gentle to the skin. Made of a cooling fabric, these socks are perfect for Singapore's perpetual summer heat!
Buy it here!
Highlights:
Affordable price
Widely seen on TV
Good for daily use
Widely shown on TV, the Miracle Compression Socks features a compression technology that applies graduated pressure to boost circulation and help reduce aches and swelling. They are perfect for relieving swollen ankles and feet and is thus recommended for those who stand for long hours. In addition, the Miracle Compression Socks even help relieve symptoms of varicose veins and excess fluid retention.
Thin and almost not noticeable, these socks can fit in any shoe. They are great for daily use and are easy to put on. All in all, if you are looking for a pair of compression socks that can help to reduce swelling, enhance circulation, relieve symptoms of varicose veins as well as soothe aching legs and feet, consider Miracle Compression Socks. For just $2.90, you can enjoy the health benefits of a decent pair of compression socks.
Buy it here!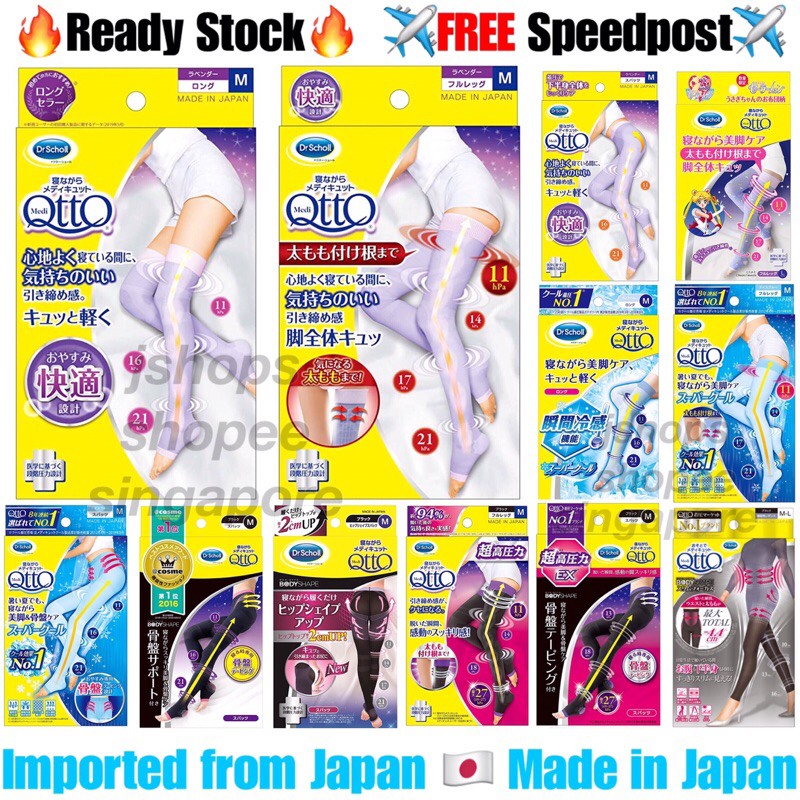 Highlights:
Various designs
Comfortable open-toed design
Helps in slimming
Directly imported from Japan, these compression socks from Dr Scholl is extremely popular and often sell out really quickly at local pharmacies. These compression socks are great for those who would like to slim and shape you body or feet while you sleep.
It offers graduated compression support that helps in relieving aches and pain and slimming your entire leg. For those who worry about perspiring in your sleep, you would be glad to know that Dr Scholl's compression socks are made of an anti-bacterial and deodorized material. It also features an open-toe design that is comfortable to wear and releases heat in your sleep.
Their compression socks come in various forms as well. Whether you'd like a short, long, full leg, or legging type of compression socks, Dr Scholl has got you covered!
Buy it here!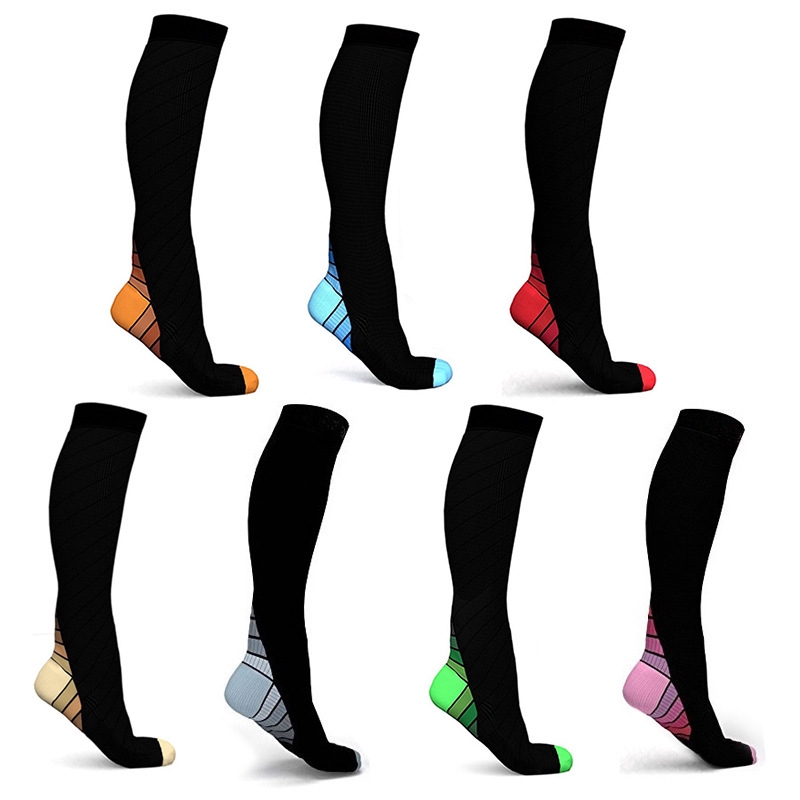 Highlights:
Highly stretchable for comfort
Durable material
Breathable fabric
KeepFit is a brand that takes pride in combining fashion, technology and science to bring you triple comfort without making you overpay. The compression socks are designed to be the newest in the market while providing greater comfort with breathable and moisture absorbent material.
KeepFit carefully designed and manufactured its compression socks to provide premium support, comfort, and relief without compromising your mobility. Form-fitting, lightweight, and breathable fabric features maintain joint stability regardless of the activity that you partake in. The socks are ideal for those who sit for a long period during travel or at work.
The materials used to make KeepFit's compression socks are upgraded from a nylon percentage of 40% to 85%. This means that the socks can deliver a 360-degree stretch for greater flexibility and durability.
Buy it here!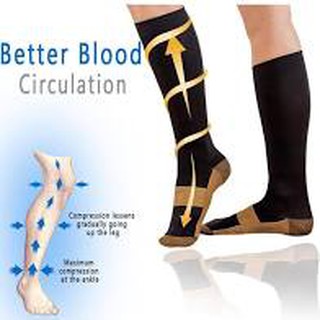 Highlights:
Comfortable design
Prevents blood clots
Made of a durable material
Long periods of inactivity, combined with the cramped conditions and dehydration that can occur on long journeys, can cause many circulatory problems, including deep vein thrombosis and blood clots. These socks help to improve blood flow for greater health.
It is designed for continuous comfort and they effectively help relieve tired aching legs and swollen ankles so that you feel refreshed and your legs feel revitalized.
In addition, the dense structure material in these socks is the perfect support for those who suffer from varicose veins. Optimal compression increases blood flow during a long flight, sitting or standing and prevents swelling and inflammation. The flat seams featured also leave your toes feeling comfortable.
Buy it here!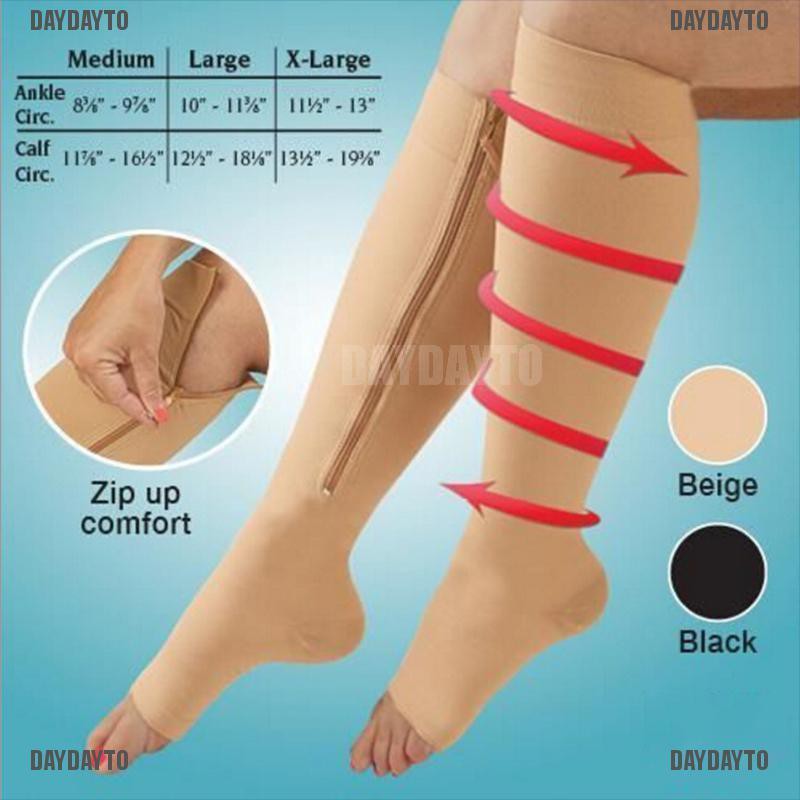 Highlights:
Quick and easy to wear
Not visible under your clothing
Affordable price
Daydayto's compression socks are designed to increase blood circulation and reduce swelling. Quick and convenient to wear, you will not find that it is a hassle to have to remind your self to put them on daily. Furthermore, they are not visible under your clothing. So, you do not have to worry about them cramping your style.
With a built-in zipper that is adjustable, you will find that putting these socks on is simple and quick. You also do not have to worry about getting hurt by the zipper because of its pinch resistant design. The open-toe design also adds to the comfort of this pair of socks. It is perfect for travel, sports, work, or even for you to wear at home!
Buy it here!
Wearing compression stockings may be beneficial for travellers or those who are unable to move around for extended periods of time, for pregnant women during and after pregnancy, or for someone who is recovering from surgery. Depending on your needs, you can consider wearing them all day long too! With the many health benefits of compression socks, you should consider getting one for your loved ones. If you are looking for more products that can protect you or your family, check out our article on the knee guards in Singapore to keep you supported and protected here!
Related posts
Subscribe for newsletter
* You will receive the latest news and updates on Singapore's best trends!
Trending Posts
May 30, 2023

What is Matcha? Matcha...

May 31, 2023

TLDR: In this article,...

May 31, 2023

TLDR: As an audio...