8 Best comfortable pillows to buy in Singapore 2020
Best In Singapore, 2 months ago
1
8 min

read
90
In a fast-paced urban work environment like Singapore, we need all the quality sleep that we can get. In pursuit of that ideal quality sleep, the importance of a good pillow should not be overlooked.
Functioning as support for your neck and upper back, a pillow serves to preserve the alignment of your spine, mitigating stiffness in your neck and back. Tired of those backaches and stiff necks? Fret not as our list of the 7 best comfortable pillows to buy in Singapore is here to help you get that quality rest you deserve.
1. Origin Superior Coolmax® Latex Pillow
Slumber into the extraordinary latex pillow that offers you a beauty sleep. The Origin Superior Coolmax® Latex Pillow provides a responsive Latex foam support and comes with a removable Tencel fabric pillow cover to top it off.
Unlike other brands of pillows, Origin Superior Coolmax® Latex Pillow comes alongside a removable pillow cover that is dedicatedly threaded with Tencel fabric. Notable for its natural comfort and its environmentally responsible production process, Tencel fabric is softer in touch in relation to cotton. Moreover, it is lightweight, hypoallergenic and definitely ideal for hot and humid weather climates like in Singapore.
Alternatively, this particular pillow cover can be machine washed, which prolongs the active usage lifespan extensively.
To round it all up, the Latex foam utilised in Origin Superior Coolmax® Latex Pillow constitutes a denser material as compared to fibre or memory foam. Exquisitely, a Latex pillow has the capability to mould according to the shape of your head, providing the right level of sleep support. Latex foam is also durable with hypoallergenic properties that have minimal dust, bacteria or mould issues.
Available for purchase on website.
2. Amour Latex Pillow
First on the list, we have the Amour 100% Natural Thai Latex Pillow. Latex also referred to as the 'white gold of Thailand', is obtained from the sap of rubber trees and is guaranteed to have you sleeping like royalty.
The Amour Latex Pillow has just the right level of denseness, comfortably providing your head and neck with sufficient support without being too firm. As an added bonus, Latex is a superior rebounding material which causes the pillow to return to its original form after each night's rest. Furthermore, this natural Latex pillow consists of millions of interconnecting air cells that keep the pillow cool in Singapore's perpetual summer heat. Worried about allergies?
Let your worries be put to rest as the Amour Latex Pillow is hypoallergenic and antimicrobial, making it a great choice for those suffering from asthma and allergies.
In addition to these benefits, the Amour Latex Pillow is biodegradable, making it an environmentally-friendly choice. Along with being sturdy enough to last 10 long years without deformation, it is hard to oversell this pillow.
Available for purchase on Lazada or Shopee.
3. AKEMI Comfort Contour Memory Pillow
With the AKEMI Comfort Contour Memory Pillow, say goodbye to backaches and stiff necks. Complimented on its ability to conform to the shape of the user's head, this memory foam pillow distributes weight evenly, preventing unwanted strain on the neck and spine. In addition, this pillow is great for side sleepers as the contoured shape offers enhanced support, ensuring that you wake up without any soreness in your neck.
Made from naturally hypoallergenic material, bacteria and dust mites are kept at bay, making this pillow user friendly for asthma and allergy sufferers as well. Furthermore, maintenance is a breeze when it comes to the AKEMI Comfort Contour Memory Pillow as the external cover is easily removable and machine washable. If you're a side sleeper or allergy sufferer, this could be just the pillow that you were looking for.
Available for purchase on Lazada and Shopee.
4. AKEMI Outlast HiLoft Pillow
AKEMI finds itself with not one but two pillows making our list. AKEMI Outlast HiLoft Pillow prides itself on its cutting-edge temperature regulation technology. The pillow's active thermal regulation proactively manages heat, offering a higher level of comfort when sleeping. Hate waking up sweaty? Not a problem as AKEMI's outlast technology results in 30% to 50% less sweat produced by your body when sleeping as a result of less overheating.
The Outlast HiLoft is stuffed with plump and bouncy microfibre, allowing the pillow to stay cool through Singapore's warm nights. The microfibers are also tightly woven together to make them naturally antimicrobial and hygienic which is ideal for allergy sufferers. Those facing difficulty catching quality sleep due to feeling uncomfortable from the heat should definitely give this pillow a try.
Available for purchase on Shopee.
5. SOMNI Fluffy Pillow 
Often times, fluffy pillows are unable to retain their fluffiness when pressure is applied. This is not the case with the SOMNI Fluffy Pillow. The pillow's unique outward appearance is more than just an aesthetic choice as the quilted pockets help the pillow retain its fluffy shape and support, preventing the pillow from flattening out. Both quality and quantity are assured as a precise 1300g of filling are stuffed into every pillow to achieve that optimum loft.
The gusset reinforces the structure and shape of the pillow, providing adequate head and neck support. Similar to AKEMI's Outlast HiLoft Pillow, microfiber filling is used, allowing the Fluffy Pillow to remain cool in the heat. This also means that the Fluffy Pillow is antimicrobial and a great choice for allergy sufferers. Developed through multiple testing and feedback sessions, the SOMNI Fluffy Pillow is guaranteed to have you sleeping comfortably. 
Available for purchase through Lazada and Shopee
6. Epitex Charcoal Shredded Memory Foam Neck Support Pillow
Along with all the benefits of a memory foam pillow, Epitex went the extra mile to include charcoal as a component of their memory foam pillow. With sweat being produced and seeping into our pillows when we sleep, it becomes inevitable that they start to smell after a couple of nights. This isn't a problem for the pillow from Epitex as charcoal acts as a natural absorbent for odour, ensuring that bad odours won't be keeping you up at night. An important point raised by reviewers is the exceptional firmness and height of the pillow. If pillow that is both firm and high is your thing, look no further as the Epitex Charcoal Shredded Memory Foam Neck Support Pillow is right up your alley.
Available for purchase through Lazada and Shopee
7. Bodyluv Addiction Pillow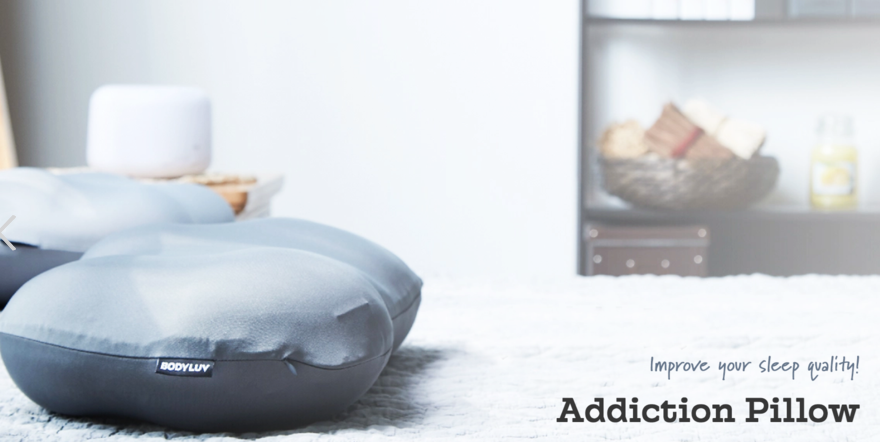 Korean culture has taken the world by storm and the pillow scene is no exception. Coming in 4 different colours with over a million pieces sold in Korea, the Bodyluv addiction pillow has received a ton of praise and positive reviews. Whether you sleep on your back, side or stomach, this pillow will have you sleeping well.
Making use of a 3D ergonomic design, the pillow makes sure that the user remains comfortable in all sleeping positions. The Addiction Pillow is also filled with 8 million micro air balls which absorb tiny movements made that hinder sleep. Another unique and impressive feature is the fact that the Addiction Pillow can be machine washed as a whole. No longer limited to just fresh pillow covers, you can now have a fresh pillow as well!
If you would like to learn more about the ergonomic design, micro air balls, and other design specificities, head over to the Bodyluv website to find out more. Orders can also be directly placed on their website.
8. Cabeau Classic Evolution Travel Pillow
Ending the list of is not a traditional pillow for your bed but rather a travel pillow that grants maximum comfort on the go. To those sick and tired of waking up with a stiff neck while travelling, the Cabeau Classic Evolution Travel Pillow is the perfect companion to bring along for your travels. With a 360-degree support system, the Evolution Travel Pillow is easily adjustable to allow you to sleep comfortably in your preferred sleeping position.
The pillow also uses memory foam material to conform to your specific sleeping position, providing the necessary support to your head and neck to prevent stiffness. With a machine-washable cover, your pillow can stay fresh through multiple ventures and travels. The in-built storage pocket for your media devices coupled with the ability to compress the pillow for easy storage highlights how the pillow was crafted with a traveller's convenience in mind. 
Available for purchase through Lazada and The Planet Traveller.
Sleep experts recommend that we get between 7 to 9 hours of sleep every night. As Singaporeans ourselves, we understand how difficult it is to catch sufficient rest. With already limited hours of rest, don't let a pillow be the reason to keep you up at night. By utilising this list, let us all be on our way to a good night's rest.
Related Topic: 7 Best Foldable Mattresses In Singapore that are Built for Comfort 
10 best mattresses to buy in Singapore for your beauty sleep 
Best 5 Places to Buy Cheap Furniture in Singapore 
Written by: Tan Yi Bryan
Related posts
Subscribe for newsletter
* You will receive the latest news and updates on Singapore's best trends!