10 Best Collagen Drinks in Singapore [2021]
, 3 years ago
11 min

read
9504
What is Collagen (and Why Should You Take It?)
Collagen is found abundantly within the human body. Put simply, it is the 'glue' that connects your ligaments, tendons, muscles, and skin. Collagen is responsible for providing structure to your skin. It is what keeps it supple, binds your bones and muscles together, and serves as a protective layer for your internal organs.
Although it is true that the human body naturally produces collagen, scientific studies show that the collagen produced in the body rapidly decreases after the age of 18. In fact with every year, your body's natural collagen production drops by about 1 percent. The loss of Collagen will result in saggy and wrinkled skin.
With collagen supplements, you'll be able to prevent brittle or shrinking bones that come with age.
One of the core advantages of taking collagen on a regular basis is that your nails and hair will be stronger – hair growth may even be stimulated! Who doesn't want a healthier and thicker hair and less brittle nails?
What are the benefits of taking Collagen?
Collagen drinks contain collagen peptides, which are smaller bits of collagen that are easily digested and absorbed by our bodies. These collagen bits, in turn, trigger your body's natural collagen production.
Although collagen supplements are mostly beneficial, compared to collagen in the form of pills or powder, your body absorbs collagen most easily when it is in liquid form.
Collagen drinks are also usually more pleasant tasting than other collagen supplement alternatives – such as those in powder form, which are quite notorious for having a slightly fishy aftertaste and may affect the taste of your drink or food if you mix the powder in.
Read on as we have compiled a list of 10 collagen drinks that will improve your skin appearance from inside out.
Top-rated beauty drink in Singapore
Pleasant sparkling water flavour
Highest purity ingredients
Boosts skin metabolism
Deeply repairs and rejuvenates damaged skin
The Avalon Stemcell Beauty Drink is a top-rated collagen drink in Singapore that uses the Orchid Stem Cell to deeply target, repair, and reverse the effects of damaged skin.
This beauty drink works its magic in 2 simple steps.
In Step 1, the highest purity Orchid Stemcell that is used quickly targets and repairs skin cells, so your skin is able to absorb other beneficial nutrients.
In Step 2, premium marine collagen peptides replenish skin cells and locks in moisture. In this way, repaired skin cells are now ready to combat all major skin issues.
Users who tried this collagen drink reported improved skin moisture levels, brighter skin tone, tightened pores, improved skin firmness, and a reduction in wrinkles and fine lines. Pigmentation and acne issues were also reduced. Those with eczema, rosacea, and chronic skin itching also benefitted from drinking this.
This beauty drink contains sparkling water that adds a refreshing taste.
The Avalon Stemcell Beauty Drink costs S$52.00 x 16s. You can order it here.
Most-popular collagen drink in Singapore
Halal certified
Keeps your skin looking youthful
Firms and hydrates your skin
Heals and regenerates skin cells
The Collagen Diamond 5300mg Drink works, thanks to a generous 5,300mg of Collagen Peptides in it, which helps restore skin elasticity and radiance. Instead of using bovine (beef) collagen, it uses marine collagen made from fish skin and scales. Compared to bovine collagen, marine collagen contains smaller peptides that are more easily digested and absorbed by the body.
The Collagen Diamond 5300mg Drink comes with a pleasant lychee flavour, so you look forward to drinking it daily.
Kinohimitsu Collagen Diamond (5300mg x 16s) costs S$48.90 – you can even order it on Shopee!
3. Bonus: Chu Collagen – Thick, creamy, and rich in flavor
Double-boiled for 8 hours to perfection
No added preservatives
No added additives
No added artificial flavorings
No added MSG (Monosodium glutamate)
Trans fat-free
Sugar-free
Where hotpot and steamboats in Singapore are on the rise, many F&B restaurants are unfortunately handicapped with the newly implemented safe management measures. Collagen steamboats such as Beauty in the Pot, Hai Di Lao, and Shabu Sai are facing a spike in their dine-in restaurants ever since the start of Phase 2. The average waiting time could extend up to 1.5 hours.
You can easily enjoy a fuss-free steamboat experience with no waiting time with Chu Collagen. Their 1L packet of Premium Chicken Collagen Soup 1L serves up to 3 pax – which rounds up to ~$8 per pax. Its rich, creamy, and super nutritious broth is unbelievably delicious and it is trans-fat-free, sugar-free, and has absolutely zero added MSG, preservatives, additives, and artificial flavorings.
Chu Collagen need not be used just as a hotpot soup base but you can explore the different ways of using the frozen stocks such as spicing up your plain steamed rice with a spoonful of razzle-dazzle to make it a creamy gravy.
If you are looking for a restaurant-quality collagen soup base for a simple and hassle-free steamboat, you know where it is.
Chu Collagen | www.chucollagen.com | contact@chucollagen.com
Created by a leading skincare expert
High-quality ingredients
Contains GABA for overall wellbeing
Tightens and moisturizes your skin
Helps you to sleep better
LANEIGE Youth Collagen Drink may be pricier than other beauty collagen drinks in the market, but you are paying for quality because they are one of the most trusted leading skincare brands in the world.
Each bottle of collagen drink contains 5000 mg of fish (tilapia) collagen peptides, deep seawater, Vitamin C and also GABA (Gamma-Aminobutyric Acid), pomegranate and red-orange extracts.
Stabilized and cleaned seawater from Korea found 200 metres below sea level has inorganic nutrients that providing moisture to the skin.
GABA, a type of amino acid found in green tea, brown rice and mushroom helps promote deep sleep, relaxation and stress relief. Users reported a 39.1% improvement in sleep quality after taking this drink.
Pomegranate extracts, rich in vitamins and minerals, nourish and revitalize skin; while red-orange extracts are rich in anti-oxidants.
Laneige Youth Collagen Drink retails for S$150. You can order it on Qoo10.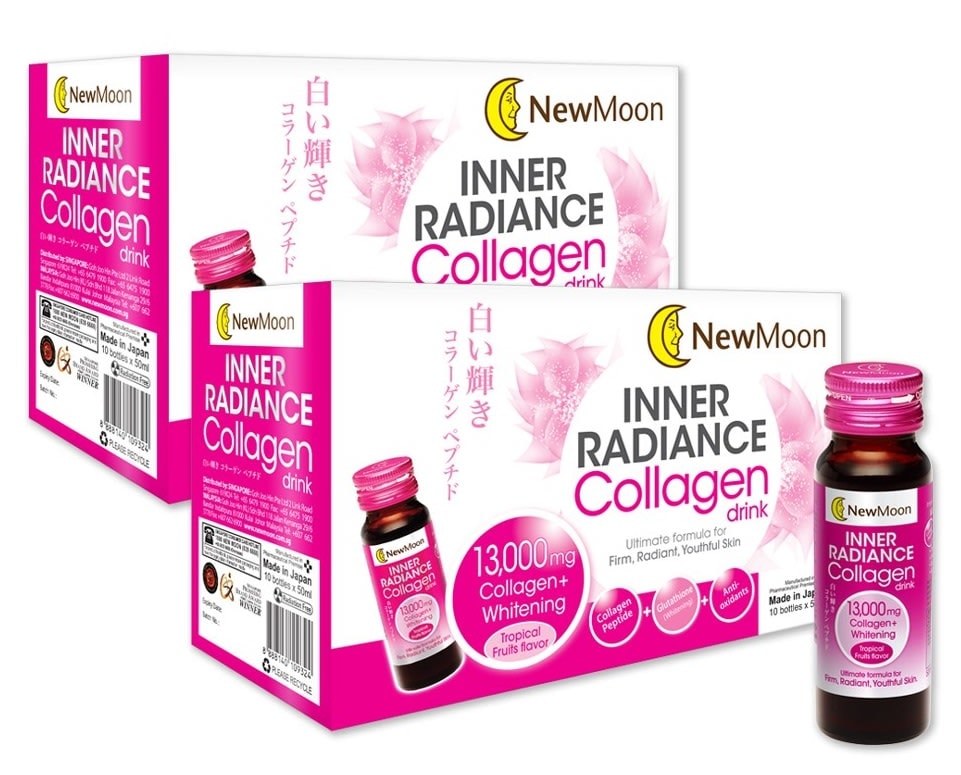 Highest collagen content 13000mg
Whitens and smoothen your skin
Anti-ageing formula
Tropical flavour
Lower sugar
In 2015, New Moon burst into the beauty spotlight with the introduction of their New Moon Inner Radiance Collagen Drink.
Within 2 months of their launch, more than 200,000 bottles were sold.
The New Moon Collagen Drink is clinically formulated, tested, and made in Japan, and even comes in a lower sugar option for the health-conscious.
Users like its tropical fruity flavour and up to 95% of users saw improvement in their skin conditions in 30 days. 80% of users also saw improved skin elasticity and overall hydration in 30 days.
New Moon Inner Radiance Collagen Drink retails at a S$85.00 for a bundle pack of 2 (20 bottles). You can order it here.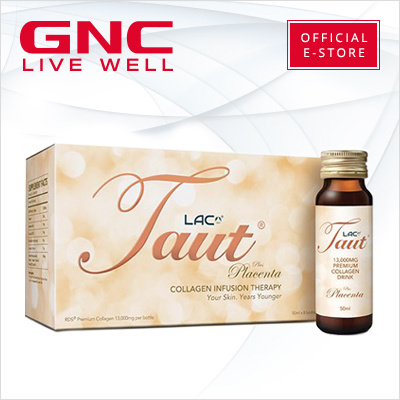 Improves skin elasticity, fine lines and wrinkles
High quality red snapper collagen peptide
Fortified with thoroughbred placenta
Provides a lift to sagging skin
Easy to drink orange flavour
LAC Taut® Collagen Drink plus Placenta is a premium collagen drink. Its key selling point is a high concentration of RDS® (Rapid Delivery System) premium low molecular weight collagen taken from premium red snapper, and at 13,000mg per serving bottle.
Its sales track record of over 10 million bottles sold worldwide proves its popularity, in spite of the fact that this is one of the pricier collagen drinks in the market. Positive reviews by users worldwide also attests to its success in combating skin ageing.
What makes this such a powerful product is the fact that LAC Taut® collagen is fortified with a dose of thoroughbred (horse) placenta. According to Japan Food Research Laboratories, horse placenta is known to contain 254 times more amino acids than pig placenta. The placenta is obtained from only pure thoroughbreds raised in Hokkaido.
With a pleasant orange flavour, it'll almost feel like you're drinking a fruit juice.
LAC Taut® Collagen Drink plus Placenta retails at S69.00 x 8s. You can order it here.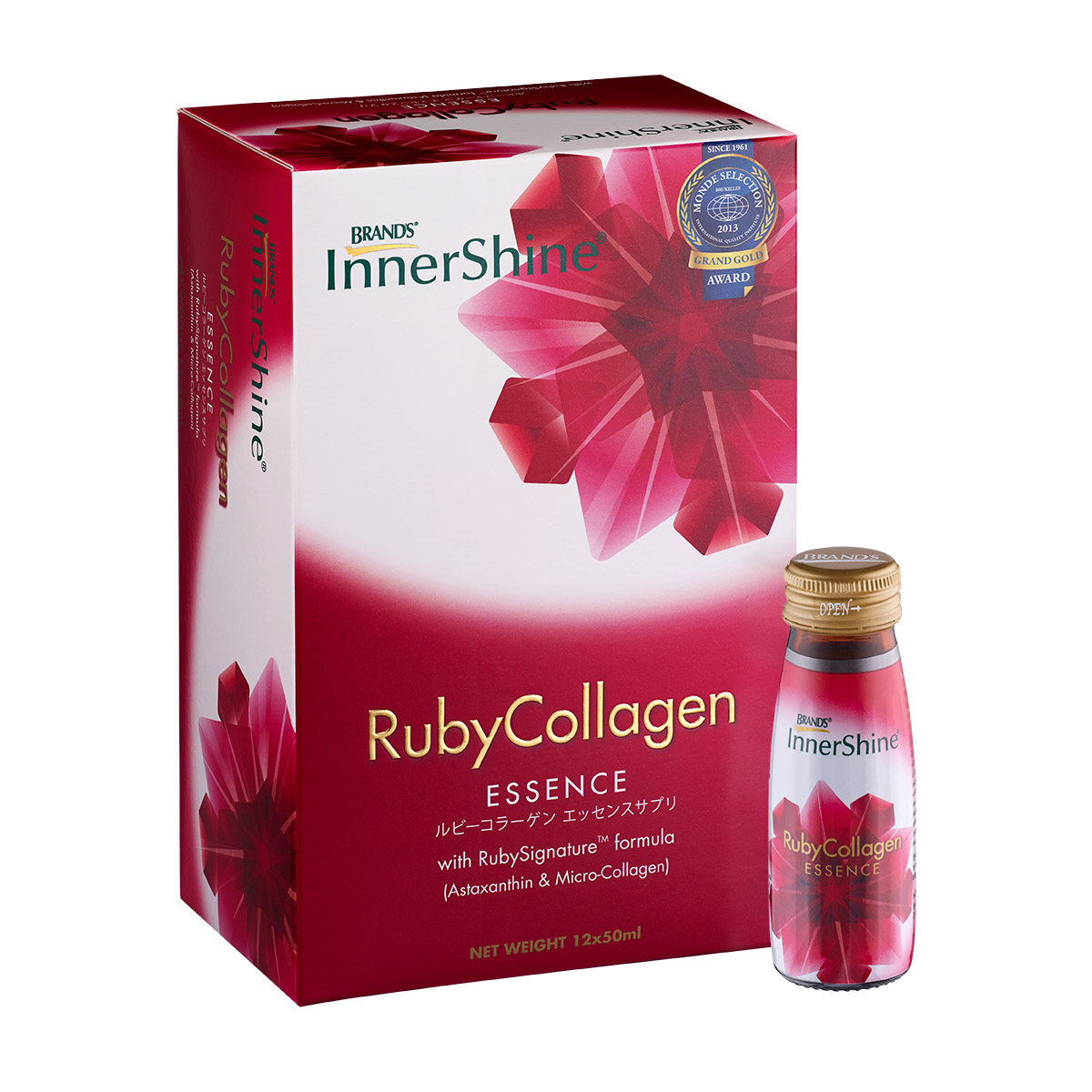 Ideal for women 30 – 45 years of age
RubySignature (TM) formula
contains micro collagen
contains powerful antioxidant Astaxanthin
Delicious flavour
BRAND'S® InnerShine® RubyCollagen Essence is a collagen-rich supplement that boosts your skin's from within.
This delicious and beautifully packaged drink contains a precious blend of ingredients from nature. It contains micro-collagen and Astaxanthin, microalgae extract, one of nature's most powerful antioxidants. This potent combination of micro collagen and Astaxanthin reverses the harmful damage caused by UV rays to minimize collagen depletion.
RubySignature™ prevents collagen loss while supporting microcirculation to promote healthy cellular metabolism and effective collagen delivery.
Reviewers have agreed that for the best results, drink Brand's Innershine RubyCollagen Essence for 12 weeks in order to experience its skin-rejuvenating power.
Brand's Innershine Ruby Collagen drink retails at S$125.80 for a bundle of 2 packs (24 bottles). You can oder it here.
Beauty that glows from inside out
Increases production of collagen & elastin
Keeps your skin moisturized
Lightens pigmentation
Beneficial to overall wellbeing
Photo credit – Kinohimitsu
As you can see from this article, Kinohimitsu is one of the most popular brands offering a wide range of high-quality collagen drinks in the market. This is one more excellent option for you if you suffer from dull and dry skin!
Kinohimitsu Beauty Drink is an effective solution to restore youthful vitality to your skin, and not only on your face, but it delivers rejuvenation to your entire body – in particular the neck, bust and bum.
It is effective in boosting the production of both collagen and elastin levels in your skin. This helps to renew your skin and also locks in the moisture in every skin cell so dryness no longer becomes an issue. With improved moisture retention, you'll notice that your skin has greater smoothness, elasticity and brightness. It also helps to reduce laugh lines, wrinkles, crows feet and eye bags. Those who suffer from pigmentation will also benefit from this drink.
In as little as 6 days, users started to notice smoother, firmer and younger looking skin in just 6 days.
Kinohimitsu J'Pan Beauty Collagen Drink (2500mg x 10s) costs S$39.90. You can purchase it online here.
Firms up skin for a brighter look
Brightens and hydrates your skin
Improves oily skin
Tightens pores for smoother skin
Reduces wrinkles and fine lines
Photo credit – Kinohimitsu
While most collagen drinks are made for the women, Kinohimitsu has not forgotten their male clientele. Kinohimitsu Collagen Men is tailored specifically for men's unique skin needs.
Men usually secrete more sebum than women as they have more active sebaceous glands, and this causes greasy skin, blocked and enlarged pores, blackheads and acne.
Smoother, clearer skin is visible in just 6 days. This is the simplest and most effective way to restore your youthful looks, and it tastes pleasant too!
Kinohimitsu Collagen Men retails at S$52.90 x 16s. You can order it here.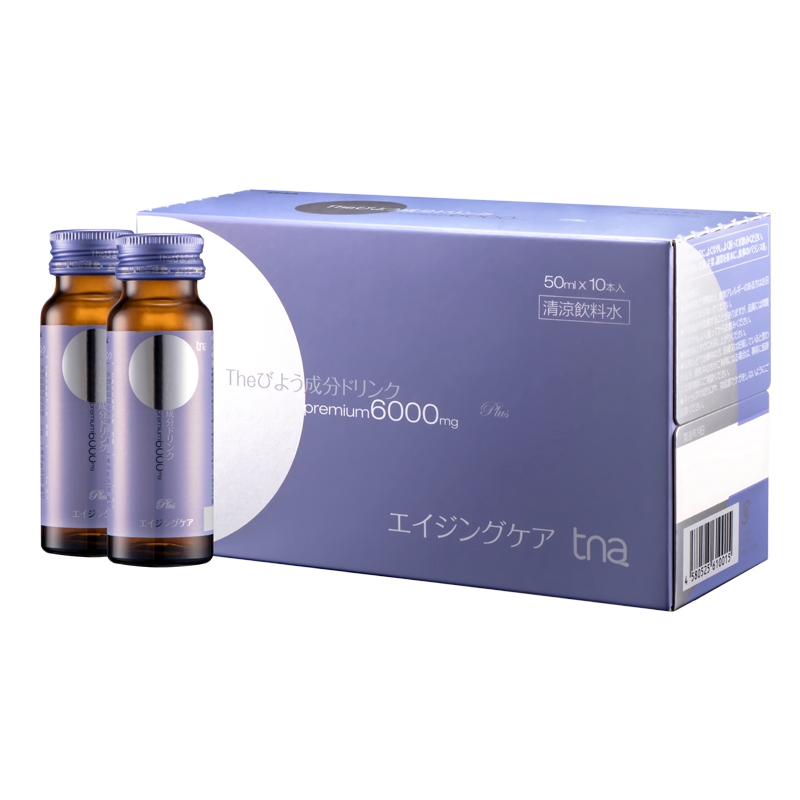 Pleasant flavour
Skin whitening benefits
Anti-wrinkle and anti-ageing
Environmentally friendly
Promotes general wellbeing
TNA Whitening Drink with 6000mg Collagen is a popular beauty drink that has undergone numerous user tests. It also contains natural ingredients that are sustainably sourced. It is said to be a drink that does not only deliver benefits to your skin, but to your overall health too.
Each bottle of TNA Whitening Drink contains 6000mg of Nippi hydrolyzed collagen – an all-natural collagen peptide extracted from pure marine sources. It is produced from 100% fish skin and scales that would otherwise be discarded. Nippi Collagen is therefore sourced from a sustainable supply chain.

It also contains a compound Glutathione, which is reported to improve skin problems like psoriasis. It is also said to reduce cell damage in alcoholic and nonalcoholic fatty liver disease. In some cases, it improves insulin resistance in older individuals, increases mobility, and even helps to fight against certain autoimmune diseases.

This beauty drink contains Acerola, which is extremely rich in antioxidant Vitamin C – good for building bodily immunity. Other ingredients include SugatCut which lowers the blood sugar levels in your body; L-Arabinose which controls blood sugar levels and fatty acids; Australian Manuka Honey and Salmon Caviar.

TNA Whitening Drink with 6000mg Collagen retails at S$65.90 x 10s. You can order it here.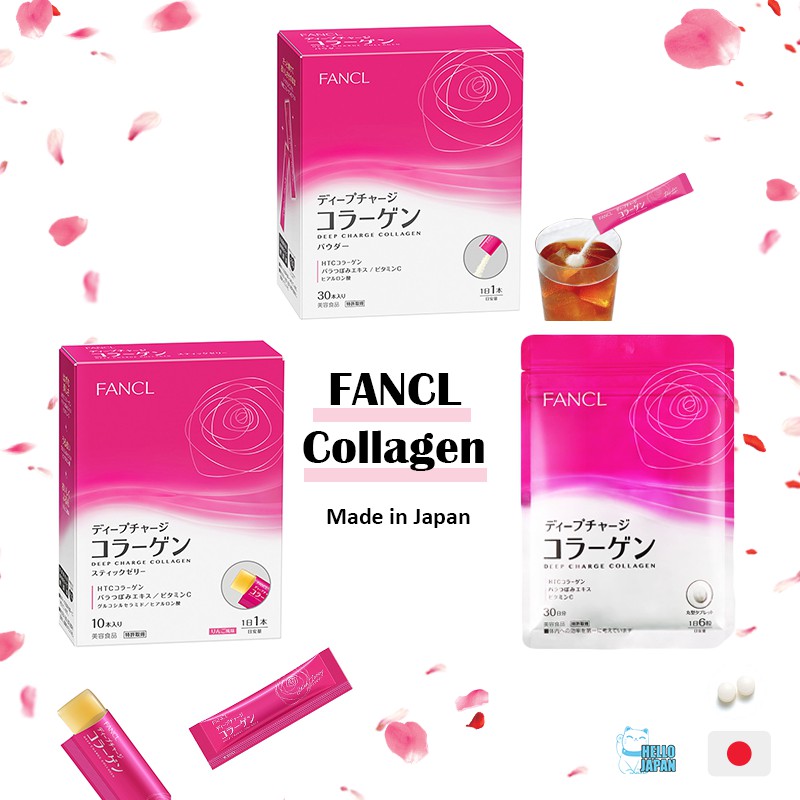 Best-seller in Japan
Fast acting
Improves the health of your skin
Economical pricing for maximum value-for-money
No caffeine, no synthetic colouring, no preservatives
This beauty collagen drink is a best seller in Japan, which attests to its efficacy.
Let's review its main ingredients – HTC Collagen, Lingonberry and Rosebud extract, Vitamin C, Hyalurinic acid, Glucosylceramide.
Fancl Deep Charge Collagen also contains Lingonberry extract and rose extract. Lingonberry is high in antioxidants and supports gut health. Let's not forget that a healthy gut paves the way to more beautiful skin! Rose reduces redness and soothes irritation.
Hyaluronic acid and Glucosylceramide are moisturizing agents to the skin. Glucoslyceramide, which is derived from peach, is said to improve skin texture and preserve moisture.
Although Hyaluronic acid occurs naturally within our body, with age, and with exposure to UV radiation and other pollutants; the amount of hyaluronic acid reduces, leading to wrinkles and fine lines.
That is why taking a 1 bottle per day of Fancl Deep Charge Collagen can have amazing anti-aging effects on the skin.
Fancl Deep Charge Collagen Drink retails at S$28.90 x 10s. You can order it here.
Written by: Karen Tan
Related posts
Subscribe for newsletter
* You will receive the latest news and updates on Singapore's best trends!