23 Best Cold Brew Delivery in Singapore To Satisfy Your Cravings [2022]
Emily Hopkins, 3 years ago
18 min

read
11695
Made through steeping coarsely ground coffee in room temperature water before mixing with water or milk, cold brew coffee is becoming more mainstream and popular. Seen as a tastier alternative to traditional iced coffee, many coffee joints have included cold brew coffee into their repertoire of coffees. Additionally, in the 21st century where convenience is key, there are many different cold brew delivery services on the market. This is why we have curated a list of the best cold brew delivery in Singapore so that you'll easily be able to choose the best delivery service for you.
While Gather the misfits may sound strange for a café, the coffee shop offers space that fosters collaborations and friendships. It has a wide variety of coffees. Its Iced Mocha sells at $6.50, and Latte at $5. You will enjoy the well-brewed beans which are roasted by the prodigal café. The coffee tastes earthly, finished, and medium-bodied. With ingredients well blended, be sure to enjoy the coffee.
Seasonal brewed coffees are also available. Coffee drinkers can enjoy the coffees specifically made with techniques such as Aeropress and v60. The restaurant also offers delivery services within the island. Local favourites include the Myanmar Black Honey and the Santa Felisa. Gather the misfits is hidden near Mrs Phi House and (Old) Lai Huat Seafood Restaurant. It's diagonally opposite the Ng Ah Bak Kut Teh. The coffee shop is a friendly and cosy place you can hang out with friends for a long time.
You can check them out on Facebook and Instagram
The Coffee Roaster is centrally located at Block AS8 beside the NUS Central Library. The café is a favourite for most of the people near the destination and coffee lovers from beyond. With skilful baristas handcrafting every roasted coffee in a cup, you are bound to enjoy your cup of coffee. The pick on the menu is the latte art, which is well-brewed to put a smile on your face.
The Coffee Roaster offers you a variety of cold coffee brews. The black cold brew pack of 4 bottles sells at $26, The handcrafted bold infinity sells at $7, the Rainbow pack with seven bottles sells at $42, and the Othello pack of 2 cold white,2 black cold brew sells at $24 and the cold white pack 4 bottles at $22.00. The coffee roaster has various gift boxes, including cold brews, cookies, and a variety of chilled chocolates.
With the delivery within the island, you enjoy your bottles of cold brew any time.
For more information, check out their Facebook and Instagram.
Craft Tea Fox offers a modern take on Matcha and Hojicha. They offer barista-quality Matcha and Hojicha lattes delivered anywhere in Singapore, using premium-grade Hojicha and Matcha sourced from Uji, Japan.
One really big difference is that their Matcha lattes and Hojicha lattes can last for several weeks in your fridge, unlike the usual 3-4 days. This allows you to stock up for quite some time – no need to keep going to a café for your Matcha fix!
Aside from their bottled lattes, you can also try brewing your own Matcha – Craft Tea Fox also offers Matcha DIY kits, with everything you need to become your own Matcha barista.
Check out their Facebook and Instagram pages for more information.
With a variety of coffees on their menu, Kopiboy offers you the perfect coffee experience. The café offers coffee beans and accessories at an affordable price. Its Kopi sock sells at $4.90, Authentic kopi $12, Sinfully dark $15.00, and summer Hues $ 16.00. The coffees can be ordered with in-house bakes and other beverages.
Kopiboy offers free delivery for orders above$25 within Singapore. Gifting accessories are also available. Those wishing to buy as a group are not left out. If you have school events or hanging out with friends, Kopiboy got your back.
Other picks on their menu include the Red velvet & Luscious Dark chocolate Madeleiners, which are a perfect complement to your coffee. Other coffees to try out include the French Vanilla Latte that starts from $5, the peppermint mocha from $5, and gift packs that sell from $25.
Check out their Facebook and Instagram pages for more information.
Skyzone is a leading brand in cold coffee brew delivery in Singapore. It offers island-wide delivery of a wide array of coffee such as the cold brew coffee black and white, cold Matcha Milk, cold Dark cocoa.
With the packaging of 1-litre bottles and a pack of six bottles, the coffee house will undoubtedly meet your coffee taste. The cold brews are available in 6-pack cans. This coffee brew delivery also stocks favourites which include latte, mocha, cappuccino, and flat white. It provides high quality roasted beans sourced from farms across the world. Their coffee is therefore fresh and well-grounded to offer you the taste you will enjoy. With their coffee being in high demand, some coffee brews may be available in limited qualities. it is advisable to order as early as you can.
Delivery info: Delivery fee applies for a minimum order of $35 and free delivery for orders above $55. All deliveries are dispatched on the next day.
Check out their Facebook page for more information.
Enchanted Cafe comes in 1st place on our list. With a dedicated cold brew series, this is the one-stop-shop for all cold brew fanatics in Singapore.
Titled 'Snow White and the 7 Dwarves', this cold brew series features 7 different flavours for all our cold brew needs. The cold brew series features classic white and black options along with innovative new flavours like Bandung and Matcha. You can purchase each flavour separately at $6.90 per bottle, or even purchase all 7 flavours at $50. As an added convenience, Enchanted Cafe is open for orders till 12am every single day, making sure that you'll always be able to satisfy your cold brew cravings. Enchanted Cafe is hands down deserving of topping our list of the best cold brew delivery in Singapore.
For more information, visit their Facebook or Whatsapp +65 8813 1086 to place an order.
Boasting a wide range of cold brew flavours and packages, Kafve Coffee is an excellent choice for cold brew delivery in Singapore.
Kafve Coffee sells their cold brew in bundles of 6. There is also a wide range of flavours like black, Latte, Mocha and tonic cold brews. Furthermore, Kafve Coffee brew your coffee fresh upon order so as to guarantee that you will receive quality fresh coffee every time. Kafve Coffee is an excellent pick also due to their cheap delivery fees. For single bundle purchases, there is a small delivery fee of $3. If you purchase 2 bundles, you'll be enjoying free delivery islandwide.
For more information, visit their website, Facebook or Instagram.
Don't let their unique name scare you off. They coined their name as a tribute to the hardware heritage of the site. Housing various metal and hardware companies previously, the building is now home of PPP coffee.
Apart from black and white cold brew, CCSH has a unique black cold brew infused with nitrogen called 'Nitro Black Matter'. In addition to providing these varieties, CCSH also allows you to purchase bottled cold brew in packs of 6. If you're a fan of both black and white cold brew, you have the added option of choosing 3 bottles of each for the pack. When delivered, CCSH's white cold brew is best consumed within 5 days while their black cold brew can be kept up for 4 weeks. Through this package delivery deal, CCSH is a great choice for cold brew delivery and truly one of the best in Singapore.
For more information, visit their website or Instagram.
Up next is Bootstrap Beverages who specialise in producing cold brew. Having dedicated 5 years to honing their craft, Bootstrap Beverages is a great cold brew delivery.
Bootstrap Beverages uses 100% Arabica coffee to deliver top-quality cold brew. You'll be left spoiled for choice as there are 7 different cold brew varieties on the menu. Each bottle has a 250ml capacity and can be ordered in packages. If you come from a family who loves coffee, consider purchasing their 24-pack option for 10% extra savings. Furthermore, Bootstraps Beverages offers free island-wide delivery. This way, they offer quality cold brew in an affordable and accessible manner.
For more information, visit their website.
Founded by friends Bev and Beat, who have a similar liking for excellent coffee, Ark Coffee has a team of passionate baristas who enjoy preparing the best coffee. Its name is derived from the ancient term boat, which is large enough to host many people. As we all know, people drink coffee, grow together and share life. Well, at this luxurious spot you get to enjoy a quiet moment with friends and family.
While you visit Ark Coffee, you won't receive the usual cold brews. The coffee house serves bottled beverages that are espresso brewed. With a variety of beverages, it's a routine, pleasure, and necessity for many people to enjoy their coffee hour. Coffee is a fantastic drink since it goes beyond cultures, generations, and people to offer something authentic for everyone. Visit this coffee house and be part of the amazing experience.
Check out their Facebook and Instagram
Brawn and Brains are one of the leading coffee brands in Singapore. It offers an indulging cup of coffee just the way you wish it served. The coffee is carefully curated from selecting high-quality coffee beans picked from the best farms across the globe. You can order your favourite roasted beans at the Brawn and Brains Coffee web store.
The Brawn and Brains offer you a chance to brew your favourite brew at the comfort of your home. There is a wide selection of coffee subscriptions and freshly roasted coffee that meets your needs. Some coffee treats include coffee capsules, merchandise, coffee at home, and BB lifestyle. If you wish to pick your coffee, then the self-pick-ups are also available. You can enjoy your coffee with their tasty donuts and food at the sit-cafe, which has a bigger sitting capacity. If you are in search of a remarkable hangout spot, consider this coffee shop.
Check out their Facebook and Instagram
Wake the crew stocks 100% curated Arabica cold brew coffee concentrates for coffee enthusiasts. You also enjoy delivery to the comfort of your home. The coffee is specifically brewed to order with no preservatives and sugar. It's only a concentrated liquid of goodness.
Like other high-quality coffee houses, it's made from high quality 100% Arabica beans. You can rest easy being certain that the cup of coffee is smooth and fragrant. The coffee house brews your coffee concentrates the day before delivery so that you can enjoy a cup of optimal fresh coffee on delivery. Order your favourite coffee and have it delivered to your doorstep at the wake by their dedicated crew of courier service. You can then proceed and experiment with your barista skills, brew your own long black, latte, cappuccino, or flavoured coffee with the coffee concentrates.
Check out their Facebook and Instagram.
Next on our list is Parallel. Often times, you know that a shop is great when they only sell one type of product. With only cold brew on the menu, you can be sure that Parallel does cold brew the right way.
With the 4 options of black, white, mocha, and oat milk, you can have your cold brew any way you want it. There's even an added level of customisability offered as you'll be able to choose between sweetened or unsweetened cold brew. At Parallel, their coffee is brewed in small batches for quality control to ensure you receive only the best. Furthermore, the cold brew from Parallel has a shelf life of 6 days and can be drunk at your convenience. Overall, they offer superb coffee and provide one of the best cold brew delivery in Singapore.
For more information, visit their website, Facebook or Instagram
Candour Coffee offers a wide range of cold brew coffees, lattes and teas. Every cold brew lover is sure to find their go-to favourites in the extensive selection provided.
The wide variety of cold brews come in 300ml bottles which are perfect for 2 servings. With 16 different cold brew flavours on the menu, this is a great opportunity to branch out and sample new flavours. Furthermore, the delivery charges are waived for orders with 6 or more bottles. Through this promotion, Candour Coffee offers the perfect opportunity to try out some new flavours or stock up on favourites.
For more information, visit their Facebook or Instagram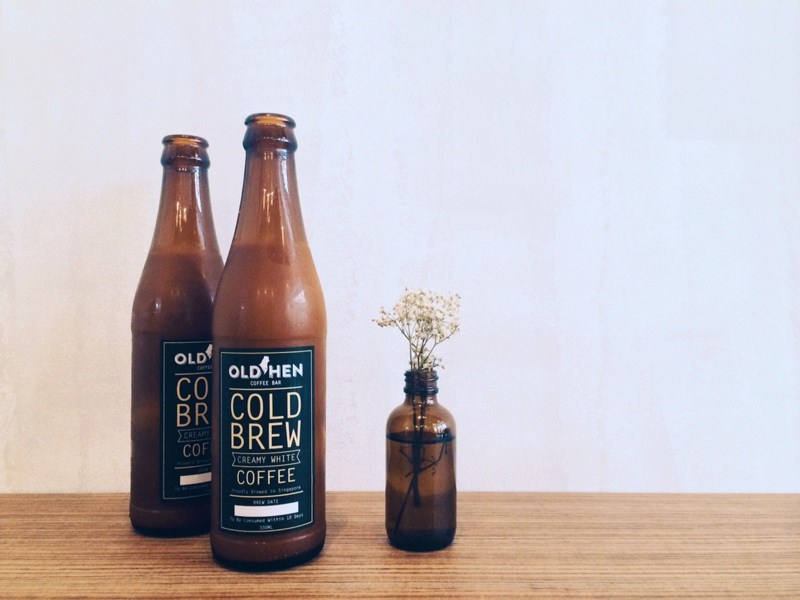 Completing our list is Old Hen Coffee. Providing deliver services for both black and white cold brew options, you'll be able to enjoy delicious cold brew whichever way you prefer.
Old Hen Coffee offers delivery service for standard 330ml bottled cold brew as well as their 1liter option. This 1litre option is available for the white version of their cold brew and is promised to be creamy, nutty and chocolatey. In addition, cold brew deliveries are guaranteed to have a shelf life of at least 3 days. Overall, if you love cold brew with milk and want more than a small bottle, Old Hen Coffee is our recommended cold brew delivery service for you.
For more information, visit their website, Facebook or Instagram.
Strangers Reunion is a coffee house that has not been prominent to many Singaporeans. It combines cream, milk, and fresh espresso shots. It offers a variety of other coffees such as bottled drinks from S$6.50, coffee filter starting from S$6.50, Matcha S$5.90, and oatgasm from S$7.
Your coffee will be well brewed with a highly-skilled baristas team while ingredients are well mixed to offer you that perfect taste. With good customer reviews, the café provides the perfect unique and satisfactory coffee experience.
Strangers Reunion allows orders for bottled drinks, which are delivered on the same day they were purchased. Orders placed after 5 pm are however dispatched the next day. Delivery time is between 10 am to 6 pm.
Check them out on Facebook and Instagram
Habitat Coffee is a must-go coffee hideaway located along with Upper Thomson. The family-run coffee house offers you a reliable cup of coffee and a hearty brunch. It has a reliable drink and food menu that includes liquid Gold, an unsweetened brew of white coffee specifically made from house blend. On their Menu, they have favourites, which include espresso, green tea, and cold Matcha Coffee.
With locally roasted coffee in the establishment, you get the perfect fresh and raspy coffee taste. The coffee is original Arabica beans from farms around the world. It's ground on customer's demand to offer the perfect coffee cup. You also enjoy a variety of gift boxes customized into different gift boxes.
Habitat Coffee has received positive feedback from customers. With a Google rating of 4.0 from many reviews, the café certainly offers quality customer care. The café also provides timely and swift deliveries. To quicken the process, ensure that you order from 10:00 am to 8:00 pm. Delivery time is within thirty minutes to one hour.
Check them out on Facebook and Instagram.
Stamping Ground Coffee offers you a variety of cold brews at affordable rates. You can customize your selected cold brew, chocolate, cold brew white, and matcha milk. You also get six bottles of coffee. Oat milk is also available on order. ​
Stamping coffee carters for professional coffee services to all kinds of events. It has a mobile coffee cart and bottled cold brews that will come in handy when you are hosting. With a team of highly skilled baristas, their coffee is well mixed with ingredients to give you the perfect fresh coffee taste. At stamping Ground coffee, you get a lasting coffee experience that is unmatched.
Delivery for those living on the Upper East Coast café can be through Deliveroo and grab food.
Check them out on Facebook
Culture Specialty Coffee is another big brand in offering batches of coffee. It provides a cultural speciality of cold magic and cold brew black in glass bottles. The glass bottles hold 250ml. Oat milk is also available, which is a perfect alternative for cold magic.
At Culture Speciality Coffee, you enjoy a variety of matcha, chocolate, and culture chilled bottled coffee.
The coffee house also provides gift ideas such as the gift package that sells at $40, including four bottled drinks; the second gift package sells at $45 and includes three bottled drinks. It includes chilled cold brew, chilled chocolate, and chocolate matchas. Cultures speciality has received good customer reviews on Google. It's a sure sign that the café provides quality coffee to customers.
Like other coffee houses, culture speciality is available online and offers delivery services within the island.
Check them out on Facebook.
Forty Hands is one of the earliest coffee cafes in Singapore. It's a coffee house that elevated other local coffee cafes. Forty Hands serves you hearty grubs and aromatic brews, which can also go well with brunch. The favourite on the menu is the iced Bubble Coffee, which is available within a limited time.
You enjoy 6 times chilled and fresh Tau Sar Pau at Forty hands, which you can quickly steam at home. The beans are freshly roasted and less than seven days old from the time of roasting. Other coffees on the menu include honey brew and honey oat Latte. The coffee is custom made by a synesso coffee machine to help you enjoy your coffee in quirky nature and eclectic style. The café has comfy corners where you can share large tables and private brunches with family and friends. Delivery on island-wide delivery is available on GrabFood.
Check them out on Facebook and Instagram
Originally from Japan, % Arabica is among the leading brand in coffee making. You get your coffee from quality beans, freshly roasted from farms in Japan, Brazil, Ethiopia, and Hawaii. The favourite on the menu is the Spanish Latte.
Other coffees on the menu include the Paris Coffee. It also offers you gift packages and gift trial packages at affordable prices. With excellent reviews on Google, % Arabica will no doubt offer the best coffee experience. Like other coffee houses, it offers delivery within the island.
Check them out on Facebook and Instagram.
Homeground Coffee Roasters offer perfect cold brew concentrate. You can make and order lattes of up to eight cups. The coffee house has a stay Homebrew kit, which has one dripper. It, therefore, becomes handy for those who like making their own coffee.
Homeground Coffee roasters offer other favourite picks from their menu, including the espresso, filter coffee, and brew guides to help those making their coffee. With a variety of customized gift boxes, you get a chance to gift your loved ones with the perfect cold coffee brew from home ground Coffee roasters.
Besides, you get free delivery if you order over three bottles of concentrate coffee. The courier takes the order and delivers within one to three working days.
Check them out on Facebook and Instagram.
Coffee Academics is yet another top brand in making coffee. The Hong Kong-headquartered coffee chain offers well-made coffee that is also balanced. Since its establishment in 2012, it has been setting high standards in ensuring that your coffee experience is unmatched.
With classic offerings such as flat white and piccolo latte, you will definitely quench your thirst. The coffee house also offers you an opportunity to brew your coffee at home using the brewing starter kit.
Their menu has espresso-based coffee, which takes inspiration from different countries. The Manuka has the sweetening taste of New Zealand's natural honey.
Delivery is available GrabFood, Deliveroo, and Food Panda. With coffee sourced from over thirty farms around the world, be sure to enjoy fresh coffee. For island-wide delivery, check out with GrabFood. For more information, check out their Facebook and Instagram pages.
Cold-brew has rapidly risen in popularity to become a beloved drink among many in Singapore. With an increase in cold brew delivery services, the days of queueing up for cold brews are over. Using our list of the best cold brew delivery in Singapore, you'll soon find yourself in cold brew paradise right from the comfort of your own home!
Related Topic: Best 5 coffee grinders to buy online in Singapore
Emily Hopkins
I'm an accomplished and detail-driven content writer with copious experience in producing compelling, engaging and flawless content for a variety of blogs and websites for several years.
Related posts
Subscribe for newsletter
* You will receive the latest news and updates on Singapore's best trends!