10 Best Coffee Machines in Singapore [2021]
Bryan, 3 years ago
7 min

read
5258
Whether to wake us up in the morning or give us that extra caffeine boost to get through the day, we are no stranger to the occasional cup of coffee. With this coffee craze taking over the nation, coffee prices have skyrocketed to the point where purchasing your favourite coffee has become a pain instead of a pleasure. Well, with your own coffee machine, you'll be able to get that caffeine boost you need without having to break the bank. Our list of the 10 best coffee machines in Singapore will help you make the perfect cup of coffee without having to splurge.
Coming in first place on our list is the Nespresso Essenza Mini. Prided on its compact size, this coffee machine can fit in the most cluttered of spaces. Though it is small, it still ensures that a quality cup of coffee is produced every single time.
You'll be amazed at the functionality that this small coffee maker has been equipped with. It is able to store up to 6 of your used capsules and will automatically power off after 9 minutes. Furthermore, it heats up within 25 seconds, ensuring that you get that caffeine boost in double-quick time. With 14 different coffee capsules included for tasting, you'll be able to know which Nespresso coffee will be your new go-to favourite. Compact, quick, and easy, the Nespresso Essenza Mini will get you that coffee in a hassle-free fashion. Hands down worthy of topping our list of the best coffee machines in Singapore!
Available for purchase Here
A close second is the Nescafe Piccolo coffee machine. Compact and user friendly, a quality cup of coffee is a given when using the Nescafe Piccolo.
Perhaps the most exciting feature of this coffee maker is its ability to produce both hot and cold coffee despite its small size. Whether you prefer your coffee hot or chilled, this machine will get you there. With an eco-mode, the Piccolo is programmed to switch off after 5 minutes of inactivity, giving the machine it's a rating for energy consumption. With a promise of freshness and efficiency, the Nescafe Dolce Gusto Piccolo is a great choice for any coffee lover.
Available for purchase on here
Up next is the Braun KF7120 with its useful programmability. To save you that extra few moments of sleep, this coffee maker has a 24-hour programmable timer ensuring that you can get fresh coffee any time that you desire.
The Braun KF7120 also makes the coffee-making process customizable by allowing you to select the strength of your coffee. There is also a 1-4 cup option for when you would like to brew your coffee in smaller quantities without having to skimp on quality. With the machine's anti-drip system, you'll be able to pause the brewing process and pour yourself a cup of coffee with no mess at all. With all these amazing features, the Braun KF7120 is a great user-friendly option.
Available for purchase on Shopee
Up next is another compact coffee maker from Nespresso. The Nespresso Inissia is slightly bigger than the Nespresso Essenza mini and as a result, has a few more functions than its smaller brother.
Coming will all the good things from the Essenza Mini, the Inissia has a removable water tank and an additional folding drip tray for Latte Macchiato glasses. The Inissia is also able to program cup sizes so that you can get the desired amount of coffee that you want. Being larger, the Inissia has a larger storage capacity, able to store up to 11 used capsule containers. If you appreciate compactness and want a little bit more customisability with your coffee, the Inissia is the pick for you. Definitely one of the best coffee machines you can buy in Singapore!
Simply order from here
If you want to make café quality coffee with your own hands, the Delonghi ECP33.21 is the go-to choice. With a manually adjustable cappuccino system, you'll be able to create your own milk foam and add it to your coffee as you desire.
Coming with a professional 15 bar extraction pressure and professional filters, making coffee using the Delonghi ECP33.21 will have you feeling like a master barista. Want extra cup storage space? This coffee maker comes with a cup holder with a passive warming function to keep your cup nice and warm. With a removable drip tray, the maintenance of this coffee maker is easy and convenient. If manually making coffee is your thing, the Delonghi ECP33.21 is a great machine to upgrade your game.
Available on Lazada and the Delonghi website
With its diverse functionality, the HiBREW ST-504 is next on our list. Being able to use Nespresso capsules, Gusto capsules and ground coffee, you'll be able to have the best of all 3 worlds.
Featuring a professional 19 bar extraction pressure, the ST-504 will be able to produce top-quality coffee from your favourite coffee brands. With a removable water tank, maintenance also comes easy with this machine. If you enjoy coffee from multiple different brands, this universal capsule coffee maker was made just for you.
Available on Lazada and the HiBREW website
The Cornell CCM-21 is the most affordable coffee maker on this list. While is it simple, it still has the necessary functions to painlessly produce a great cup of coffee.
With an anti-drip feature, the Cornell CCM-21 makes sure that no mess is made. A removable filter holder also makes maintenance of the coffee maker a lot easier. In addition, the CCM-21 comes equipped with overheat protection and has been awarded the Singapore safety mark. Simplistic and user friendly, the Cornell CCM-21 is a great affordable option.
Available on Shopee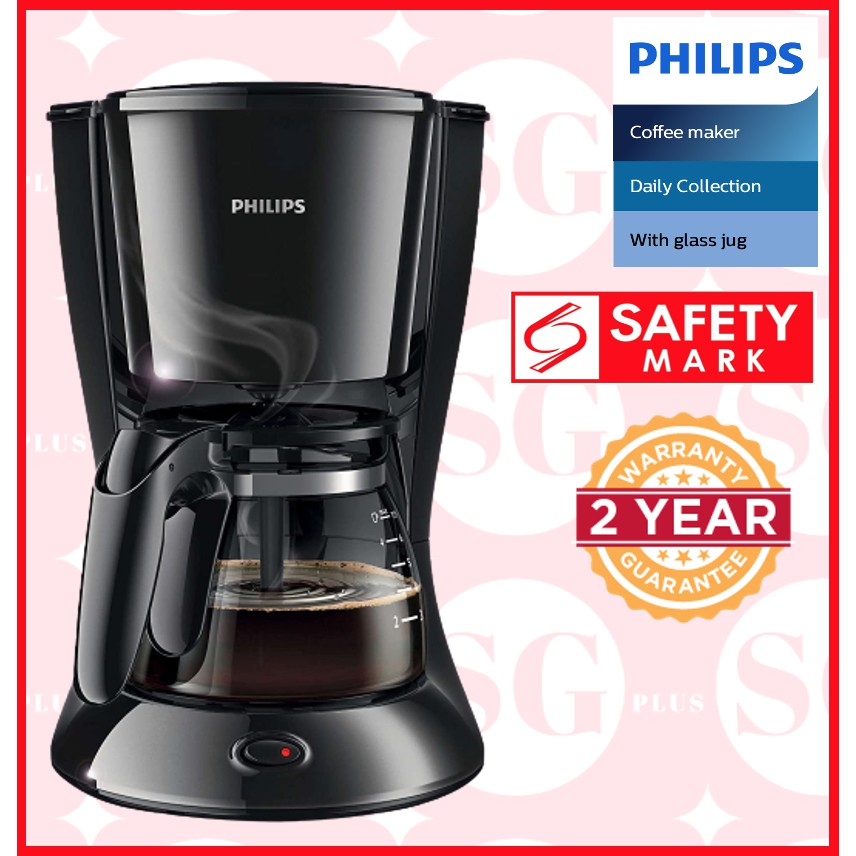 The Philips HD7762 is another affordable coffee maker. This basic coffee maker comes equipped with some unique functions that will result in a more convenient coffee-making process.
The aroma twister is a smart nozzle inside the holding jug that stirs the inflowing coffee. This results in an even and consistent spread of aroma throughout. The drip-stop function ensures that you'll be able to pour a cup of coffee mid-brew without any spillage. To make maintenance easier, the glass jug and filter holder are dishwasher safe. If a simple coffee maker designed with the user's convenience in mind is what you're looking for, the Philips HD7762 is the one for you.
Grind & Brew Coffee Maker
Fresh bean container with two compartments
Bean selector to select one type of beans or a mix of both
Integrated grinder for freshly ground coffee
Customize your coffee with coffee intensity and grind selection
Intuitive user interface with LCD display & preset timer for brewing to start automatically
Available on Shopee
The Wacoco Minipresso GR finds itself on our list with its high degree of portability. With its compact size and dedicated functions, the Minipresso GR was built to give you coffee on the go.
As long as you have ground coffee and hot water, you'll be able to have your personalised coffee wherever you are. With its aesthetic design and easy operation, having the Wacoco Minipresso GR will make you the envy of all your friends and colleagues.
Available on Amazon or the Wacoco website
Wrapping up our list is the Zojirushi Coffee Maker. This basic coffee maker has certain elements dedicated to improving the quality of your coffee.
This coffee maker comes equipped with an activated carbon filter. The filter removes any chlorine smell in the water which would tamper with the aroma of your delicious coffee. Also, the water tank is easily removable, allowing for an easy clean-up. If you're in the market for something affordable yet can improve the quality of your coffee, the Zojirushi coffee maker could be the one for you. Definitely worthy of rounding off our list of the best coffee machines in Singapore.
Available on Here
Our fast-paced lifestyle and lack of sleep bring with it a desire for that caffeine kick to push us through. With our list of the 10 best coffee machines you can get in Singapore, we know you'll be able to get through your tough hours without having to splurge on coffee any longer.
Related posts
Subscribe for newsletter
* You will receive the latest news and updates on Singapore's best trends!