Best 5 Coffee Grinder to Buy in Singapore
Puneeta, 5 months ago
1
4 min

read
255
In Singapore, people are very particular about their coffee taste. Many even choose to personally buy specific beans to grind at home. If you belong to that group of coffee enthusiast, you are in for a treat as we present the five best coffee grinders in Singapore. Begin your morning freshness with freshly prepared full aroma beans using the listed best five coffee grinders.
Bistro has come up with a fantastic coffee grinder that consists of 12 different grinder adjustable settings. It helps in keeping the coffee beans fresh while grinding and also for easy removal of waste materials. You can also set the pre-set time for grinding the beans.
It features an exceptional design that comes in a variety of colours. Thus, you are guaranteed to find a Bistro Burr Grinder in your favourite colour.
In addition, Bistro's grinder is noiseless. As a result, it is often preferred by many Singapore customer these days. All in all, Bistro Burr Grinder is truly deserving of the top spot in our list of 'Best Coffee Grinders Available in Singapore'
Key features
Crushes beans into conical burrs
Stainless steel blades for durable results
Colourful and compact design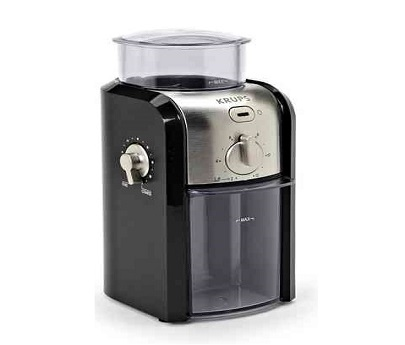 Surely, Krups GVX231 is one of the best professional coffee grinders that consists of 17 customized grinder settings. You can use this full aroma grinder to make around 12 cups of coffee beans at once.
Additionally, this coffee grinder is very safe to use. You can also clean the grinder quickly using a soft tissue.
Above all, this coffee grinder has a tremendous amount of capacity. That is why it is perfect for grinding purposes. The interlocks of Krup's grinder help to keep the coffee beans safe and fresh.
Key features
Full aroma beans of 17 different sizes
Easy to clean and safe to operate
Large capacity to grind beans
The Hario OCTO grinder is an excellent coffee bean grinder that contains an anti-slip resin at its bottom. The grinder is very user-friendly, and you can quickly and easily operate it using the adjustment knob.
Additionally, you can grind 12 grams of coffee at one time. You need to disassemble the burr section so that you can wash the container properly.
Above all, this portable grinder is very easy to carry while travelling. You can also store the coffee beans in this grinder to keep the beans fresh.
Key features
Anti-slip resin on the bottom surface
Ceramic burr with no metallic odor
Burr section to disassembled for washing
It would be best if you used an excellent coffee grinder like Severin because it utilises amazing stainless steel blades. You can grind numerous wet and dry items in this grinder accurately.
Moreover, it is easy to operate because the lid attached to the grinder helps to run the grinder machine. To top it all off, you receive two years of warranty when you purchase this grinder from Singapore's online market. You can also beat nuts, spices, beans, and many other food items in the Severin's grinder.
Key features
Aroma fresh coffee grinds
High durable and long-lasting coffee grinder
Individual grind-level adjustment
You can quickly crush the espresso, Chemex, and french press using the soft brushes of the Soulhand Manual coffee grinder.
Additionally, the storage jar of this manual grinder is great for traveller's purposes. You can carry this coffee bean grinder while camping because it does not use battery or power.
Above all, you can maintain the real flavour of the coffee beans for an extended period when using this grinder. However, just remember to adjust the knob while crushing the beans properly.
All in all, this grinder is a strong contender in our list of 'Best Coffee Grinders Available in Singapore'.
Key features
Easy to adjust the grinding size of beans
Does not produce any noise
Humanization design with best coffee flavour
So we have listed the top five coffee grinders available in Singapore. Have you decided on the one you liked? Coffee grinders are truly the best appliance that coffee lovers can use to enjoy a freshly prepared coffee in the morning. With one of the coffee grinders listed above, you can now too prepare a restaurant-quality coffee in your home!
Related posts
Subscribe for newsletter
* You will receive the latest news and updates on Singapore's best trends!
Trending Posts