5 Best Coffee Grinder in Singapore [2022]
Puneeta, 3 years ago
7 min

read
4207
In Singapore, we can be very particular about our coffee taste. Some of us even went to the extent to personally buy specific beans to grind at home. If you are from a group of coffee enthusiasts, you are in for a treat as we present the five best coffee grinders in Singapore. You can now begin your morning freshness with our list of the best five coffee grinders.
Types of Coffee Grinders
There is 2 main kind of coffee grinders that you will commonly see. It will be good to find out the differences before you do any purchasing.
Types of Coffee Grinders
Features of the Coffee Grinders
Blade Grinder
* Cheap
* Accessible and Convenient
* Grinding is inconsistent; powder are usually coarse
* Heat produced by blades might burn coffee, changing the taste quality
Burr Grinder
* Expensive
* Consistent grinding; powder are usually uniformed
* Its slow grinding helps to preserve coffee quality
* More durable
* 2 types of burr: Conical or Flat plate
Factors in choosing a coffee grinder
You might wonder it is just a coffee grinder, so what is there to consider? However, it is necessary to know which to invest in since we now know the differences between a blade and a burr grinder. With that, here are some key considerations.
i. Size
This is the most practical consideration you should make before buying anything. Even with a big kitchen, some people may have limited cabinets or counter space. Thus, you need to know how much space you have to store or set aside for your coffee grinder.
ii. Speed
While having high speed means the coffee is made faster, and you might think that this is the best you can find in a grinder. But in fact, this usually means cheaper products will not last long.
A coffee grinder with high-speed functions will produce more heat. This risks coffee burning and affecting the flavor and aroma of the beans. Thus, it will be ideal to look for a low-speed grinder.
iii. Consistency
Speaking of flavor and aroma, this factor will determine the quality of your coffee. Of course, your coffee bean must be of good quality but to fully appreciate these beans, grinding consistency is key to a good cup of coffee.
In this case, a burr grinder will do a good job of consistent grinding, where the beans are ground into fine and uniformed powder.
iv. Cost
We all know that a coffee grinder is not cheap. If you are looking for a cost-friendly option, a blade grinder may be the most suitable for you. However, there is a saying that goes, What you pay is what you get. Coffee grinders that cost more are often made of better and durable materials that are designed to last.
With that, here is a list of the best 5 coffee grinders in Singapore!
Bistro Burr Grinder is a fantastic coffee grinder that consists of 12 different grinder adjustable settings. It helps in keeping the coffee beans fresh while grinding and also for easy removal of waste materials. You can also set the pre-set time for grinding the beans.
Comes in the aesthetic black color, no doubt this will make a classy piece in your kitchen. Moreover, the size of this grinder is reasonable and does not take up much space.
In addition, Bistro's grinder is noiseless. As a result, it is preferred by many Singapore customers these days. All in all, Bistro Burr Grinder is truly deserving of the top spot in our list of Best Coffee Grinders Available in Singapore.
Key features
Crushes beans into conical burrs
Stainless steel blades for durable results
Colorful and compact design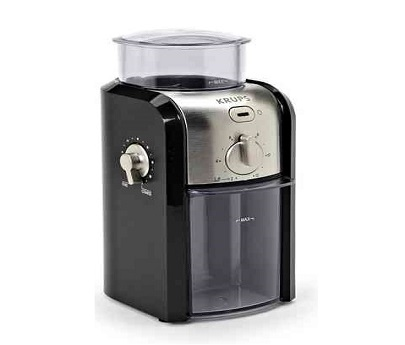 Surely, Krups GVX231 is one of the best professional coffee grinders that consists of 17 customized grinder settings. You can use this full aroma grinder to make around 12 cups of coffee beans at once.
Additionally, this coffee grinder is very safe to use. You can also clean the grinder quickly using normal soft tissues.
Above all, this coffee grinder has a tremendous amount of capacity. That is why it is perfect for grinding purposes. The interlocks of Krup's grinder help to keep the coffee beans safe and fresh.
Key features
Full aroma beans of 17 different sizes
Easy to clean and safe to operate
Large capacity to grind and store beans
The Hario OCTO grinder is an excellent coffee bean grinder that contains an anti-slip resin at its bottom. The grinder is very user-friendly, and you can quickly and easily operate it using the adjustment knob.
Additionally, you can grind 12 grams of coffee at one time. You need to disassemble the burr section so that you can wash the container properly.
Above all, this portable grinder is very easy to carry while traveling. You can also store the coffee beans in this grinder to keep the beans fresh.
Key features
Anti-slip resin on the bottom surface
Ceramic burr with no metallic odor
Burr section to disassembled for washing
It would be best if you used an excellent coffee grinder like Rommelsbacher Grinder Blender because it utilizes amazing stainless steel blades. You can grind numerous spice and coffee items in this grinder accurately.
Moreover, it is easy to operate because the lid attached to the grinder helps to run the grinder machine. To top it all off, you receive two years of warranty when you purchase this grinder from Shopee. You can also beat nuts, spices, beans, and many other food items in the Rommelsbacher's grinder.
Key features
Aroma fresh coffee grinds
High durable and long-lasting coffee grinder
Individual grind-level adjustment
With this grinder, you can make a maximum of 10 servings of coffee at once. You can make Espresso, Chemex, and French Press with the Sencor Electric coffee grinder.
Additionally, this is great to carry around since it is portable sized. Very convenient and easy for storage as well.
Besides, there are an even coffee grinding consistency thanks to a special three-tier stainless steel blade.
Above all, there is a power-on indication Safety catch that prevents the coffee grinder from starting unless it is closed properly. Likewise, they have Anti-slip feet for easy and stable grinding.
All in all, this grinder is a strong contender in our list of Best Coffee Grinders Available in Singapore.
Key features
Easy to adjust the grinding size of beans
Does not produce any noise
Humanization design with best coffee flavor
To Conclude
So we have listed the top five coffee grinders available in Singapore. Have you decided on the one you liked?
What can be better than grinding and brewing your own coffee while enjoying tea time with desserts? If you are on a dessert hunt, you can check out our round-up of the macaron places, cupcakes stores, and basque cheesecake places in Singapore. Likewise, to save you from traveling out, we have a list of cake delivery services and ice cream delivery for you to indulge at home.
Are you one of those who like your coffee sweet? As an alternative to sugar, you can add drops of honey into your coffee to boost your energy for the day. Read more on our article on the list of Manuka honey, local honey brands, and instant coffees we have right here in Singapore for your caffeine needs.
In conclusion, coffee grinders are truly the best appliance that coffee lovers can use to enjoy freshly prepared coffee in the morning. With one of the coffee grinders listed above, you can now too prepare a restaurant-quality coffee in your home while reading from any of these e-books websites we have listed!
Related posts
Subscribe for newsletter
* You will receive the latest news and updates on Singapore's best trends!