10 Best Clothes Steamer in Singapore [2022]
Joanne, 3 years ago
9 min

read
5571
Clothes steamers, also known as garment steamers, are slowly gaining popularity here in Singapore. While many of us are more familiar with the traditional way of ironing clothes, a clothes steamer is extremely useful if you are often worried about burning a hole in your favorite piece of garment. Clothes steamers present an easy, quick, and safe alternative to ironing out the creases in your clothes. So, if you are considering the idea of getting a clothes steamer for your home, check out the best clothes steamer in Singapore below!
Highlights:
Slim and compact design for easy storage
Fast start-up in 45 sec and continuous steam for 46 minutes
Auto shut-off safety feature
PowerPac's garment steamer features a fast start-up function, allowing the steamer to start up in just 45 seconds. The steamer can work for 46 straight minutes and it even features an auto shut-off safety feature so you do not have to worry about burning anything even if you are often forgetful!
In addition, PowerPac's garment steamer is versatile in that it can work effectively on clothing, drapes, as well as upholstery, and more. The continuous steam not only straightens out any wrinkles on your garments! It will also help to soften out your clothes over time. Furthermore, they included a 360 degrees folding swivel hanger which you can twist and turn to make sure you tackle all those wrinkles.
If you are worried about another appliance taking up your space at home, fret not! This garment steamer by PowerPac features a slim and compact design for easy storage. Simple to use and easy to store, PowerPac's garment steamer is definitely worthy of being one of the best clothes steamers in Singapore!
Price: $ 67.90
Purchase it here!
Highlights:
Safe on all garments
Powerful continuous steam
Adjustable pole
Phillips is a brand that requires no introduction! Their version of a clothes steamer is one that is rather popular among Singaporeans. The Phillips Garment Steamer features a powerful continuous steam that can continuously steam for up to 30 minutes. The steamer is also safe to use on all garments, so you can safely use it on your favourite shirt.
In addition, the steamer comes with a detachable water tank, making it easy to clean and maintain. Many users also praise Phillips for the ease of installation of their clothes steamer. With your purchase, you even receive two years international warranty, so, you can be sure that you will be getting a quality product!
Price: $ 69.90 to $ 79.90
Purchase it here!
Highlights:
Big steam output
Power light and steam light indicator
Convenient ON/OFF foot pedal
Cornell's clothes steamer is a portable steamer that effectively eliminates the creases on your trousers, blouses, shirts as well as other apparels with ease.
The steamer also features a 2.3-liter water tank to save you the hassle of constantly filling it up in order to steam out the creases on your apparel.
The steamer is safe to use as its stable steaming pressure will maintain a constant temperature. In addition, the steamer is fitted with an adjustable hanger to allow your apparel to hang freely and securely as you steam your clothes to a crease-free perfection. It is also rotatable to make it easier for individuals to maneuver it quickly.
Price: $ 86
Purchase it here!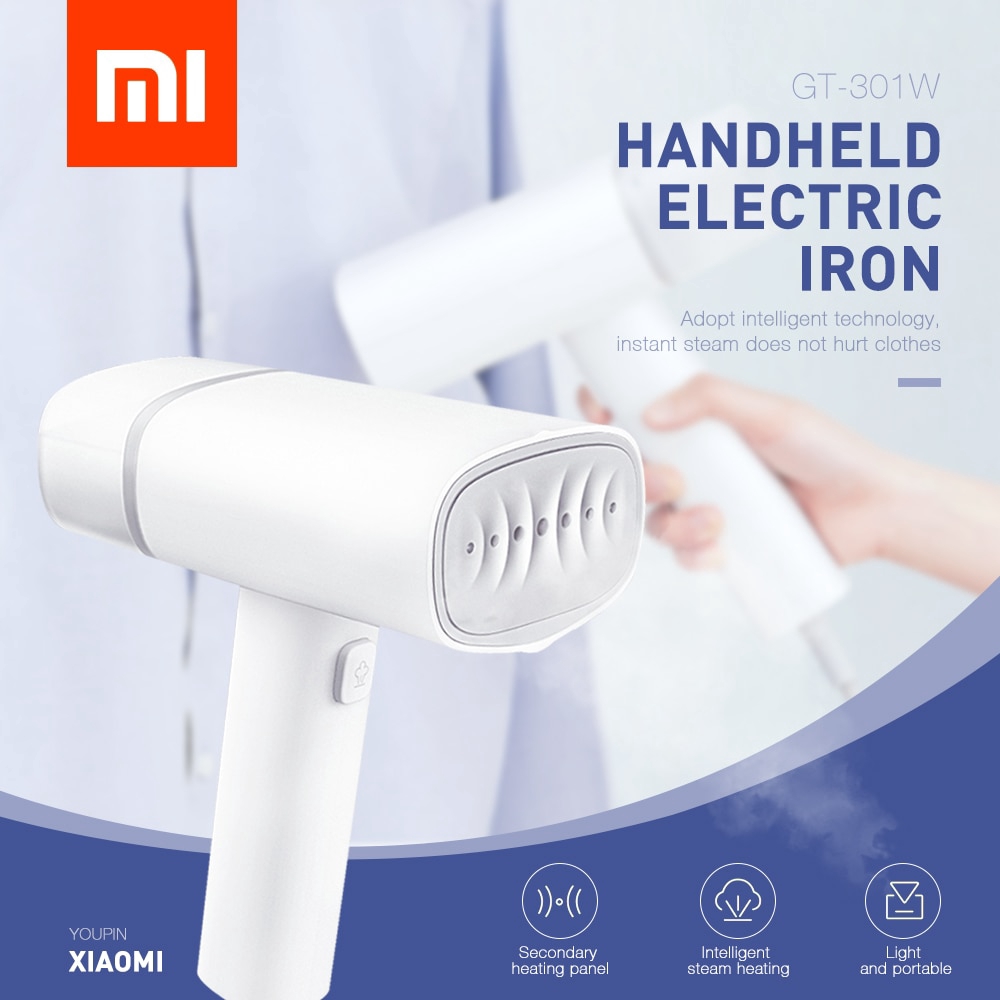 Highlights:
Affordable
Sleek design
Easy to use
If getting a large clothes steamer is not something you are keen on doing, Xiaomi has just the right solution for you. The compact and affordable Xiaomi Deerma Hand-Held Portable Travel Garment Steamer costs only $33.90 and folds down to only 15cm in length. Its high portability is great for those of you who are always on the go, and in need of a way to straighten your outfits.
This steamer only takes 10 seconds to warm up before it can effectively iron out your clothes. In addition to its compact size and affordability, the design of Xiaomi's clothes steamer is also sleek and stylish, making it a great fit for your modern home!
Price: $ 33.90
Purchase it here!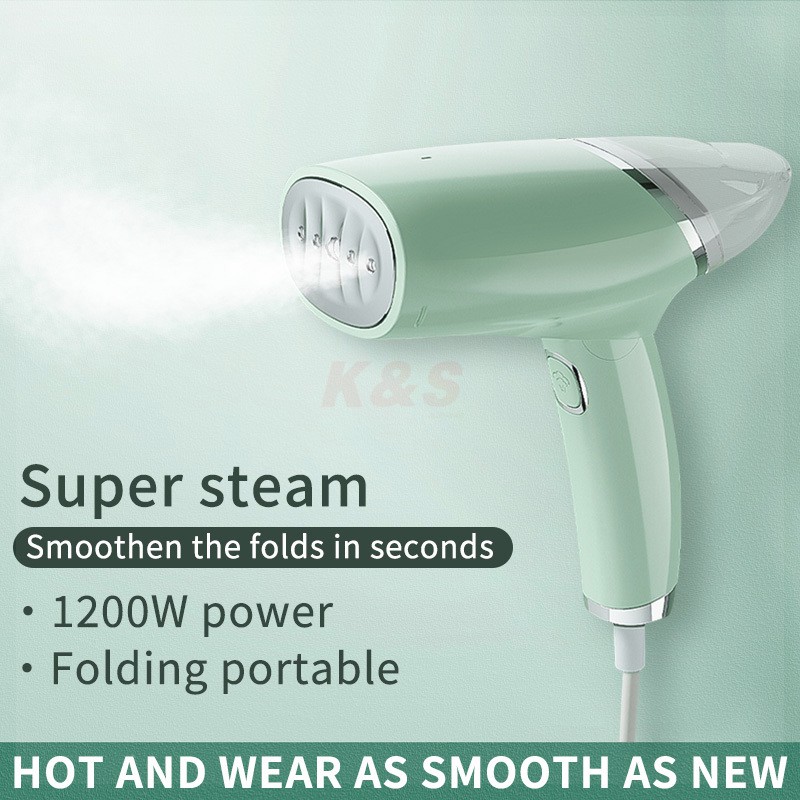 Highlights:
Affordable
Powerful steam
Portable
K&S's clothes steamer is a foldable and highly portable steamer. The body design is light and handy, and you will not be tired even after a long session of ironing your clothes. The small steamer can also be easily placed in a bag or suitcase, making it great for those who are often in need of an outfit change in the middle of the day.
There is also little to no wait time while waiting for the machine to heat up. It can be used almost immediately without waiting, making it an efficient and convenient option. In addition, the stainless steel bottom plate of the steamer is smooth, durable, and does not damage your clothes. In this way, clothes of different fabrics can be ironed smoothly!
The powerful steam released by K&S's clothes steamer also allows you to quickly finish ironing a piece of clothing. Some users expressed that they finished ironing their clothes in less than 5 minutes! So, for an affordable, portable, and efficient clothes steamer, keep K&S in mind!
Price: $ 39.80
Purchase it here!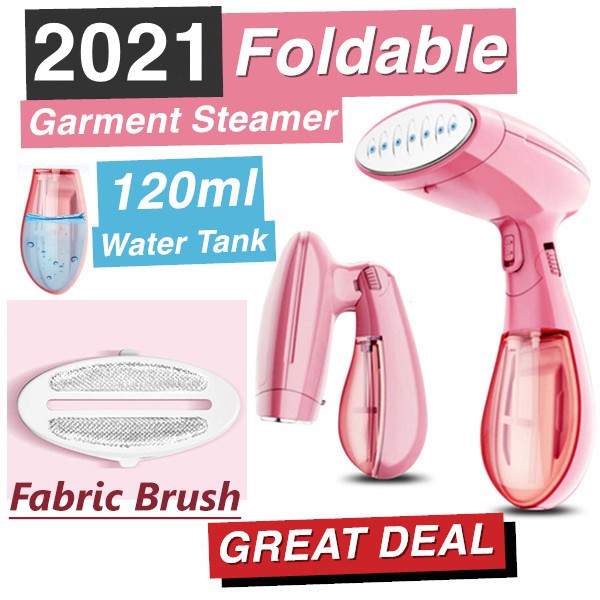 Highlights:
Easy to bring around
Affordable
Body brush to remove dust
This adorable pink mini iron comes at an extremely affordable price of $32.90, making it great for those of you who do not want to spend too much on a clothes steamer. Featuring a one-click folding function, the steamer is small and convenient for storage, to meet the needs of light travel.
In addition, the 120 ml water tank is removable and easy to load and unload. You do not have to worry about fumbling to open the water tank and causing a mess. The steamer even features a body brush that can help you to remove pesky little dust particles that are on your clothes.
For those who are lazy to have their fingers press the steam button all the time, you would be glad to know that this pink mini iron features a Steam Lock Button, that allows for continuous and powerful steaming.
Price: $ 32.90
Purchase it here!
Highlights:
Quick start up
Adjustable steam output
Sanitizing function
Tefal ProStyle IT3440M0 garment steamer is a clothes steamer that can easily remove creases on all types of fabric, even your most delicate piece of clothing. This is thanks to its adjustable steam output.
Suitable for both last-minute touch-ups and intensive steaming sessions, this high-efficiency steamer is a great time-saver with a start-up time of just 45 seconds. Compact in size, yet highly efficient, this steamer is equipped with features for exceptional convenience and ease-of-use, and can also be used to refresh or sanitize sofas, curtains, and sheets, in addition to garments.
The steamer also features an exclusive and patented vertical support for easy steaming with only one hand. All in all, it is the perfect tool to refresh and sanitize all kinds of garments!
Price: $ 159
Purchase it here!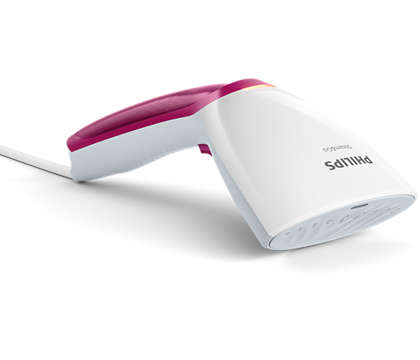 Highlights:
Automatic continuous steam for easy de-wrinkling
Vertical Steaming
Brush accessory for thicker fabrics
The next listing is another clothes steamer by Phillips! This Philips Steam & Go Handheld Garment Steamer features an electric pump that automatically provides continuous steam for easy and quick de-wrinkling. The continuous steam also removes odors and kills 99.9% of bacteria.
In addition, the steamer is safe to use on all ironable fabrics and garments. The steam plate can be safely pressed against any clothing with no risk of burning – a great solution for delicate fabrics, like silk.
The handheld garment steamer is also ergonomically designed to be light, compact, and comfortable to use. Just press the trigger and watch wrinkles and creases disappear! Philips also included a brush attachment that opens the fabric fibers and enables better steam penetration. It is especially good for thicker garments like jackets and coats!
Price: $ 84.15
Purchase it here!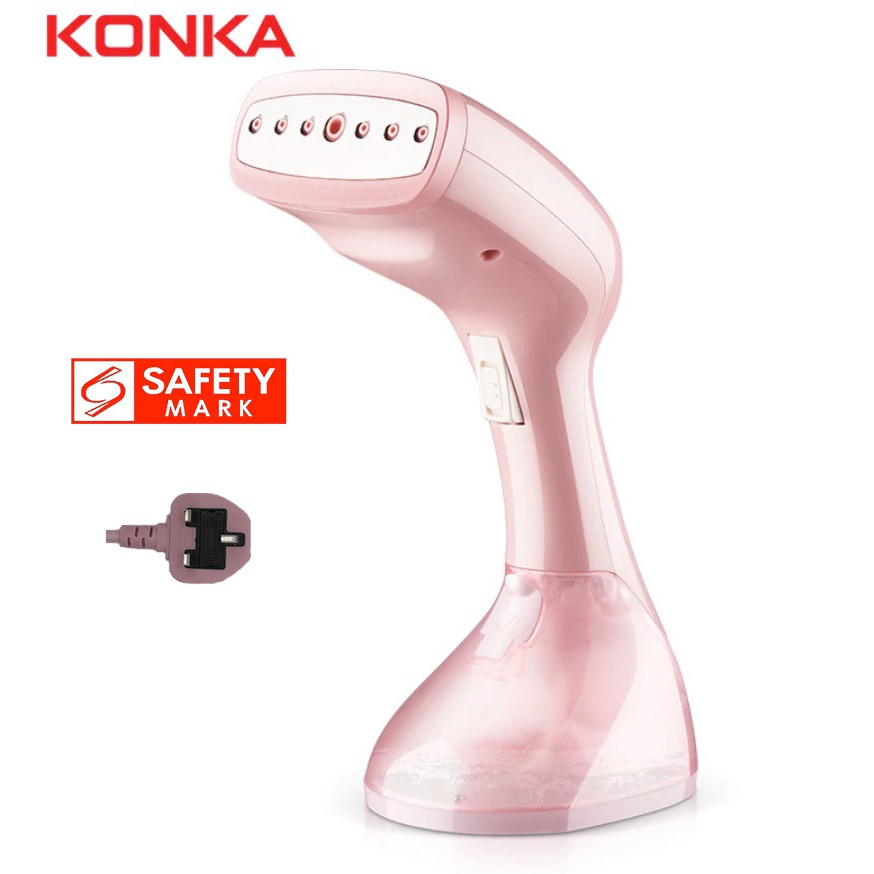 Highlights:
Sterilization functions
Affordable
Powerful continuous steam
The KONKA clothes steamer is an efficient and environmentally friendly household cleaning and ironing product. It features a continuous ejection of high-temperature and high-pressure steam that can be used for ironing, sterilization, as well as cleaning.
In addition to ironing, this clothes steamer also features a sterilizing function which also aids in the removal of odor. The high temperature and strong steam can kill a variety of harmful bacteria quickly and ensure the cleanliness of the household.
Lightweight, portable, and taking less than a minute to start up, this clothes steamer which will only set you back a little over $30 is definitely a great choice for those who are looking to purchase a clothes steamer!
Price: $ 31.90
Purchase it here!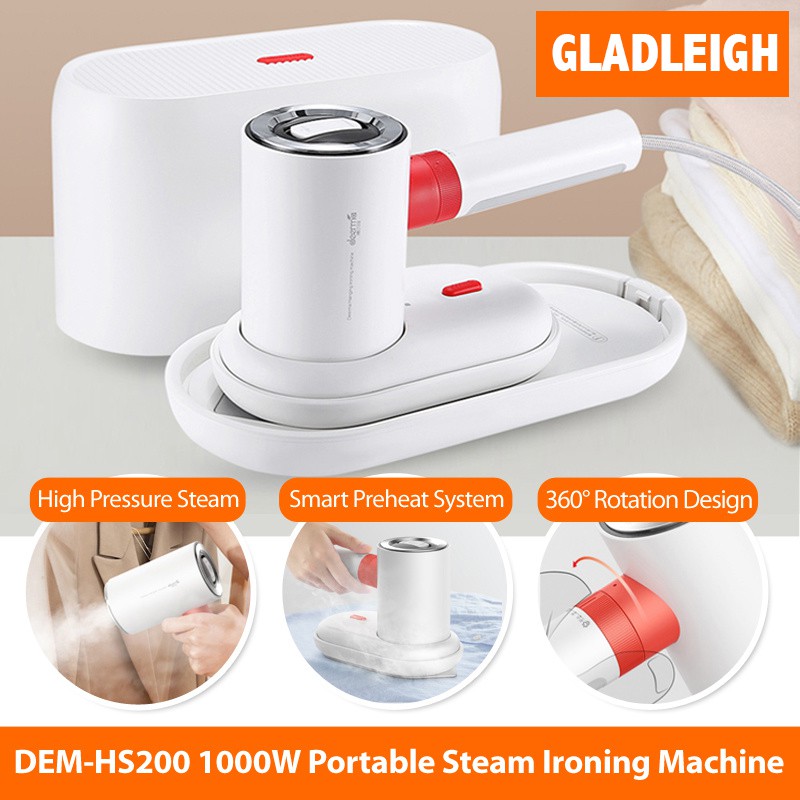 Highlights:
Portable
High pressure steam
Smart preheating system
Nooks' Portable Clothes Steamer features a portable and compact design. The brand even provides buyers with an exclusive storage box for you to store this steam ironing machine! The steamer is suitable for a wide range of different fabrics and you can apply it to many articles, like curtains, clothes, carpets and more.
One of the best features of Nooks' clothes steamer is that it is able to kill bacteria while removing wrinkles from your clothes. Your clothes will not only look better and free from wrinkles! It will be cleaned as well!
The steamer also features a double-fuse protection which starts protection when the temperature is higher than the safety range. In addition, it will automatically shut off to prevent dry burning when the water in the water tank runs out.
Price: $ 65.88
Purchase it here!
There you have it, some of the best clothes steamers in Singapore. Whatever your budget, we are sure you would be able to find one that meets your needs! With these quick, convenient as well as safe clothes steamers, you can say goodbye to the troublesome way of ironing your clothes.
If you are looking for more recommendations for electrical appliances, be sure to check out our articles for the best tower fans, dishwashers, or built-in ovens!
Related posts
Subscribe for newsletter
* You will receive the latest news and updates on Singapore's best trends!