Best 7 Furniture Stores in Singapore
Wu Ting, 6 months ago
8 min

read
16748
First of all, you had to expedite loads of cash installments to secure your house. Next, you have to decorate it to make it look like the dream home that you always wanted. The hard truth is, shopping for affordable and stylish furniture in Singapore can feel like an endless struggle. In order to achieve distinctiveness in your home interior from other residential owners, we have put together the best 7 places to buy affordable furniture in Singapore; furniture shopping the smart way, without burning a hole in your pocket. Be it attaining a sleek Nordic look or a vibrant Bohemian vibe, your dream home can definitely be a reality!
With an extensive range of furniture that boasts low starting prices, FortyTwo is one of the best e-stores to shop for conventional furniture. On top of their affordable prices, the furniture store offers a price match guarantee. The company offers the lowest price matching – which denotes if you find another furniture company selling the exact item but at a lower price, FortyTwo will refund you the price difference; terms and conditions apply.
Established in 2007, the company is more than just a regular furniture store that provides commendable customer service. They offer home decorations and essentials such as bed sets, lightings, mirrors, hand sanitizer, and laundry accessories, alongside kitchen and dining ware. Therefore, shoppers will be able to find something that piques their interest. You can also shop worry-free as they offer a 100-day return policy for purchased furniture from their E-store.
Moreover, the company will host regular clearance sales, labelling jaw-dropping offers on their furniture. Customers can check in with them regularly to clinch superb deals for your home. Overall, truly deserving of topping our list of the best places to buy cheap furniture in Singapore.
Address (Office): 5 Toh Guan Road East Block 1, #05-01 Singapore 608831
Phone (General Enquiries): Tel: +65 6777 7667, Fax: +65 6744 3837
Operating Hours: | Mon to Fri: 10am – 6pm | Sat, Sun, PH: Closed |
Comfort Design Furniture illustrates a good range of furniture which even consist of shelves, racks and customisable sofas. Notably, the company itself is most renowned for their designer furniture replicas.
Shoppers are often very much impressed by the extensive array of beautiful furniture made available in their store. Comfort Design is also known for building customized furniture based on the requirements of individual clients. Consumers get to pick from two alternatives; to view products via their online shopping platform, or make a trip down to their physical showroom to get an actual feel of all the furniture that is displayed neatly across three spacious levels.
Customers who have made purchases from Comfort Design can opt for delivery of the furniture directly to their residences. Self-collection option is also available at their main office in Eunos.
Address: Comfort Design Building, 110 Eunos Avenue 7 Singapore 409573
Phone (General Enquiries): +65 6747 4809
Operating Hours: | Mon to Sat: 9am – 6pm | Sun & PH: 10am – 6pm |

An online furniture store that specialises in lifestyle and designer-inspired furniture products, HipVan allows consumers to shop on a limited budget at their dedicated local home decor website, in which its catalogue encompasses everything home owners would need. The wide range of modern and contemporary furniture that comes in quaint colours and designs is generous and sells quickly – shoppers can find pastel-hued sofas, plush lounge chairs, concrete dining tables and accessories to decorate their home with style. HipVan also introduced an app so clients can shop to their content; anytime and anywhere.
If you are hopeful for an industrial modern-chic interior as an appropriate dream home setup, HipVan is definitely the place for you to consider. One of the best places in Singapore to buy cheap furniture hands down!
Address (Warehouse): 19 Kallang Avenue, Kallang Basin Industrial Estate, #01-155, Singapore 339410
Phone (General Enquiries): +65 6291 1725
Email Address: [email protected]
Operating Hours: | Mon to Sat: 9:30am to 5:30pm | Sun & PH: Closed |
Choice Furniture is a home-grown furniture store that offers quality furniture at reasonable prices. Starting off as a small and humble furniture shop in the heartlands over 2 decades ago, they have grown tremendously over the years, and have accumulated a customer base in the thousands.
Their success story is directly because of their dedication to their craft. They are passionate in what they do, and truly care for their customers. They want to provide their customers with top-notch quality furniture of excellent craftsmanship, at a price that won't break the bank. From intricately-woven rattan chairs to exquisitely-crafted rosewood sofas, Choice Furniture has them all, and they will deliver it right to your doorstep safely and securely. What more can you ask for? Check out Choice Furniture today!
Address: 63 Hillview Avenue #01-01, Lam Soon Building, Singapore 669569
Phone (General Enquiries): +65 6392 1131
Email Address: [email protected]
Operating Hours: | Mon to Sun: 11:00am to 7:00pm |
The Reject Shop SG is the first concept store that offers designer furniture in Singapore at extremely affordable prices. Keep in mind – reject does not mean poor quality! The Reject Shop takes in furniture from stock clearances or those with minor factory defects (that are usually barely noticeable!). Thus, they are able to sell them at a really low and reasonable price. You really are getting a bang out of your buck with The Reject Shop!
Another thing we love about The Reject Shop SG is their commitment to giving back to the community. They are dedicated to giving away home furniture to vulnerable members of teh Singaporean community. Truly a company we can get behind of. Visit The Reject Shop today!
Address: 39 Woodlands Cl, #07-13, [email protected] Singapore 737856
Phone (General Enquiries): +65 6717 3777
Email Address: [email protected]
Operating Hours: | Tue to Sun: 1:00pm to 9:00pm |
Black & Walnut's tagline of "where ordinary furniture just won't do" says it all. If you're looking for bespoke, quality-designed, premium, and unique furniture pieces that won't break the bank, Black & Walnut is the place to hit up.
Often collaborating with award-winning designers to come up with trendy and unique furniture at an affordable price bracket, Black & Walnut is dedicated to proving to its customers that luxury and class does not have to come at a ridiculously high price.
Someone looking for design-forward furniture to spice up your homes? Check out Black & Walnut today!
Address: 43 Keppel Road #W1-01/02/03, Singapore 099418
Phone (General Enquiries): +65 6781 3202
Email Address: [email protected]
Operating Hours: | Mon to Sun: 10am – 8pm |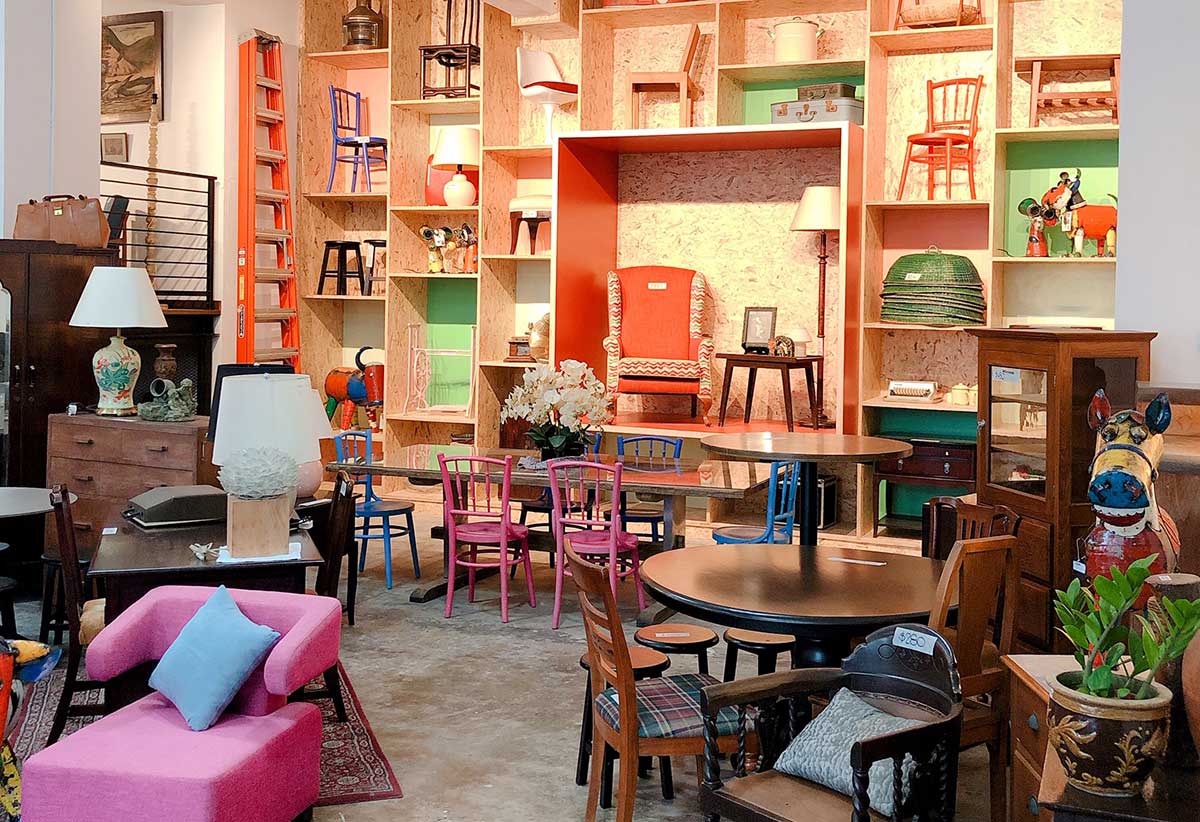 If homeowners are searching for furniture with a slight character and its own history, Hock Siong & Co is a treasure trove of secondhand home furniture. In addition, there are also plenty of home accessories to rifle through in the physical shop. The business is started by a family of Karang guni traders who ultimately agreed to create a furniture business out of what they have consolidated. The prices of the product greatly depend on what patrons choose, but in general, it will certainly be cheaper than purchasing something that is similar but brand new.
The displayed goods are neatly and compactly packed into three units, which cover a variety of styles, ranging from vintage rosewood to mid-century to the downright opulent. Typically, the products are hand-me-downs from show flats and hotels, furniture shops that have their business ceased etc. A gentle reminder to bring out the bargaining skills in you as the customer service staff will be pleased to reduce prices based on your kind request. That can also serve as your daily dosage of retail therapy.
Address: Junjie Industrial Building, 153 Kampong Ampat, #01-03, Singapore 368326

Phone (General Enquiries): +65 6281 8338
Email Address: [email protected]
Operating Hours: | Mon to Fri: 9:30 am to 5:50 pm | Sat, Sun, PH: 9:30 am to 5:50 pm
Just as significant as renovation works done to your home – the right furnishing pieces will be able to illustrate the theme of your home ideally, regardless of the style of design while still kept at a low budget.
Do share with your friends who are embarking on their home renovation journey, on the 6 best furniture stores recommendations that have been provided in this article. Hopefully, it will spark some inspiration on their end! Happy Shopping!
Do check out our other related articles:
Related posts
Subscribe for newsletter
* You will receive the latest news and updates on Singapore's best trends!
Trending Posts