14 Best Car Workshops in Singapore [2021]
Gee, 3 years ago
10 min

read
3964
We can all agree that owning a car in Singapore is like raising an additional child. Not only is it expensive, but cars also require our TLC (tender loving care) in the form of maintenance or it will break down and cry. In that case, your wallet would actually cry harder. All jokes aside, it is wise to take your beloved automobile to a car detailing shop every so often just to do the required maintenance and keep it looking nice and clean. Thus, we have curated a list of the best 14 shops for car detailing in Singapore to help you maintain your car properly.
Appropriate maintenance or restoration of vehicles could keep them looking good from inside out as if they came from an auto dealer's showroom and could also increase their resale value in case you are thinking of upgrading your car soon. Car detailing requires knowledge of proper techniques and use of tools and products.
Exterior detailing deals with cleaning, and either restoring or exceeding the original condition of the surface of the car's finish (usually a paint with a glossy finish), chrome trim, windows, wheels, and tires, as well as other visible components on a vehicle's exterior.
Interior detailing involves a deep cleaning of the whole interior cabin. Vacuuming is standard, and upholstery stains may be removed using steam cleaning, liquid and foam chemicals, as well as brushes. Additionally, some nonporous surfaces may be polished.
Overall, just think of car detailing as going to a regular health check-up for your car, where the detailing shops could also fix dents or replace any old interior parts according to their expertise.
Now let's jump into the top shops for the best car detailing in Singapore.
CARs International is one of the leading companies in Singapore when it comes to beauty care of cars. If you are the type who wants a full restoration and for your car to look as if it is new, this is the place to go. They also have constant price reductions and discounts to look out for and are value-for-money. Other services include preservation and maintenance.
Address: 514 Bishan Street 13, level 2 deck 1 (Above bus interchange, Singapore 570514
Opening hours: 10:30 am – 7:30 pm daily
Contact number(s): 6846 0663
I understand it could get busy and sometimes you just can't afford the time to physically take your car to a detailing shop. Thankfully, Max Polish LLP can do it at a location of your choice. They are also Sunday times featured company and offer to groom your car at your doorstep. They offer a portable car grooming package from only $49.90 and it uses genuine Meguiar products for all its services. Reviews say that the results are as good as if you were to be physically there at a shop.
If I would want to save time, I would definitely opt for this because the price is actually very reasonable for a portable car detailing in Singapore.
Address: Blk 307A Tampines Street 32 S(521307)

Opening hours: 10:00am – 8:00pm (Mon-Sun)

Contact number(s): 9792 0492
Elite Image Detailing is an award-winning, internationally recognised detailer. They offer a broad range of selections focusing on the enhancement, correction, and restoration of the overall appearance of your car. The highlights of this detailer are their various paint treatments and upholstery cleaning. They use the COSMICS line of products and are of high quality. I would recommend this if you want your car to have a slick finish.
Address: 50 Serangoon North Ave 4 #01-06 First Centre Singapore 555856
Opening hours: Monday to Saturday: 9:30 am – 7:00 pm
Contact number(s): 6636 4466
Joseph Mobile Car Polish is a great link up for an affordable leather seat restoration.
They could restore the original shine from your leather seats within hours. You could be looking at about $100 for that, which is by a good deal for leather seat restoration.

Utilising only Autoglym products for all its services, you can expect excellent interior and exterior cleaning for any vehicle. Other services include paint protection, wash, and wax, tyre shine. Mobile polishing is also available here. Overall, one of the best shops for car detailing in Singapore.

Address: 8 Kaki Bukit Avenue 4 Gate 1 #01-01 Premier @ Kaki Bukit S(415875)

Opening hours: 8:30am – 7:00pm (Mon – Sun) Close on PHs

Contact number(s): 9871 1151
5D Solutions does car grooming as well as a nano-ceramic coating to protect your car paint. I would recommend checking out their well-established website for more details about their expertise in the nano-ceramic coating. It has its own range of KubeBond products which you could explore.

Other services include car grooming, foam washing, waxing and polishing, leather restoration, steam cleaning, and pest fumigation.
Address: 7 Soon Lee Street #01-26 iSpace S(627608)

Opening hours: 9:00am – 6:00pm (Mon-Sat)

Contact number(s): 8668 7560 / 6254 0456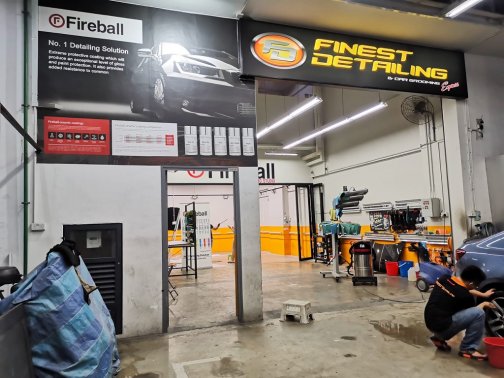 Although Finest Detailing & Car Grooming is a relatively new company that started up in November 2016, it is an authorised detailer for Fireball, a South Korean premium brand of car detailing eco-friendly products.
It uses Fireball for all its grooming services which include car spa, car wash, polishing, wax, coating, and interior grooming. They also have interesting add-ons which are quite worth the value such as an additional layer of FireBall Devil's Blood/Sila Glass Coating for only $120. It would be a great opportunity to try out Fireball products if you are a first-timer and see if you like what it does for your car.
Address: 61 Woodlands Industrial Park E9 #01-18 E9 Premium S(757047)

Opening hours: 9:00am – 9:00pm (Mon – Fri) 9:00am – 7:00pm (Sat)

Contact number(s): 6358 1833 / 9754 1833 / 9119 1833
GroomWerkz is a specialist in car grooming. They could offer great grooming value with their years of grooming experience. However, they do not offer other services apart from grooming such as accident repair or wrapping. Since their business is purely grooming, they do a great job at this specialization. If you are only looking to get some grooming done, this place could really doll up your ride.
Address: 48 Senang Crescent Singapore 416615

Opening hours: Daily 08:30 – 18:00 but closed on Tuesdays

Contact number(s): 96246 1661
Calling all East-siders! Lambency Detailing provides a full range of services including, hand washes, interior detailing, exterior detailing, paint corrections, protections, and other paint solutions. Their staff is well-trained professionals and you could have quite a high expectation for the look of your car when going to them because they use only the best, high quality detailing products for the job. Worth a look if you are in the east as it is indeed one of the best shops for car detailing in Singapore!
Address: 9008 Tampines Street 93 #01-67 Tampines Industrial Park A S(528843)

Opening hours: 9:00am – 6:00pm (Mon – Fri) 9:00am – 9:00pm (Sat & Sun)

Contact number(s): 9658 5808
Revol Carz Makeover Pte Ltd is known for its great customer service and workmanship. It has been around for some time and is a great overall one-stop spot for any professional grooming that your car needs. They provide car makeovers such as spray painting, dent removal, and panel beating on top of details.
You could expect your car to look sharp with their paint jobs because they use comprehensive paint protection systems and does their own coating packages. Worth to check it out if you are around AMK.
Address: 10 Ang Mo Kio Industrial Park 2A #01-12 AMK Autopoint S(568047)

Opening hours: 8:30 am – 6:30 pm (Mon-Sun) Closed on PHs

Contact number(s): 9322 2313 / 6746 6281
178 Auto Care is known for their craftsmanship that they provide to their customers at a reasonable price. Their bestseller, EcoGreen Car Wash is only $ 28. This already includes Eco Shampoo, Interior Vacuum, Rims Scrub, Tire Shine, and Free Odour Killer.
In addition, the products that they use in your car are of best quality to keep the coating longer and eco-friendly to keep your family safe from chemical byproducts.
Address: 18 Ubi Road 4, #01-09, Singapore 408616
Opening hours: Monday – Saturday: 10:00 am – 7:00 pm
Contact number(s): 6917 8178
Ace GT is one of the higher-end car detailers in Singapore and their services do not come cheap. Nevertheless, if you want your car to be perfectly detailed, this is the place you are looking for. They have a variety and range of services so you will find what you need. Also, the staff is very professional and this is a place where you can get specific customizations without having to compromise with those standard packages.
Address: 9 Yishun Industrial Street 1#01-69/70 North Spring Bizhub Singapore 768163
Opening hours: Monday to Saturday 09:00 – 18:00
Contact number(s): +65 6710 7793 / +65 9635 5760 (WhatsApp)
Coming at number 3 on our list is Wrapstyle Singapore. It offers car wrapping, paint protection, and window tinting. They are actually an international company that has gained a reputation in their vinyl wrapping services. Wrapstyle has a high attention to detail, uses premium products, and has flexible pricing so that you won't pay extra for any unwanted servicing. Overall a flexible car detailer and hands down one of the best shops for car detailing in Singapore.
Address: 24 Leng Kee Road, #04-03 A/B, Singapore 159096
Opening hours:
Monday to Friday 10:00 – 19:00
Contact number(s): +65 6560 5966 | +65 8228 0455 | +65 8223 0324
Located at Milenia Walk, MintGroom offers Car wash, Interior Grooming, Paint Correction, Paint Protection, Coating, Paint Protection Film, Paintless Dent Removal, and Panel Spraying. They are a master at their craft, so your car is in good hands. They also allow for mobile grooming if you have a busy schedule. The great thing about this detailer is that they offer a total car care solution package, incorporating everything from enhancement and protection through to maintenance.
Address: Millenia Walk Carpark Basement 1 S039596
Opening hours:
Contact number(s): 65 81383125
At the top of our list enters Precision Wrap. It is truly deserving of topping our list of the best shops for car detailing in Singapore. This is a high-end detailer for those who are looking to take their car design to the next level. By that I mean if you are looking to chrome out your car or go for a full gold look. They offer graphic designs on their wraps to personalize your car fully if you are into racing or just want some kind of cool designs as decals. They have an impressive portfolio on their website which comprises mostly expensive sports cars which are worth taking a look at!
Address: 68 Kaki Bukit Ave 6 # 01-03 ARK @ KB Singapore 417896
Opening hours:
Monday to Friday: 10:00am – 7:00pm
Saturday : 10:00am – 3:00pm
Contact number(s): + 65 96907777
Don't stop searching until you find a go-to car detailing shop that suits your convenience and your liking. Being a regular to one car detailing shop is a great experience because the guys would know you personally and already know your style preference (basically what you want). It would also be easier to customize certain things to your car be it packages or even snatch up some discounts!
We are more than happy if our list has helped you out in finding the one car detailing shop for you. Feel free to check out other rating lists about different things in Singapore at bestinsingapore.com from technology to food and lifestyle in Singapore!
Written By: Joel
Related posts
Subscribe for newsletter
* You will receive the latest news and updates on Singapore's best trends!