Best 10 Cake Delivery in Singapore
zoya, 5 months ago
8 min

read
595
Getting cakes delivered right to your doorstep brings a level of joy and delight like no other. Whether you are looking to buy a cake for a birthday or an anniversary celebration, the ease and convenience of delivery is the icing on the top of your celebration. But, going outside now can be a huge risk to personal safety and security, and hamper everyone else's health around you too. That is why you can rely on these cake delivery services in Singapore to get cakes and other desserts delivered promptly and safely to your homes.
Let's face it. Although we love cakes, they're not exactly the healthiest option right? Well, Bob The Baker Boy is here to prove you wrong. From low-sugar flavored cakes which you can customize to even dessert tables, you are sure to find something that you'll fall in love with. Offering flavors like Belgian chocolate which is diabetic-friendly to the more unique Ondeh Ondeh, this is one bakery that you can't miss out on. To find out more please visit their website.
👍 Gorgeous cakes which are also healthy
👍 Island-wide delivery for orders above $150. If your order falls below this amount, you can opt for self-collect
👍 Standard baked cakes start from $55 while custom cakes may vary. They also run regular promotional discounts so check that out
If you're looking for something truly exotic and hand-made, Temptations can deliver the perfect cake for you. They specialize in artisan cakes and have been in the business since 1985. With the wide variety of flavours available on their menu, there is definitely something for everyone! Besides wow-ing your taste buds, Temptations' cakes are a joy to the eyes as they are beautifully and delicately decorated. Check out Temptations today! Order from Temptations here: https://www.temptationscakes.com.sg/
👍 Temptations cakes are affordable and start at $ 34.
👍 Signature chocolate etoile cake and their premium durian cake are their best sellers that you must try at least once!
👍 Delivery time depends on your order's customization and size
As one of the healthier and quality cake delivery bakeries in Singapore, Monice Bakes has a lot to offer when it comes to creating the perfect cake. Their cakes sport an elegant and smooth design and even the customizations give them an equally mouth-watering and elite look. Moreover, Monice bakes also have a large showcase and you can choose from their huge variety, but delivery charges start at $30, and the timing of a delivery can also vary. So, if you're fine with waiting a little more than a day, Monice bakes can deliver unparalleled cakes to your doorstep. Order from Monice's bakes here: Website
👍 Impressive quality and designs giving an eye-pleasing design that tastes just as good as it looks.
👍 Their cakes can be in the higher budget and from their large collection, you have options to choose from every cake you can think of.
👍 Monice bakes also have a healthier composition free of any preservatives or harmful colorings and other chemicals.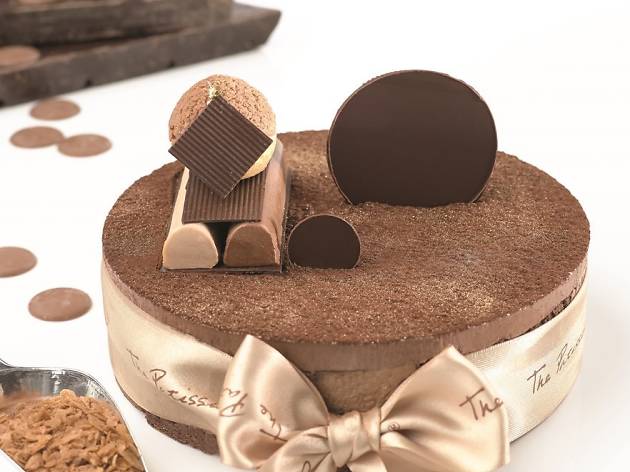 As one of the best decorative cake bakers in Singapore, The Patissier has an amazing range of birthday and other celebration cakes. They can decorate your cakes while making them as tasty as delectable they are to look at. Moreover, The Patissier also has a decent menu size for you to choose from and order the perfect cake to celebrate. Order from the Patissier here: Website
👍 The Patissier specializes in birthday cakes and has a nice variety of cakes to choose from as well. Their range starts at $50.
👍 Their passion fruit meringue cake is a must-try.
👍 Online orders take up to 2 days for delivery and depend on your order size and customization.
Something grand to celebrate and you want to go out of your way to celebrate with a grandiose cake? Susucre Singapore delivers great quality cakes that are as grand as they're pleasing to the eye and taste. They're the perfect choice for customizing your cake just as you want to celebrate and complement the theme of your setup as well. You can order from Susucre here: Website
👍 Susucre specializes in wedding, birthday, and other big celebration event cakes, and prices can be on the higher side depending upon customization and other requirements.
👍 They have exquisite options when it comes to offering the best for your special event.
👍 For the fastest delivery, areas near their location at and near Race Course Road are ideal.
Forgot someone's birthday or couldn't order cakes and preparations on time? WhyZee cakes offer fast deliveries for orders and free over orders worth above $30. You can be sure that they're only going to deliver the best quality cakes, desserts like cupcakes among other options. Order from WhyZee cakes here: Website
👍 Express 1-hour delivery for cakes throughout Singapore.
👍 You can choose from their pre baked or freshly made collection as per occasion and delivery options. Rates are in the medium expense section.
👍 Wide variety of cakes, desserts, rolls, and sweet cravings of all kinds delivered to you as quickly as possible.
Specializing in Gourmet cakes, Oscar's cakes is a great option for people who want their celebration cakes to look as exotic and appetizing as their celebration joy. They also have a decent cake variety size and are affordable and offer fast delivery too. With fresh ingredients and cakes delivered on time, Oscar's cakes are the go-to option if you want fast delivery at an affordable price. Check them out: Facebook.
👍 Oscar's cakes have plenty of variation when it comes to decorations, textures sizes among other customizations. Moreover, their range also falls in the $40 – $60 range.
👍 Oscar's cakes also have their own industrial setup to preserve your cakes in pristine condition till they're shipped out to you reliably and quickly.
👍 You can get free next day delivery throughout Singapore as well.
If you're looking for something a bit fancier looking, Little House of Dreams has the perfect cake collection for you. You can get customized cakes in different flavours and shapes and they're perfect for birthday parties as well as little personal celebrations. They specialize in cute bespoke cakes as per your requirement and are heavy on decorations. You can order from Little House of Dreams here: Website
👍 Impressive range of cakes as well as bespoke cake collection items to let you enjoy their looks and taste.
👍 Delivery rates start at $15 for online orders. For other customized cakes and bespoke orders, they have a $30 charge.
👍 Their price range is large enough to give you ample ideas and options for your celebrations or bespoke orders.
Two words to describe Zee & Elle's cakes: a whimsical dream! Expect beautiful creations inspired by lush botanicals and dreamy color palettes. Each cake is so delicate and beautiful and handmade by passionate expert bakers. That's what makes them one of the best cake delivery services in Singapore.
From fresh cream cakes, classic cakes, celebration cakes, and even vegan cakes, Zee & Elle truly have it all. Just make sure to order 2 days in advance as their cakes are work-of-arts that is definitely worth the time!
👍 Wide range of cakes including customised cakes available
👍 Flexi-delivery a flat fee of $10 on weekdays and $18 on weekends. For Sentosa, an additional $5 applies. But, for specific delivery time range of 1 hour, delivery charge is $30 islandwide, and an additional $5 for Sentosa.
👍 Seasonal specials
Cakes should be a part of our daily diet if you ask us, but the preservatives and the scare of cheap ingredients does dampen the mood. The folks over at Grin Affair understand this perfectly, and thus only craft cakes with the most real and fresh ingredients. The kind that is so fresh that you'll find it in your own kitchen.
Their dessert jars are some of the most delicious ones out there, and they're also made of healthier ingredients. Using low amounts of sugar, and less oil they create some of the most delicious cakes that you're gonna ever have. Their cakes also come in the most adorable jars ever, so even after you finish your cake, you're gonna have something to remember it by till you order the next one. They also have really delicious flavors like banana chocolate and hazelnut.
👍 Variety of flavors and all of them come in glass jars and are best consumed fresh.
👍 Prices start at $7.40 for the dark chocolate.
👍 Seasonal specials
This rounds off our list of the best cake delivery in Singapore! Cake delivery times depend on the customization and way of preparation. While most pre-baked cakes can be delivered in less than an hour from the above-mentioned outlets, more delicate cakes take a longer time to prepare but are generally worth the wait! If you plan on celebrating and getting your cakes delivered on your doorstep in time, these delivery options definitely won't let you down. These are truly the best cake delivery options in Singapore, and perfect for any celebrations and occasions.
zoya
Queen of Obscure References and occasional writer. When not exercising my thumbs on Instagram, you can find me looking for good author bios on Google.
Related posts
Subscribe for newsletter
* You will receive the latest news and updates on Singapore's best trends!
Trending Posts