5 Best Brunch Cafes in Singapore [2021]
Gee, 3 years ago
5 min

read
3373
Had a busy week at the office? Well, it's time to gather your friends and cafe hop some of the best brunch places in Singapore!
This Africa-inspired café tops our list for being the most instagrammable place here in Singapore. UTU, a Kiswahili word which means humanity epitomizes the café's vision to be the place where people can interact with one another. You will be awed by the rich culture of Africa that is present with the arts and fixtures of the room.
From the ground floor, the enticing aroma of the brewed coffee will welcome you to the store as you relish the paintings at its walls and the lovingly hand-carved banquette seats.
The lounge is also worth a visit for it houses the rich culture of Africa, visible from the wood carvings and native furniture. Situated at the café's top floor is a private dining place that is richly colored by its fantastic artwork. There are a Bar and Terrace, with hand-carved African doors, where you can enjoy your drink and is also best fitted for your late snack.
Truly worth a visit with family and friends for the scent of the African influence while enjoying a sip of their brewed coffee and palate-fulfilling cuisine. The price range of their menus is from $20-$55.
ADDRESS: 12 Jiak Chuan Road, Singapore 089265
Opening hours: Mon, 8 am-5 pm; Wed-Thurs, 8 am-11 pm; Fri-Sat, 8 am-12 midnight; Sun, 8 am-11 pm
Website | Facebook | Instagram
If you are looking for a café right down the neighborhood, well, Tolido's Espresso Nook is the place to go. A place to chat with friends, a colleague maybe. Or just to flex it up after a grueling early morning meeting.
It's a small nook of a place for you to enjoy a relaxing moment as you sip in their infamous coffee. Then match that with their very appetizing food like shakshouka.
It is a place to treat yourself with their delighting and so delectable foods at a price that is very affordable to your pocket. Their price ranges from $13 up to around $23. A bit costly as compared to the normal food prices at the neighborhood food stalls but Quality-wise, well worth it! Have a walk at your neighborhood and dig into the coolest place in town for your brunch!
ADDRESS: 462 Crawford Ln, #01-63, Singapore 190462
Opening hours: Weekdays, 8am-4pm; Closed on Tuesday; Weekends and PH, 9am-6pm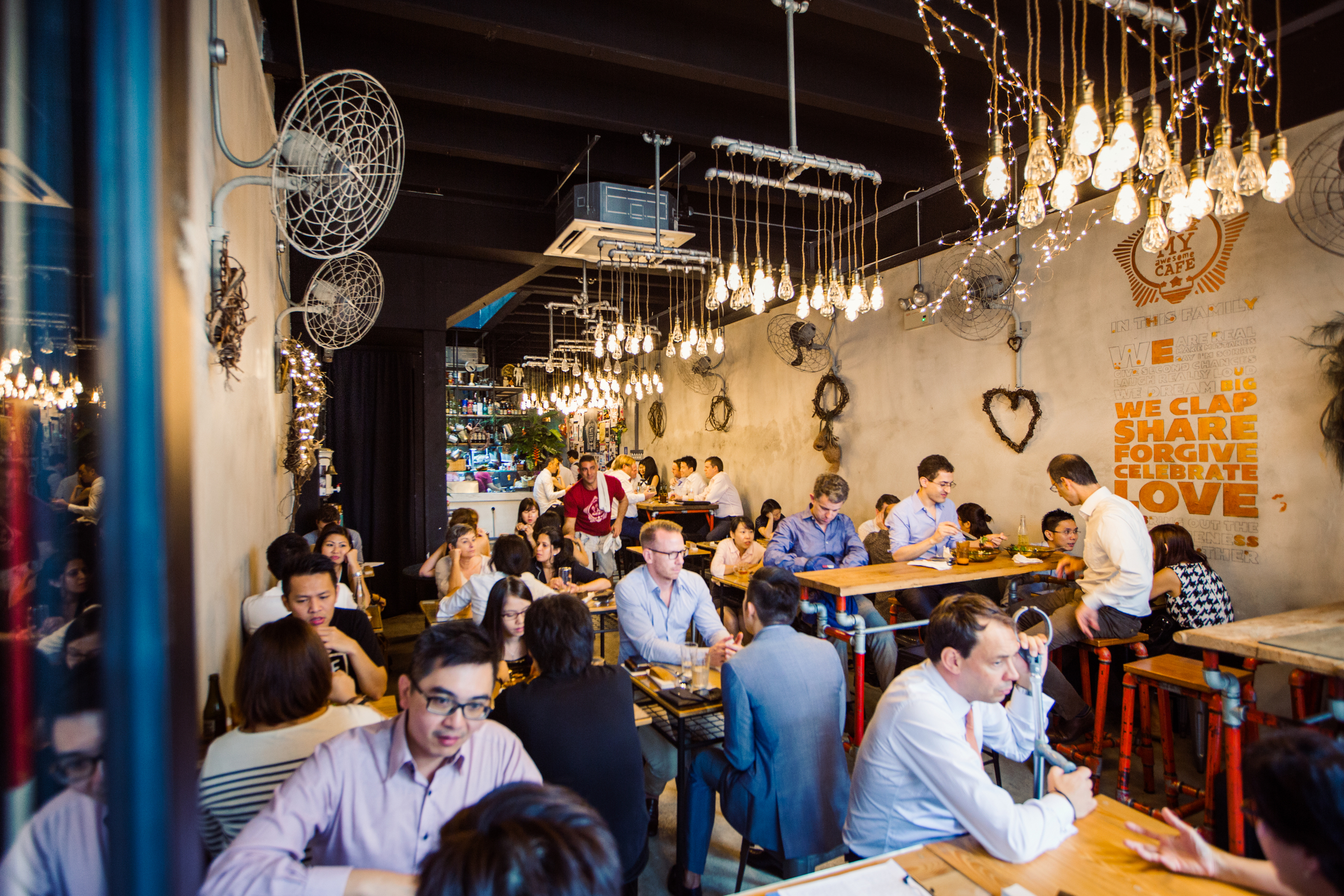 Looking for a place to celebrate everything that we hold dear such as great food, a great company, and great stories? Then this is the place to be. Founded on Valentine's day of 2014, My Awesome Café opened its doors out of love both literally and figuratively.
Feel nostalgic as we reminisce with our loved ones right at this vintage café, which was once the Chung Hwa Clinic. Indulge oneself to this gastronomic food crafted to bring out the awesome flavor of each ingredient.
Come and visit this place as they help you celebrate with your family and friends. You can have brunch and at the same time have a sip of the café's signature coffee, which is a blend of coffee beans from Columbia, Brazil, and Sumatra at a very affordable price of $2.50 for single, $3.50 for double, and $4.50 for latte or cappuccino.
ADDRESS: 202 Telok Ayer, Singapore 068630
Opening hours: Mon – Tues, 7:45am-10pm ; Wed – Fri, 7:45 am-12 pm; Sat, 9 am-10 pm; Sun, 9 am-6 pm
Website | Facebook | Instagram
If you are looking for a place where you can connect with nature and have a glimpse of a garden in the big city, then this is the place to go. With their vision of bringing to life the impact of urban farming in Singapore, they believe that it will strengthen our understanding and respect for food and its origins.
Feel the cool ambience which is synonymous with the misty environment in the countryside while at the same time being just a few minutes away from the city.
From savoring the farm produced food to conducting some outdoor recreational activities, openfarmcommunity aims to promote balanced living and reconnection of the community with Nature. If the budget is not a problem and you opt for a classy way of serving plus a close to nature experience, this one is for you.
So, what's the wait? Come and tag along with your family and friends and re-unite with Nature as you bond along while at the same time enjoying the freshly produced food at open farm community.
ADDRESS: 130E Minden Rd, Singapore 248819
Opening hours: Monday – Sunday, 11 am-9 pm
Website | Facebook | Instagram
Comfort food nowadays is being associated with foods that are not as healthy as compared to those foods that are being offered at the fine resto. Not anymore! Located at 136 Neil Road is an open kitchen concept café that offers home-made comfort foods that are healthy. From being a former shophouse at the junction, it has been transformed into a café where people tend to go during the weekends.
Foods such as smashed avocado combined with house-made ricotta. Or you can try the roasted pumpkin salad. Very fitting to those who are practicing a vegan diet.
This coming weekend has a visit at their café at Neil Road, though you need to come early to avoid the trove of people who also would love to get a bite of their food.
ADDRESS: 136 Neil Road, Singapore 08865
Opening hours: Monday – Sunday, 9 am-6 pm
Website | Facebook | Instagram
Singapore is home to a multi-faceted culture brought by the mix of races that are both residing and visiting this island state. Hence, it houses several world-class cafés with each bearing a scent of the culture of its origin. The five spots presented where chosen based on the venue's colourful arts, its rich culture, the price and quality of its food, and most of all, its patrons who serve as the spectrum of the café's performance.
Related Topic: Best 10 places to go within Singapore after the circuit breaker
Written by: Gerald
Related posts
Subscribe for newsletter
* You will receive the latest news and updates on Singapore's best trends!
Trending Posts
May 30, 2023

What is Matcha? Matcha...

May 31, 2023

TLDR: In this article,...

May 31, 2023

TLDR: As an audio...