Best 10 Basque Burnt Cheesecakes in Singapore
Joanne, 1 month ago
10 min

read
202
On first look, the overly dark and cracked top crust of a basque burnt cheesecake may look like a product of a failed baking session. However, for those of you who have had the chance to try a bite of it, you would know that it is a mind-blowingly delicious combination of textures and tastes that comes together from just a handful of ingredients.
The basque burnt cheesecake is a crustless cheesecake baked at a high temperature in order to achieve a burnt exterior and a creamy interior. It was created in 1990 by chef Santiago Rivera of La Viña in San Sebastian, Spain when he was looking to add a dessert menu to his restaurant. The original recipe from La Viña contains just 5 ingredients: Cream cheese, heavy cream, sugar, eggs, and flour. Today, bakers and chefs from all around the world are putting their own innovative spin on the classic basque burnt cheesecake. Here's a rundown of the 10 Best Basque Burnt Cheesecakes in Singapore for you to satisfy your cravings!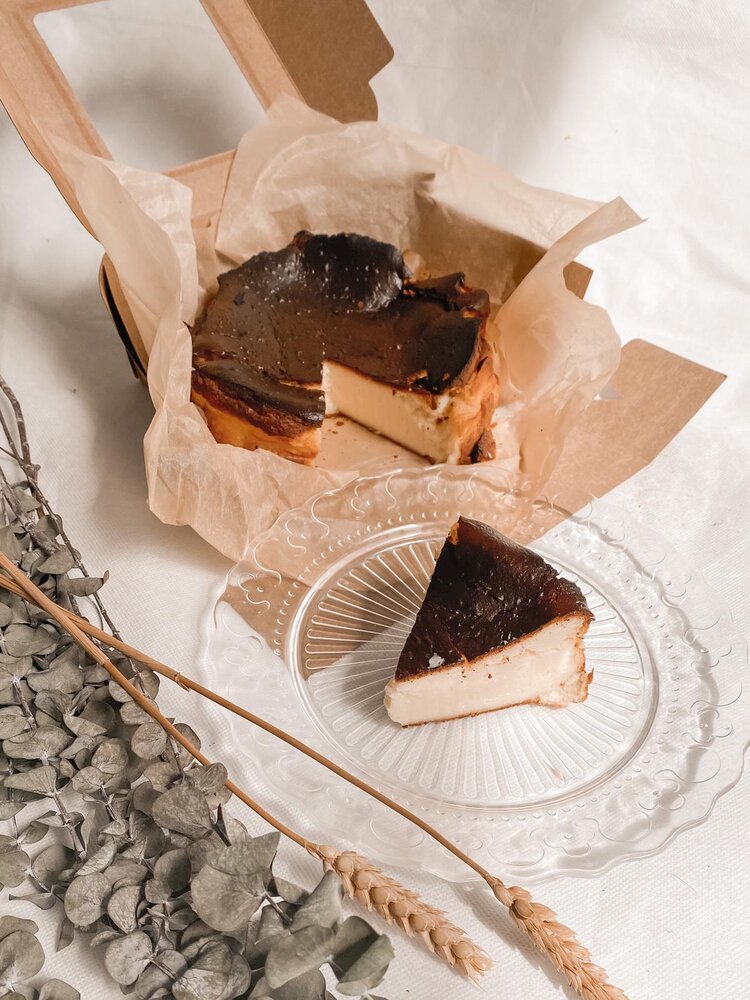 Highlights:
Variety of flavours
Able to request for the degree of burn on the exterior of the cake
Delivery option available
Melted Bakehouse offers not one, but seven different renditions of basque burnt cheesecake flavours. In addition to its Classic Basque Burnt Cheesecake, you may try their: Forest Basque Burnt Cheesecake which is topped with fresh fruits, Chocolate, Earl Grey, Lavender, Truffle Cheese, and Organic Matcha Basque Burnt Cheesecake. The Bakehouse also offers buns and swiss rolls on top of their signature basque burnt cheesecakes if you are looking for other dessert options!
The bakehouse prides in their cheesecakes: if for any reason you are unsatisfied with the taste of your purchase, Melted Bakehouse would not hesitate to examine what's left of your uneaten cake. They are also willing to go the extra mile to adapt their recipe to fit your dietary requirements as much as possible. Head down to their store at Irving Place, or opt for their delivery option to get a taste of one of their seven basque burnt cheesecakes today!
| | |
| --- | --- |
| Address | 1 Irving Place, The Commerze @ Irving. #02-05 Singapore 369546 |
| Contact Number | 9673 1151 |
| Business Hours | Tuesday & Wednesday 2 PM – 4 PM |
Highlights:
Various flavours
6 inch and 9-inch options
Freshly made upon order
Le Petit Baker specializes in baking cakes, brownies, and cookies. Their basque burnt cheesecakes come in 4 flavours, namely: Classic, Premium Vanilla Bean Paste, Matchaya Houjicha, and Matchaya Matcha. For those of you who want to opt for a smaller cake size, you would be glad that Le Petit Baker offers 6-inch cakes, on top of their 9-inch cakes! Do note, however, that each cake is made freshly upon order to ensure that the centre of the cake remains creamy. They also do not allow pre-orders, so, be sure to catch them at their next bake sale! Check out their Instagram page @lepetitbakersg for available order slots.
For those who want to learn the secret behind their bakes, Le Petit Baker conducts baking classes as well for you to unleash the inner baker in you!
| | |
| --- | --- |
| Address | Online store |
| Business Hours | – |
Highlights:
Available in a slice or a whole cake
3 flavours to choose from
Baked fresh daily
Bakery Brera is a short walk away from Farrer Park MRT station. The bakery specializes in baked artisan breads made with fine flours from France and Japan. They have also gained a following for their range of pastries, tarts, and cakes, also made of the finest ingredients. One of which is their popular basque burnt cheesecake.
Their basque burnt cheesecake comes in three flavours: classic, hojicha, and earl grey chocolate. Baked fresh daily using three types of cheeses and the finest ingredients, these cheesecakes are not too heavy and are perfect for an after-dinner delight. If getting a whole cake is too much for you, you can just get a slice of their cake for $7.50. But be sure to get there early, because they are so popular that they sell out fast daily!
If you do not want to take the risk, you could opt to place an order online and collect your cheesecake in-store, or have them deliver the cake right to your doorstep!
| | |
| --- | --- |
| Address | #01-05, 8 Empress Road, 260008, Singapore |
| Contact Number | 6492 5428 |
| Business Hours | Tuesday to Sunday 7 AM – 7 PM |
Highlights:
Old school pastries with a modern flair
Multiple flavours
Uses 4 types of cheese
Keong Saik Bakery is well-known for its creative experimentations and their modern take on classic and old school breads, pastries, and cakes. A popular menu item is their Classic Burnt Cheesecake. At $7.50 per slice, you get a light and aesthetically pleasing cheesecake that is oozy in the centre. For green tea lovers out there, they also have a Matcha Burnt Cheesecake. If you can't decide which of these to get, you would be glad that they have a hybrid "Two-Face" cheesecake that is a fusion of both of their popular flavours! With it, you literally can get the best of both worlds.
Do note, however, that dine-in is only available on weekdays. Weekends are reserved only for takeaways. The bakery offers islandwide delivery for those of you who are lazy to leave the house!
Highlights:
Headed by a professionally-trained chef
Muslim-owned, 100% Halal
Only sells one signature item
Paparch is a Muslim-owned business that specializes in making 7 inch classic basque burnt cheesecakes. The brand rose to fame during the Circuit Breaker period and only offers delivery options for its customers. Without a heavily scorched top, the Paparch basque burnt cheesecake is perfect for those who are looking for a cake that is only slightly burnt. Matcha lovers can also rejoice as the brand has recently added a Match basque burnt cheesecake to their menu.
With a molten cream cheese centre that is supposed to melt in your mouth, this great halal option offers islandwide delivery for those who order online through their order forms. Their October and November slots are already full, though! So be sure to keep your eyes peels for their next order slot.
| | |
| --- | --- |
| Address | Online Store |
| Contact Number | – |
| Business Hours | Delivers 10 AM – 6 PM |
Highlights:
17 flavours of gourmet cheesecakes
Halal-certified
Same-day delivery available
Cat & the Fiddle offers 17 flavours in their gourmet cheesecake selection, all of which are Halal-certified. They have an online shop where you can opt for self-collection or have the cake delivered directly to your home. Among their 17 different types of cheesecakes are flavours such as their Classic New York Cheesecake, Milo Dinosaur Cheesecake, and the crowd favourite, their rendition of a basque burnt cheesecake: the Charred Eclipse.
The Charred Eclipse is made with cream cheese and Martabak cheese, which is a special type of Indonesian cheddar cheese that is rich and has a slightly salty taste. The result is a cheesecake that is at once sweet and savoury, perfect for someone who prefers a cake that is not too sweet.
The online bakery is headed by award-winning chef Daniel Tay, and with the same-day delivery option that the brand offers, indulging in a cheesecake has never been easier.
Highlights:
Served with whipping cream at the side
A tinge of lemon flavour
Speciality coffee to go with your dessert
This specialty coffee café is located right next to Pasir Panjang MRT. The minimalistic café offers both indoor and outdoor seating and is a great place for a date. The Kin's Specialty Coffee offers brunch food as well as pastries and dessert, and many people flock to the cafe for its rich and creamy burnt cheesecake.
A slice of Kin's Classic Burnt Cheesecake costs $8 while the hojicha-flavoured one costs $8.50. With both options, you get a cheesecake with a smoky crust, light fluffy mousse, and a nice, rich centre that is melty and creamy.
The Kin's Specialty Coffee offers islandwide delivery for everything on their menu so as to satisfy the taste buds of their customers who are working from home!
| | |
| --- | --- |
| Address | 2 Jln Mat Jambol, #01-08/09, Singapore 119554 |
| Contact Number | 8286 2230 |
| Business Hours | 9 AM – 7 PM, Closed Wednesdays |
Highlights:
Uses blue cheese
Has a tart shell base
The molten centre which melts onto the plate
Olivia Restaurant & Lounge is a dynamic restaurant and cocktail bar for every occasion. Its founder is a multi-award winning chef who has worked at Michelin starred restaurants for over a decade. His culinary experiences are transferred into the Mediterranean menu of this restaurant. Among many popular dishes is Olivia's Creamy Homemade Cheesecake which is made of Valdeon cheese, a blue cheese from Spain. This results in a cheesecake that has a savoury hit. The cheesecake also sports a crust of almond sablé tart shell that gives the cheesecake an added texture.
This family-recipe dessert costs $14 for a slice and $80 for a whole cake and is perfect for when you are craving for a cheesecake that is intense and decadent.
Highlights:
Tranquil location
Local Singaporean flavours with a Japanese influence
Islandwide delivery
A true blue Singaporean brand, Grub is a familiar name to those who live in the Bishan Ang Mo Kio area. Located within a park, having a meal at this restaurant will give you the feeling of being on a peaceful holiday away from the city.
While Grub is best known for its burgers and fries, it is also popularly known for its basque burnt cheesecake with a unique combination of cheese and kaya flavours. For those who prefer something more classic, Grub has a regular basque burnt cheesecake as well.
If you do not live in the area, Grub offers islandwide delivery so that you can indulge in their soft and creamy basque burnt cheesecakes from the comfort of your home.
Address
510 Ang Mo Kio Ave 1 (in Bishan Ang Mo Kio Park)
Contact Number
6459 5743
Business Hours
Monday to Friday 11 AM – 10 PM
Saturday & Sunday 9 AM – 10 PM
Highlights:
One Michelin star restaurant in 2019 Michelin guide
Smoky and sweet flavours
Delivery option available
If you find the name of this restaurant familiar, it could be because you saw it on the list of restaurants in the 2019 Michelin Guide. The award-winning Basque Kitchen by Aitor is located at Amoy Street and is helmed by chef Aitor who has family at Basque country.
Unsurprisingly, the restaurants iconic basque burnt cheesecake is simply irresistible. At $16 per slice and $78 for a whole cake, you get a cake made of buttery Idiazabal cheese, contributing to a smoky and sweet flavour profile. The centre of the cake is gooey, creamy, and silky smooth all at the same time. If you want to spoil yourself with a cake that is slightly more pricey, this is the place for you. Trust us, it will be worth it.
| | |
| --- | --- |
| Address | 97 Amoy St, Singapore 069917 |
| Contact Number | 6224 2232 |
| Business Hours | Monday to Saturday 12 PM – 9 PM |
These 10 Best Basque Burnt Cheesecakes in Singapore that we have round-up for you would without a doubt satisfy your sweet tooth, whether you are craving for a classic basque burnt cheesecake, one with a local twist, or something a little more unique! If you are looking to go on a dessert hunt, check out our round-up of the 10 Best Macaron Places in Singapore or the 10 Best Brownie Spots in Singapore.
Related posts
Subscribe for newsletter
* You will receive the latest news and updates on Singapore's best trends!
Trending Posts