11 Best Bridesmaids Dresses In Singapore For Your Special Day [2022]
Joanne, 3 years ago
10 min

read
4078
Remember the 2011 British royal wedding? Back then, there was another fashion ingénue that nearly stole the spotlight from The Duchess herself. It was none other than Pippa Middleton, her maid of honour and also, younger sister. The younger Middleton came out as a surprise stand out by wearing a stunning lacey white bridesmaid dress designed by Sarah Burton at Alexander Mcqueen. That particular dress became such a hit at that moment that Pippa immediately became an overnight style sensation. Thus, began a fashion revolution for the Pippa Middleton bridesmaid dress.
Here, we have many up and coming fashion retailers that are making waves in the local fashion scene. Each with their own version of bridesmaid wear. From brands such as ASOS to My Little Bow, they all cater to the hip and younger crowd. So whether your taste is classic or slightly edgy, you know you can count on this list of Best Bridesmaid Dresses In Singapore. One that might even turn you into another Pippa Middleton fashion spotlight!
Highlights:
Trendy designs
Uniquely attractive shades
Varied size options
If your style leans towards the trendier side then this brand is your best bet. Instead of the standard Vera Wang-ish bridal gown, The Velvet Dolls diverts away from this classic style. Instead, you get a soft silhouette bespoken together with its uniquely attractive shades that make you stand out from others. For example, striking eye-popping colours such as tangerine orange, bright sunny yellow to Tiffany blueish mint hues.
At The Velvet Dolls, the designers of this popular online store have no qualms in dressing up their customers gorgeously. You will find the ideal bridesmaid dress of your choice –whether you are a petite or plus-sized body type. So that you look entirely ravishing enough to make a mighty entrance on that special day!
| | |
| --- | --- |
| Address | NA |
| Contact | NA |
| Business Hours | 24 hours |
Highlights:
Elegant and classy designs
Fairy-tale designs
Versatile dresses
For a touch of royalty, go to Le Veou for their elegantly classy range of bridesmaid wear. Their beautiful dresses can make you feel like a princess. For starters, Le Veou specializes in gorgeous embellishments and sultry necklines. Their fairy-tale liked designs are most ideal to be worn in a uber classy wedding setting. While keeping you stylishly in vogue, they also make you stand out from the crowd.
Le Veou dresses are designed for the highest versatility. Their dresses take you anywhere regardless it is a formal event or at the club. The bestselling Aqua Bridemaids maxi dress is a tantalizing, floor-skimming piece that can be worn as a bridesmaid piece of as a simple gown.
| | |
| --- | --- |
| Address | 810 Geylang Road, City Plaza #02-88 S409286 |
| Contact | +65 9228 8148 |
| Business Hours | 11 AM to 9.15 PM, Daily |
Highlights:
Trendy and edgy designs
Wide range of styles
International brands
Does the name ASOS ring a bell? Probably so, as it is the biggest online retailer of trendy and edgy clothes. But do you know that the brand designs its special line of wedding dresses as well? The choices for quality bridesmaids dresses are myriad, catering to a wide variety of tastes aka fashion styles.
From chiffon cuts to funky, cutting edge flavours ala Viviene Westwood, you get everything "fashion-centric" here at ASOS. Looking for a Jennifer Lopez style figure-hugging wrap dress that can knock the socks off everyone? ASOS creative team of designers can make anything happen with just a fashionably whip of their Midas touch!
| | |
| --- | --- |
| Address | NA |
| Contact | NA |
| Business Hours | 24 hours |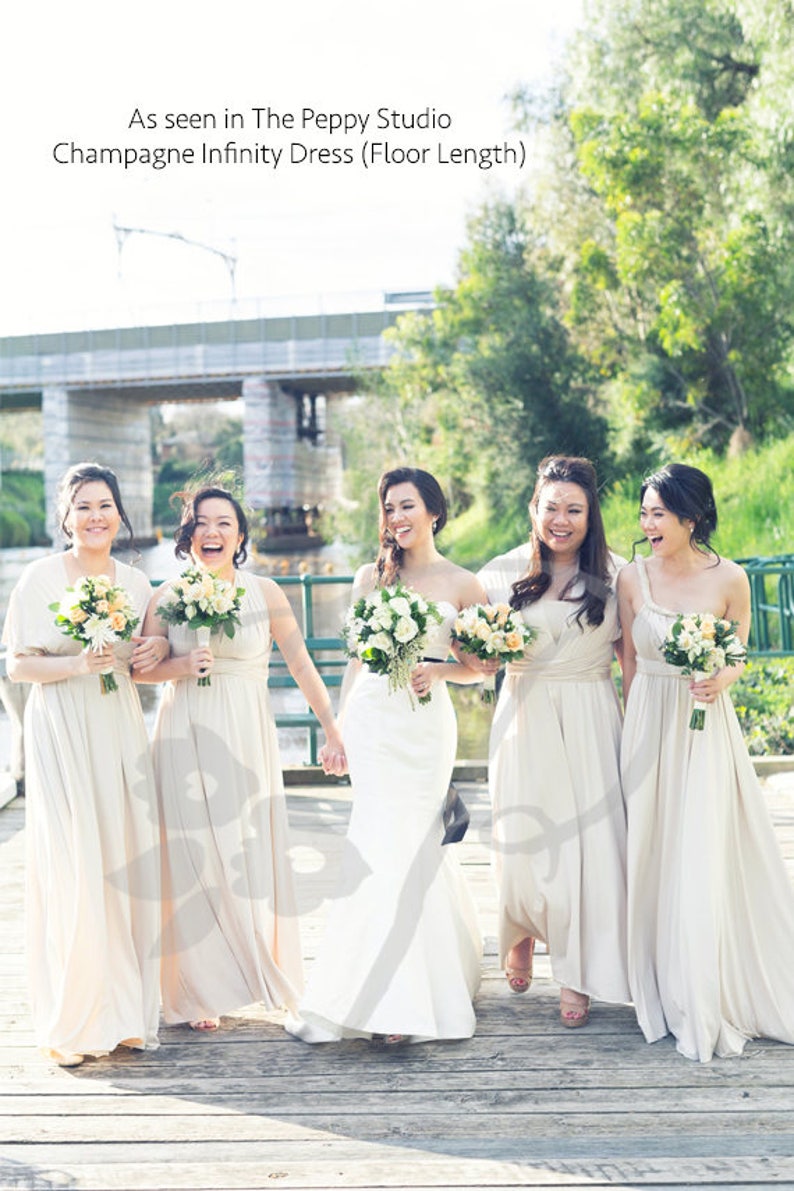 Highlights:
Affordable
High quality craftsmanship
Inspired by international brands
Offering quality bridesmaids dresses that are affordably priced, The Peppy Studio is your best bet for your bang for the buck fashion finds. It is the number one bridal brand among the younger ladies, due to mainly its high-quality craftsmanship and impeccable fashion stitching technique. Each dress is well-designed and handcrafted to the highest perfection before being sold. Thus, you will feel as if you are wearing something from haute couture.
Their bestselling asymmetrical dresses are inspired by the international fashion runway such as New York, Paris, and Tokyo. With gloriously eye-catching colours such as cream, maroon, navy, grey..etc to choose from, you will be whisked straight away to bridal heaven for sure. Aside from that, The Peppy Studio also caters towards kids – a good thing if you are looking to dress up your "mini-me".
| | |
| --- | --- |
| Address | NA |
| Contact | NA |
| Business Hours | 24 hours |
Highlights:
Minimalistic and subtle designs
Pastel coloured
Wide size options available
When it comes to feminine bridal wear, we swear that Lolly Rogue fits that mould perfectly. Emphasizing on minimalistic and subtle designs, the brand features modest-looking dresses that are conservatively attractive – minus the boring part. With a slight touch of frills and lace, Lolly Rogue dresses are an epitome of feminity and grace – making you feel like a modern version of the late style icon, Grace Kelly.
Its signature simple floral lining adds a feminine flair to an already stylishly beautiful dress, while the combination mix of eye-pleasing patterns brings substance to it. With Lolly Rogue, you can daydream of being in an enchanted land, where all your dreams come true. Alternatively, you can take your pick from the myriad of soft billowy pastel colours available such as pink, lavender, or baby blue.
| | |
| --- | --- |
| Address | NA |
| Contact | enquiry@lollyrouge.com.sg |
| Business Hours | 24 hours |
Highlights:
Wide range of styles
Carefully designed to suit each body type
Customization available
Let's be honest, buying a bridesmaid dress can be a taxing one aka expensive. Especially if you are gearing up for several this year such as designer bridal wear. But fret not, as Love Portion is about to change all that.
We love this brand for one main reason. They give you real authentic quality brides wear instead of the cheap designer knockoffs that are found elsewhere. Being a versatile bridal brand, they carry a lot of styles ranging from chiffon creations from off the shoulder numbers to convertible number. All carefully designed to suit the shape of all body sizes. Alternatively, customization bridal wear is also their speciality. Just take out any magazine cut out from your favourite Bridal magazine, and they can do it for you in a heartbeat!
| | |
| --- | --- |
| Address | 110 Towner Rd, Singapore 327808 |
| Contact | +65 9489 2577 |
| Business Hours | NA |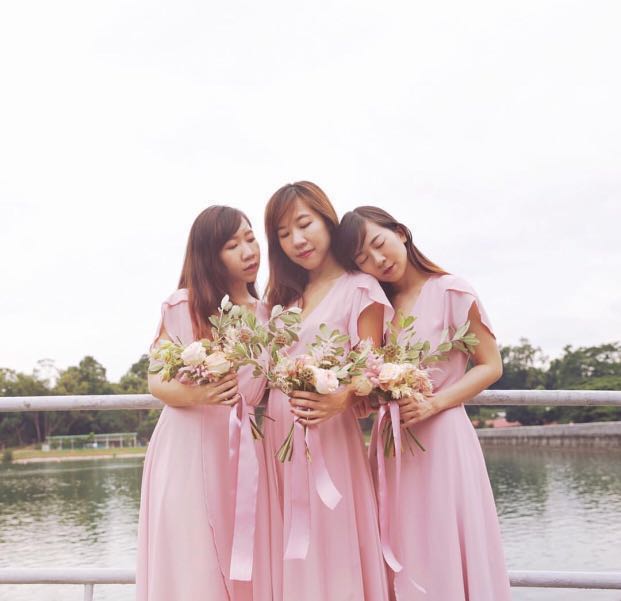 Highlights:
Wide range of designs
Modern and timeless dresses
Multiple locations
If the standard bridal wear is not your cup of tea then you have to head to The Tinsel Rack. Blending modernity with classy timeless appeal, The Tinsel Rack is your answer to donning the finest contemporary bridal wear. A well- known fashion brand among the bridal community, The Tinsel Rack specializes in one-of-a-kind bridesmaid apparel that can take you from 9 to 5 aka different occasions.
Fancy some embroidery embellishments in your bridesmaid attire? You are surprised to discover that one of their designs can mimic the infamous bespoken gown of an unnamed Hollywood A-lister. Or else, you can look equally radiant in a sexy asymmetrical cut that reveals your naturally gorgeous va-va-voom figure. We swear that even the Kardashians will turn green with envy!
Address
Tampines 1 #02-11
Orchard Gateway #02-17A
Contact
NA
Business Hours
11 AM to 9 PM, Daily
Highlights:
Qipao style dresses
Vintage styles
Eye-popping colours
Breaking away from traditionality, The Closet Lover is all about non-conforming to the regular status-quo. For example, their unusual but still equally gorgeous qipao style dress. It is the perfect vintage style dress. Ala " I just went to Shanghai but came back just for my best friend's wedding!". Replenscent of the days gone by but with a unique modern twist, this Qipao inspired dress will make you the talk of the town.
Since flexibility is the key to The Closet Lover bridal designs they carry a myriad of eye-popping colours that scream maximum fun in the sun. It is perfect to be worn for a laid-back wedding by the beach together with a pair of flip flops.
Highlights:
First in Singapore to offer bridal packages
One-stop shop for all wedding needs
Customizable options available
With a name such as Occasion Boutique, we bet you know what they have in store for bridesmaids-to-be. This pioneering company is the first in Singapore to offer bridal packages. They offer you everything wedding-related from head to toe minus the hassle.
At Occasion Boutique, they let you pick whatever style of dresses -all according to the colours and fabric that you desire. Whether it is an earthy-toned maxi, shimmery cocktail, or plain lacey classics. For that extra slim silhouette look, you can even couple your chosen dress with a figure-hugging corset. But not as tight as the one that actress Kate Winslet wore in that scene from Titanic.
| | |
| --- | --- |
| Address | 6 Raffles Blvd, #02-312 Marina Square, Singapore 039594 |
| Contact | +65 6837 0481 |
| Business Hours | 24 hours |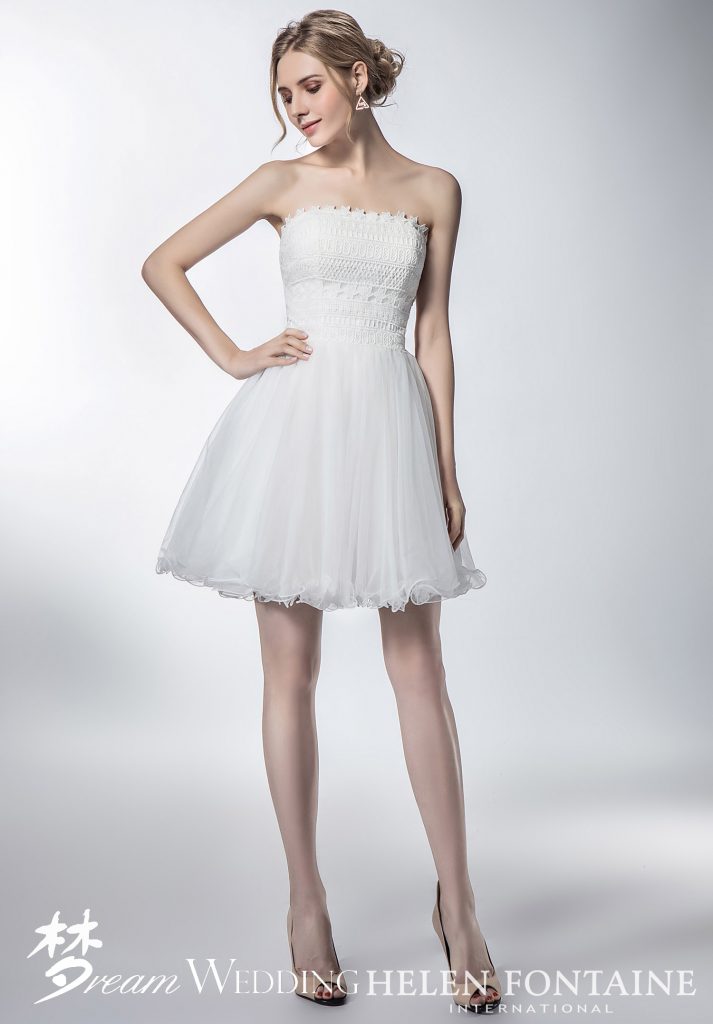 Highlights:
Wide range of styles
High-quality services and packages
Transparent pricing
Dream Wedding is the brainchild of wedded couple Ivan and Ivy, who wanted to start a value-centric bridal boutique in order to give couples peace of mind. Designed to meet the needs of couples, every one of Dream Wedding's packages has gone through intense scrutiny before the team at Dream Wedding begins introducing them. Therefore, you can be sure that you will be getting quality services and packages.
Dream Wedding provides numerous quality services for couples to consider and from there, couples can choose the services they need. The dresses that are offered by Dream Wedding Singapore come in different fabrics, silhouettes, necklines, and styles. Whether you want a dress with buttons, corsets, or zippers, or want a short or long dress, Dream Wedding will be able to deliver!
Transparency is the hallmark of this boutique and all costs will be stated upfront. They are committed to serving all brides that enter their doors to the best of their ability. Hence, their services reflect that commitment as they offer a 0% interest monthly installment plan, saving couples the agony of having to immediately cough up a huge sum of money without the certainty of consistently high service standards!
| | |
| --- | --- |
| Address | Blk 410 Bukit Batok West Ave 4, #01-148 Singapore 650410 |
| Contact | +65 8299 8796 |
| Business Hours | NA |
Highlights:
One-stop shop for bridal needs
Trendy designs
Premium materials sourced internationally
As a one-stop-solution for bridal wear in Singapore, My Little Bow offers rare, one-of-a-kind bridesmaid dresses to trendy Singaporean ladies. Albeit, in a good way of course! Think, whimsically charming designs complete with a touch of timeless modernity. Due to that, the company's direction is geared more towards the young and young-at-heart.
Their dresses are made from the finest premium materials sourced both locally and overseas. From fabrics such as luxurious silk organza to smooth velvety satin, My Little Bow has got your back covered. Fashion-forward bridesmaids can go for their signature convertible bridesmaid dresses. It is currently the hottest item to hit the bridal wear market. You can style the dress in many ways depending on your mood – whether it is off-shoulder, cross shoulder or one side..etc.
| | |
| --- | --- |
| Address | 335G Pasir Panjang Rd, Singapore 118667 |
| Contact | +65 9127 1922 |
| Business Hours | 24 hours |
And with that, we conclude our list of the Best Bridesmaid Dresses In Singapore. Together with all the latest bridal designs that suit the trendiest and happening of "IT" girls out there. So the next time you are hunting for that dream bridesmaid dress, you know where to find!
Psst.. if online shopping is your vice, do check out our list of 7 Best Fashion Blogshops In Singapore.
Related posts
Subscribe for newsletter
* You will receive the latest news and updates on Singapore's best trends!