8 Best Bread Makers in Singapore [2022]
Bryan, 3 years ago
6 min

read
4871
Bread is one of the most versatile and convenient forms of food out there. In a rush? Bread. Craving for a light snack? Bread. It seems that when it comes to convenience, bread is often our natural first pick. Considering this, instead of purchasing your bread from the neighbourhood bakery or supermarket, why not up the level of convenience by owning your very own bread maker? With our list of the best 8 bread makers in Singapore, you'll be well on your way to a more convenient meal, not to mention maybe even a new hobby to boot!
Fully automated baking process
Temperature sensor
13-hour digital timer
13 menus
Coming in the first place is the Panasonic SD-P104WSH. This bread maker is truly deserving of taking the top spot of our list of best bread makers in Singapore! With a fully automated bread-baking process, any beginner to the bread-making scene will feel like a true professional with this system. An automatic ingredients dispenser ensures that the ingredients that you've selected are added to the mix at the most optimum timing. With 13 different menus from classic bread to pineapple bread, the SD-P104WSH can make whichever bread that you're craving. Even more, customisability exists in the crust control function where you can select the desired colour of your crust. One of the best bread makers out there.
The presence of a temperature sensor allows this smart machine to adjust the baking process according to the ambient temperature, making sure that the total baking time remains the same regardless of the temperature. With a 13-hour digital timer, you'll be able to schedule when you would like your bread to begin baking, making this a useful function for those having to rush in the mornings. Want your bread making to be a hassle-free task? Look no further than the Panasonic SD-P104WSH, available for purchase on Lazada.
Automated ingredients dispenser
Fan-assisted baking system
15 pre-set menus + 5 customisable options
15-hour digital timer
For those wanting a more customisable baking experience, the Kenwood BM 450 Bread Maker is a great choice. On top of the 15 standard baking menus available, there are an additional 5 menus available for your personal customisation. The incorporation of a fan-assisted baking system ensures that the bread gets an even bake while the automated ingredients dispenser makes sure the ingredients get added at just the right time.
With a 15-hour digital timer, you'll be able to plan the bread maker's baking time 15 hours in advance for that added level of convenience. A great choice for those seeking quality and customisation, the Kenwood BM 450 is available for purchase on Lazada.
Affordable
Easy clean-up
13-hour programmable timer
14 menus
Third, on our list is the budget-friendly Song Cho Bread Maker. This bread maker comes equipped with a 13-hour programmable timer, great for those having to deal with a morning rush. Also, the 14 different bread menus allow for diversity when baking bread in your own home. With a ceramic-coated bread barrel, the Song Cho bread maker is easy to clean and manage.
Furthermore, the Song Cho Bread Maker has an in-built 10 minutes power cut-off memory function, ensuring that your current baking progress is not deleted in the event of a power outage. If an affordable and efficient bread maker is what you're looking for, the Song Cho Bread Maker SC-BK06A is here for you. Available for purchase on Lazada.
Automatic tray for extra ingredients
Customisable menu
Wide LCD control
13-hour programmable timer
A great choice for those who like additional ingredients in their bread, the Zojirushi BBKWQ10 is next on our list. With a dedicated tray for additional ingredients like raisins or nuts, having bread with your favourite ingredients has never been easier. Furthermore, the tray automatically adds the ingredients into the bread mix which means this is a completely hands-off baking experience for you.
Through the homemade course function, you'll be able to adjust the knead, rise, and baking time of your bread to suit your own preferences. Compactly built with a strong handle, this bread maker is portable, making it easy to share with other bread making enthusiasts. Available on Lazada.
Removable non-stick pan
13-hour programmable timer
12 menus
60-minute keep-warm function
The user-friendly Mayer MMBM4406 is next on our list. Having non-slip feet and a comprehensive LED display, using this machine comes easy. Understanding that watching bread bake can be an intriguing activity in itself, Mayer has included a large viewing window where you can spectate your bread being baked right in front of you. A removable non-stick baking pan allows for easy removal of your bread as well as convenient clean-up afterward.
The option of 12 different menus accompanied by a 13-hour timer and a 60-minute keep-warm function allows you to have your favourite fresh and warm, even when time is tight. Available on Lazada.
Automated ingredient dispenser
13 menus
Stainless steel casing
Next, we have the Rommelsbacher BA 550 Bread Maker. With 13 different menus and an automated ingredient dispenser, the Rommelsbacher Break Maker will guarantee a variety of bread options baked to perfection. While this bread maker does not have a temperature regulation system, what it does have is a high quality, stainless steel casing. Rest assured that this durable exterior will have the bread maker running for a long time without wear and tear. One of the best bread makers in Singapore.
A measuring spoon and cup are included along with a recipe guide on the exact measurements recommended for each of the menu functions. Want a long-lasting bread maker that provides ample guidance on getting started? Head over to Lazada and get your very own Rommelsbacher BA 550 Bread Maker today.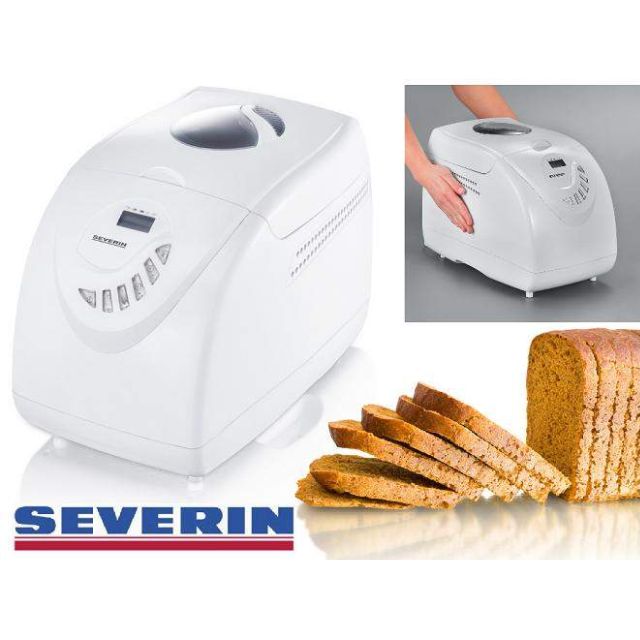 Cool touch housing
12 menus
Detachable lid
If you have an aversion to baking due to a fear of getting burned, lay your fears to rest as the Severin BM 3990 Bread Maker's cool-touch housing promises that you will not be burned while baking. Able to make 750-1000g of bread, this bread maker is also a great choice for those who have multiple bread lovers in the family.
With a detachable lid, removal of your baked bread and subsequent cleaning becomes a lot easier. With 12 different menus and 3 different crust settings, the Severin 3990 guarantees a wide variety of options while delivering a high class of safety. Available on Lazada.
Affordable
18 menus
13-hour digital timer
Rounding out our top 8 is the Midea EHS15AP-PGS bread maker. Costing only $75 on the value.sg website, it is the most affordable bread maker on the list. With 18 different menus to choose from, this Midea bread maker also has the greatest number of menus available compared to the other bread makers here. Accompanied by a 13-hour digital timer, it is a great budget option for those who appreciate variety and convenience.
However, there is a catch. The interface of the Midea bread maker is in Chinese, making it not as user friendly compared to the other models on our list.
With our hectic lifestyles, sometimes, all we want to do is laze around at home when we can. With our list of the top 8 bread makers you can buy in Singapore, the added convenience of being able to bake your own bread in the comfort of your home is a few clicks away.
Written By: Bryan
Related posts
Subscribe for newsletter
* You will receive the latest news and updates on Singapore's best trends!