20 Best Bowling Alleys in Singapore [2022]
Emily Hopkins, 2 years ago
19 min

read
6731
Bowling alleys are located all around Singapore and it isn't difficult to catch sight of one close by. Bowling is one of Singapore's popular pastime games. It is enjoyable and effortless to play in bowling alleys. Whether you intended to engross yourself in a cosmic bowling match or just enjoy a great relaxing family sport then dust off your stylish bowling shoes because we've got you covered.
The following are some considerations you should make when choosing a bowling alley:
1) Check the rates on the alley. What is the hourly cost? Does it include shoe rental and unlimited bowling?
2) What type of food does the bowling alley offer? Are there any dietary restrictions that may not be met?
3) How big is the bowling alley? Does it have lots of lanes or just a few, and is there room for birthday parties, company parties, or other groups to meet at the same time in different areas of the facility?
Here are best bowling alleys worth visiting in Singapore.
The FUN Empire is one of the best bowling centres in Singapore. It is a must-visit bowling spot that will wow you with its ambiance. The bowling centre has neon strobe lights with mysterious blue lighting. You may imagine that you are clubbing or in another relaxed environment. It has many glow-in-the-dark bowling balls. Your bowling experience is made memorable since you can roll them and enjoy the shooting star experience.
At the Fun empire, a team of dedicated staff is ready to serve you. It has a variety of bowling shoes, and its service delivery is up to expectations. The bowling alley centre offers affordable prices starting from $18, which is suitable for any group and event.
For those located near the city's centre, Planet Bowl is the spot to be. This bowling centre is spaciously decorated to suit a family-friendly experience. It is also armed with a highly developed scoring system to record your scores meticulously. Planet bowl is neat, homely and offers fun games to enjoy with friends and family. Moreover, the place has bumper rails at chosen lanes to help you achieve the pace of propelling your ball. Inside the alley is also an Alpha Bowl Pro Shop for you to purchase personal bowling balls, adornments, and other supplies that you might need.
The Changi resort is yet another cosmic bowling centre in Singapore. The place is well renovated to provide a perfect setting for corporate meetings besides offering the best bowling experiences around the island. Harmonize your strikes in their neon-lit bowling lanes and contemporary tunes that will keep you entertained the whole time. Beyond being just a moderate bowling centre, Changi resort also has cosy leather sofas and coffee tables to relax on while waiting for your chance to play. Furthermore, the alley comprises 40 inch HD LED monitors to display the scoring system and a bumper system to ensure you enjoy your quality time when bowling. Changi Resort also hosts contests and social bowling events and offers customized arrangements fitting for social interactions.
Kallang Leisure Park is seemingly one of the most aged bowling centres in Singapore. The leisure centre has been remodelled with 22 bowling lanes, new amenities, new displays, and newer gadgets, hence giving you an unforgettable bowling experience. Bowling fanatics located around this alley are in luck. Kallang bowling alley is equipped with state of the art technology besides interactive screen displays and touchscreen displays.
Price: $2.50 – $4.30 per game
Do you find going to the same old bowling alleys boring? Well, K bowling centre will lighten up your bowling experience and keep you entertained under their sizzling neon lights and funky beats. The bowling alley is located at the centre of the Orchid road. Apart from the music and the lights, the venue is full of finger licking foods and drinks that will keep you company the entire time. The place is full of other fun activities such as dart games, karaoke booths, and arcades to indulge in. The club also hosts events such as Halloween apparel competitions for clients to participate in. If you are looking for a fun place to go with your folks and friends, then the cosmic themed bowling alley is the place.
Prices: Monday to Thursday: 10am-6pm $8 per person, 6pm-6am $12 per person: Friday to Sunday: 10am-6pm $10 per person, 6pm-6am $15 per person.
The Orchid bowl is famously known as one of the largest bowling alleys in the Island. The alley has six branches across the city. With the establishment of the highly developed scoring and management system, the bowling alley offers a refined experience. All the six branches are equipped with state of the art bowling resources, proper lighting, and good music-making the alley a top pick among adults and youngsters.
All these bowling alleys and bumper equipped lanes enable members to be able to participate in games that cultivate their bowling understanding and better enhance their techniques; consequently making the place fit for both neophytes and professionals. Moreover, the Orchid offers different bowling events varying from tournament matches to kids bowling games. Orchid bowling alleys are without a doubt enjoyable places for a family hangout.
The branches are located all over the city, namely:
Orchid Country Club
Address: Orchid club road, Singapore 769162
Contact: Tel (+65) 6759 4448
Opening hours: Mondays to Thursdays and Sundays from 10am – 1am, Fridays and Sundays from 10am – 3am
Our Tampines Hub
Address: B1 Our Tampines Hub, 1 Tampines Walk, Singapore 528523
Contact: Tel (+65) 6385 7080
Opening hours: Sunday to Thursday from 10am – 1am, Friday and Saturday from 10am – 3am
Safra Punggol
Address: 9 Sentul Crescent, Singapore 828654
Contact: Tel (+65) 6385 6801
Opening hours: Sunday to Thursday from 10am – 1am, Friday and Saturday from 10am – to 3am
Safra Yishun
Address: Yishun Avenue 44, Singapore 769027
Contact: Tel (+65) 6755 0859
Opening hours: Sunday to Thursday from 10am – 1am, Friday and Saturday from 10am – 3am
E! Hub
Address: Market Square at Downtown East E!Hub, Singapore 519599
Contact: Tel (+65) 6583 1622
Opening hours: Sunday to Thursday from 10 am to 1 am, Friday and Saturday from 10am – 3am
The Chevrons
Address: 48 Boon Lay Way, Singapore 609961
Contact: Tel (+65) 6795 5900
Opening hours: Sunday to Thursday from 10am – 1am, Friday and Saturday from 10 am – 3am
Social Media: Facebook
Orchid Bowl at Orchid Country club is a big bowling centre in Singapore. It offers bowling enthusiasts an opportunity to bowl in a friendly environment and gather points. The centre is also family-friendly since it has miniature bowling that has lighter balls fitted with automated bumpers. Your little ones will have fun in a clean and organized bowling environment.
The Orchid Bowl Orchid at Country club offers more than bowling. It has the cosmic bowling sessions that are a craze. Visit the centre on Fridays and enjoy the fantastic game. If you are an amateur bowler, you don't need to worry. The centre offers training sessions. As if that is not enough, national teams train at the grounds. You get an opportunity to learn from great bowlers on the ground.
Orchid bowl at Safra Yishun is another excellent place to bowl in Singapore. It boasts of an organized system that works once you have pre-booked your session. Fully equipped with enough workforce and bowling equipment, the orchard bowl offers you an unforgettable bowling experience. Like what a bowling experience should be, the Orchid bowl at Safra Yishun is fun and easy.
Another great feature while bowling at Safra Yishun is that you can decide whether to pay daily or hourly rates. On weekdays, the price is $20 while on weekends it starts from $26. It's an excellent place for small groups, families, individuals, and organizations. With rates as low as $4.30 per game on weekdays, Orchid bowl at Safra Yishun is a must-visit.
Miniature bowling at Orchid bowl E!Hub has a variety of bowling lanes. You'll be able to enjoy the regular bowling lanes and other adorable miniature bowling lanes. It merely means that you can bring your kids along to play with the mini bowling balls. Its lanes are fully equipped, and you don't need to worry about your balls rolling in the gutter.
Miniature bowling also boosts cosmic bowling sessions every Friday. You also enjoy the cosmic bowling nights on Wednesdays for $20 per hour.
Price: $4.30 – $5.50 per game
Orchid Bowl at Chevrons is another excellent place to take time off and enjoy a memorable bowling experience. It has professional coaches who will equip you with different bowling techniques. The services are available for corporates, individuals, schools, and private entities. The U Bowling's "Learn to Bowl" has coordinated activities to ensure you excel in bowling.
Orchid Bowl at Chevron also offers a four-session training program that the U Bowling committee designs. You can enrol in the course to learn more excellent bowling skills. The centre has a team of qualified bowlers. What's more, you rest easy knowing that the environment is safe, clean, and set at the right temperature for your comfort. To top it all up, Orchid Bowl at Chevron offers competitive prices starting from $20 per person.
Westwood Bowl remains the highest picked bowling centre by many due to its much affordable rates. The bowling alley is located at the Civil Service Club in Bukit Batok. It features 24 bowling lanes and advanced recording systems to keep tabs on your scores. The alley's equipment is serviced and maintained daily to ensure quality performance when playing. Aside from providing the everyday bowling games, Westwood bowl also hosts bowling tournaments and leagues to make bowling more fun. With 300 pairs of bowling shoes for both kids and adults and 180 balls including balls for your little ones, Westwood is doubtlessly determined to give you an amazing bowling experience.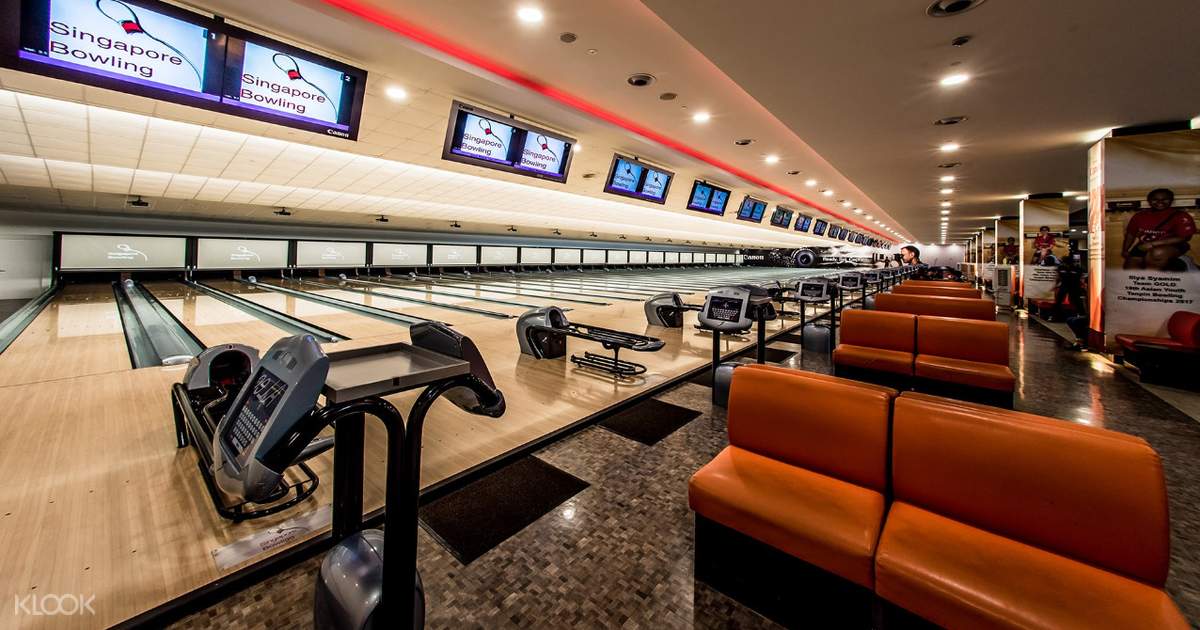 The Temasek Bowling club is no news to many Singaporeans. With 38 bowling lanes, the alley is recognised as one of the largest bowling centres in the city. It is a modernized alley established to offer a fun time to you and your family. The place is equipped with advanced equipment hence can accommodate all the national and international bowling events held here. Apart from being the venue for bowling tournaments, the Temasek Club is also a training centre for national bowling players and supports beginners by providing coaches for them. With its huge, clean, well maintained, and spacious decorations, the venue also offers wedding deals, Karaoke events, and conference halls to book for corporate and social gatherings. If you are looking forward to immersing yourself in the bowling spirit, Temasek Bowling alley has you covered.
Are you a bowling enthusiast? Expand and cultivate your passion for bowling at the SuperBowl alley. With 34 lanes to practise on and 8 bumper lanes, SuperBowl alley proves to be a perfect place to have a good experience. The top-notch bowling facilities make it able to handle large crowds including kids and adults. Aside from setting up professional bowling competitions, the bowling centre also organizes regular game leagues and bowling sessions for kids. If you're looking for a satisfactory yet affordable venue, Superbowl is the place. The club is cheap and convenient if you are working on a tight budget. There is also a shop inside the alley where you can buy bowling accessories that you need to elevate your performance.
The street from Tampines to Jurong has bowling alleys that easily catch your eye. However, Super Bowl at Jurong is one of the bowling centres that stands out from the rest. The Super Bowl at Jurong offers you affordable bowling sessions. Its alleys have lanes that are equipped with bumpers that accommodate children.
The bowling alley also provides bowling shoes for clients. Be sure to enjoy bowling with well-maintained balls in a cosy, clean, and less crowded environment. At Super Bowl Jurong, there's a team of attentive customer care representatives who cater to your needs. It also boasts of affordable prices in the market. Visit the super bowl at Jurong for a memorable bowling experience.
SuperBowl at Toa Payoh is another fantastic place for your bowling experience. SuperBowl began in the 1950s as a construction company and branched out to diversify into other business ventures. It has grown over the years to offer sophisticated recreational facilities to meet Singapore's demand for sophisticated sports. In 1987, the business established a SuperBowl complex, which has expanded and offered memorable bowling experiences to the Singapore population.
SuperBowl's Toa Payoh centre will meet your bowling needs since it's well-equipped. The bowling centre offers reasonable prices, numerous bumper lanes that ensure people do not crowd on one lane. You also enjoy excellent customer service with a team of friendly counter staff. While other bowling centres make you wait in line for many hours, Superbowl at Toa Payoh centre has a shorter waiting time.
This is yet another excellent bowling place that is a sub-branch of SuperBowl bowling in Singapore. SuperBowl Keat Hong CC offers a wide variety of bowling activities, including child area, adult, and training sessions. You will be amazed by the excellent team of customer service. The Keat Hong CC centre is located near the Choa Chu Kang MRT and is directly beside the Lot One shopping mall. You, therefore, enjoy convenience in accessing the centre. For those who need to shop after a few hours of bowling, the Keat Hong CC is the perfect place.
The SuperBowl Keat Hong CC offers you unbeatable prices. The prices charged start from$4.00 per game up to $18 per hour. Coupled with a pleasing ambiance, spacious and big bowling alleys, and a fair playing area, this place is a must-visit.
The Super Bowl Home Teamn Khatib is an exciting new bowling alley with spacious, excellent air con and comfy seats. The bowling alley is super unique in terms of layout. At Super Bowl Home Teamn Khatib, you enjoy quality customer service from a team of friendly and dedicated staff. It has new balls, and the lanes are clean and well maintained.
Its ambiance is friendly and relaxed with a great choice of music. Super Bowl Home Teamn Khatib also offers efficiency in bowling. You don't need to worry about waiting in line for long. It takes less than 20 minutes of waiting time to get to your bowling lane. To sum it all up, their prices are reasonable. You, therefore, have every reason to visit the centre.
The SuperBowl Tampines is a fantastic place for bowling; you need to check out. It has a unique light oil pattern that makes it easier to hook your curveball. If you are not fully equipped with all your bowling accessories, there's a shop to help you get the bowling supplies. The centre boasts a well-maintained area, enough bowling space, and a skilled team of staff.
That's not all that SuperBowl Tampines offers. It has enough slots, which means you won't wait for long. Their prices are reasonable and affordable. It costs $4 per game. In case you forgot your bowling shoes, you can rent shoes at the premises. To top it all up, it has a team of friendly and professional staff who are always ready to help in case of any hitches.
The Forte Bowling alley is an amazing bowling venue that incorporates entertainment and training activities thus providing an unforgettable bowling experience to its members. Forte Bowling centre is located inside the JForte Sportainment centre along Hougang Avenue. Apart from the regular bowling games and professional classes, the venue also offers bowling tournaments of all kinds all to keep the players entertained. The alley is equipped with intensely hued lights, chic music, and a collection of other bowling amenities thus giving you a memorable time. Furthermore, there is an in-house cafe and a pool bar to loosen up while awaiting your next game. Bowling at the JForte is fun way to spend the nights outdoors with friends and family.
The final bowling centre on our list is the SingaporeBowling at Rifle Range Road. The alley is equipped with 38 bowling lanes fully maintained to support all sorts of bowling tournaments. Anyone who has visited this place can attest to a great bowling experience given the bowling facilities provided by the venue. The bowling alley is clean and sufficiently armed with high technology to cater to both professional and common players.
This state of the art bowling centre is under the Singapore Bowling Federation. It is located along the Rifle range road which is such a convenient spot since you can easily get there via buses from Beauty World MRT or Clementi MRT. The venue also hosts professional bowlers, for this reason you get to rub shoulders with some of your favourite bowling champions. Having a modernized bowling facility also allows the alley to offer professional training to its members.
Are you looking for a place to just chill and have a great time with your friends or family? The bowling alleys discussed above will give you intriguing bowling experiences. Besides, they have exclusive discounts and bonuses to top scorers to motivate their best play.
Emily Hopkins
I'm an accomplished and detail-driven content writer with copious experience in producing compelling, engaging and flawless content for a variety of blogs and websites for several years.
Related posts
Subscribe for newsletter
* You will receive the latest news and updates on Singapore's best trends!
Trending Posts
May 30, 2023

What is Matcha? Matcha...

May 31, 2023

TLDR: In this article,...

May 31, 2023

TLDR: As an audio...