17 Best Botox Clinics in Singapore [2022]
Zoya, 3 years ago
16 min

read
7005
Botox treatments can be a wonderful thing for people who want to delay their wrinkles and other signs of aging. We all take care of our bodies, and our skin is no different, but our skin is the first indicator of our age. That is where Botox comes in, and since its inception, countless people have benefited from its anti-aging effect on your skin. With a Botox treatment, you can avoid signs of wrinkles, crow's feet, and other signs of aging on your face, giving it a younger and more appealing look. Thus, to help you find the best clinic that will cater to your needs, here is our list of the best botox clinics in Singapore.
Edwin Lim Medical Aesthetic Clinic is where all your Botox concerns will be met and treated. Here, you'll be well taken care of by Dr. Edwin Lim who is the founder and medical director of the clinic. He personally attends to all patients and there is nothing more important than being in the hands of one of the best Botox experts in Singapore.
Dr. Edwin is very passionate about enhancing one's beauty through injectable procedures such as botox, fillers, skinboosters, rejuran, and profhilo. Furthermore, he has specially formulated and developed a line of skincare products that aims to address several common skin concerns such as anti-aging, acne, and pigmentation.
Some of the anti-aging solutions offered at the clinic are botox wrinkle treatments, anti-aging skincare, skin boosters, dermal fillers, ultraformer HIFU, profhilo treatment, and rejuran healer.
At Edwin Lim Medical Aesthetic Clinic, you will be attended by a sincere doctor who believes in personalizing each individuals' treatment according to their skin type and concerns. You will also receive treatment with minimal or no healing downtime enabling you to continue your normal schedule with no or only slight disruptions.
Possessing loads of experience in the medical aesthetic field, you will receive the best treatments and services with an added emphasis on providing safe and effective treatments when you visit Dr. Edwin's Clinic.
Address
2 conveniently located clinics
East clinic – #02-12/13 Changi City Point
Orchard clinic – #05-51 Lucky Plaza, Orchard Medical Specialists Centre (By appointment only)
Operating hours
Monday to Friday: 11 AM to 8 PM
Saturday: 11 AM to 6 PM
Closed on Sundays and Public Holidays

Contact details
69042218
96372218 (whatsapp only)
Website: https://edwinlimclinic.sg
As the topmost quality Botox clinic establishment in Singapore, Cutis Medical Laser clinics is the go-to place for Botox anti-aging. You can get a quality Botox treatment at affordable rates and premium service. They also have several years of experience and an aesthetic doctor that can give you better than anticipated results.
Rates are as affordable as $16-$18, for small Botox fillings, depending upon the amount of Botox required.
You can reach out to them on +65 6801 4000, and they operate between 10 AM to 8 PM on weekdays and 9 AM- 3 PM on Saturday with Sundays closed.
Address: 9 Scotts Road, Pacific Plaza, Scotts Medical Center #08-07 Singapore 228210.
Dr Chio Aesthetic & Laser Centre Pte Ltd is all about making their customers look and feel good. With a 5-star rating, this is one of the to-go clinics whenever you are looking for a Botox procedure done in Singapore. The clinic is known for offering the best skin tightening and face lifting procedures. Some of the body parts that are treated here include face (skin tightening and lifting, reducing specific fatty areas, improving acne and acne scars, reducing fine lines and wrinkles, skin rejuvenation and pore tightening), neck (tightening the loose skin of the neck and décolleté area (below the neck), and the body (stretch marks minimization, reduction of a localized collection of fat, and improving the cellulite appearance).
At the clinic, you will be attended by Dr Roy Chio who is an experienced Botox specialist. He is a member of ten professional organizations and has attended several threads lifting training. Dr Chio is also fluent in at least 6 key languages and an associate of the International College of Surgeons who has been a speaker in several conferences, among other achievements down his sleeve. For those who require different services such as hair treatment, acne treatment, skin supplements among other products, you can get them at the clinic after your botox appointment. Get in touch with them today and get to learn more about their services and costs.
You can contact them on (+65) 64428375 / (+65) 96511224, and they operate on Mon, Wed Thu: 9:00 am-3:00 pm & 7:00 pm-10:00 pm, Tue & Fri: 9:00 am-3:00 pm, Sat: 9:00 am-4:00 pm, and Sun: 9:00 am – 1:00 pm.
Address: Blk 158 Bedok South Ave 3 #01-581, Singapore 460158
Cove Aesthetics is your one-stop solution to getting beautiful and feel rejuvenated inside out. Not only do they offer customized medical analysis and treatments for your skin, but complete therapy. Moreover, you can rely on them for a complete checkup and analyze which part of your face needs Botox.
Prices start from $150 and go as high as $680 for fillers.
Reach Cove Aesthetics on +65 6734 6531
They work between 10 AM to 8 PM on weekdays and 9:30 AM to 3:30 PM on Saturdays and Sundays off.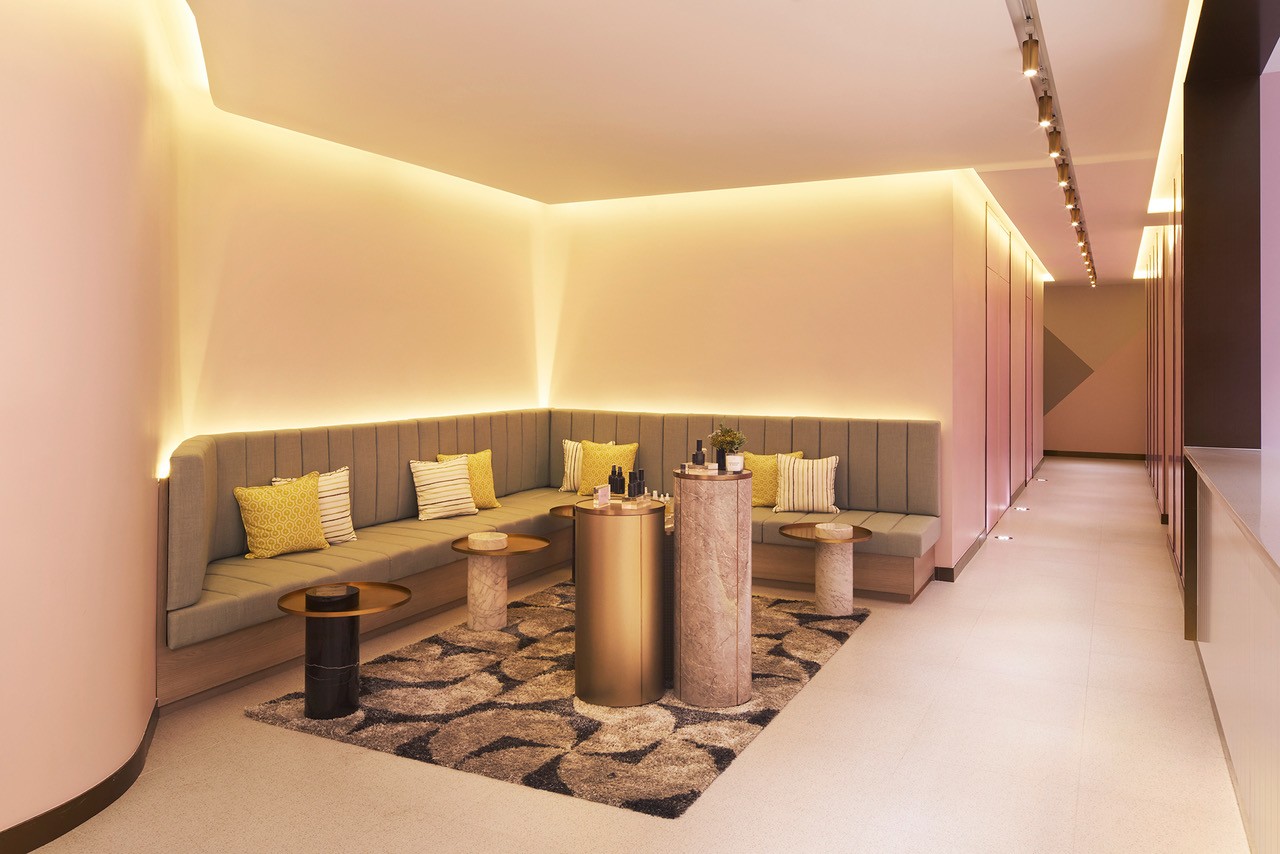 SW1 is a complete aesthetic treatment clinic with several treatments available. You can choose between facelifts, complexion treatment, skin lightening, Botox treatment among others. Moreover, they also treat underlying skin conditions giving you a complete dermatological solution in one place.
Their prices depend on the kind of treatment and severity of any underlying conditions. Moreover, you can check for their prices by contacting them.
Contact SW1 at: +65-6817-8888 for the Paragon Branch. Also, contact them at +65-6817-8882 for their Oue branch.
They're available for treatments between 10 AM and 7 PM from Tuesday to Friday. Also between 10AM and 4PM on weekends, and Monday is off.
As one of the leading dermatology options in Singapore, they offer a variety of services. You can choose between their advanced anti-aging treatments. Their huge variety in available treatments such as rejuvenation, skin tightening, Botox is affordable too. Additionally, they also have their own product line to give you continued support.
A wide range of available products, and custom high-quality treatments.
Contact them at: +65 6462 2559 or +65 6462 4559
They're available between 10AM and 7PM for treatments the entire week except for Sunday.
The Belle Clinic offers you an amazing range of services, especially for your skin. They focus on treating you as per your skin type and customize therapy. Additionally, their Botox is one of their main pros among other attractive treatment options.
By offering personalized treatments based on your skin type and analysis, their pricing can vary. Moreover, their services and customized treatments also win praise from locals. Overall, the perfect clinic to round off our list of best botox clinics in Singapore.
The Belle Clinic is open for treatments between 10AM and 7PM on weekdays. On weekends, they're only open on Saturday between 9AM and 2PM.
Contact them at +65 6444 8108. You can find them on SBF Medical Center, #03-02 160 Robinson Road ​Singapore 068914.
Looks aren't everyone's priority, but it is a perk if you look good. At Dr. Valentin Clinic, they aim to provide comprehensive aesthetic care at an affordable rate.
Located along Orchard Road in Singapore, this medical boutique uses the most advanced technology to provide an extensive range of customized treatments to its customers.
The clinic is supplied with a team of trained doctors with vast experience when it comes to skin and body treatment. The aim is to provide suitable skin solutions that uncover patients' confidence and bring them their inner beauty. They affirm patients first before any procedure to ensure maximum results and outcome.
Dr. Valentin Aesthetic Clinic offers a wide selection of services, including body wellness, laser resurfacing therapies, filler injections, ultrasonic-based treatments, Botox injections, and many more. Other services include face slimming, skin tightening, tattoo removal, hair loss treatment and melasma
Dr. Valentin Aesthetic Clinic is open for treatments all day everyday. Contact them at +65 6720 3323.
You can find them on 290 Orchard Rd, #08-03 Paragon Medical Suites Singapore 238880.
If that first impression really matters to you, look no further than this fine contender. Astique Clinic is one of the best aesthetic health centres in Singapore aiming to help you achieve flawless skin and body solutions. Located amidst Singapore's central districts, the clinic offers FDA-approved aesthetic treatments, including non-invasive procedures, non-surgical facelifts, laser skin treatments, and a handful more.
The clinic offers a myriad of treatment services. Whether you are looking for acne removal or face slimming, Astique is worth your consideration. You will find dedicated doctors ready to help you feel confident and empowered on your aesthetic ideals journey. Besides, they listen to your concern keenly and customize proper treatments tailored to meet your needs.
Other services include wrinkle reduction, stretch marks removal, tattoo removal and laser skin rejuvenation.
Astique Clinic is open for treatments Monday and Friday between 11AM and 8PM, Tuesday to Thursday 9AM to 8PM, on weekdays. On weekends, they're only open on Saturday between 11AM and 4PM. Contact them at +65 6732 2801.
You can find them at 350 Orchard Road Shaw House #08-00 Singapore, Singapore 238868.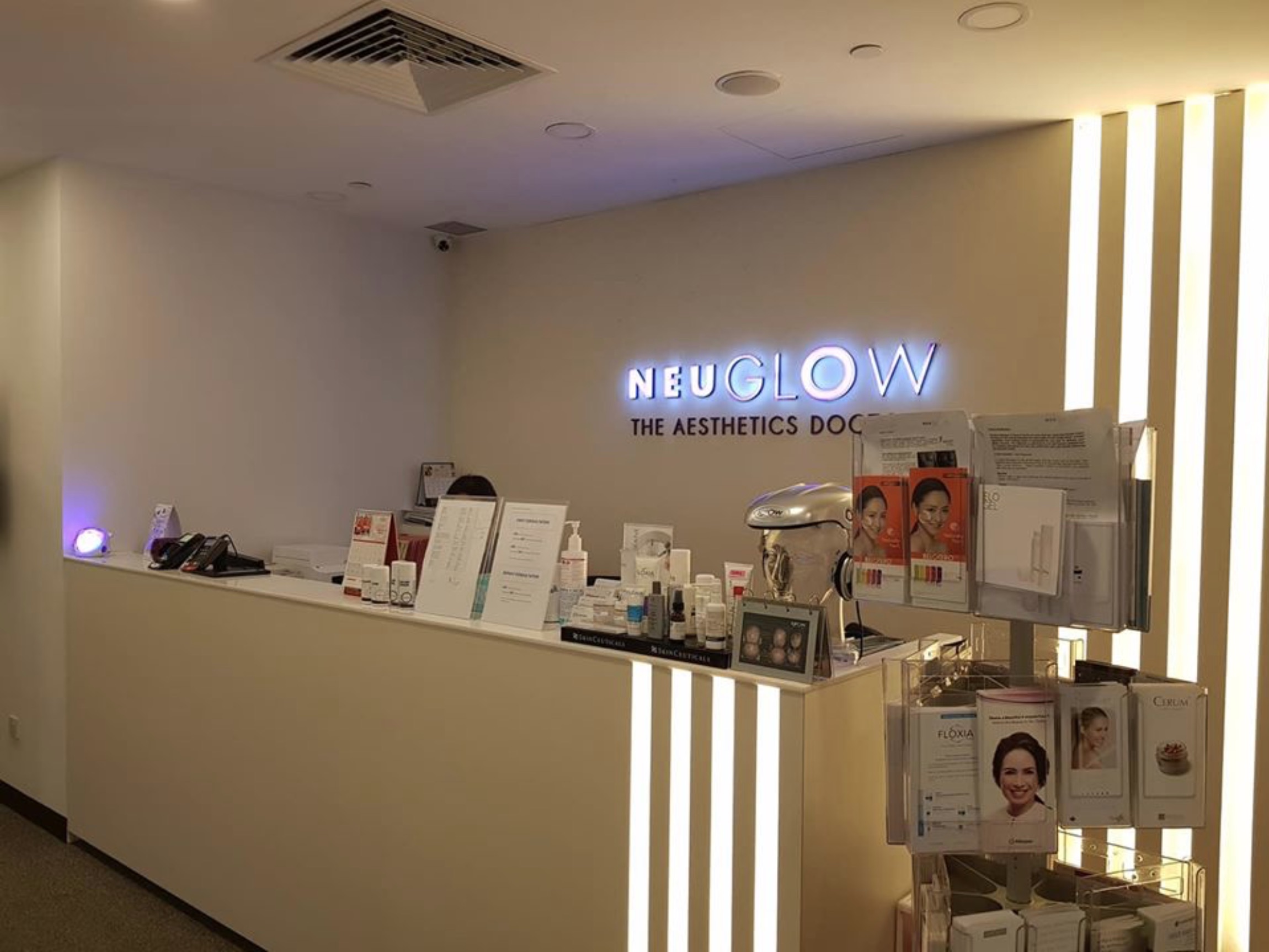 NeuGlow is one of the respected clinics in Singapore featuring modern advanced tools for tackling skin and other body problems. Established in 2004, NeuGlow is among the oldest medical clinics providing patients with top quality services. From acne worries to scar treatments, NeuGlow offers up-to-date non-invasive procedures and clinical-grade products without the need for oral medication.
NueGlow prioritizes your safety, comfort, and trust. Their well-trained doctors aim to ensure patients receive a pain-free treatment with little or no downtime. In addition, the clinic is deemed the best option for restoring your skin elasticity, reducing skin plumpness, and many more.
Other services include plasma skin regen, blue light therapy, and supply of aesthetic machines.
Neuglow is always open for treatments between 10AM to 2PM and 3PM to 5PM on weekdays. On weekends, they're only open on Saturday between 10AM and 5PM. Contact them at +65 6536 3636.
You can find them at The Centrepoint, #06-12, 176 Orchard Rd, Singapore 238843.
AEON is a renowned Korean Aesthetic Clinic dedicated to providing safe and effective skin and body treatments. The clinic has a team of professional specialists led by Dr. Michael Kim. They offer assessment and consultation to allow an in-depth understanding of patients' skin and body conditions.
AEON a licensed medical clinic that has grown into one of the brand names in Singapore. Besides, they also garnered praise from customers across Singapore who have attested to its quality body and skin treatments.
When it comes to services, AEON doesn't prove inadequate. The clinic covers a wide range of body, skin, and even hair services with no pain or discomfort. They also offer non-invasive medical quality treatment to ensure optimal and long-term results.
Other services include, facial contouring, neck treatments, skin lesions, skin tightening, and eye treatments.
AEON Medical and Aesthetic Centre is open for treatments on Tuesday, Wednesday, Thursday and Saturdays between 10AM and 9PM, while on Monday and Friday between 1PM and 9PM. Contact them at +65 6733 2002.
You can find them at 9 Scotts Rd, #06-02/03 Scotts Medical Centre, Pacific Plaza Singapore 228210.
The Clifford Clinic is led by Dr. Gerard Ee, a professional Singapore doctor specializing in aesthetic, dermatology, plastic surgery, and more. He is also best known to use non-invasive aesthetic procedures to achieve the desired beauty of patients.
The team of specialists at the clinic offer patients with up-to-date aesthetic care options, including surgical and non-surgical treatment to enhance their appearance. They provide a wide range of personalized aesthetic procedures tailored to meet patients' specific needs.
The Clifford Clinic prides itself on using a holistic approach when performing treatment. They also value and respect every patient's specific needs and expectations. Other services include fat reduction, skin tightening, neck rejuvenation and hair removal.
The Clifford Clinic is open for treatments between 8AM and 6PM on weekdays. On weekends, they're only open on Saturday between 9AM and 6PM. Contact them at +65 3129 2550.
You can find them at 24 Raffles Place #01-03 Clifford Centre Singapore 048621.
Bio Aesthetic Laser Clinic is an established aesthetic clinic that cast the focus on your well-being first. They aim to cater a range of services that will suit their customers' different needs, so that anyone who walk in their doors can find the perfect solution to their beauty concerns.
What we love most about Bio Aesthetic Laser Clinic is their belief in non-permanent and minimally-invasive treatments. Their goal is to enable their patients to enhance their natural beauty through safe and effective procedures such as Botox, filler, chemical peels, wavelength light and laser therapies.
Contact Bio Aesthetic Laser Clinic at: +65-6333-4566 for the Orchard Branch. Also, contact them at +65-8321-8613 for their Tampinese branch.
They're available for treatments at their Orchard branch between 11 AM and 8.30 PM from Monday to Friday. Also between 10 AM and 6 PM on Saturday. At their Tampines branch, they are only available by appointment.
Situated at the heart of Singapore's Orchard Road, Prive Clinic offers a range of aesthetic services that you got to check out. It is not only situated in a central location, but it is also known for its doctors, who give professional advice that leaves patients with confidence about the procedures done.
Prive Clinic is headed by a vibrant medical director who ensures doctors undergo rigorous training to offer customers top quality aesthetic care. Prive Clinic believes in safety. The centre is equipped with on-trend advanced procedures for skin and body treatment.
The health centre specializes in many aesthetic care services, including fillers, laser treatments, Botox, and many more. If you are looking for a clinic offering facial contouring, Prive clinic is committed to helping you feel the best. All at an affordable rate. Other services include anti-aging procedures, hair work, skin brightening and hydration.
The Prive Clinic is open for treatments between 10AM and 9PM on weekdays. On weekends, they're only open on Saturday between 10AM and 7PM. Contact them at +65 9848 2888.
You can find them at Palais Renaissance Branch, #03-03, 390 Orchard Rd Singapore 238871.
Skin treatment can be quite intimidating, especially if you have it done with a novice. Sloane clinic is not limited to quality. It aims to provide holistic beauty and wellness solutions through clinically-approved procedures, therapeutic devices, and effective medication.
Sloane Clinic is a group of trained doctors with combined scientific research for years. They understand the concern of customers and target to achieve sustainable beauty with a minimum downturn.
The centre covers a lot of skin and body treatment. From facelifts to chemical peeling, there is no clinic doing it better than Sloane. Besides, they also use on-trend advanced tools to ensure patients achieve the desired beauty. Other services include anti-sweat procedures, laser hair removal, skin pigmentation and acne/scar treatment
Sloane Clinic is open for treatments between 10AM and 8PM on weekdays. On weekends, they're only open on Saturday between 10AM and 5PM. Contact them at 6909 9947.
You can find them at 10 Sinaram Drive #10-14/15 Novena Medical Centre Singapore 307506.

The Lifestyle Clinic truly stands to its name; providing a complete package of aesthetic services and products to customers. The centre was established in 2007 by Dr. Komathy Rajaratnam. Dr. Komathy works with his team of doctors and nurses in delivering the best services. Human appearance impacts body functioning. Every treatment at the Lifestyle Clinic involves health screening to ensure the wellness of patients.
The Lifestyle Clinic is one of the top health centres in Singapore, well known for its comprehensive treatment of Botox, acne, and other face issues. The clinic also deals with hair loss, dandruff, lipo fat reduction, among many others.
The success of the Lifestyle Clinic has also been due to the consistent usage of advanced treatment procedures. Other services include body tightening, weight loss program, body contour and facial slimming.
The Lifestyle Clinic is open for treatments between 9AM and 5.30PM on weekdays. On weekends, they're only open on Saturday between 9AM and 1PM. Contact them at +65 6733 0788.
You can find them at 1 Orchard Boulevard, #12-06, Camden Medical Centre Singapore 248949.
Sozo Aesthetic Clinic is an excellent choice for hair loss and skin booster treatments. It's led by Dr. Justin Boey, who has possessed a wealth of expertise in skincare and body treatment. The clinic offers quality skin treatment services. It also aims to integrate seamlessly into your skin condition and provide a proper treatment that helps you recover quickly.
Sozo has a team of trained professionals happy to embrace your natural beauty by offering a wide range of skin treatments not only to the face but also for the entire body. During treatment, the doctors seem careful and gentle to ensure no pain or discomfort to patients. Other services include nose enhancement, underarm whitening, anti-aging, double chin removal and body contouring
Sozo Aesthetic Clinic is open for treatments between 10AM and 8PM on weekdays. On weekends, they're only open on Saturday between 10AM and 3PM. Contact them at +65 6935 1811.
You can find them at 1 Raffles Place, #05-12/13 One Raffles Place Singapore 048616.
Botox treatment costs and effects vary from person to person depending upon age and other factors. Moreover, most of these institutes offer a painless and affordable procedure. If you want to go for a complete aesthetic makeover, you should go for Cove Aesthetics. Also, you can also go for laser treatments and choose these institutes' product lines for long term effects on your skin.
All in all, hope our list of the best clinics for botox in Singapore was of help to you!
Zoya
Queen of Obscure References and occasional writer. When not exercising my thumbs on Instagram, you can find me looking for good author bios on Google.
Related posts
Subscribe for newsletter
* You will receive the latest news and updates on Singapore's best trends!