11 Best Stand & Portable Blenders in Singapore [2023]
Gee, 3 years ago
7 min

read
10105
If you love smoothies and fruit shakes, you might probably want to have your blender. In fact, blenders are a nifty tool everyone must-have in the kitchen. Aside from making smoothies, it can also mix batters and allows you to make nut butter. Whichever type blender of blender you want, all serves its purpose to aid your culinary endeavours and healthy eating. From liquifying solid foods to making smoothest shakes, here are the 11 best stand & personal blenders in Singapore that you should check out right now!
11 Blenders In Singapore That Every Kitchen Must Have:
Ready your ingredients; here are the best blenders you can find in Singapore:
The wireless Aura Portable Blender tops our list as the best blender in Singapore, which we highly recommend for its compact travel size and fuss-free usage. This little smoothie blender is the fastest personal blender in the market, packing power in a sleek small blender design. Its convenient size makes it easy to slip into a bag and blend smoothies, cocktails, baby food, and protein shakes on the go. It's also extremely easy to clean, requiring only a drop of dish soap and water to blend and clean itself, and doesn't require dismantling unlike full-size blenders. There's many reasons for us to rate this the best portable blender in Singapore!
Key features:
Fastest portable juicer blender around
Great as a travel blender
Wireless and USB-rechargeable
Measurement markings on jar
Convertible into drinking bottle
Easy self-cleaning feature
Safety lock
480 mL capacity
Has an optional matching Aura Insulated Sleeve
Where to buy: Visit the Aura Blender Singapore official site to purchase. For other countries, you can purchase it at their international site. Free delivery & returns.
2. Sencor Super Blender SBU7790NP—Best Heavy-Duty Blender in Singapore
One of the best blenders in Singapore, Sencor Super Blender has a pulse function allowing you to instantly blend and crush cubes of ice for a refreshing smoothie. It is capable of extracting nutrition and vitamins from nuts, seeds, and grains for an ultimate fruity and veggie smoothie. Sencor Blender allows ease of use and safe as it cannot operate until assembles correctly.
Key features:
Presser blending programs
High-quality stainless blades
LVD titanium coating
2 Liters jug
1800 watts motor
Where to buy: See Sencor official site to purchase.
If you are on a tight budget, you might want to consider Cornell Blender. You do not have to compromise your healthy eating habit since this blender is affordable. It is so easy to use, fast, and provides ultimate blending experience. It has a detachable base letting you wash it every after use.
Key features:
Speed options with pulse modes
Food safe stainless steel blades
Perfect for making smoothies and shakes
350 watts motor
1.5 Liter capacity
Where to buy: You can buy it in Harvey Norman Singapore and Cornell Appliances.
4. Vitamix Vita-Prep 3 Blender—Best Professional Blender
Vitamix Vita-Prep Blender might be the best blender you can buy in Singapore. Most chefs are using this blender because of its versatility, performance, and power. It is a bit pricey compared to other blenders in this list but will surely make the best out of your money. Vitamix Vita-Prep blender is known as the monster when it comes to blending delicate ingredients and tough purees.
Key features:
Advanced cooling fan for an excellent performance
High-impact container
Comes with an accelerator tool allowing you to control speed and processes easily
2-Liter capacity
3-HP motor
Where to buy: You can purchase it here miifoodservice.com.
5. Sharp Blender With Coffee Grinder—Best Grinding Blender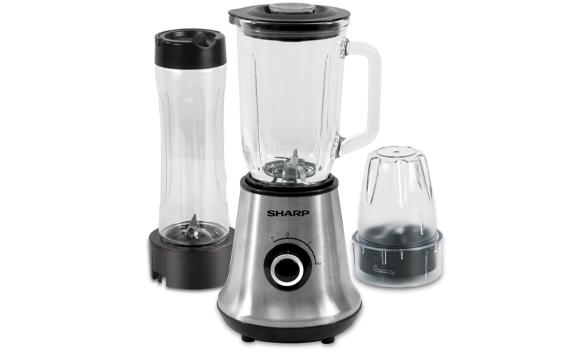 The Sharp blender comes with 3-in-1 functions for blending, making juices, shakes, and smoothies. You can choose from its 2-speed options for hard and soft ingredients. Besides, it has pulse control mode and can even grind coffee beans. It has detachable parts enabling you to clean it after use.
Key features:
Safety lock
Stainless steel blades
Excellent grinder function
1-Liter capacity
0.6-Liter bottle jug capacity
0.5-liter coffee grinder capacity
Where to buy: See more details and buy it in Sharp Singapore.
Blendtec Home blender has smart features and is computer controlled, which you can find in Singapore. It allows you to choose from 10-speed options with pre-programmed buttons and one-touch blending. Using Blendtec blender, you can make granita's, smoothies, ice cream shakes, soups, and chunky salsas. Besides, it can grind hard seeds or hard ingredients into flour. Blendtec Home blender is popular as it is being compared to the Vitamix blender.
Key features:
Affordable than Vitamix blender
38 Cm tall
smart blender; it can turn off automatically after use.
Compact built
1560 watts power
18.7 ounces jar weight
Where to buy: You can buy it at Shopee
7. KitchenAid Diamond Blender—Best Blender For Large Batches
KitchenAid Diamond Blender is a stand blender, which has a soft start feature. It starts blending at a slower speed to pull the food into the blades. Then it will quickly accelerate the speed based on your selected setting. The feature helps to minimize splatter and enables a more even blend.
Key features:
1.75-Liters capacity
615 watts motor
Five-speed options
Pulse modes
Where to buy: KitchenAid
8. Kenqo Nutribullet Pro 900 Series—Best Juice-Making Blender
Kenqo Nutribullet is a stand blender, which has a superfood nutrition extractor. It can obliterate any fibers or lumps and can pulverize any solid and frozen fruits. You can expect super smooth juices. The Kenqo Nutribullets comes with a 12-piece accessory set, a pocket nutritionist, and a recipe book. It has a compact vertical design, which is very easy to store and space-saving.
Key features:
945 Ml capacity
900 watts motor
Superfood nutrition extractor
Recipe guides
Where to buy: You can buy it in Lazada Singapore and Kenqo.
Tefal Blender is perfect for making cocktails, and iced fruity smoothies or shakes. It comes with a chopper and a grinder, which could blend, chop, and dice ingredients for you. Tefal Blender is vertically fit suitable for small kitchens. You can choose from its two-speed controls where you can set it based on your desired consistency.
Key features:
1.75 to 2 Liters capacity
600-to 1200 watts motor
Speed control options
Blend, chop and grind
Where to buy: Shopee
Nutri Ninja Blender makes vitamin and nutrient extraction to the next level. It has FreshVac Technology, which pumps oxygen to be removed inside before blending. It preserves vitamins, nutrients, and natural flavors. If you want nutritious drinks that can stay fresh overnight, using Nutri Ninja Blender can prepare you with that. In addition, this blender is one of the leading Auto IQ Technology blenders in Singapore. It has smart programs, which combine time pulsing, blending, and pausing patterns that can do the work for you.
Key features:
Patented extractor blades
1000 watts motor power
IQ technology with smart programs
Produces smoother, a richer, and tastier shake, smoothies, or juices
Where to buy: Shopee
One of the best selling blenders in Korea, Happycall Axlerim Z is also one of the powerful blenders in Singapore. It has 3600 watts, super horsepower at an affordable price. This blender offers a 6-year warranty, which can surely maximize your investment.
Key features:
2-Liter Jug
Free recipe book
Temperature sensors
Excellent performance and versatile
Self-cleaning feature
Where to buy: Shopee
The Smoother, The Better
Having a blender in your kitchen is considered essential nowadays. Most especially if you are health conscious or just love drinking tastier but nutritious juices. That's when blenders in Singapore are very useful and valuable.
If you used to have the classic blender, its practical, but you might want to upgrade into something modern and multi-functional. This list of best blenders in Singapore aims to help you find the most reliable and worthwhile.
Do you own any of these blenders in Singapore? Tell us your experience using your blender and kindly share some recipes, too!
Related posts
Subscribe for newsletter
* You will receive the latest news and updates on Singapore's best trends!