12 Best Affordable Birthday Cake Shops in Singapore [2022]
Joanne, 2 years ago
12 min

read
8164
If you have recently been tasked to choose a birthday cake for an upcoming birthday party, you would know that choosing a birthday cake is quite a daunting process.
With many flavors and designs to choose from, one can be spoilt for choices. One thing is for sure, there are lots of birthday cake shops in Singapore that you can order cakes from.
We have come up with this comprehensive as well as handy guide to the best birthday cake shops in Singapore so that you can narrow your choices and pick from the best for your next birthday party!
Highlights:
No preservatives added
Baked fresh daily with only MSW Durians
Hand-crafted
Now, nothing can beat a cake made using the king of fruits. And when you combine it with one of the best desserts in the world, you're in for something special. Here at Durian Bakery, they offer plenty of delicacies with each being different from the next. But their Musang King Durian Mille Crepe Cake is really something else!
It is extremely rich in flavours and filled with a creamy bitter-sweet mixture of Black-Gold and Old Tree. But the flavours aren't overpowering, but delicate which is really surprising. The recipe will leave you feeling as though you've ventured into a new world. The flavours are only accelerated as they are freshly baked using only MSW durians and offer you 2-hour delivery service.
The Durian Bakery even provides you with services where you can add candles, a birthday topper or even a gift card with your personalised messages for your loved ones. The Durian Bakery hand-bake their delicious cakes daily. So if you want your hands on their delicious baked products we suggest that you order it soon as possible as they get sold out pretty early. This cake is perfect for any celebration, and to show your appreciation and love for someone you care for.
| | |
| --- | --- |
| Address | The Commerze @ Irving, 1-26 Irving Pl 369546 |
| Contact Information | +65 8875 1069 |
| Business Hours | Monday to Sunday from 10:00 am to 11:00 pm |
| Social Pages | Facebook | Instagram |
Highlights:
Customized cakes and cupcakes
Various themes available
Affordable
Not overly sweet
Monice Bakes is an online bakery in Singapore that offers customized cakes and cupcakes for all your parties, be it birthday parties, baby showers, weddings, corporate functions or more! Known to be the bakery that offers the "Best Customised Cake in Singapore", Monice Bakes is able to design cakes that are specially handcrafted according to your preferences. Whether your party theme is cartoon, sports, floral, or whimsical, the team at Monice Bakes has got you covered.
Reviews left by fans of this online bakery also express that the cakes and pastries provided by this online bakery are reasonably priced and affordable, as compared to other online bakeries out there.
In addition, all the cakes and pastries that Monice Bakes offers are freshly baked with quality ingredients. They are also a great choice if you or your party guests are health conscious because all their items are free from preservatives, artificial flavourings and have reduced sugar levels. So, if you are not a fan of birthday cakes that are overly sweet, the cakes by Monice Bakes may be a good option for you!
| | |
| --- | --- |
| Address | Bedok Reservoir View, The Clearwater, Singapore 479234 |
| Contact Information | 9815 0022 |
| Business Hours | Online 24 hours |
Highlights:
Bestselling classic cakes – honey yuzu & guava lychee fresh cream cakes
Inspired by lush botanicals and whimsical colours
Customized cakes, sweets, and dessert table
All cakes are freshly made
Zee & Elle is a bakery that specializes in crafting customized cakes, sweets and dessert table, and birthday cakes. Their cakes and desserts are inspired by lush botanicals and whimsical colours and are all handmade with love by a passionate team.
The cakes that are offered by Zee & Elle range from a classic and simple fondant cake to a creative edible balloon cake to beautiful and extravagant cakes draped with edible gold.
Because the team draws inspiration from nature, think trees, the sea, and other natural beauties, you can expect your cake to be adorned with wreaths of leaves and real flowers. Whether you choose an animal theme, ocean theme, or garden theme cake, you can be sure that the cake you receive for the birthday party will be a feast for the eyes! They also have an in-store menu every Thursday to sunday with a selected range of whole cakes, sliced cakes & tarts
Address
524 MacPherson Rd, Singapore 368215
Contact Information
6200 5393
Business Hours
Tuesday to Saturday: 10 AM – 5 PM
Sunday: 10 AM – 2:30 PM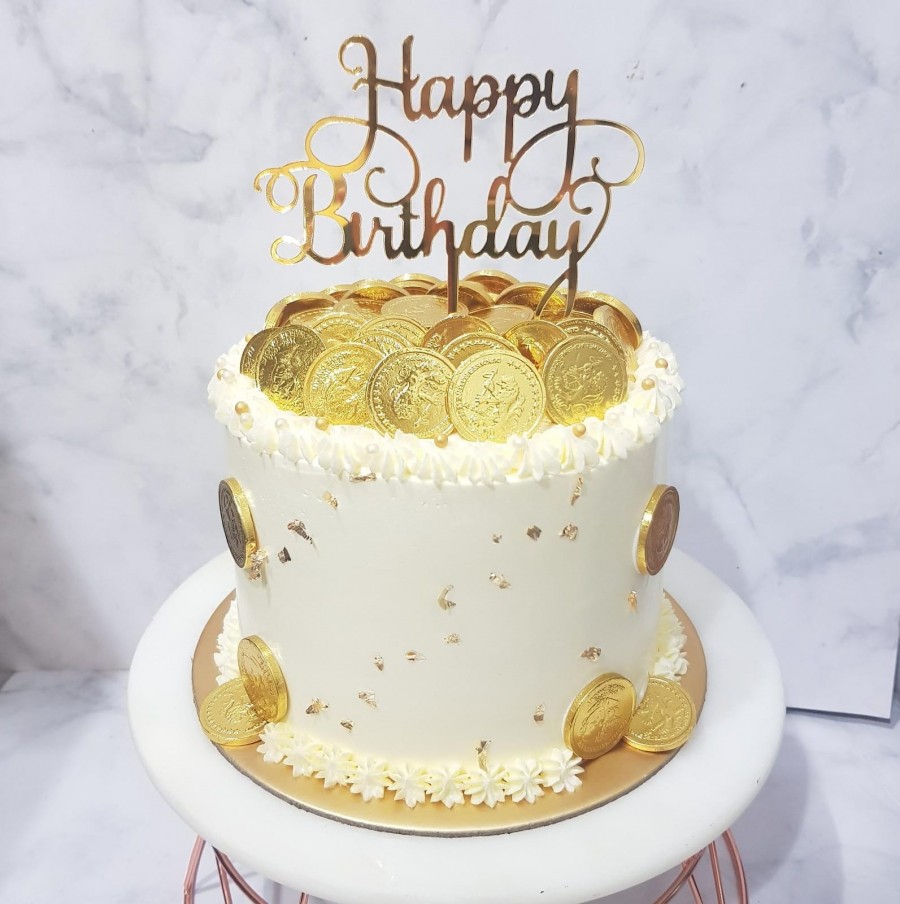 Highlights:
Customized cakes and desserts
Island-wide delivery
Cake accessories and packages available
Yours Sincerely Bakery is a bakery located at Upper Changi Road that offers customized cakes and desserts that are freshly baked with high quality ingredients. To maintain a high level of quality, the brand insists to avoid mass-producing their desserts.
On their website, you will see that they offer a wide selection of cakes including special project cakes, customized cakes, wedding cakes, gourmet cakes, festival cakes, as well as kids' birthday cakes.
For their birthday cakes, you will find intricately designed cakes that feature a range of different animated characters from Elsa from Frozen to Peppa Pig and Hello kitty. While it is marketed as a kids' birthday cake, there will definitely be adult fans of the character who will greatly appreciate this cake design!
If you are looking for something unique, consider Yours Sincerely's signature Money-pulling Cake, Piñata Surprise Cake, or their newest addition, a Drinkable Cake! Party guests will definitely have an enjoyable time experiencing the birthday cake!
| | |
| --- | --- |
| Address | 430 Upper Changi Rd E, #01-105, Singapore 487048 |
| Contact Information | 9853 7771 |
| Business Hours | Wednesday to Sunday: 10 AM – 7 PM |
Highlights:
Established since 2009
Halal cakes
All cake designs or ideas are welcome
Sooperlicious was established since 2009 and since then, they have been providing customers with handcrafted cakes that are made using premium ingredients such as pure butter, premium chocolate and reduced sugar.
At Sooperlicious, customers are able to literally build their own cake. They can tell the team at Sooperlicious their preferred flavour, sugar level, size, as well as design. They would take in your preferences down to the nitty gritty details and customize a perfect cake for your needs and wants! You can even choose to send them a photo that you want printed on the cake and they will get it done for you.
This Halal bakery welcomes all cakes ideas and designs, so let your imagination run wild! Visit their store at The Promenade or order online and opt for their island-wide delivery option!
| | |
| --- | --- |
| Address | 183 Jalan Pelikat, The Promenade B1-92, Singapore 537643 |
| Contact Information | 9101 5856 |
| Business Hours | 9 AM – 7 PM, Daily |
Highlights:
Large collection of designer cakes
Cakeless cakes
Special diet cakes
You may not know it, but you have probably seen Le Petit Empire's signature "Money Pulling Cake Collection" which lets you pull out real cash from your cakes. This bakery at Cavan Road offers a large collection of designer cakes from simple animal cakes to over the top casino cakes and 3D cakes.
The brand even uniquely offers a cakeless cake collection which features sushi cakes and pavlova cakes for those who prefer something more unconventional.
In addition, Le Petit Empire features a collection that is great for those who are on special diets. They offer an eggless vegetarian collection that is as whimsical and uniquely designed as the cakes from their other collections. So, if you are a vegetarian, you do not have to compromise on getting beautifully decorated cakes for a birthday party because Le Petit Empire has got you covered!
| | |
| --- | --- |
| Address | 11 Cavan Rd, #01-03, Singapore 209848 |
| Contact Information | 9855 4223 |
| Business Hours | 10 AM – 6 PM, Daily |
Highlights:
Do not contain artificial colouring, fondant or marzipan
Unique flavours of cakes
Ugly Cake Shop is a bakery café and online cake shop that bakes delicious, artisanal cakes in Singapore. All of the cakes and desserts offered by this cake shop do not contain artificial colouring, fondant or marzipan. The brand insists on using high-quality ingredients such as french cocoa and pure butter in all of their baked goods to ensure that you will get the best eating experience.
Some cakes that Ugly Cake Shop offers include animal cakes, fruity cakes, chocolate cakes as well as vegan cakes. These cakes come in a range of unique flavours such as Salted Caramel with Sea Salt, as well as cakes with a local spin like the Milo Dinosaur cake.
In addition, with every purchase that you make from the cake shop, you will be helping to feed hungry kids in Timor-Leste: Ugly Cake Shop supports undernourished children in Timor-Leste by giving part of their profits to the nutrition fund of a school in Timor-Leste. So, for cake for a good cause, consider Ugle Cake Shop!
| | |
| --- | --- |
| Address | 535 Kallang Bahru, GB Point #01-06, Singapore 339351 |
| Contact Information | 82288300 |
| Business Hours | Monday to Saturday: 10 AM – 7 PM |
Highlights:
17 flavours of gourmet cheesecakes
Halal-certified
Same-day delivery available
Cat & the Fiddle is an online bakery is headed by award-winning chef Daniel Tay, and with the same-day delivery option that the brand offers, indulging in a cake has never been easier. They offer a wide variety of Halal-certified cheesecakes with whimsical names.
The brand offers 17 flavours of gourmet cheesecakes and all 17 flavours in their gourmet cheesecake selection are Halal-certified! Among their 17 different types of cheesecakes are flavours such as their Classic New York Cheesecake, Milo Dinosaur Cheesecake, and the crowd favourite, their rendition of a basque burnt cheesecake: the Charred Eclipse.
If the birthday boy or girl is a big fan of cheese, you definitely should check Cat & the Fiddle out! They have an online shop where you can opt for self-collection or have the cake delivered directly to your home.
Highlights:
Home grown brand
Established since 1985
Awarded "Best Cake Shop in Singapore" & "Best Durian Cakes"
Temptations Cakes Shop is a home grown cake shop in Singapore, baking delicious cakes & pastries since 1985. Over the decades of their operation, Temptations Cakes Shop has been presented with awards like "Best Cake Shop in Singapore", "Best Durian Cakes" by a number of Singapore media publishers.
Since it was established, the brand's Signature Chocolate Etoile Cake has been a bestseller among loyal customers. They also have a best selling Premium Durian cake for all the durian lovers out there.
If you are not a fan of durian or chocolate, do not worry! Temptations Cakes Shop also specializes in custom cakes for birthdays, weddings, corporate events, festive celebrations like Christmas as well as anniversary parties. The team will be happy to help you craft a cake according to your requirements!
Address
42 Joo Chiat Pl, Singapore 427766
Contact Information
6440 9200
Business Hours
Monday to Friday: 11 AM – 7 PM
Saturday to Sunday: 9 AM – 7 PM
Highlights:
Handcrafted cakes and pastries
Quality ingredients
Freshly baked
The Patissier is a leading boutique bakery founded and based in Singapore since 2000. It takes the very best of traditional French baking techniques and translates them into innovative and original sweet indulgences. Their handcrafted cakes and pastries are always freshly-baked with the finest ingredients, are perfect for special occasions or even as a daily treat.
Their signature Passion Fruit Meringue cake is well-loved by their customers and is almost always sold out! If you are not a fan of Meringue, check out their chocolate cakes, cheese cakes, tarts, or other celebration cakes that are offered on their extensive menu. They even have a Croquembouche celebration cake that will definitely wow your guests!
| | |
| --- | --- |
| Address | 4 Mohamed Sultan Rd, Singapore 238955 |
| Contact Information | 6737 3369 |
| Business Hours | 10 AM – 5 PM, Daily |
Highlights:
Creative customized cakes
Signature tofu cheesecake
Sliced or whole cakes available
Cake Spade is a cake shop that is conveniently located near Tanjong Pagar train station. The shop sells both sliced and whole cakes, along with creative customized cakes that are great for any birthday celebration.
The cakes and pastries offered by Cake Spade are made without the use of chemical stabilizers and shortenings to extend the shelf life. In addition, to achieve the perfect bite, each cake is carefully constructed with different layers, different textures, and contrasting flavours.
All in all, Cake Spade is a one-stop dessert store, with many of our delectable offerings available for dine-in and take out, and will make a great choice for you to purchase a birthday cake from!
| | |
| --- | --- |
| Address | 83 Tg Pagar Rd, Singapore 088504 |
| Contact Information | 64444 3868 |
| Business Hours | 12 PM – 10 PM, Daily |
Cakes & Cupcakes aims to serve you the best quality pastries using their best quality ingredients. They freshly bake their cakes daily. Besides, they collaborate with Durian Delivery in getting their durian supply for their cakes.
With a wide variety of cakes available, they have best-sellers such as their Gluten-Free Dark Chocolate Cake, Fromage Blanc Cheesecake, and Basque Burnt Musang King Cheesecake. Besides selling cakes, Cakes & Cupcakes offer other pastries such as Macarons, Cream Puffs, Cupcakes, and more.
With free delivery within 3 hours for each purchase above $50, you don't have to worry about long cake waiting time.
To find out more, you can read our review on Cakes & Cupcakes here.
Contact
admin@cakesandcupcakes.sg | 65 9224 8663 (Whatsapp)
Opening Hours
Mondays to Saturdays
10am to 7pm
(Last Order at 6pm)

Sundays & PH
10am to 7pm
Pre-order Only
(Last Order at 6pm – 1 Day in Advance)
Official Pages
Website | Facebook | Instagram
Birthdays are literally a once-a-year occasion. Make it special with any of these birthday cake shops in Singapore, and perhaps with some macaron places from our list, and you can be sure that you will be in for a treat. If you have a cheesecake-lover friend whose birthday is coming right up, you can gift them a cake from our list of basque burnt cheesecake.
Lazy to go all the way down to the store to pick up your cake? We got you covered with our list of cake delivery services that will save you your traveling time.
In case you haven't gotten what you need for your party, we have a list of balloon delivery services in Singapore to supply you with all kinds of balloons for your decorations. Also, to ensure that your gifts arrive on time, you can check out our gift delivery article for more information.
Related posts
Subscribe for newsletter
* You will receive the latest news and updates on Singapore's best trends!
Trending Posts
May 30, 2023

What is Matcha? Matcha...

May 31, 2023

TLDR: In this article,...

May 31, 2023

TLDR: As an audio...