21 Best Tea-rrific Teas in Singapore [2022]
Joanne, 3 years ago
20 min

read
6593
Team Tea or Team Coffee?
So, tell me: Are you team coffee or team tea? Just an observation from me, I noticed that we are either Team Coffee or Team Tea. Those who love drinks caffeine will not find themselves liking Tea, and likewise for Team Tea.
Benefits of Tea
Those who drink tea often will know that there are many kinds of tea in the market available. For instance, there is black tea, red tea, green tea, and many more! And what kind of benefits will these teas bring us?
? Antioxidants – Natural Cancer-fighting
? Anti-Aging
? Reduce the risk of Stroke and Heart Attack
? Boost Immune System naturally
? Body Hydration
Tea can be enjoyed any time of the day. It is usually an essential beverage to have, especially at noon and tea time! One way to accompany Tea are nuts, which will provide you a huge pack of nutrients.
Check out our article on Nuts and Snacks to find some good nuts to accompany your Tea with. If you need a good recommendation, you can read more on our review on Just Nuts for a healthier choice snack.
Another way to pair your tea is to drop some honey in to replace sugar. You can read more on our list of Manuka Honey, packed with top health benefits, or our list of local Honey brands you can find, for a sweeter option.
Here we have gathered below the best tea brands in Singapore for you to check out to get your beauty tea fix.
Highlights:
100% natural and organic
Harvested by hand
Freshly sourced
Rich flavours
Established in 1981 in a quaint town in China, Imperial Tea House has been providing customers worldwide with quality teas. Years of research has led the brand to create only the best blends that cater to every craving there is.
Imperial Tea House ensures that all their tea leaves are delivered to you fresh, so you can maximize the enormous health benefits that come with drinking tea! In addition, all of their tea leaves are freshly sourced, and undergoes careful inspection at every step of the way. Being harvested by hand, the tea that is produced is sure to be richer in flavour.
Imperial Tea House also prides itself on serving organic tea that is environmentally friendly. The leaves are grown without the use of chemical fertilizers or pesticides.
With a wide variety of black tea, Chinese tea, as well as herbal tea, you will definitely be able to find a tea blend that suits your taste buds! So, head over to Imperial Tea House's website to order now and get it at your doorstep with free delivery for purchases above $60!
Address
Commermz@Irving 1 Irving Place #02-26
Contact Information
+65 96354892 | hello@imperialteahouse.com.sg
Business Hours
Monday to Friday: 10 AM to 8 PM
Saturday to Sunday: 11 AM to 5 PM
Highlights:
Great gifts
Affordable
Healthy options
Asmara Singapore is a proudly Singaporean and food scientist curated brand that uniquely combined elements of our multicultural heritage.
Their products are a fusion of centuries-old traditions such as TCM, Ayurveda, and Jamu with modern nutritional science to get the benefits from both areas of study.
They only use 100% natural ingredients and their products are developed and tested by certified food scientists. The brand is HACCP and ISO22000 certified with Tasty Singapore endorsement. In addition, their products are also tested for heavy metals and harmful bacteria.
To create drinks that are good for you, Asmara Singapore offers drinks such as Simha Herbal Infusion Tea. This drink is made of premium and ethically sourced herbs. Also, it fuses the Sri Lankan tradition (Ranawara and Bael Vilva flower) and Singaporean culture (Lemongrass, Liquorice, Tulsi Basil, and Ginger).
The beautiful packaging that wraps the tea leaves also makes Asmara's products great gifts for your friends and family! So, instead of buying bubble tea for your friends when you visit them, you could perhaps opt for a healthier alternative from Asmara Singapore instead!
| | |
| --- | --- |
| Address | Temasek Innovation & Entrepreneurship Center, Temasek Polytechnic Blk 30, #03-30 (Level 3, 21 Tampines Ave 1, Beside TP McDonalds, 529757 |
| Contact Information | +65 8157 5217 |
| Business Hours | Monday to Friday: 10 AM to 5.30 PM |
Highlights:
Wide variety of tea
Conducts workshops and events
Interesting flavors
Pekoe & Imp was born out of a love for pure, unadulterated teas. The brand sources for specialty single-origin teas and artisanal tea wares that they would only use themselves.
It offers a wide variety of green, black, and white teas, as well as oolong and dark teas. Tea enthusiasts would be glad that Pekoe & Imp also offers special treats like Taiwanese Pinglin white peony, aged tree Song Zhong Dancong, as well as Pinglin Bi Luo Chun.
The brand also conducts workshops, pop-ups, and tea & teaware selection classes. Through these, Pekoe & Imps team hopes to share their tea experiences with like-minded tea lovers. They also hope to change our perspectives of how tea can be experienced with a fusion of traditional tea ideas with modern practicalities.
| | |
| --- | --- |
| Address | 106 Jalan Jurong Kechil Singapore 598604 |
| Contact Information | +65 8125 8410 | letsdrinktea@pekoeandimp.com |
| Business Hours | NA |
Highlights:
Healthy teas
Greek red saffron tea
Caffeine-free options
Botana & Tea is a local tea brand that specializes in Greek red saffron tea. The brand is dedicated to exploring all the wonderful aromatic Greek herbs, Greek olive oil, Greek herbal tea, Greek honey, and more to bring its customers the best Greek products.
The team at Botana & Tea believes that good produce encapsulates a healthy body and healthy mind. Therefore, they focus on natural remedies with benefits such as easing ailments and boosting the immune system.
Their best-selling product features Saffron, which is a powerful antioxidant with over 14 vitamins and minerals. So, you will definitely want to try its products, which include tea blends such as Rosemary Thyme Saffron Tea!
Botana & Tea also has caffeine-free options for those who are looking to cut down on caffeine! Do check them out!
| | |
| --- | --- |
| Address | NA |
| Contact Information | Contact them here |
| Business Hours | 9 AM to 6 PM, Daily |
Highlights:
Creative blends
Option to create your own tea blends
Handcrafted tea blends
A.muse Projects is a specialty tea company from Singapore inspired by the simple beauty and subtle elegance of tea. The team at A.muse Projects hopes to share their passion for tea by creating a distinct experience through their handcrafted tea blends.
If you are a lover of creative blends, the tea from A.muse Projects will be perfect for you. With selections like Botanic Gardens (Green and White tea, Rose Petals, Lemongrass, Elderflower), Asian Sunset (White tea, Jasmine, and Rose Petals) as well as booze and coffee-inspired drinks like Rose Moscato, Scotch, and Caramel Macchiato Teas, you will be spoilt for choice!
The brand even allows you to create your own blends! The wonderful tea ladies at A.muse Projects will work their magic to help you work out the right proportion of base and botanical chosen to create a balanced blend! If you have any special requests, you can indicate them in the notes segment, and they will take note accordingly!
| | |
| --- | --- |
| Address | 3020 Ubi Ave 2, Singapore 408896 |
| Contact Information | +65 8784 6603 |
| Business Hours | NA |
Highlights:
A repertoire of 68 tea salons across 19 countries
Multiple locations
A wide selection of tea
We are all familiar with TWG Tea. The homegrown local brand needs no introduction has since gone international. Making its mark in the culinary world, it has 68 tea salons across 19 countries.
TWG Tea offers over 800 types of exclusive tea blends. Some tea blends they have are Citrus Tea, Earl Grey, Floral Tea, Jasmine Tea, Mint Tea, and more.
In addition to its tea blends, TWG Tea is also well known for its tea pâtisseries, tea-infused delicacies, and other tea-making paraphernalia like tea tins, teapots, tea strainers, tea trays, and more. If you have yet to check them out, be sure to do so!
Highlights:
Customizable tea pouches
Wide range of artisan blends
Handcrafted tea
Collaboration Tea is a local brand that supplies customizable premium tea with inspirational quotes. The brand was established in 2015 by a pair of friends. They hope to bring words of inspiration in a cup to people all around the world. With their love and appreciation for tea, the two individuals hope to bring a tea culture first to Singapore, their home.
At Collaboration Tea, you can choose from a wide range of artisan blends, with each one carefully handcrafted by the team. It offers blends such as Apple, Black Tea, Ceylon, Green Tea, Lychee, Osmanthus, Peach & Apricot, and more.
If you are looking for door gifts for an event or wedding favors, we recommend Collaboration Tea's customizable tea pouches. You can customize these gifts accordingly to the theme of your event to impress your guests.
| | |
| --- | --- |
| Address | NA |
| Contact Information | +65 9003 4737 |
| Business Hours | NA |
Highlights:
Locally inspired teas
Affordable
Established in 2014, ETTE TEA COMPANY celebrates being a boutique producer of gourmet loose tea leaves, tea bags that are excellent in taste and much more personal. Their tea blending focuses on palate experimentation, balancing nice tea with other ingredients to form a unique product.
The contemporary tea company specializes in tea blends with Singapore and Southeast Asian taste. Their main shop and atelier are nestled in a quiet stretch of Kreta Ayer Road in Chinatown.
Careful thought and precise tastings are involved leading to the creation of each blend. Combining the heritage and tradition of tea with modern and classic design, they aim to make cool tea blends and presents fine single-origin teas to aficionados everywhere.
Starting with the original Pandan Chiffon tea out of a home kitchenette, the brand now offers an exceptional collection of gourmet tea and artisan tea blends. They also have cafes and restaurants in Singapore, Brunei as well as The Maldives. ETTE TEA COMPANY has around 17 local-inspired tea in its Singapore Flavours range, which is constantly expanding. Ranging from $9 to $30, the prices are depending on their sizes.
Address
333 Kreta Ayer Road #03-25 Singapore 080333
Contact Information
+65 90127600 / +65 69085354
Business Hours
Monday to Friday: 10.30 AM to 6 PM
Saturday: 10.30 AM to 4 PM
Highlights:
A wide selection of tea blends
High-quality gourmet tea
Experimental ingredients
Gryphon Tea Company traces its origins to a family-owned tea importer founded in Singapore almost 100 years ago. In 2006, a fourth-generation member of the family struck out on his own, and the company quickly gained a following for its maverick ideas and heady enthusiasm.
The company is on a mission to make the highest-quality gourmet teas. This is ideal for those who are always searching for new taste experiences. Built with passion and fuelled by their love for Asia's rich culinary culture, Gryphon's tea is crafted with exotic and experimental ingredients to bring out a unique and flavourful pedigree.
Their blends are a commitment to quality, which they use only the world's finest tea leaves and herbs. They have tea blends such as Black tea, Green tea, White tea, Rooibos tea, Pu Er tea, and Fruit tea.
Gryphon Tea's growing selection of tea recipes has received numerous industry awards, and now available to consumers worldwide through online shopping and our network of dedicated distribution partners.
Highlights:
Singapore's oldest tea producer
Served at more than 260 retail locations
Affordable
The 1872 Clipper Tea Co. is a heritage tea brand focused on providing fresh and high-quality tea products through exciting customer experiences at an affordable price. The tea blends offered them are widely appreciated for their consistency in quality, signature aroma, and refined taste.
As Singapore's oldest tea producer, The 1872 Clipper Tea Co. has been going strong for five generations. They have signature drinks like Cold-brew Black Tea with Apple slices and Cinnamon Syrup and Tea Latte sweetened with Gula Melaka.
Their teas are served at more than 260 retail locations in Singapore. So, you can enjoy a freshly brewed cup of their tea along with your meal at cafés, restaurants, and hotels, such as those under Dome, the Les Amis Group, and the Unlisted Collection Group.
Highlights:
Singapore's first Blooming Tea Specialist
Health and beauty benefits
Bespoke solutions available
Pétale, which means petal, is a French-inspired local brand. As Singapore's first Blooming Tea Specialist, the team behind has a passion for providing a great memorable tea experience, bringing joy and excitement to each tea party.
Pétale Tea's blooming tea, also known as Artisan Flowering tea, is an exquisite hand-sewn tea ball. It is made of organic Maofeng green tea and dried flowers such as Jasmine, Osmanthus, Gomphrena, Marigold, Rose, Lavender, and Lily. ​
Known for beauty and health benefits, Pétale is a great gourmet gift for any occasion or pampering yourself. It also offers bespoke solutions for Corporate Companies, Door Gifts, Wedding Favours, Festive Hampers, Cafes, Restaurants, Spas, and Boutiques, as well as Live Stations. So, if you are looking for a unique, healthy, and meaningful gift, keep Pétale Tea in mind.
| | |
| --- | --- |
| Address | 70 South Bridge Road #04-01 Prosperity Building, Singapore 058700 |
| Contact Information | +65 6909 5393 |
| Business Hours | See here |
Highlights:
An exquisite range of organic loose leaf teas
Health benefits
Caffeine-free
The Tea Story is Singapore's exceptionally luxurious tea brand that is recognized globally for its exquisite range of organic loose leaf teas to provide healthy and caffeine-free floral and fruit teas as the preferred choice. The brand also seeks to revolutionize the tea industry to deliver an extraordinary and unparalleled tea experience.
All of The Tea Story's tea blends use fresh, organic flower petals and fruits. They also take pride in sourcing all around the world and working with single-estate farmers.
Filled with fruits and flowers and packed with vitamins and antioxidants, the tea blends offered are great for cleansing the body of toxins and strengthening our immune system.

Besides, with their loose leaves, The Tea Story's teas can be consistently enjoyed over a period of time without any change in their flavor and aroma.
Address
65 Ubi Road 1, #02-53, Oxley Bizhub, 1, 408729
Contact Information
+65 6909 5933
Business Hours
Monday to Friday: 10 AM to 7.30 PM
Saturday: 11 AM to 3 PM
Highlights:
Cute packaging
Creative tea blends
Tea sourced from all over the world
Kittea creates gourmet tea blends inspired by cats from around the world. From the exotic spice of Siamese to the robust flavor of British Shorthair, you will be delighted with the choice of tea blends you can find here.
Founded in 2016, Kittea began due to a Singaporean girl's love for tea and cats. With help from a small team, Kittea creates gourmet tea blends with flavors inspired by each cat's unique personality and heritage.
The brand's teas are sourced from all over the world. You can also be sure that they use zero preservatives and artificial flavorings in their blends! With a strong belief in playfulness, creativity, and curiosity, the brand always seeks to create flavor experiences that surprise and delight. So, you will always find cute designs, packaging, and creative tea blends here!
| | |
| --- | --- |
| Address | NA |
| Contact Information | hello@mykittea.com |
| Business Hours | NA |
Highlights:
Ethically sourced
High quality
Complex flavour profiles
The teat at T2 Tea travels the earth to find the best quality tea to deliver a delicious cup. There is no shortcut when it comes to delivering a top-quality drop time after time.
Every single tea they produce is tested for 450 different compounds and residues to ensure that what ends in your cup is the highest quality tea. T2 Tea uses whole tea leaves rather than low-grade tea dust or fannings. This means you will get a brew with a multitude of flavor notes and subtle changes.
Also, T2 Tea is always striving to reduce footprint and giving back to mother nature. T2 Tea revolutionizes the way they do their business to ensure that they as sustainable and environmental-friendly.
Buy T2 Tea here!
Highlights:
High-Quality Tea
Healthy drink
Cold Brew Tea
Teapigs is a brand that is run by Simply Active which sources premium, clean nutritional products from around the world for distribution in Singapore and throughout Asia. They aim to provide products that are best in class, catering to everyone. From pro athletes to newbies, this is ideal for those looking for high-quality supplements and a healthy diet.
The brand's popular cold brew tea comes in three flavors. They have Cucumber & Apple, Lychee & Rose, as well as Peach & Mango. Using high-quality whole leaves, you get a full-flavored and full-bodied tea that is delicious and thirst-quenching. Besides, Teapig's natural cold brew infusions have been specifically made to brew easily in cold water, making it easier than ever to get your 2 liters a day!
The 100% natural cold brew tea contains no artificial flavorings and is super light and refreshing. Also, the brand uses plastic-free plant base packaging.
Get Teapigs here!
Highlights:
Healthy drink
Nutritious
Naturally sweet taste
Teatics commit by studying the taste and function of each tea leaves. Also, they share all their secret recipes and producing methods with the public. They believe in the goodness of each leaf that can be used to relieve chronic diseases and buy time to restore a healthy life.
The brand believes that Teatic's guava leaf tea brings strong vitality to people. All leaves and flower buds are collected and classified by hand. The roasted old leaves, young leaves, sprouts, and flower buds are ground according to the requirements of fine, medium, and coarse. It is packed into small tea bags in accordance with Teatics's secret recipe's ratio.
Teatics Guava Leaf Tea provides a naturally sweet taste and is packed with nutrition. There are no artificial colors and no preservatives added to their teas. This is a great option for those who are health conscious.
Get Teatics Guava Leaf Tea here!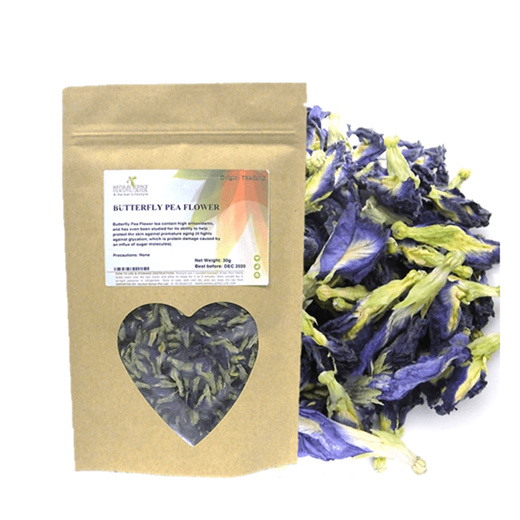 Highlights:
Many health benefits
High in anti-oxidants
Also known as Asian Pigeon Wings, 'Butterfly Pea' is an amazing brain-boosting herb native to tropical equatorial Asia. A traditional Chinese and Ayurvedic medicine, Clitoria Ternatea has been consumed for centuries as a memory enhancer, brain booster, anti-stress and calmative agent.
Known for its luminous indigo color, butterfly Pea has traditionally been used as a vegetable in cooking, to color deserts, or to make a strikingly vibrant colored tea. Many beauty products are made with Butterfly Pea because of the effects the flavonoid and quercetin have on skin and hair.
Butterfly Pea Flower tea contains high anti-oxidants and has been studied for its ability to help protect the skin against premature aging. Traditionally, the Butterfly Pea plant and tea have been used to treat general pain, reduce inflammation, common eye issues like conjunctivitis, induce brain health, and increase vitality.
If you want to test the great effects of Butterfly Pea Flower Tea, check out Herbal Sense today!
Buy it here!
Highlights:
Established since 1979
Wide variety of tea flavors
High-quality tea blends
Raintree was established in Singapore in 1979 by the founders due to their love and passion for gourmet Tea & Coffee. At the time there was an abundance of opportunity present to introduce more discerning types of gourmet food & beverage, and since then Raintree has grown into a specialist purveyor of teas, coffees, and bakery products
Quality has remained their founding principle, since their humble beginning in 1979. Their history and experience enable them to continually source, manufacture and present their selection of exquisite Teas, Coffees, and Confectioneries from around the world.
Raintrees supplies worldwide to 5 Star hotels, high-end airport retailers, duty-free stores, specialty gift shops, and other exclusive travel-related venues.
To try out Raintree's tea, buy them here!
Highlights:
Wide variety of tea blends
More than 150 years of experience
Whole leaf teas
The Tea Shelf has been a part of the tea industry for over 150 years now and is only growing stronger. The Tea Shelf curates an exquisite range of whole leaf teas, retailed in loose-leaf form. The brand sources fresh, premium teas across the finest estates of India. They deliver to your doorstep straight from the estates to your cup.
The Tea Shelf's Canary Gift Box is a pleasant gift suitable for every occasion. The gift box includes 3 signature loose leaf tea blends. You can choose from 2 sets of flavors that have been specially curated for you, featuring the most popular classics such as Earl Grey Tea, Rose Tulsi Green Tea, as well as Chamomile Green Tea!
Get The Tea Shelf's Sampler Set here!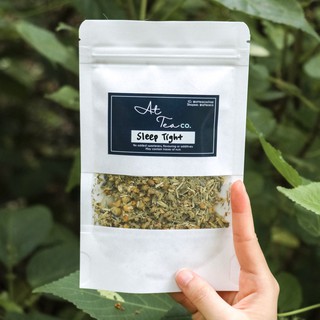 Highlights:
Artisanal tea blends
Herbal blends
Soothing and relaxing
At Tea Co is a brand that specializes in artisanal tea blends. They have herbal blends that help to soothe your body and mind. All of their tea blends are natural.
They are made without artificial sweeteners, flavorings, as well as additives. In addition, they offer customization services. Simply message them on their social media pages to personalize and cater your blend to your unique needs. For those who are sensitive to caffeine, you would be glad to know that all of their tea blends are caffeine-free.
At Tea Co offers a wide variety of tea blends including calming chamomile, happy oat straw, soothing passionflower, lavender, and magical valerian. They believe that a great herbal blend can help to reduce stress and support a good night's rest.
Try At Tea Co here!
Highlights:
Great for gifting
Wide variety of flavors
Organizes workshops, parties, events
Antea Social is a brand that prides itself on sourcing its teas directly from its tea makers and farmers. This way, you always get fresh teas straight off the farm! The tea leaves are baked with essential oils for 12 hours! The tea leaves and oils then remain in the oven for up to a week, but this time-consuming process produces a batch of tea that can be re-steeped multiple times without losing flavor.
The brand sells three types of tea: green, oolong, and black tea. But within each tea type, you can choose from a wide range of flavors such as rose, vanilla, mint, peach, and more. You also do not have to worry about freshness because each bottle of tea leaves comes well packed in an airtight glass bottle that is functional yet aesthetic!
Besides selling teas online, Antea Social also organizes workshops, hosts private parties and pop-up stalls, and crafts bespoke blends that make great gifts for weddings, parties, or corporate events.
| | |
| --- | --- |
| Address | 9 Tyrwhitt Rd, Singapore 207528 |
| Contact Information | +65 6493 0120 |
| Business Hours | 11.30 AM to 7 PM, Daily |
To Conclude
There you have it, some of the best tea brands that you can find in Singapore. Whether you are a fan of classic English Breakfast Tea or more exotic flavors or tea selections, you will be able to find a brand that offers something that you would enjoy. One thing is for sure, though, Singapore is the only place where you can get innovative teas in flavors like nasi lemak and pandan chiffon!
As much as your love for Tea goes, there is no harm in trying out other beverages. Perhaps you might want to start by appreciating Bubble Teas. Check out our article to join our BBT gang on our list of bubble tea chains in Singapore to indulge in! We also have a list of Bubble Tea delivery if you are lazy to leave the comfort of your home.
And also, have you ever wondered why Team Coffee gets addicted to their caffeine needs? If you are curious, you can always grab some instant coffees available near your convenience. Read more in our articles on instant coffees to try out some notable brands! Then, you will understand why there is a clear division between Tea and Coffee lovers.
Related posts
Subscribe for newsletter
* You will receive the latest news and updates on Singapore's best trends!