10 Best Playpens in Singapore for Your Little Ones [2022]
Joanne, 3 years ago
10 min

read
4803
For the mummies and daddies out there, playpens are extremely useful and functional. If you are a parent and do not know what a playpen is, you are missing out! Playpens are high-sided, enclosed play areas that are targeted at your little ones. They are very popular because parents can put their baby in one knowing that their little one is safe and will not wander off. Your young child can play safely alone without constant supervision! Does that sound like something that you would want? Then, read on as we explore the best playpens in Singapore for you and your little ones!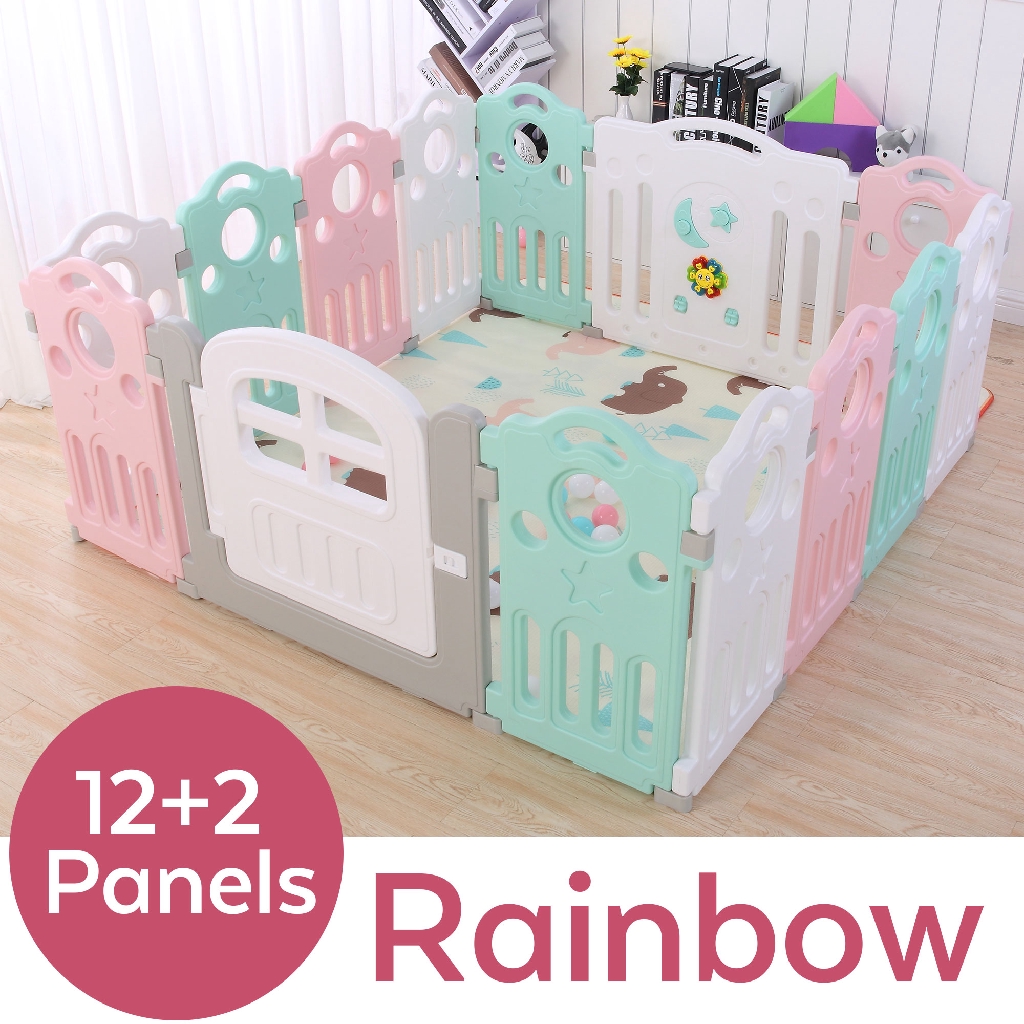 Highlights:
Extra thick design
Anti-slip suction base
Educational
Comes with a safety lock
This Musical Baby Playpen by Biofinest is one of the most popular and highly raved playpen that you can find in Singapore. Its 75 cm height is scientifically and ergonomically designed for kids. Therefore, it allows kids to stay safe inside without climbing over. At the same time, it also allows parents to monitor from the outside. Unlike other playpens on the market, this playpen comes with a 3.8 cm enlarged and thicker material. So, it is more durable and has greater stability.
This playpen also comes fitted with an anti-skid cushion pad as well as an anti-slip strong silicone suction base. It is thus designed to hold the fence firmly without collapse. Most importantly, the playpen is made with 100 % food grade non-toxic HDPE, with standard 3.5cm opening and gaps, to protect your kids and prevent them from accidentally getting themselves stuck in parts of the playpen.
All structures of the playpen come with smooth anti-scratch surfaces, round corners, and has no sharp edges. There is even a spring-release external auto-lock designed for parents to keep the child safe inside. It is also to prevent the door from opening from the inside.
The Musical Baby Playpen is also an educational zone for your little one. It is equipped with multiple functions such as lights, story-telling, nursery rhymes, sounds, patterns as well as shapes! The multicolored baby playpen also blends perfectly with any modern home!
Buy it here!
Highlights:
Wide variety of colors to choose from
Tool-less installation
Made of eco-friendly plastic
Zhangjb's Multifunctional Indoor Play Yard is a great option for those who would like to have a playpen without having to use tools to build it. The playpen can be installed without tools! That in itself is a factor that many of us would consider getting it for. In addition, this play yard is made of eco-friendly plastic.
Available in a wide variety of colors, you will definitely be able to find one that fits the design of your home. The fences are also detachable, which means that you can form the playpen in any shape you like. So, if you are looking to provide your kids with a space to be active while being in a colorful, clean, and safe environment, this playpen is for you!
Buy it here!
Highlights:
Foldable design for easy storage
Non-slip rubber pad
Educational design
Raab's Foldable Playpen is another popular option among parents in Singapore. Its baby fences are made of high-density polyethylene plastic and will not harm your baby's health. The non-slip rubber pad on the bottom of the panel also makes it difficult to tip over and move. Each panel of the playpen is double-fixed, and there are no gaps between the panels. So, you do not have to worry about your baby's hands being caught. The safety lock on the outside of the door also prevents the baby from opening the door and running out of the fence.
In addition, the package is equipped with extra suction cups that can be attached according to your needs. The playpen is also ASTM certified, which means that it is quality and safety assured!
The toy panel is not only functional. It is also educational! Lovely flower shapes and bright colors can attract your baby's attention. The swivel design enhances the coordination of your baby's hands as well.
This playpen by Raab is also convenient as it is foldable. You can easily fold and move it to any location you would like to use it. It can also be stored in the closet, under the bed, and other places!
Buy it here!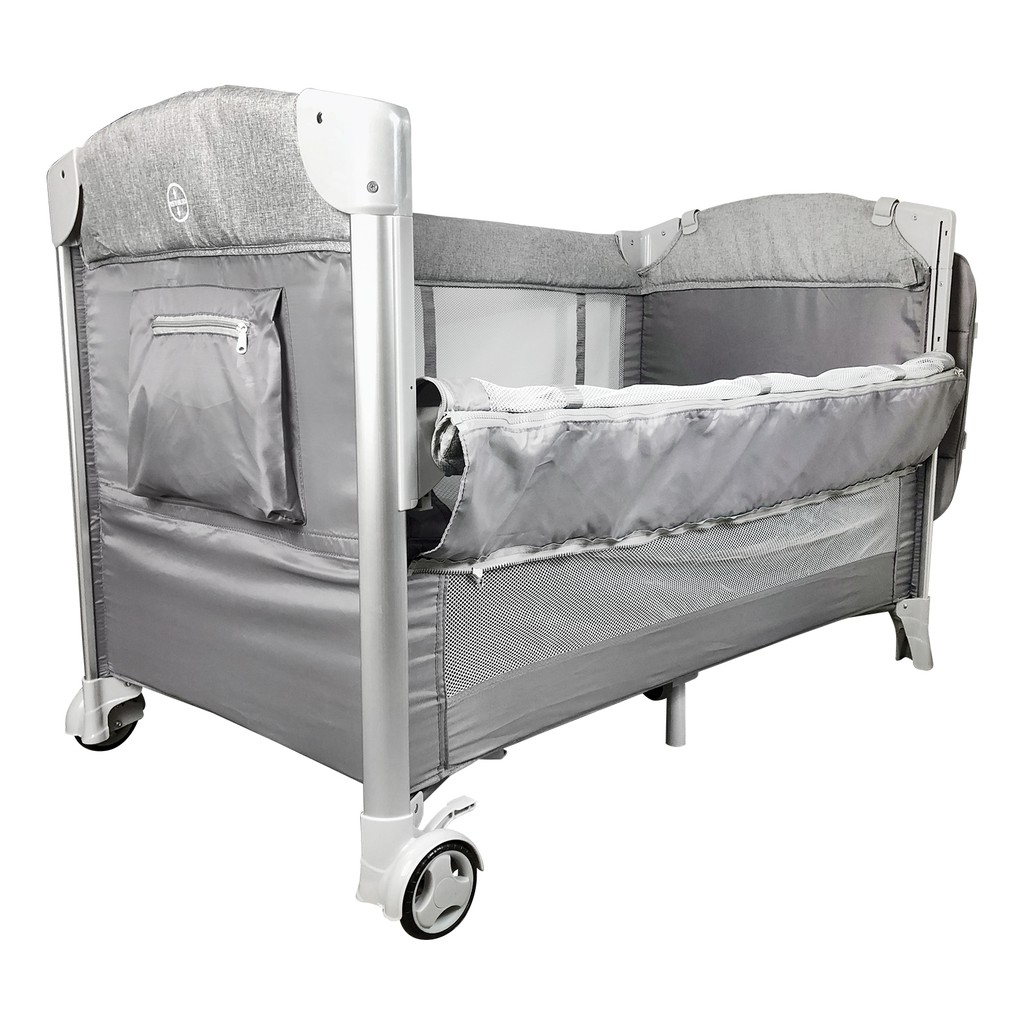 Highlights:
Two wheels with brakes for easy movement around the house
Easy to fold and unfold
Carrying bag included
Fulfills European Standard EN716 and made of 100% safe materials
Bonbijou's S3 playpen is a co-sleeping crib, created and designed to allow you to sleep next to your baby without sharing the same bed, as recommended by baby experts. It can travel with you everywhere thanks to the compact fold and travel bag. The best thing is that you no longer have to reach over to pick up your baby in the crib and you can sleep together peacefully with your child.
With safety in mind, a safety strap is provided to secure the playpen to the adult bed in place when it is used in the co-sleeping mode, preventing any shifting. It is also made with a high-quality soft fabric so that your child will sleep in comfort.
Bonbijou's playpen also comes with a variety of convenient features. It comes with a changing table included for easy nappy changes as well as pockets for storing accessories on the short side of the playpen.
Buy it here!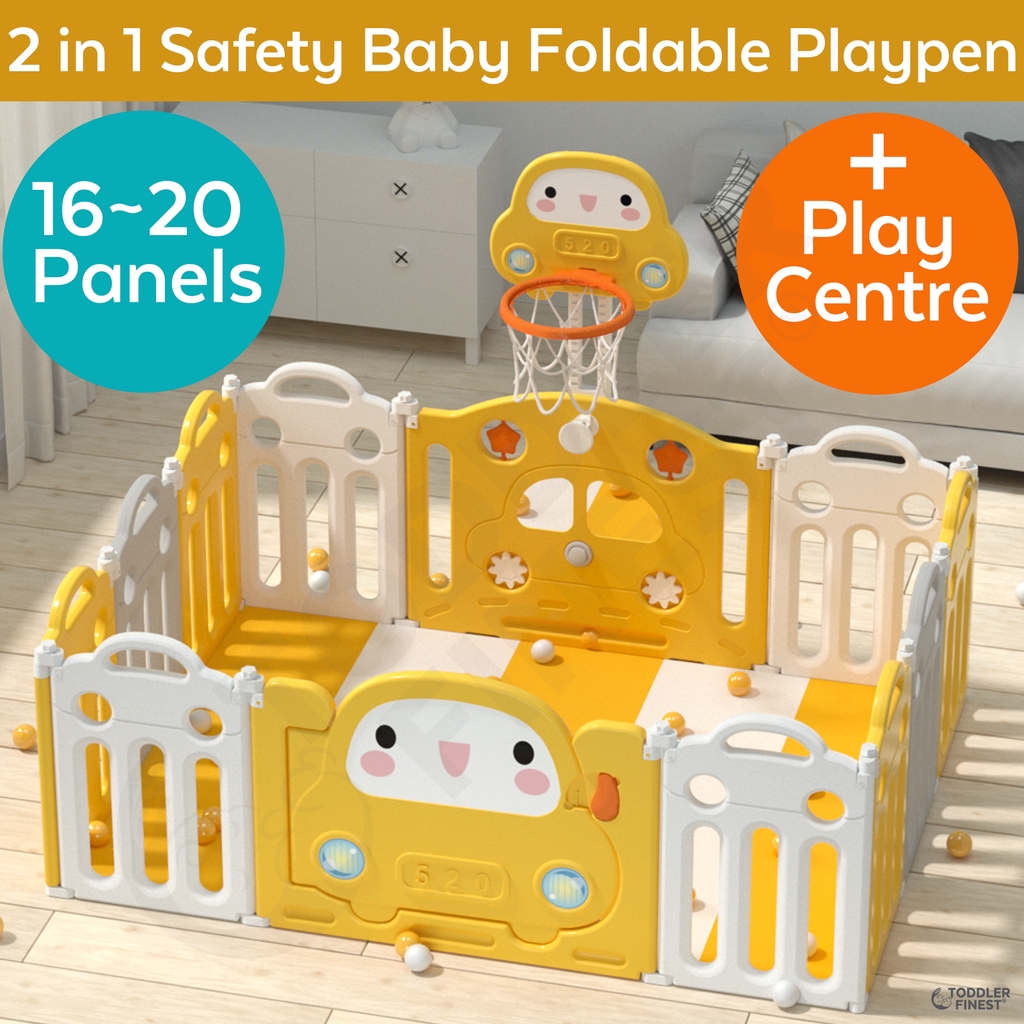 Highlights:
Comes with loads of features and functions
Foldable design
Adjustable size and shape
This playpen by Biofinest comes in a lovely car design with bright colors that can attract your baby's attention. Equipped with multiple functions such as sports activities, basketball, hula hoop, star wheels, rotation wheels, reflecting mirror (child-safe, non-glass), sounds, learning patterns, and shapes, your child will definitely have loads of fun in this playpen!
In addition, the playpen's swivel design may help to enhance the coordination of your baby's hands. The spacious fence design also allows your baby to learn how to crawl and walk.
This flexible playpen can also be adjusted in terms of size and shape, making it convenient for storage and transportation. You can put it in any corner of the house or in the car, and expand or reduce the size according to your space. Its smooth surface is also easy to clean and maintain! You can easily wipe off stains with a damp rag!
Buy it here!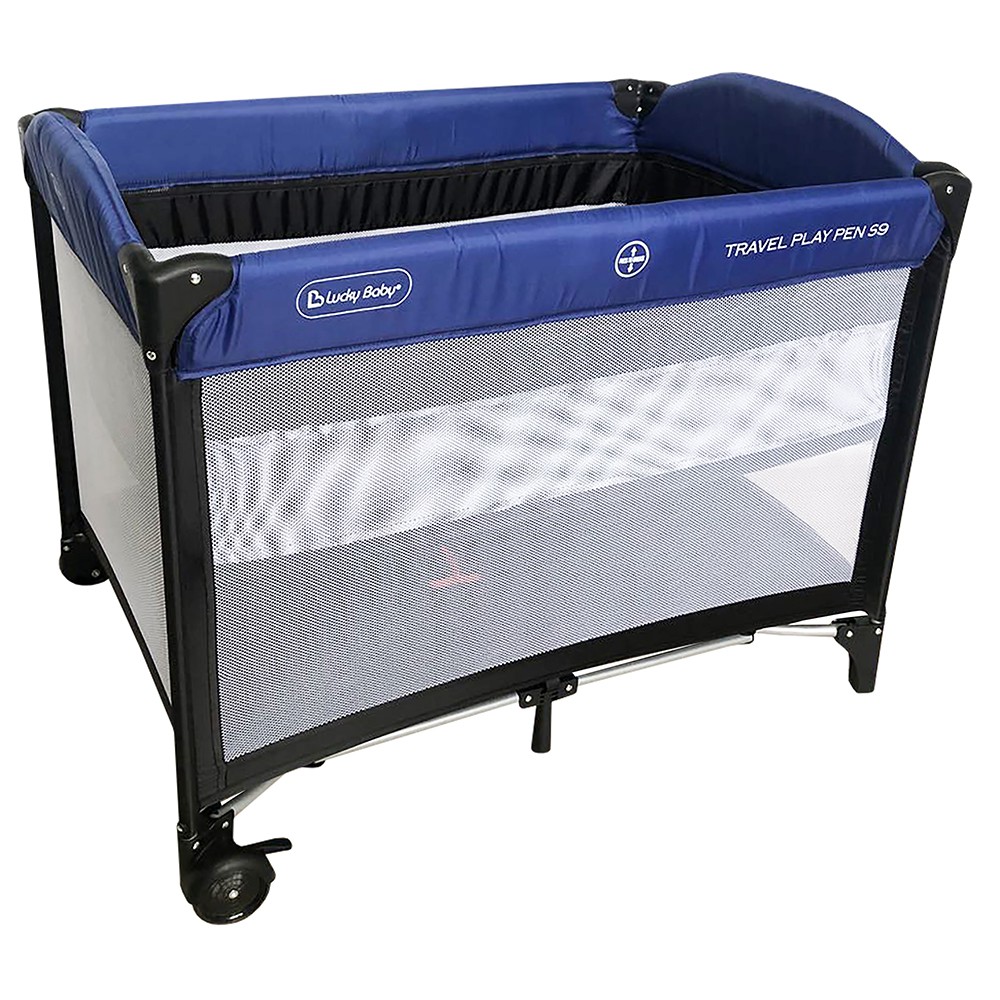 Highlights:
Reliable, durable, and built for endurance
Compact design
Large area
2 colour options to choose from
This travel playpen by Lucky Baby offers all the baby-care essentials for you to make a cozy environment for your baby and a practical care-station for you and your partner.
This convertible travel playpen adjusts easily to keep your growing baby comfortable. With plenty of room to stretch outs, the full-size bassinet especially for newborns. Switching to full playpen mode gives your child a wonderful place for him or her to nap or play. It can be switched from side to side, making it easy to get the perfect position when setting it up in different rooms. Thanks to the extra-large mesh sides, you will be able to easily check-in from across the room!
For those of you who have to travel around frequently, this playpen may just be your best friend! The travel playpen is convenient and compact to fold for storage and take on the road.
Buy it here!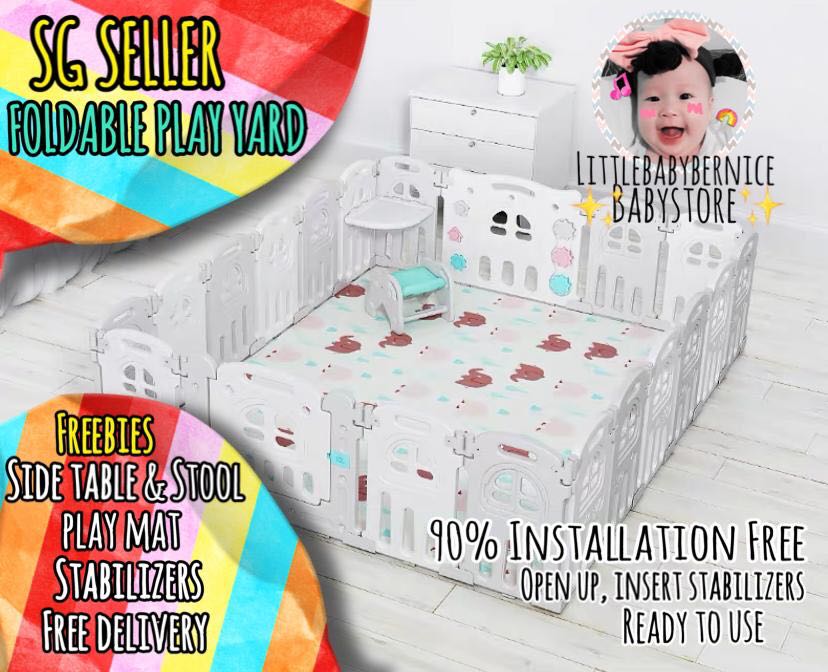 Highlights:
Affordable pricing
Sturdy design
Comes with a stool and side table
This foldable play yard is one of the most affordable play yards out there that also comes with a play mat. The sturdy play yard comes with a side table and a stool for your convenient use. The reviews left by satisfied customers also point to the fact that the play yard is easy to install and made of high-quality materials.
For those of you who are lazy to install, you would be glad to know that this playpen is 90% installation-free and 100% tool-free installation. With two available colors, you can choose one that you and your baby will love!
Buy it here!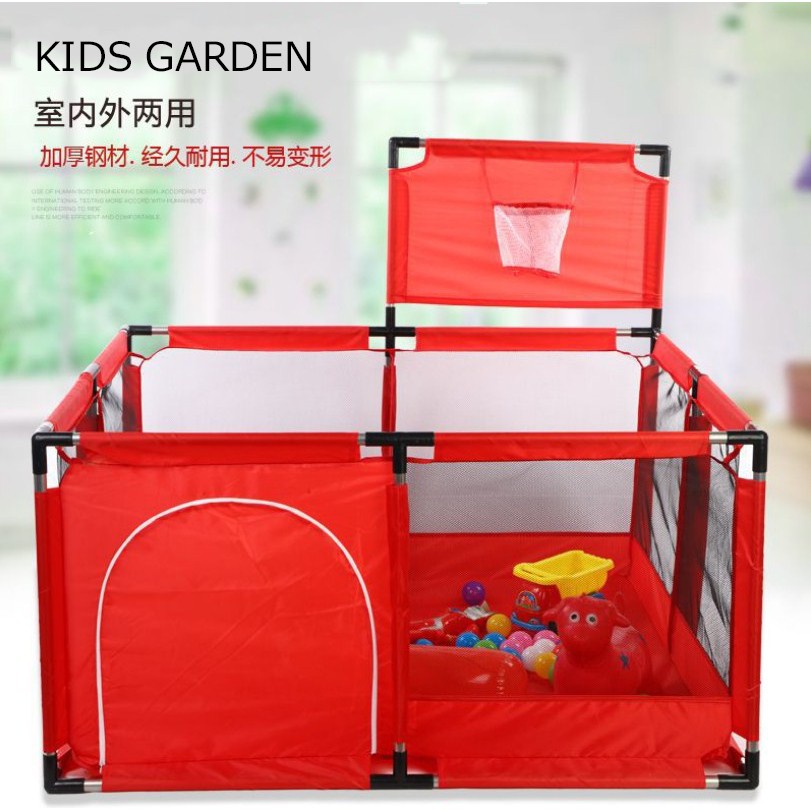 Highlights:
Easy to clean
Foldable design
Sturdy and strong
Fancy training the next Jeremy Lin? Then this playpen with a basketball ring is the perfect fit for you! It comes with a basketball net so children can play actively with their friends. The playpen covers a large area that is spacious enough for your kids to play. There is a big space for them to learn to stand, walk, crawl, and even lay down.
Highly stable and sturdy, the playpen is also water-resistant, making it perfect for indoor and outdoor use. Thanks to the folding design, the playpen is easy to assemble and disassemble and can be used any time and anywhere!
The Visual Ventilation Window fitted onto the playpen also allows everyone to look clearly into the playpen to observe the baby. Designed with ventilating mesh walls and a nylon bottom for easy clean-up, you can simply hand wash and wipe down the playpen with a damp cloth and soap to keep it fresh and sanitary!
Buy it here!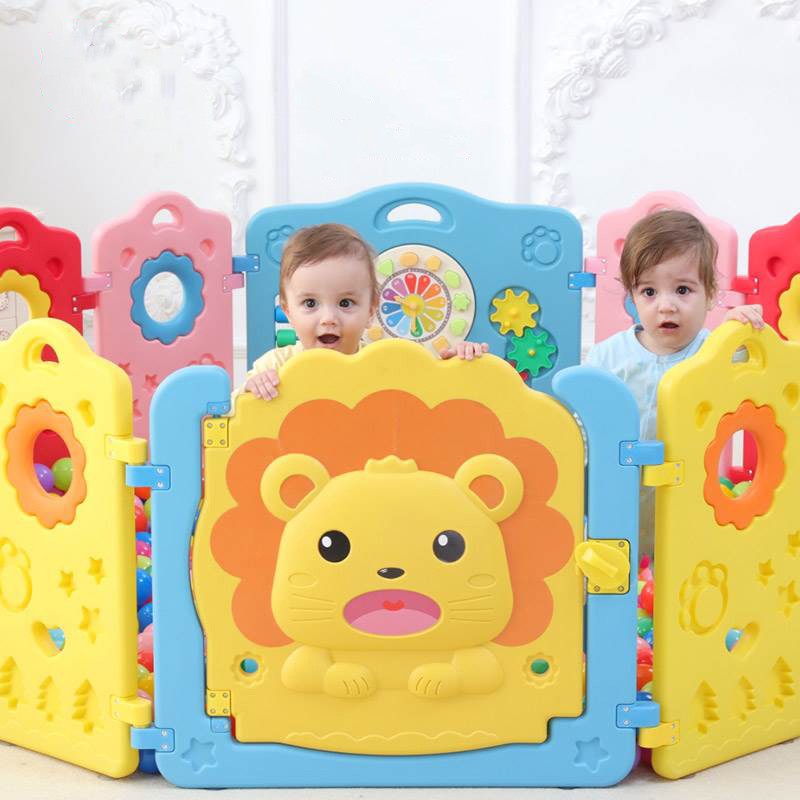 Highlights:
Durable design
Sturdy construction
Non-toxic and safe materials
This baby playpen by MummySingapore consists of many beautiful panels. The materials used to construct the playpen are also certified and passed multiple tests, deeming it safe and non-toxic, you can rest assured as your child plays in it.
This playpen features colorful panels, attractive toys, as well as a swinging hinged door with a safety lock. The swinging hinged door is equipped with a safety lock to keep your kids safe in the playpen.
The design of the playpen also helps to create interest and encourage mobility for your child. With stoppers at the bottom, this playpen is also extremely sturdy and durable!
Buy it here!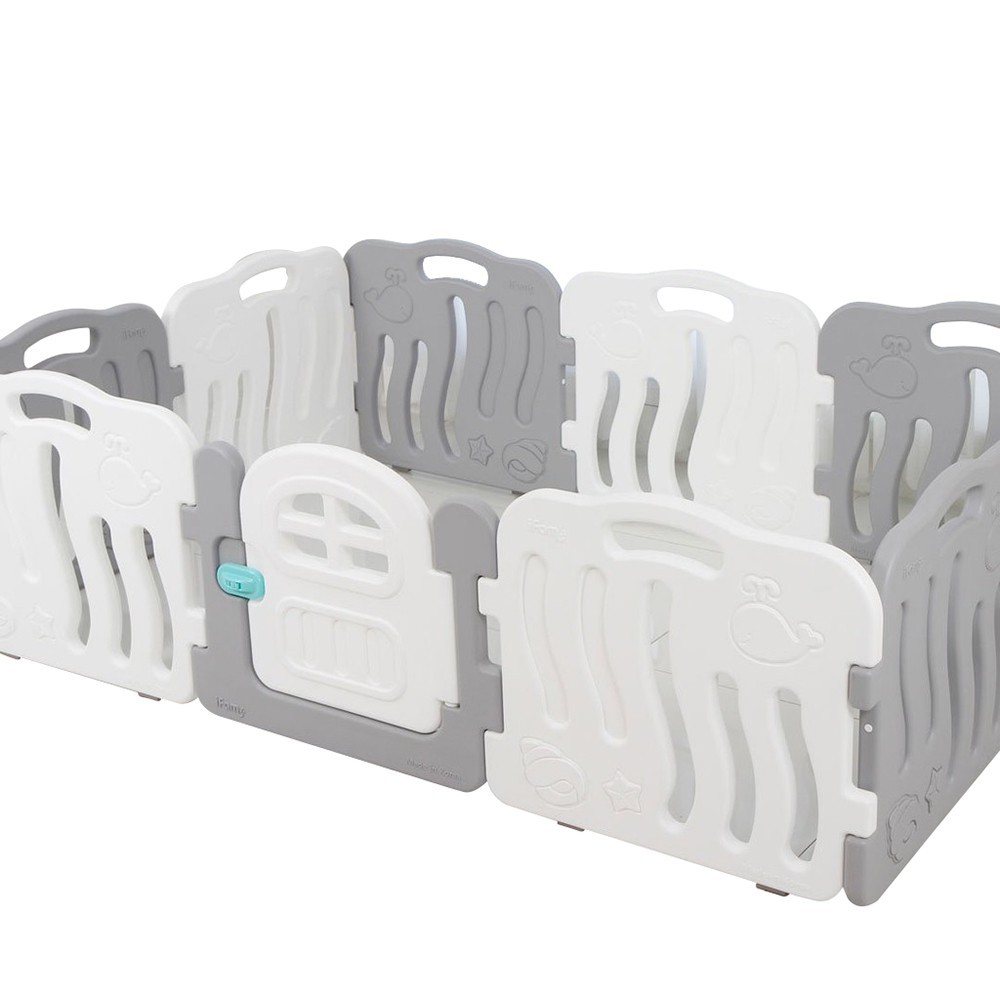 Highlights:
Thick play mat
Compact design
Safe materials used
IFAM's Play Yard comes in a compact design and with ocean prints such as whales, starfish as well as seashells. It is available in a set of 8 or 10 pieces. The play yard also comes with a door to create a safe and secured play area for your little ones.
As play yard panels tend to be licked, chewed, and sucked on by your little ones as they start to teeth, materials used to construct this play yard are also safe for your baby!
In addition, this play yard comes with a thick playmat that gives your little one better protection against trips and falls.
Buy it here!
If you find yourself constantly worrying about your child while you are off running a little errand, a playpen may just be your best bet! With this list of the best playpens in Singapore, you are one step closer to being at ease and stress-free! If you are looking for more baby products for your little ones, check out our article on the best baby bathtubs in Singapore here!
Related posts
Subscribe for newsletter
* You will receive the latest news and updates on Singapore's best trends!