17 Best Dehumidifiers in Singapore To Safeguard Your Health [2021]
Joanne, 1 month ago
16 min

read
277
You might be wondering, "Why the need of dehumidifiers?". Dehumidifiers are appliances that take moisture out of the air in your home. This is beneficial especially for family members with asthma and respiratory problems.
Likewise, you might be thinking that air purifiers can do the work of clearing moisture. But in fact, even with the best air purifier Singapore, it is just there to improve the air quality in your home.
Here we will list out some guidelines and why you should get one of these best dehumidifiers in Singapore.
Signs You Need Dehumidifiers
Moist or wet stains are present on walls or ceiling
Room is unpleasantly stuffy
Vapours can be seen on window.
Hint of unpleasant odours
Mould can be visible
Excess moisture
Key Benefits of Dehumidifiers
Dehumidifiers help to keep your air clean from water vapour from moisture in your home. These moistures usually triggers environmental allergens and possibly other common allergens.
As such, it becomes heavier and often more difficult to breathe when there are moistures in the air. This is why it can be difficult for people who have asthma. Further, you will get to eliminate house pests such as cockroaches and silverfish.
How Does It Works?
If you are wondering how this works, warm air currents is absorbed as it goes through coils of the machine, and vapours are left inside the dehumidifier. As this condensation collects, it falls into a storage tank attached to the dehumidifier. After, cooler and drier air is then released back into your home through the other side of the machine.
With that, here is a list of the best 10 dehumidifiers we have in Singapore to better protect your health and home!
Highlights:
20 Day Trial & Return
Free Delivery
5 Years Warranty
Energy Saving
COSMO specialises in providing its customers with a technologically advanced dehumidifier option that is constantly upgraded. Tested and proven for its efficiency, Cosmo's dehumidifier serves as the most popular and well reviewed dehumidifier in all of Singapore.
COSMO Prime® Dehumidifier helps to relief allergy triggers. Furthermore, it prevents the growth of mould and mildew which protects your home from moisture damage and humidity.
With many features available, this dehumidifier has functions such as Humidity Control, which helps you to extract moisture from high humidity. Furthermore, it is a child friendly and quiet operator which is ideal if you don't like having noise disturbance.
Not all, you don't have to worry about having to tend to the dehumidifier as it has the function of Continuous Air Circulation and Continuous Drainage Option. These helps to give continuous air circulation even when the desired RH is achieved and by connecting their 5 meter hose to avoid the hassle of emptying the water tank. A very impressive dehumidifier indeed!
The best deal is that they provide free islandwide shipping the next day. Also, their 20 day trial & return which you can return them your product if unsatisfied after trying for 20 days. Wait no longer and grab yours today!
Address
[Showroom Address]
Mactech Building, 2 Kallang Pudding Road, #02-04 S349307
Contact Information
+65 9831 3671
Business Hours
[Showroom Opening Hours]
Monday to Sundays 11am – 5pm
Closed on Public Holidays
Highlights:
Free 3 Years Full Warranty
Auto Humidity Sensor
Continuous Air Circulation
Combat unpredictable weather changes with Novita's LaundryFresh™ dehumidifiers. An effective and convenient laundry drying device, the dehumidifier absorbs moisture from your damp laundry while eliminating mildew smell and potential airborne germs.
Removing excess moisture in the air, the dehumidifier also eliminates musty smells lingering in the air and freshens the indoor air quality. Complete the LaundryFresh™ experience by complementing your usage with an AirCare™ Air Sterilizer NAS300. This sterilizer produces controlled ozone concentration levels to proactively sterilize as well as deodorize the surrounding air.
Beat the uncomfortable as well as persistently humid conditions and leave it to the dehumidifier to do your everyday laundry drying for you!
| | |
| --- | --- |
| Address | 8 Tagore Drive #04-00 Singapore 787624 |
| Contact Information | +65 6552 1023 |
| Business Hours | Monday to Friday: 9 AM to 5.45 PM |
Highlights:
15 liters of moisture per day
Smart screen
Real-time temperature as well as humidity display
The Xiaomi Deerma Smart Dehumidifier is capable of dehumidifying up to 15 liters of moisture per day. The device is equipped with a large smart screen that displays temperature as well as humidity in real-time.
In addition, you can quickly distinguish humidity levels in your home according to the screen illuminate different colors. Air humidity over 70% RH is highlighted in red, blue indicates comfortable humidity, and purple indicates low humidity.
Also, at the top of the device is a built-in command screen, thanks to which you can select a function based on your needs! The dehumidifier has an activated carbon filter that absorbs any odors, as well as hair and dust particles.
Highlights:
Air purifier cum dehumidifier
Automatic dehumidification control
Healthy air protect alert
Philips 2-in-1 dehumidifier Series 5000 provides premium dehumidification and purification performance. This makes drying clothes easier as well as keeps away air pollution and common allergens. This device is thus great for bringing you a healthier and comfortable living environment.
The dehumidifier's automatic dehumidification control allows you to pre-set the humidity level at 40%, 50%, 60%, 70% as well as 80% room humidity. In auto mode, fan speed will also automatically adjust to achieve optimal dehumidification performance.
In addition, the healthy air protect alert lets you know promptly when it is time to replace the filter. If the filter is not replaced promptly, the appliance stops functioning so as to avoid ineffective purification. So you are assured of healthier air always. Full water alert also warns you when the tank is full and shuts down the appliance to avoid water spillage
| | |
| --- | --- |
| Address | 622 Lor 1 Toa Payoh, Singapore 319763 |
| Contact Information | +65 6882 3999 |
| Business Hours | Monday to Saturday: 9 AM to 6 PM |
Highlights:
5 years warranty
3-in-1 (Dehumidifier + Air purifier + Laundry mode)
Real-Time display of ambient humidity
Europace's dehumidifier offers a 12 liter per day dehumidification rate and 3 filters that include a pre-filter, HEPA as well as a carbon charcoal filter. With it, you can enjoy clean and dehumidified air the whole day!
In addition, on top of the purifying function, it also features a laundry mode, auto swing mode and Continuous Drainage Option. Many users love this dehumidifier for its auto-shutoff and full tank indicator, so you can know exactly when it is time to drain the appliance.
Your purchase also comes with a 5-year warranty. So, you can rest assured that you are getting a product of quality!
| | |
| --- | --- |
| Address | 10 Changi South Street 3, Singapore 486147 |
| Contact Information | +65 6457 3678 |
| Business Hours | Monday to Friday: 10 AM to 4 PM |
Highlights:
Affordable
Smart functions
App enabled
The Momax AP1S Healthy IoT can dehumidify up to 750ml per day. Its purifying function includes H13 HEPA as well as Active carbon filters. In addition, the Momax dehumidifier comes with an app that allows you to control the device remotely. You can also control the device via Voice Control using Amazon Alexa or Google Assistant!
If you have allergies or asthma, you would also be glad to know that the Momax dehumidifier can tackle air pollutants and allergens as small as 0.3 microns. It also captures PM2.5, dust mites, Formaldehyde, VOCs, airborne particles as well as odour in the air.
At just below $200, this is definitely a worthy investment for its high quality, as well as smart functions! So, be sure to check Momax's dehumidifier out!
Highlights:
Low noise design
Come with castor wheels
Built-in Ionizer
Midea specializes in air treatment, refrigeration, laundry, lighting, as well as many other appliances. The brand is the world's largest producer of major appliances and the world's number 1 brand of air-treatment products. It has won over 40 design awards at different global design shows such as reddot, iF, and Good Design Award each year.
If you are easily annoyed by devices that make loud noises, then Midea's 16L Dehumidifier is the one for you! With a low noise design, this dehumidifier can remove 16L/day of moisture. It also comes with an ionizer, auto defrost, overflow protection as well as an auto-restart function.
Unlike many other dehumidifiers, the Midea Dehumidifier also comes with castor wheels at the bottom of the device for you to move the device around your home or office easily and conveniently without breaking a sweat!
| | |
| --- | --- |
| Address | 158 Cecil St, #07-01, Singapore 069545 |
| Contact Information | +65 6222 2536 |
| Business Hours | Monday to Friday: 9 AM to 5 PM |
Highlights:
Energy saving
Quiet device
Intelligent sensor
The Mute Dehumidifier offers a dehumidification rate of 1080ml per day. It is designed with a 2200 ml large water tank that effectively removes unnecessary moisture as well as mold in your bedroom, basement and small office. Therefore, this energy saving device allows you to enjoy healthy and comfortable air.
In addition, the large air intakes and outlets allow the dehumidifier to remain quiet enough for you to not notice that it is there! Operating at around 25 dB, you will not be disturbed when you work or sleep.
The dehumidifier is equipped with an intelligent sensor that can detect the air environment and adjust its performance accordingly. It also comes with a purification function. This includes removing airborne germs, bacteria and allergens, as well as a UV light to purify the air further.
For those who are often forgetful, the dehumidifier will automatically turn off when the water tank is full to remind you to empty it.
Highlights:
Very customizable
Built-in hygrostat
Comes with castor wheels
Overcome high humidity with Novita's dehumidifiers and breathe comfortably at ideal humidity levels. A relief from allergy triggers and prevention against mold and mildew growth, Novita HumiControl™ dehumidifiers can help protect your home from excess moisture in the air. It also helps to safeguard your valuables from humidity damage. So, with Novita's dehumidifiers, you can say goodbye to mold on your favorite clothing pieces and bags!
In addition. the Novita ND690 features a built-in hygrostat that diagnoses the surrounding humidity level, and activates or deactivates the dehumidifier accordingly. Even when an optimal humidity level is reached, you will still be able to enjoy continuous air circulation.
The dehumidifier also allows you to program a start or stop time for your dehumidifier ranging from 1 to 24 hours, according to your needs. So, for a device that allows maximum customization, this one by Novita is a great option.
| | |
| --- | --- |
| Address | 8 Tagore Drive #04-00 Singapore 787624 |
| Contact Information | +65 6552 1023 |
| Business Hours | Monday to Friday: 9 AM to 5.45 PM |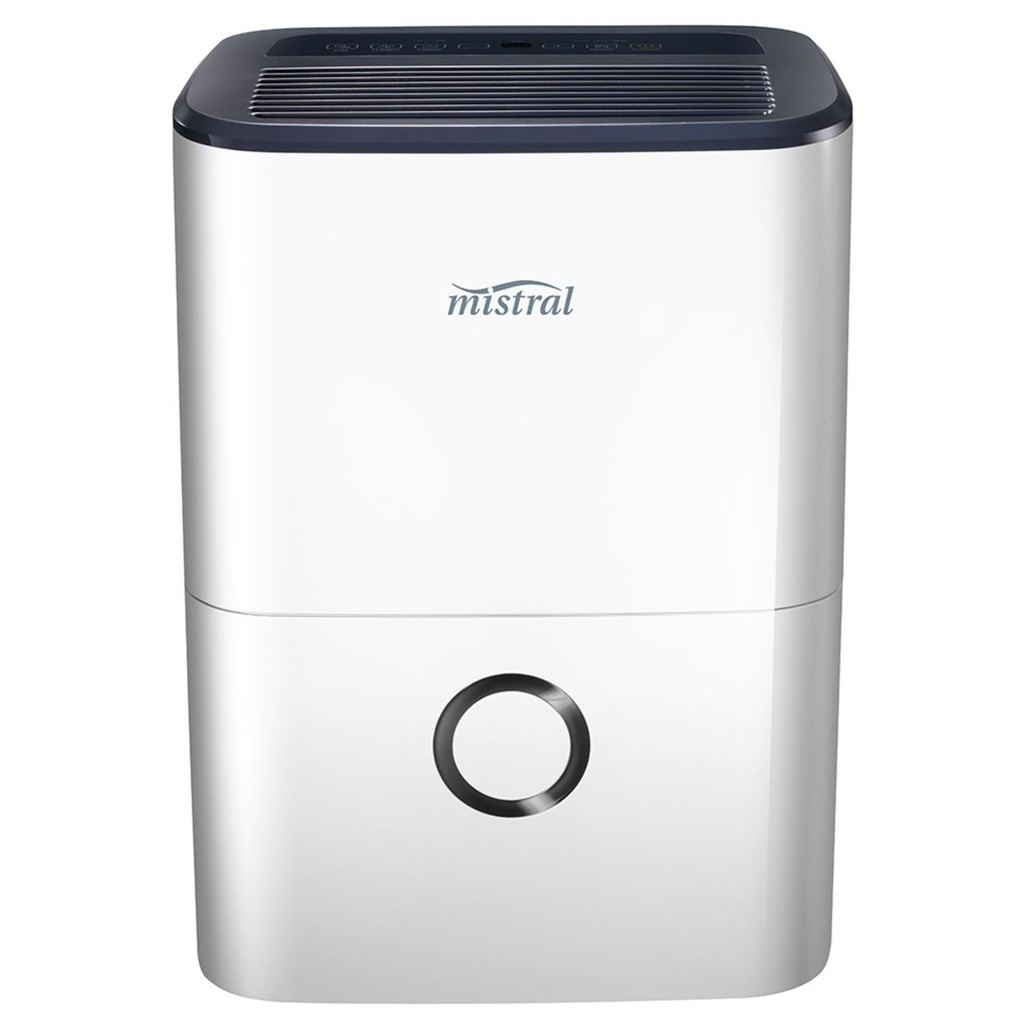 Highlights:
Built-in ionizer
Auto shut off
Timer function
With an extraction rate of 16 litres per day, the Mistral 16L Dehumidifier is the compact solution to your humidity woes. Achieve your desired humidity level with its handy features such as the Preferred Humidity Settings from and 24 Hour Timer. It will auto shut off when the water tank is full.
In addition, this Mistral device works as an ionizer too! This means that the Mistral Dehumidifier is able to remove contaminants in the environment by electrically charging air molecules. You will be also able to get rid of microbes and odours, keeping you safe, clean, and healthy!
Address
71, #06-01 Jln Ubi, Excalibur Centre, 408571
Contact Information
+65 6542 8383
Business Hours
Monday to Friday: 9 AM to 5 PM
Saturday: 9 AM to 12 PM
Highlights:
Silent operation
Child-safe
Built-in ionizer
This dehumidifier by Novita is another one of its great dehumidifiers from its wide range of products. It is able to extract excess moisture to safeguard your valuables from high humidity and protect them against mold, fungus as well as mildew. Equipped with a built-in ionizer, the dehumidifier works to produce up to 20 million negative ions/cm3. This helps keep airborne allergens and germs at bay, all while providing fresh indoor air quality!
In addition, the Novita Dehumidifier ND298 also features a child lock function that you can enable to prevent mishandling by young children who may unknowingly change the operating mode.
The well-paced fan also allows for quiet operation, making it ideal for placement in the bedroom or office! With all these functions, it is no wonder why Novita has sold so many dehumidifiers to date.
| | |
| --- | --- |
| Address | 8 Tagore Drive #04-00 Singapore 787624 |
| Contact Information | +65 6552 1023 |
| Business Hours | Monday to Friday: 9 AM to 5.45 PM |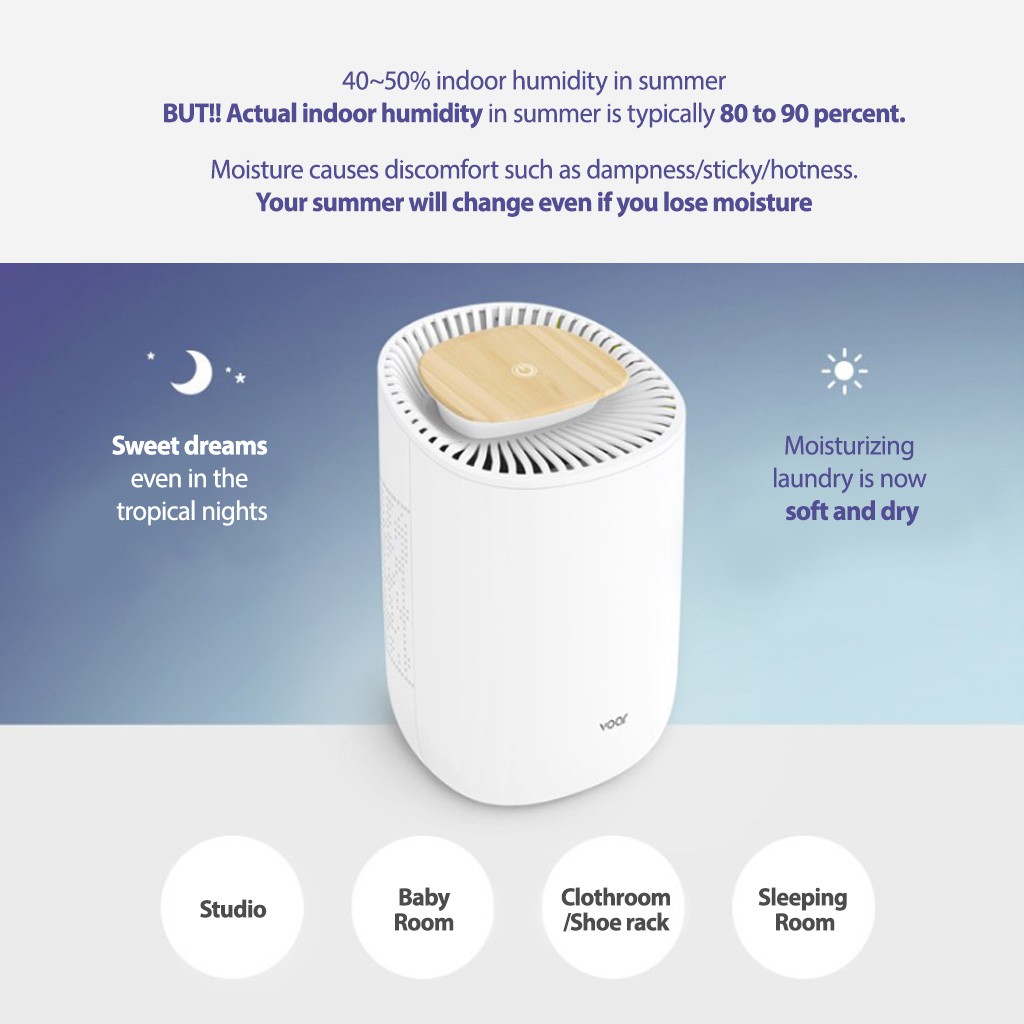 Highlights
Doesn't increase the temperature
Reduced electricity usage
Semi-conductor technology so small but powerful
Are you looking for a dehumidifier that can help you save on those electricity bills that seem to pile up by the end of the year? Then you should certainly check out the dehumidifier offering from MOA. It is small and powerful and uses the Peltier Effect to help you get rid of the excess moisture in the air. It does this using a semi-conductor technology, and this makes it much more efficient when it comes to reducing electricity bills.
Normally, a dehumidifier tends to raise the temperature while working but this one doesn't. It removes all the moisture without increasing the temperature even a little. So you don't need t worry about feeling too hot. If you're wondering about the difference between the M600 and M1000, the M1000 has an air cleaning function, along with dehumidification.
Highlights
Recyclable dehumidifier
Extremely budget-friendly
Reusable and lasts for around 2-3 weeks
The Youpin Deerma is a recyclable dehumidifier without any consumables, so if you're someone who is keen on using environment-friendly products then this is the one. It absorbs moisture from 360°, has a wet and dry visualization window which makes it more than suitable for use in multiple spaces.
After it gets filled to its capacity of 600g, all you need to do is heat it and allow it to dry for around 12 to 15 hours. This device can last for around 2-3 weeks, which considering the price point is actually very reasonable. To find out whether it is time to dry the beads or not, just check the colour of the beads. When the orange beads turn dark green, you'll know that it is time to heat them up. The cylindrical design allows it to fit in even tight spaces, while the light-weight lets you place it anywhere. The prices range from $16.60 to $17.50
Highlights
Set preferred level of humidity
Automatic shut-down if the tank is almost filled
Removes up to 60 litres of excess moisture in 24 hours
The Europace EDH 6601S is an extremely powerful dehumidifier so it can remove the excess moisture from your entire house. It can remove over 60L of water from the air every day, and the storage tank is also extremely large at 7L. With the capacity to keep the RH levels to an optimum 40% to 60%, your home will be free from mildew, mould which will prevent any health issues. Even your electronics will last longer, so this is a worthy investment.
To avoid over-filling, the unit will shut-down immediately after it is almost full. You can easily empty the tank as well, and the top and side handles make it very portable so you can shift it from room to room without much effort. There's an option to allow you to set a prefered level of humidity so that you can have a comfortable time in your apartment. These units will also work at temperatures as low as around 5℃. An excellent choice if you have a larger apartment, but the only issue is that it is pretty noisy. Prices will range from $799 to $899.
Highlights
Extremely low noise
Uses less power
Budget and space-friendly
If you are put-off by the amount of noise generated by the previous feature on this list, then the LifePro Dehumidifier can perhaps do the job for you instead. It is extremely small and portable, and true to its name, it has a total capacity of around 800ml of water. It uses very less power and is also very budget-friendly so it is overall, one of the best buys if you want to save some money.
There is also a low-noise mode which generates minimum noise so you can place it anywhere in your home; even the bedroom and work-place. The design is extremely aesthetically attractive as well. As a bonus, you also can get an extended warranty which is a sweet deal. Prices range from $37.90 – $64.90.
Highlights
Wi-Fi enabled AriaDry App connectivity
99.96% filtration capability
Removes up to 21 litres of excess moisture in 24 hours
The latest offering from De'Longhi' comes with plenty of functions and is very high-tech. It is designed to help you eliminate excess humidity levels so that your house remains extremely comfortable. It also comes with 4-action filtration system comprising of the HEPA-type (12), active carbon, anti-dust filter and antibacterial Silver Ion BioSilver system. This will help make sure that not only is the humidity of the air at a comfortable level but that it is also clean.
Certified asthma and allergy-friendly, this dehumidifier has been scientifically proven to reduce allergen exposure and comes with a laundry function as well. Other features include low noise emission, energy-efficiency, 12h timer and much more. One unit will cost you around $699.
Highlights
Removes 16L of moisture in 24H
Electronic panel for ease
Bio-silver filtration system
A popular name when it comes to dehumidifiers, the MDH160 which can easily remove up to 16L of excess moisture in 24h, and you can easily move it around your house as well, thanks to the integrated handle. The electronic control panel makes it extremely easy to use, and you also get better air quality due to the anti-bacterial filter that is installed. And the best part? The wall-mountable kit so you don't have to worry about the space in your home.
The Bio Silver filtration system reduces bacteria and allergens with an antiseptic agent so those with respiratory issues will love this one. The anti-freeze aspect will let you use it at temperatures as low as 2°C. A laundry function is also a handy option during those rainy days when it seems as though the laundry will never up.
So, whatever your budget and lifestyle, there will be something in this curated list of the best dehumidifiers in Singapore for you. Improve your home or office environment today by purchasing a dehumidifier, your health is of utmost importance!
If you are looking for other useful household items, you can consider check out our Best Cordless Vacuum Cleaner Singapore for you to easily clean your home.
Related articles:
Related posts