Want to pick up a new skill and keep fit at the same time? Kickboxing might be the way to go. As the saying goes, no pain no gain. With this physically demanding sport, you will be guaranteed a total body workout and a hot body in the process. For those who are new to the sport or are looking to take your kickboxing skills to the next level, below are the best 7 gyms for kickboxing in Singapore for your consideration: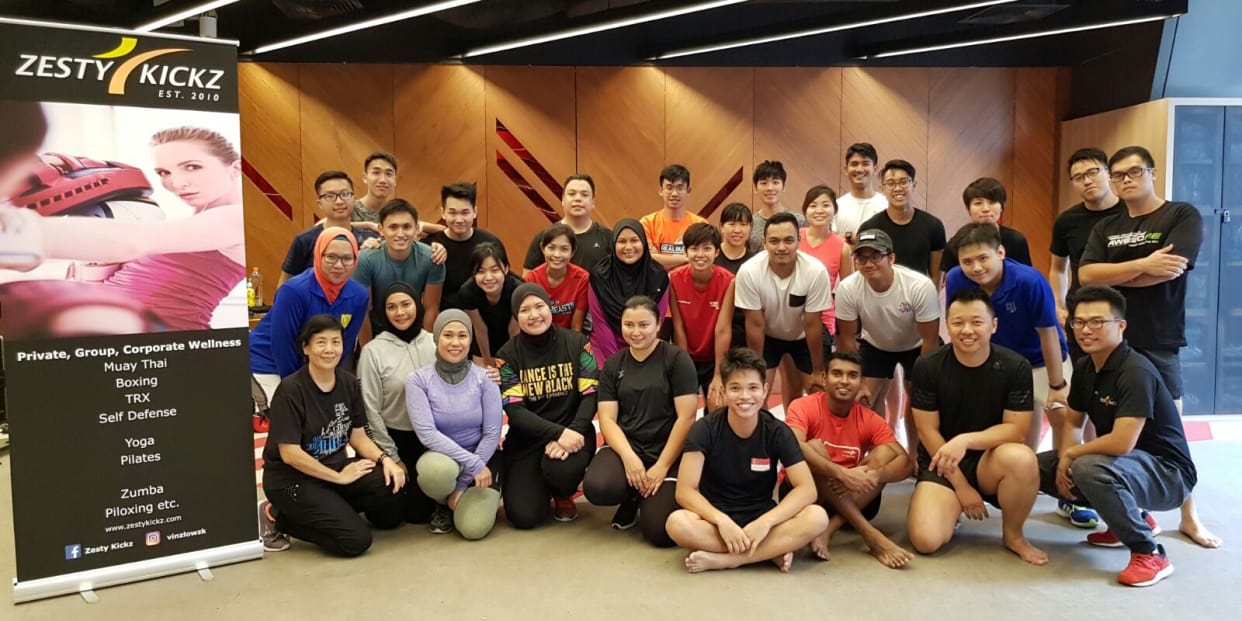 Zesty Kickz has given Best In Singapore readers a discount for every package on their classes
Usual Zoom price:
$10 per class
Weekly Unlimited $27
Monthly Unlimited $87
With " BestZK " promo code
Free first-time trial
Weekly Unlimited $7
Monthly Unlimited $57
Zesty Kickz has managed to build a safe haven and community for women who are looking to venture into kickboxing but fear to do it alone. With beginner, intermediate and advanced classes to choose from, you are free to learn and explore Muay Thai kickboxing at your own pace. However, you can also opt for private training sessions if you feel more comfortable and productive during a one on one session with the trainer. The gym also has offered the perfect solution – with no membership tying you down, you are free to take things in your own stride and sign up for a paid class only when you feel like it!
For more information do check out their website.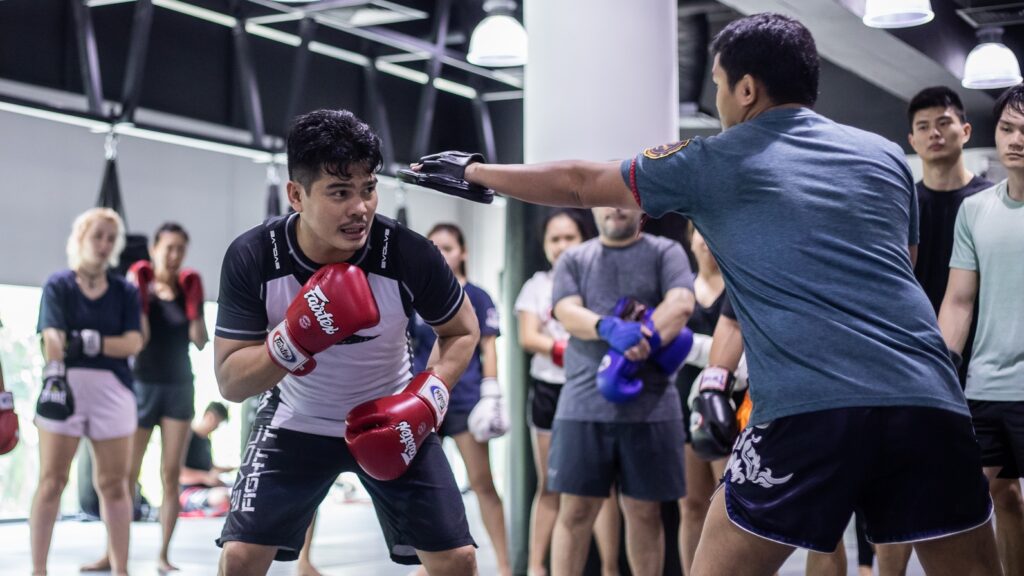 At the very top of this list is Evolve MMA, a gym that has made a mark in the world of MMA. Be prepared to take on the challenge and be trained by world champions who have seen and done it all. This gym offers kickboxing classes that incorporate both Muay Thai and K-1 Dutch-style techniques. Their classes are also designed to cater to different levels of expertise, including those who seek to compete at a professional level. Still unsure if kickboxing is the sport for you? Give their 30-minute long trial class a go before you make the commitment!
All in all, hands down deserving of topping our list of the best gyms for kickboxing in Singapore!
Price point: From $269/month
You can check out their list of locations here.
A crowd favourite amongst those who have attended kickboxing classes via Classpass is 1nfinite Academy, which offers kickboxing inspired High-Intensity Interval Training classes. Choose from a variety of 45-minute long classes, each with the intention to target different body parts such as the core or lower body. Although their classes are held in a group setting, it is still perfect for first-timers. Their trainers are known for being highly attentive and will make sure that your form and technique are on point. So be prepared to be motivated and work your hardest to obtain the best results!
Price point: From $220/month or $45/session
You can check out their list of locations here.
With franchises all over the world, there is no doubt that this is a gym that delivers results. 9Round offers one of a kind experience – a taste of their latest heart rate technology system that monitors your progress throughout the session. The gym's 30-minute long kickboxing classes take on a circuit training approach and incorporate both cardio and resistance training. With no fixed class schedules, this gym is also ideal for those who have busy work schedules. Aside from having trainers that will guide you every step of the way, a membership with the gym also grants you access to a member portal. There, you will be able to clock in your progress and seek out fitness advice. With such a comprehensive membership, what more can you ask for?
Price point: From $220/month
You can check out their list of locations here.
At the UFC Gym Singapore, you can expect to learn basic kickboxing with a side of Muay Thai and Western-Style Boxing. Start off with a kickboxing conditioning class that focuses on a total body workout that will burn tons of calories. Once you have mastered the basics, the kickboxing skills and techniques class will allow you to get some practice in to build your offensive and defensive counter techniques. Although the gym does not offer a tiered class system, the trainers will tailor the class according to your needs and experience. The only downside is that you would have to come prepared with your own gear, which might be a huge investment for beginners who are not ready to commit long-term. Truly one of the best gyms for kickboxing in Singapore!
Price point: From $239/month
You can check out their list of locations here.
As an appointed National representative for the World Association of Kickboxing Organisations (WAKO), Active Red seeks to share their love for kickboxing with all those who are keen to learn. Their basic hour-long active kickboxing classes will tone your muscles and ramp up stamina. Aside from offering an active kickboxing Bootcamp solely for women, the gym also offers classes of lower intensity to children and senior citizens. No matter your age, or your preference for having a one on one training session in the comfort of your home as opposed to a group setting at the gym, this gym is able to cater to all your needs. So, it is time to stop making excuses and hop on the bandwagon! Definitely one of the best gyms for kickboxing in Singapore!
Price point: Unlimited group class sessions from $400/month
You can check out their list of locations here.
Last but not least on the list is Savate Club, a gym that is perfect for those who want to pick up kickboxing techniques and put them to the test. This gym provides a more structured approach when it comes to their kickboxing classes, with each session broken down into 3 parts. In the duration of the 1.5 hour-long class, you will be taught techniques, undergo cardio, speed and endurance drills and end off with the most exciting bit – sparring with your classmates. Although access to the gym and their classes are limited only to weekday nights from 8 pm to 9.30 pm, be prepared to step into a fully equipped gym and work that body.
Price point: From $200/month and $30/session
You can check out their list of locations here.
This rounds off our list of the best gyms for kickboxing in Singapore. With the option to choose from kickboxing gyms of different price points and teaching styles, the fate of your fitness journey lies in your own hands. Will you rise up to the challenge? Only time will tell. If you will be giving kickboxing classes a go after this, do share with us your take on the sport – we would love to hear all about your own experience!
Written by: Terri Ann Lee
Check out our other related articles: