19 Best Bedsheets To Buy In Singapore For A Restful Sleep [2022]
stella, 2 years ago
19 min

read
7167
After a long day at work, you just want to take a long, hot, relaxing shower, and plop right down into a bed. What you want to avoid are cheap bedsheets that feel rough on your skin! Besides, you spend so much of your life sleeping! So, you want to make sure that you invest in only the best of the best. In addition, since bedsheets come into contact with your skin all night, it's important to use the right cloth for a restful night's sleep. However, with so many different types of bedsheets on the market, choosing one perfect one can be confusing. This is where this article comes in to simplify the process. Take a look at the best bedsheets in Singapore for a great night of sleep!
Granjoy

✔️Sustainable Production
✔️Feels Cool And Dry
✔️Gentle On Skin
✔️Smooth And Soft
Visit Shop
HyggeB

✔️1st Bamboo Lyocell Bedding in Singapore
✔️Luxuriously Soft and Comfortable
✔️Durable Fabric
✔️Sustainable Manufacturing Process
✔️Great for Sensitive Skin
Visit Shop
Bed Tribe

✔️Incredibly soft, breathable, and cooling
✔️Naturally hypoallergenic and antibacterial
✔️Very affordable and value for money
✔️High durability and low maintenance
✔️Standard 100 OEKO-TEX certification
Visit Shop
Highlights
Sustainable Production
Feels Cool And Dry
Gentle On Skin
Smooth And Soft
Granjoy's premium bed sheets are wonderfully silky and gentle on your skin, allowing for closer contact with your skin and a better night's sleep. Their products guarantee maximum comfort and freshness thanks to their natural anti-static and great breathability characteristics.
In addition, they provide bedroom sets that will improve the style and feel of your space. Their high-quality bed sheets come in a variety of vibrant hues and are reasonably priced.
Granjoy's Bedsheets and Pillowcases will ensure that you have the most comfortable night's sleep possible.
We're confident you'll be smitten by the feel of their ultra-luxury bedding! Every day, you'll wake up rejuvenated and revitalized after sleeping comfortably on their bedsheets!
Coupon Code: Use promo code "BESTINSINGAPORE" for 10% off of all Granjoy's products!
| | |
| --- | --- |
| Address | 2 GAMBAS CRESCENT #02-23 NORDCOM TWO SINGAPORE 757044 |
| Contact | 65-98161868 |
Highlights:
1st Bamboo Lyocell Bedding in Singapore – Luxuriously Soft and Comfortable
Durable Fabric that does not Pill/Snag Easily and Lasts for a Lifetime
Sustainable Manufacturing Process, Great for Sensitive Skin
HyggeB is a brand that designs bedsheets to be as comfy and soft as you could ever imagine! HyggeB's Lyocell fibers are extracted from bamboo and produced to be softer than silk, cooler than linen, and more absorbent than cotton. Their sheets are also extremely breathable so it's cool on warm summer days, while the nano-fibers hydrophilic nature helps you stay cozy on cold nights.
What features are the most important?
For those of you who have sensitive skin, HyggeB's bedsheets are perfect for you. The hypoallergenic sheets prevent bacteria growth and odour! Moisture also wicks away from the skin with superior breathability. Available in multiple colour options, you will definitely be able to find your favourite to style up your bedroom.
Because there is no middle-man involved, the brand can sell its sheets at extremely affordable prices. So, wait for no further and experience their signature 100% Organic Bamboo Lyocell sheets that feel gentle on your skin today.
If you are hesitant, you'll be glad to know that the brand offers a 30 nights trial for you to sleep with HyggeB for 30 nights before you commit. If you don't fall in love with the sheets, you can return them for a full refund!
You can also pamper your babies with an upgrade to Bedtribe's natural bamboo sheets. Beyond being gentle on your baby's ultra-sensitive skin, the bamboo sheets are cooling, hypoallergenic, anti-bacterial, natural and can hold up to frequent use and washings.
Order here!

Highlights:
Incredibly soft, breathable and cooling
Naturally hypoallergenic and antibacterial
Very affordable and value for money
High durability and low maintenance
Standard 100 OEKO-TEX certification
30-day free trial
Being able to provide quality sheets is one thing but Bedtribe's believe in affordability and sustainability as well, thus, by cutting out any middleman, they are able to provide the same high-quality sheets at 2-3 times lesser than what other brands are selling
What we love about these bamboo sheets is their breathability and cooling qualities that are necessary for having a good night's sleep. This is perfect for hot sleepers as it prevents heat from being trapped underneath the fabric. The super cooling effect is also due to the fact that bamboo is actually 3 degrees lower in temperature than other fabrics. We also highly recommend you to check out Bedtribe's Iced Bamboo Sheets great reviews – a stellar 4.9/5 out of more than a hundred reviews, making it one of the top bedding companies to trust in Singapore.
Coupon Code: Use promo code "BESTINSINGAPORE" for 10% off of all Bedtribe's products!
| | |
| --- | --- |
| Address | 100 Eunos Ave 7, #04-01, Singapore 409572 |
| Contact | +65 8893 3915 |
Highlights:
Wrinkle-free
Cooling fabric
Easy to change
Sleeptyde is a cutting-edge wrinkle-free fitted bedsheet with a unique tensioning system, resulting in improved sleep quality every night. Perfect for Singapore's weather, the bedsheet is intelligently designed to regulate the user's body temperature to ensure a comfy sleeping environment that can eventually lead to better sleep.
In addition, the team at Sleeptyde understands that changing sheets are tedious, frustrating, and back-breaking. Their sheets are thoughtfully designed so you never have to wrestle with fitted sheets or lift the mattress ever again.
What features are the most important?
The sheet's patent-pending Base-layer also uses 4 quadrilateral autonomous tectonic rigid plates which will move towards each other when the belts are pulled. The 9-point belt system is designed to spread pressure evenly to the connecting bed sheet requiring minimal effort at each station.
Thoroughly made from sustainable materials only, including Lyocell, Tyvek®, and Econyl fabric, these sheets are perfect for those looking for an eco-friendly option!
Order here!
Highlights:
Breathable material
Cooling properties
Odor-resistant
Get ready for the most breathable sheet you have ever slept on! HE for naked sleepers brings you its premier collection of 1000 Thread Count, which will amaze you with its silky soft touch and breathable comfort. So hurry up and bring home our pure "class apart" 100 % TENCEL Lyocell Sheet set and get the coolest sleep ever!
What features are the most important?
Its material makes it non-irritating for the skin. Lyocell is also one of the most breathable fabrics known. It is especially popular for its sweat-wicking and cooling properties. So, no more night sweats!
In addition, HE 100% TENCEL sheet is crafted with a 40cm deep pocket and 360° rip-resistant elastic to keep the sheet in its position. It has a size label underneath and the top fitted beam indicator. Which makes it easier for you to put it on your bed! The sheets also require low maintenance and are easy to care for, thanks to their odor-resistant properties. In addition, the premium quality fabric does not fade.
Get them here!
Address
111 Somerset Road,
TripleOne Somerset 13-35|38,
Singapore 238164,
Singapore
Contact
+65 65 506 730
Highlights:
100% Lenzing TENCEL™ Lyocell Fibres
Soft on the skin
Silky to touch
What features are the most important?
Modal is softer than silk, lighter than linen, and more durable than silk. Weavve's TENCELTM fiber lyocell bed sheets, available in its latest Lyocell deluxe set, have a lovely silky touch with a sheeny texture, and they feel extremely smooth and soft on the skin when sleeping.
These sheets, which are made from the best 100 percent TENCELTM trademarked Lyocell fibers, are very breathable, have temperature regulating qualities, and have the ability to swiftly drain away excess moisture. Even in Singapore's hot and humid weather, these characteristics provide for a comfortable sleeping experience, and this is especially true if you want to sleep without the use of an air conditioner.
Antibacterial and anti-odor properties
Because of the excellent moisture management provided by its TENCELTM Lyocell fibers, this helps to limit bacteria development without the need for any chemical preservatives. Furthermore, Weavve's TENCELTM fiber lyocell sheets have been Oeko-Tex® certified, which means that no hazardous chemicals were used in the manufacturing process of the sheets.
Size of the bedsheet
These bedsheets are available in multiple sizes, so it does not matter what bed size you have. In addition, it comes in multiple colors. You can choose from a range of options like black, white, navy blue, grey, and pink. You can easily choose one that fits your room's décor. To make things even easier, just buy multiple of them so that you can easily change between sheets!
Get them here!
| | |
| --- | --- |
| Address | 80 Genting Lane, #02-01 Singapore 349565 |
| Contact | hello@weavvehome.com |
Highlights:
Elegant shades
High quality materials
Timeless design
Say hello to the most elegant, darkest shade of grey you've ever seen for bedding in Singapore. With its effortless elegance and collected style, you can't go wrong with Comffe's timeless bedsheets. It is made from 100% Cotton Sateen, giving it a shiny sheen and smoothness to the touch.
If you look closely enough, this bedsheet is unlike any other solid-colored fitted sheet. It has a washed linen look to it which adds a hint of rustic look into your bedroom. Spot some dark coconut shell buttons along the bottom of the quilt cover. This timeless sheet with elastic all the way around will snugly cover the mattress and keep the sheet in place. Do you love your bedroom all dark and cozy? If you do, Timeless is perfect for you.
Get them here!
| | |
| --- | --- |
| Address | 657 Yishun Avenue 4, #09-377, Nee Soon Central View, Singapore 760657 |
| Contact | askus@comffe.sg |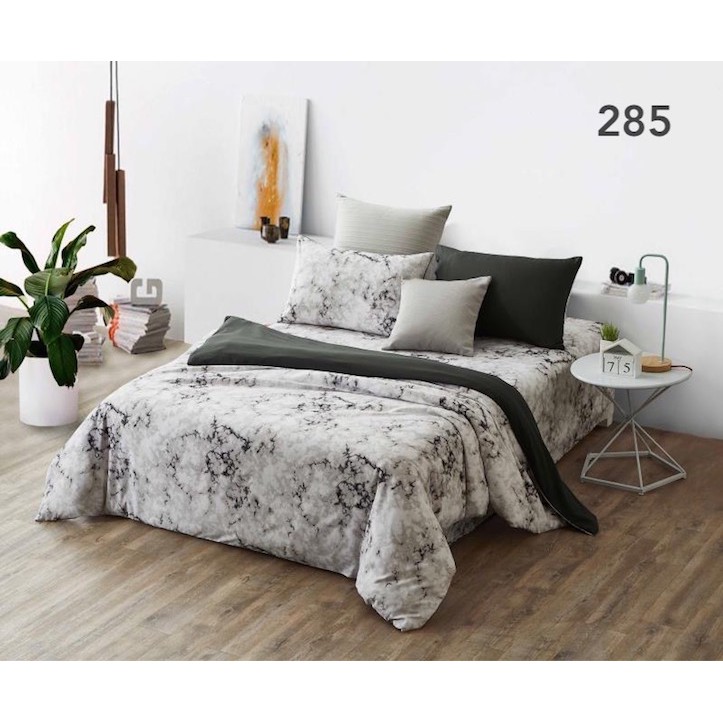 Highlights:
Silky texture
Soft and comfortable
Wrinkle resistant
What features are the most important?
This 950 Thread Count Silky Feel Microfibre Fitted Sheet Set from Etoz is made from Microfibre Synthetic Fibre. It is tightly woven, giving an ultra-soft finish. Therefore, you will realize that this bedsheet is soft and comfortable to the touch.
The bedsheets are also wrinkle-resistant. This means that you never have to iron your sheets to achieve a neat and straight look. Most importantly, it features anti-dust mite properties, so you do not have to worry about dust mites or other pesky little creatures living in your sheets.
Get them here!
Address
7 Gambas Crescent, #09-29,
Singapore 757087
Contact
98889178
Business hours
Monday – Friday: 11.30 AM – 6.30 PM
Highlights:
Many designs to choose from
Affordable price
Great for allergy sufferers
For ultra-soft and breathable brushed microfiber bed sheets, consider this one by Joseph and Casy. These brushed microfiber sheets are composed of extremely fine fibers of polyester, which are ultra-breathable, ultra-soft, as well as affordable. They offer you a luxury hotel-like sweet sleep experience. No more sweaty and sleepless nights!
What features are the most important?
By adopting a premium microfiber fabric that is mild and non-itching to the skin, the bedsheets are free from stimulation and are an ideal choice for allergy sufferers. It is also made using the newest stitching technology, so, they have high density and exquisite seam which assures that the sheets will not shrink or pill.
The Microfiber sheets are also easy to wash and care for. They have strong water absorption and are easy to clean. With sophisticated workmanship, it is machine washable, fade, shrink and wrinkle resistant! With multiple designs to choose from, you can find one suitable for every member of your family!
Get them here!
| | |
| --- | --- |
| Address | 59 UBI Crescent ​Singapore 408597 |
| Contact | +65 67411780 |
Highlights:
Machine washable
Silky soft fabric
Lightweight and breathable
These silk soft sheets from Epitex are made of a silky soft fabric that is a tightly woven fabric made of blended cotton, giving an ultimate soft touch. Easy to care for, durable and wrinkle-resistant properties. Silky soft sheets are softer and more durable than Egyptian cotton and organic cotton sheets!
What features are the most important?
This bedsheet is also a great option for people with allergies as it repels dust or airborne allergens. If you have allergies, you have to wash them often. This bedsheet by Epitex is machine washable with similar colours in a delicate setting, so you do not have to worry about that!
In addition, this bedsheet by Epitex is also lightweight, breathable, and cool to the touch. For dreamy, soft bedding that will create an unforgettable sleeping experience, choose Epitex!
Get them here!
Address
241 Pandan Loop 02-02
Singapore 128426
Contact
+65 6873 0279
Highlights:
Durable and antibacterial
Wrinkle-resistant
Thermoregulating properties
Machine washable
The Bamboo Cotton Sheet Set from Canningvale Australia is yet another fantastic bedsheet option to consider. The unique bamboo cotton mix is a more affordable option to its 1,000 TC cousin, and it is also more durable, wrinkle-resistant, and antibacterial.
What features are the most important?
The ability to regulate body temperature.
Additional benefits include thermoregulating characteristics due to the use of 60 percent bamboo and 40 percent cotton fibers, which allows you to keep cool during hot and humid days while remaining warm during chilly and wet nights. Make careful to wash dark colors separately from lighter colors, just as you would with any other cloth. You may machine wash these bedsheets, but be sure to keep the temperature below 40°C and line dry them in the shade if you have the opportunity. Otherwise, just use a low-heat tumble dryer to dry.
With various designs to choose from, you will be spoilt for choice!
Get them here!
| | |
| --- | --- |
| Address | Level 3, 17 William St, Cremorne, VIC 3121 Australia |
| Contact | info@canningvale.com |
Highlights:
Superior TENCEL™ fabric
Luxuriously silky, soft and smooth
Fitted sheet with elastic bands
Are you looking for a bedsheet that is really comfy and plush in Singapore? Personal experience has revealed that the Tencel fabric is silky smooth and incredibly cooling to the touch while sleeping beneath it. Palais Suite Tencel bed sheets in Singapore are composed of 100% Lyocell fiber (TencelTM from Lenzing), which is derived from wood cellulose and represents a substantial improvement over conventional cotton. It can endure more washings than cotton, and it is gentler on the skin, lasts longer, and absorbs more moisture. Tencel, on the other hand, should be handled with care while machine washing since it is fragile. We recommend keeping them separate from denim and towels, which are both harder and more durable.
What features are the most important?
Soft and comfy to the extreme
So far, everything appears to be in order? We haven't even begun to discuss how wonderfully silky and smooth these sheets are to the touch! Because of the 930 thread counts per 10 cm sq. of the natural cloth, it is exceptionally soft and pleasant to wear. Additionally, because of its 40cm deep fit and elastic bands, it may be used on mattresses with a deeper depth.
Get them here!
| | |
| --- | --- |
| Address | 65 Ubi Cres, #01-05 Hola Centre, Singapore 408559 |
| Contact | +65 9653 5877 |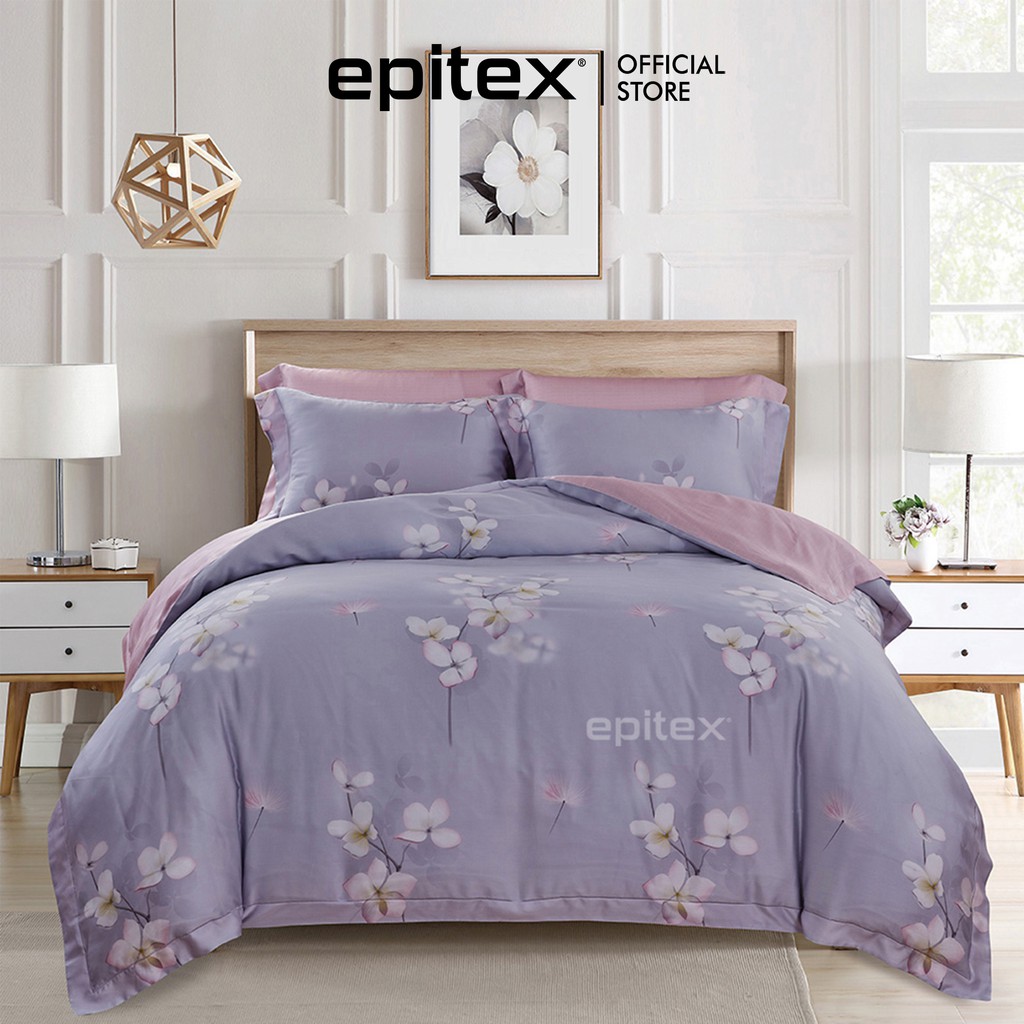 Highlights:
Beautiful designs
Soft to the touch
Temperature regulating properties
We had to feature another one of Etoz's bedsheets. This Epitex 100% Tencel Printed Bedsheet is extremely soft to the touch. For the uninitiated, Tencel is a fibre extracted from the Eucalyptus tree, which is spun into yarns and then woven into textiles that are soft, absorbent, very strong when wet or dry, resistant to wrinkles, and drape well.
What features are the most important?
Using certified TENCEL™ fibers, Etoz's range of products boasts all the benefits of this superior fabrication. Aside from its beauty in drape and shine, its soft and smooth hand-feel also sets it apart from other fibers. Its fiber supports body temperature regulating properties by regulating the absorption and release of moisture, contributing to the fabric's breathability. This in turn contributes to a less favorable environment for bacterial growth as there is less available moisture. A unique trait of TENCEL™ is the minimal static charge associated with its moisture absorption qualities which makes fibers tension-free with no electrostatic charging.
To be overwhelmed with softness and high-quality fabric each night, be sure to choose Etoz's Tencel sheets!
Get them here!
Address
241 Pandan Loop 02-02
Singapore 128426
Contact
+65 6873 0279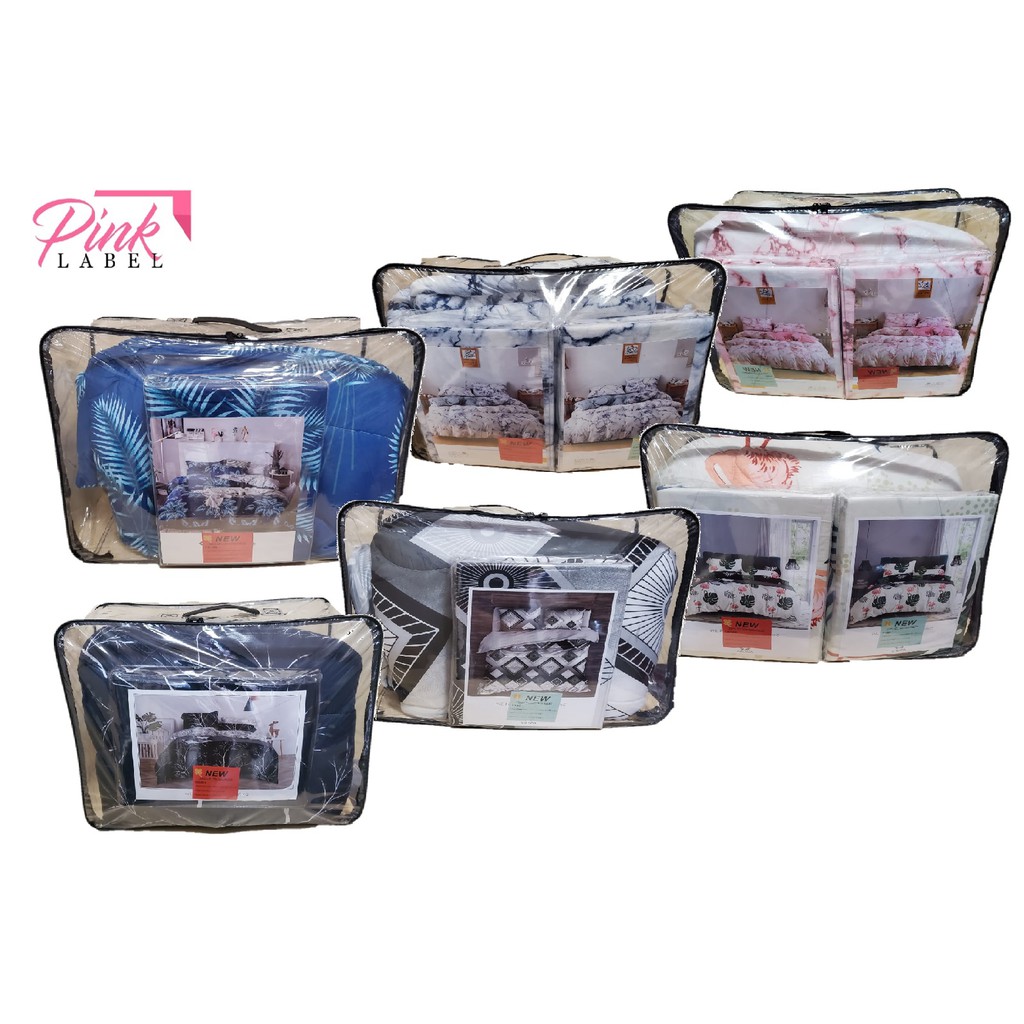 Highlights:
Affordable option
Soft and comfortable
Comes with a comforter
This bedsheet by Pink Label conveniently comes with a comforter. It is extremely soft and comfortable, which will help you to catch some restful sleep that you deserve. The bedsheets are also very durable. This means that it can retain its shape and size over time. You do not have to worry about shrinkage or your bedsheets become out of shape.
Easy to wash and quick to dry, these sheets are perfect for your busy life. The sheets are also wrinkle-free so you do not have to spend time ironing them. If you have sensitive skin or skin allergies, know that these sheets are anti-mite and anti-allergen for your comfort!
For just $40, you get a beautiful and elegant bedsheet with a comforter, making this an affordable option that is great for those who are on a tight budget.
Get them here!
| | |
| --- | --- |
| Address | 320 Shunfu Road #01-30 (Singapore 570320) |
| Contact | pinklabel.sg@gmail.com |
Highlights:
Exceptionally strong and durable
Soft and extremely comfortable to the touch
Repel any dust or airborne allergens
What features are the most important?
This high-quality fitted sheet from Makko is made from 100% Polyester Microfiber Fabric. This makes it durable, highly wrinkle-resistant, and able to retain its color and shape even after many uses and washes. In addition, these microfiber, 100% polyester bed sheets are hypoallergenic. They block dust mites using a material that's more durable than cotton. They also stay soft and dry at night for comfortable rest. Most amazingly, the fabric used is also treated with Aloe Vera to make it have a soothing and comfortable effect on human skin.
Made of a tightly woven fabric with stain-repellent qualities, if a sheet is stained, it can pretty much be wiped off straight away without leaving any traces! They are also easy to wash and dry very quickly. You also never have to iron your sheets due to their wrinkle-free material!
There are many trendy designs for you to choose from so you can change your sheets according to your mood and style of the day!
Get them here!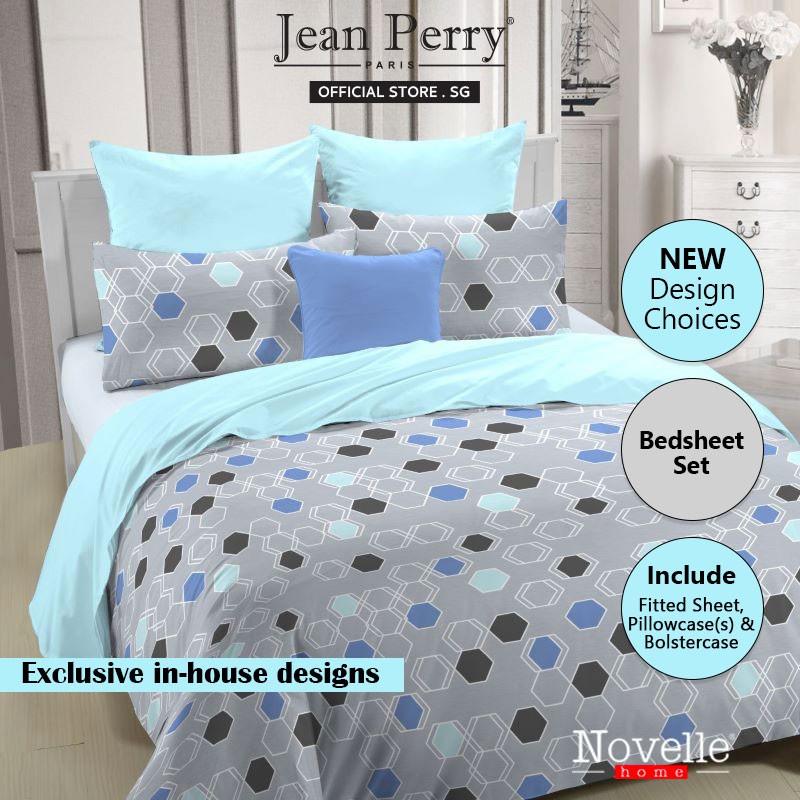 Highlights:
Affordable price
Durable and long-lasting
Breathable fabric
Jean Perry is a brand that almost needs no introduction. This range from Jean Perry is made of a durable and breathable micro satin fabric. This results in a soft and comfortable set of bedsheets that might give you some trouble waking up in the morning!
What features are the most important?
The cotton has a silky finish, which adds to the premium experience that you will have while using the sheets. They are also easy to maintain: you never have to bother ironing them due to their wrinkle-resistant properties!
With multiple trendy and quirky designs to choose from, these sheets will surely spice things up in your room. For just below $15, you will definitely get your money's worth with these sheets from Jean Perry.
Get them here!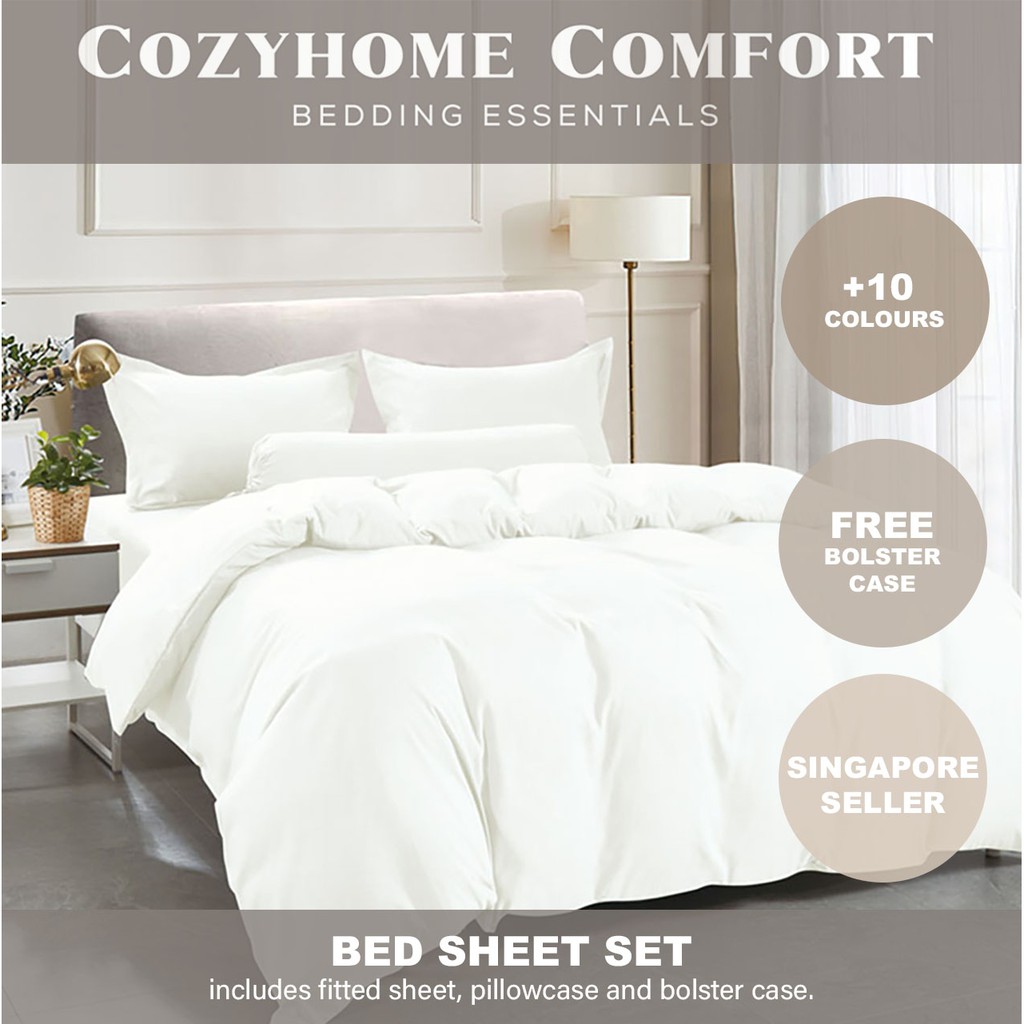 Highlights:
Multiple colors available
Keeps you cool at night
Hypoallergenic
This final set of bedsheets from Cozyhome is made of a breathable fabric. The fabric allows your body heat to be released instead of being trapped on your sheets and raising your body temperature. Therefore, it can keep you cool during hot nights.
What features are the most important?
The bedsheets are also hypoallergenic. It is naturally resistant to allergens, moisture, as well as odors. The machine-washable sheets come in different designs as well as bed sizes. So whether you have a single, super single, queen, or king-sized bed, Cozyhome has got you covered!
Get them here!
| | |
| --- | --- |
| Address | 6 Harper Rd, #01-01 Leong Huat Building, Singapore 369674 |
| Contact | +65 6285 0982 |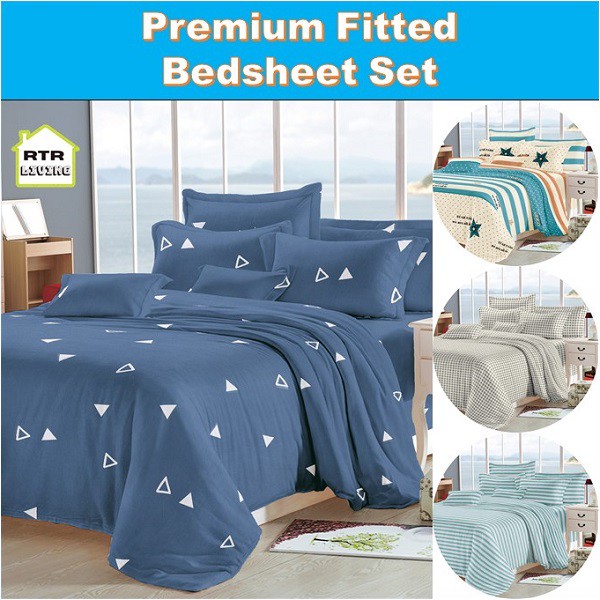 Highlights:
100% high-quality Polyester Microfiber Fabric
Ultra-soft
Breathable material
RTR Living's premium fitted bedsheet is a range that is made from 100% high-quality Polyester Microfiber Fabric. This fabric is known for its cooling properties, which make them perfect for the perpetually hot summer nights that we experience here in Singapore. In addition, the bedsheets are extremely soft, making it irresistible to lie in them for just a little while longer!
What features are the most important?
For those who suffer from allergies, you'd be glad to know that this bedsheet is hypoallergenic and anti-mites. Say goodbye to itchy and irritated skin. The bedsheets are also durable, breathable, stain-resistant, as well as wrinkle-free.
The best part is that the RTR bedsheet is non-fading. This means that no matter how many times you wash your sheets, they will retain their color! That is the hallmark of a good set of bedsheets! With multiple designs to choose from, you'll definitely find one that you like!
Get them here!
Highlights:
Affordable price
100-day free return
Classic sheets with great craftsmanship
Weavve is another popular brand that offers a wide variety of sheets that cater to all your needs and preferences. The brand is committed to the responsible sourcing, production, sale, and use of all of its products. Whether you are buying the bedsheets for yourself, your family or your friends, awareness about the brand's commitment will help you to sleep soundly with peace of mind.
What features are the most important?
Weavve's sheets are comfortable, cozy, and made to feel and look good for a lifetime. Thoughtful details and fine craftsmanship are evidenced in every Weavve sheet. The brand offers Lyocell and Cotton sheets at affordable prices. Their Lyocell sheets, are silky-soft and cool-to-touch, making them perfect for those who are afraid of humid and hot nights. Those who prefer cotton can opt for Weavve's cotton sheets that are buttery-soft and cozy!
In addition, because Weavve does away with middlemen, expensive marketing, and retail rentals, you get to enjoy great products at reasonable prices for everyone! The brand even offers a 100-day free return policy. So, stop sleeping on it and give Weavve a try!
All in all, Weavve makes it easy to understand how to choose a great sheet, and what their sheets are all about. You can even check out their blog and FAQ page for more information if you need it.
| | |
| --- | --- |
| Address | 80 Genting Lane, #02-01 Singapore 349565 (Visit By Appointment Only) |
| Contact Information | hello@weavvehome.com |
| Business Hours | NA |
Saw something you like on this list? You can get them easily on Shopee or online. But be sure to learn how to wash your bedsheets properly in order to care for them well! You don't want to ruin your new sheets in the wash! Hopefully, this guide will help you to buy the best bedsheet in Singapore for your home needs! If you require more buying guides, check out our list of the best pillows in Singapore as well as the best mattresses in Singapore!
Related posts
Subscribe for newsletter
* You will receive the latest news and updates on Singapore's best trends!