14 Best Barber Shops in Singapore [2022]
Zoya, 3 years ago
11 min

read
10631
Men need to change their styles with time. Once you bring a change in you, it becomes a trend. A new hair cut brings a new change in style and trend. It's summer season now and you must be surely looking to bring a new turn in yourself with the stylish cut. But you must be thinking about the best barbershops in Singapore that will provide you with premium high-quality services.
Not only trims, but proper barbershops have been providing the best and variety of hair care services to you. Turn yourself into a gentleman for attending business meeting or events. No matter, which function or a game you have to attend you will be happy with these listed best barbershops in Singapore.
Highlights
Classic and simple close cut
Modern and innovative services in haircare
Custom hairstyle range
Before and after barber will become one of your favourite barbershops once you pay them a visit. This store uses all the innovative techniques that make a good high-quality barbershop.
Moreover, their professionals are extremely friendly and willing to help in fulfilling every possible barbering needs of its customers.
Above all, this store has a wonderful location in the central area of Singapore. Their professionals test the scalp issues of customers and also recommend them with excellent products as well as shampoos. Thus, you will also get effective hair repair with different therapies online from this shop. Overall, definitely deserving of topping our list of the best barbershops in Singapore.
| | |
| --- | --- |
| Address | 33 Erskine Rd, #01-12, Singapore 069333 |
| Contact | +65 8833 0003 |
Highlights
Fine barbering experiences
Good and budget-friendly packages
Fresh trim style and haircut services
Barber 25 shop is open to both men and women. They treat their customers very professionally by using quality cutting and shaving equipment.
This store offers various services to its customers such as hair cutting, hair coloring, hairline refining, head shaving, wet shaving of the beard, beard trimming, highlighting hair, washing, hair blowing, and hair manicure.
You can also ask for combo packs from the professionals so that you can enjoy two or more barbering services at a lower price. Barber 25 offers good hair packages that fit your budget. Overall, definitely one of the best barbershops in Singapore!
| | |
| --- | --- |
| Address | 6A Shenton Way, #03-16 OUE Downtown Gallery, Singapore 068815 |
| Contact | +65 6222 7551 |
Highlights
Hairstyling products available at the shop
Provides hair tattoo services too
Old school set up style haircut
Autocutt Barbershop has been popular for the old-school hair looks and more refreshing trimming sessions. You will find that the surroundings of this shop are filled with vintage and rare parts of old automobile signs.
The professionals are well-experienced. Moreover, they only use the original fragrance Cologne for skimming the face of the customers. The barbers of this store are also great at beard trimming and hot towel shaving.
Moreover, you can also have excellent service of hair tattoo by booking exclusive treatment appointments at reserved time slots.
| | |
| --- | --- |
| Address | 47 Tanglin Halt Rd, #01-313, Singapore 141047 |
| Contact | +65 9186 1233 |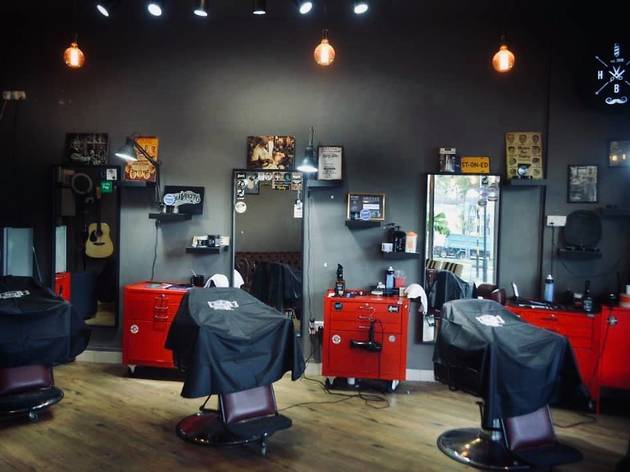 Highlights
Provides fresh feel hair trim
Also kid-friendly services
Assure the quality of the product used
Hombre Barbershop has always been perfect in their work. They always commit to provide classic and stylish service to the customers. The warm atmosphere of this shop helps in attracting the attention of many men.
The barbering experts also provide excellent hair wax products to their customers. You need to book a pre-visit appointment so that you can quickly receive contemporary service from the barbering professionals of this shop in Singapore.
Every man feels great after leaving the barber store because barbers always focus on providing a clean and sanitary salon atmosphere.
| | |
| --- | --- |
| Address | 228 Changi Rd, #01-04, Singapore 419741 |
| Contact | +65 8750 9301 |
Highlights
All barbers certified by Sid Sottung Academy (UK)
Retail the most premium brands for men's grooming
Services like perms, hot-oil beard treatments also offered
Mixing the good old-school methods with the more modern methods, when you enter Kings Barber you're sure to walk out feeling more than satisfied. They provide all of the classic barber services like a wet shave, haircuts, colouring, facial, and even scalp treatments.
They also use and retail the best brands for your grooming needs. In fact, did we mention that they're the only appointed Proraso Ambassador in all of Singapore!
All of their barbers are also trained in the UK, so all that you to do is pay them a visit. You'll leave looking like a king.
| | |
| --- | --- |
| Address | 400 Balestier Road Balestier Plaza #01-16 Singapore 329802 |
| Contact | (+65) 8781-7032 |
Highlights
The finest grooming salon for men
Premium A-class service
Discounted packages for hairstyles
Premium Barbershop never fails to offer a wonderful and powerful hair colouring service to the clients. Moreover, they always check the personal styling taste of the customers before trimming their beards.
One goal of this shop is to make customers completely satisfied and relaxed with risk-free grooming.
You need to pay extra charges for the blow-dry and hot hair washing service. However, the classic look is always ready for you when you step into Premium Barber Store. Men get fine grooming for a premium style cut to attend different events.
| | |
| --- | --- |
| Address | Wheelock Place 501 Orchard Rd #02-23 (2,702.83 mi), Singapore 238880 |
| Contact | +65 6735 0107 |
Highlights
Provide oral care and scalp care
Three different scalp supplements available
Provide natural cleansing with shampoo
Sultan of Shave barber store combines the art of passion and talent to groom the male hair properly. The professionals of this store have a royal touch and therefore, they present countless hours' talent to the men.
The stores always focus on perfection by using various barbering tools and products on the customers. All the products get checked by the professionals of the store after handpicking them.
It also consists of the extra relaxing areas under which men can easily get great pampering massages. Sultans of Shave ensures the best and premium barber services in a customized manner.
| | |
| --- | --- |
| Address | 11 North Canal Road #02-01, Singapore 048824 |
| Contact | +65 6222 0201 |
Highlights
Premium services offered by experienced Japanese staff
All seats are completely private for complete relaxation
Plenty of discounts offered
If you're looking for a place to get your grooming needs taken care of while getting the chance to relax and de-stress then Hiroginza Premium Barber is the place you need to head to. They have the most premium luxury rooms, to ensure that you can the maximum comfort while enjoying your shave.
From shaves to the best hairstyles, you can get it all over here. They also use the best quality products which they import all the way from Japan.
You can also avail the of various discounts and offers so that you get the best deal. Step in for the ultimate relaxing experience.
| | |
| --- | --- |
| Address | アジア328 North Bridge Road, Unit #02-38, Singapore 188719 |
| Contact | 62503481 |
Highlights
Experience of more than 40 years
The affordable pricing of less than $10
offered services like hair-cutting, styling etc.
Remember the old days when you would visit an old-school barbershop, and the barber would sit in a small chair overlooking the mirror, while you would get your hair-cut? Over at the Red Panther, you can relive those days, and get a really awesome hair-cut while you're at it.
Red Panther has been cutting hair for many years now, and you can see how good they are while reading the raving reviews of customers. And did we mention that it'll only cost you $9? You'll have to look around for the store a little because it is located in a rather hidden location but it is so worth it.
While you're waiting for your turn, you can admire the wonderful collection of random collectables and vintage car plates. You're sure to pass time quickly.
| | |
| --- | --- |
| Address | #03-13 Upper Serangoon Shopping Centre, 756 Upp Serangoon Rd, Singapore 534626 |
| Contact | 6286 0003 |
| Timings | Mon-Thu, Sat-Sun: 10:00 am – 8.30 pm, Closed on Fridays |
Highlights
Complete grooming experience for men
Affordable Pricing
Great environment
If you're looking for a great place that seems quirky, fun – and yet gives you a sense of comfort then you need to head to LA Barbershop immediately. They offer the complete grooming experience for men, from services like shaving to getting your hair cut or even getting an ear candling.
You get to experience a place where men come together to enjoy conversations about cars, business while you wait for your turn to arrive. They've decorated the interior with vintage ornaments, and a fantastic collection of posters so you're in for a visual treat.
The prices are rather affordable too, but remember to book an appointment before you pay them a visit.
| | |
| --- | --- |
| Address | You can check out the list of their outlets here. |
| Contact | You can check out the contact details of their outlets here. |
| Timings | You can check out the opening hours of their outlets here. |
| Social Pages | Facebook |
Highlights
Great Biker-garage theme
Professional hairstylists
A wide variety of services offered
For those who love cars, good hair and a retro theme, Grease Monkey Barber Garage is the place to be. They're here with the aim of keeping uncouth looking good, and looking at their glowing reviews, we have to agree.
Just stepping in their store is going to give you a boost of testosterone. With a theme of biker-garage and the never-ending supply of Red Bull, you're going to be serviced by the most professional hairstylists. With their top-notch service and variety of services, is it even a wonder why they're on this list?
You can book an appointment to make sure that you don't need to wait for a long time.
| | |
| --- | --- |
| Address | 15 Mayo Street Singapore, Singapore 208312 |
| Contact | +65 8717 1515 |
| Timings | Monday – Saturday: 10:00 am – 8:00 pm, Sunday: 11:00 am – 4:00 pm |
| Social Pages | Website | Facebook |
Highlights:
Modern interior look
Professional barbers
Retail store for self-care, watches, ties etc.
Are you someone who instead prefers your barbershop to be unpretentious, and modern? Well, in that Splice Barbershop should do the job for you. Their team of professional barbers are well-trained in the traditional good-old ways of barbering and make sure that you're super satisfied with your look.
That's not all. They're located at the Suntec City Mall, which means that you'll have plenty of things to go while you wait for your turn. So if you're looking for a place that can give you the complete dapper look of a gentleman then you're at the right place.
You can purchase things like cuff-links, watches, neck-ties or even lapel pins to complete the look.
Address
Suntec City Mall, 3 Temasek Boulevard #01-487 (Near Tower 1), Singapore 038983
Contact
88089768
Timings
Barbering Services: Daily from 11:00 am to 09:00 pm
Retail Shop: Daily 11:00 am to 08:30 pm
Social Pages
Website | Facebook | Instagram
Highlight
Variety of services like waxing, grooming, AFT etc.
Reasonable pricing
Great place to get some relaxing facials
Going the extra mile to make sure that you have a completely clean and polished look. We Need A Hero offer services like waxing, AFT, grooming of brows, in addition to the usual hair-cutting and styling services. The end result? You looking like the hero that the world needs from a movie scene.
So it doesn't matter if you're looking forward to getting rid of that excess hair or just looking for a way to relax through their massages and facials. You deserve some pampering too, so why not go for it? Their prices are rather reasonable too.
So what are you waiting for? The world awaits the new and hip you.
| | |
| --- | --- |
| Address | #01-86, 57 Eng Hoon Street, Singapore 160057 |
| Contact | +65 6222 5590 |
| Timings | Monday To Friday 11:00 am – 09:00 pm| Saturday 10:00 am – 09:00 pm | Sunday 10:00 am to 8:00 pm |
Highlight
Great eye for details
Amazing place for fans of Star-Wars
Professional team of barbers
This one is for the proud geek in you and feels more like a place where you can hang out and have a great time, instead of a simple barbershop. From their Star Wars collection to other sci-fi memorabilia (we love the helmet), you'll have a lot of things to explore.
Besides this, the barbers here have an amazing eye for detail and this shows in the detailed and intricate hair-styles that they offer. They have plenty of return customers, and we're absolutely not surprised at all.
Be sure to book your appointment on their site if you're in a hurry.
Now you can keep yourself stunning and happy with the nice impression of the people. They will love your new trending haircut with a smile and some attitude of smartness on the face. The best barbershop opened in Singapore can turn your downside up. We have helped you by listing the best barbershops in Singapore for you, and you can hire services from anyone of them. Choose the best one you like and meet your needs. Don't wait; it's time to enhance your appearance with the best option available for you.
Check out our other related articles:
Zoya
Queen of Obscure References and occasional writer. When not exercising my thumbs on Instagram, you can find me looking for good author bios on Google.
Related posts
Subscribe for newsletter
* You will receive the latest news and updates on Singapore's best trends!