9 Best Bar Stools in Singapore [2022]
megha, 3 years ago
9 min

read
5780
A famous person once said 'A family that eats together, stays together'. Well, the least we can do is assure comfort while we're at it. Therefore, 'seating' plays a very important role while spending time in the comfort of your home. Whether you're gathering for breakfast as a morning ritual or entertaining friends over for some drinks, it needs to be done right. This is why, you require the most appropriate bar stools for your kitchen counters, home-bars, central islands, basement pads, and even commercial spaces.
Although, it can be pretty confusing to choose from so many designs, types, and styles. Hence, the choice of your bar stools will need to be customized as per your usage and lifestyle. For example, for lengthy meals, you need cushioning and armrests. Whereas, for saving space and tucking them into your counter, you need slimmer and contemporary versions. Meanwhile, some even like it backless. In other words, there are many parameters you need to consider and we have done all the homework on your behalf.
To make your purchase easier, we have collated only the Best Bar Stools in Singapore that have something that fits everyone's interior style
Whether you are shopping for your central island counter or a high stool for your home, or even for your bar in bulk quantity, Comfort furnishing has you covered! They offer a vast variety of over 100 different designs in different colors, seats, heights, and overall styles. If you put the above parameters in play, you will easily find your desired bar stool at Comfort Furniture.
If you're looking for a bar stool for a more understated but sleek theme, you might want to consider Comfort Furniture's Gillian Barchair design. It's elegantly upholstered and easily enhances comfort with its contoured backrest. Being a curved shape version makes the chair graceful, classy, and stylish. It's enough to give an exquisite look from all angles, including its back view, thanks to the thin metal feature that runs across its back.
Highlights:
A collection of the same style in bar chairs, dining chairs, and Lounger versions
Available in 6 colors
Comfortable and minimalistic
Click here for Comfort Furniture's Gilian Barchair
2. IKEA – Stig Bar Stool
Certainly, one of the most universally loved and trusted brands in the furnishing space, IKEA ought to top lists of this kind. Keeping the esteemed brand name aside, we truly believe IKEA's Stig Bar Stool is one of the best bar stools available in Singapore. It is modern, versatile, and certainly classic by appearance. Needless to mention, the durability is brilliant as it consists of steel and its seat is made from polypropylene.
Most importantly, the visually comfortable backrest is its best feature and covers more than half of your back. Another great quality – it's easily cleanable with a mild soapy towel and BAM! You have your bar stool that looks classy anywhere you place it.
P.S. – This sells out quickly, grab yours soon!
Highlights:
Good durability guaranteed
Crafted with premium materials
Very easy to clean
Click here for IKEA Stig Bar Stool
3. Nook & Cranny Living – City Bar Stool
Most times, when you imagine a bar stool for your ideal décor dream, you think of classic and sexy wooden bar stools. Well, here's that supreme pick. Indeed, Nook and Cranny Living's City Bar Stools make a statement while being simplistic, but still prosperous-looking.
Its modern elegance and polished style make it a great industrial stool for your bars. Moreover, it's practical, comfortable, stylish, and sturdy. Making it the perfect bar stool that blends in your sleek, wooden, and trendy spaces. Although, be careful of the possibility of rusting for the metal finish.
Highlights:
1-year warranty
Versatile design
Sleek wooden look
Click here for Nook and Cranny Living's City Bar Stool
4. Other Furniture – Biella Bar Stool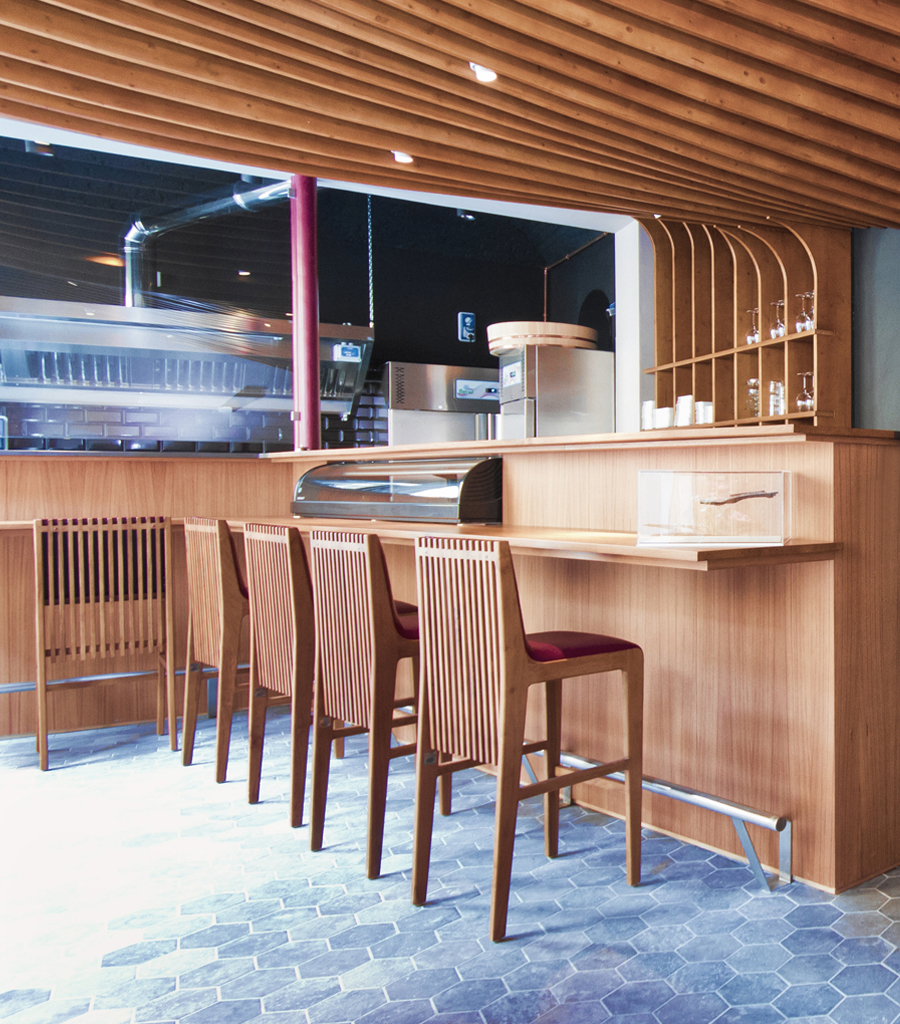 An essential and popular feature from Other Furniture's Biella collection is their exquisite Bar Stool. It was initially designed for a Sushi restaurant in Italy and focused on comfort beyond imagination. Apart from being ultra comfortable, its vertical strips at the back with that solid teak structure steal the show in terms of sturdiness and design.
This masterpiece is a great addition to absolutely anyone's home-bar as well as a premium commercial space like a restaurant. Warmth, exclusivity, style, space, and lots of conveniences make this probably the best pick on bar stools for anyone.
Highlights:
Wide seat and exclusive space
Teak wood interiors
Customizable design and finesse
Available in multiple sizes as required
Click here to for Other Furniture's Bar Stool
5. Dream Furniture – Modern Stool Bar
Certainly, this one's a typically modern, stunning, and burnished design commonly seen on barstools due to its versatile appearance. Dream Furniture's Modern Stool Bar sports a polished steel look that coincides with almost any interior themes indoors. It does not only have a seat that is available in various colors but is also known as the best bar stool in Singapore. Oh, yes!
Why is it the best of all? Well, it has the power to allow height adjustments through a lever. Moreover, it has a footrest! Clearly, both these features are rarely found in one bar stool item. Most importantly, it is economical, affordable, and extremely stylish! Keep in mind, its weight capacity does not exceed 100 kgs unlike other bar stools. Although, with so many amazing features, not every buyer focuses on this single shortcoming.
Highlights:
Light on the pocket
Available in various colors like black, orange, blue, white, and more.
USPs – Height adjustment lever and footrest
Click here for Dream Furniture's Modern Stool Bar
6. Zuo Modern Bar Stool
If you have some extra dollars to spare, don't look beyond this contemporary and marvelous design to enhance your interiors. Zuo's Modern Bar Stool range might be slightly on the pricier side but is totally worth the premium purchase. Besides, it has the full potential to be the 'Talk of the table' due to its faux leatherette seating. Most importantly, it comes with premium and durable metal legs so consider yourself sorted!
Certainly, adding oomph to your kitchens, dining areas, and bars, this product is a no-brainer for giving a chic finesse. Alternately, you could place it in your backyard, little shack by the pool, or even your home gardens to add character. Furthermore, it can handle about 250 pounds of weight. Overall, It smoothly blends with indoor as well as outdoor interiors and creates a beautiful vibe.
Highlights:
Long-lasting durability
Stylish and distinct design
Made with premium materials and gives a distressed look to add uniqueness
Click here for Zuo's Modern Bar Stool
7. ACEssentials Round Bar Stool
Some people purchase bar stools mainly for the function instead of the style so, if you're looking for one that holds a vast range of weights, then you have reached the perfect place on this list. ACEssentials' Round Bar Stool is one of the rare bar stools in the Lion City that can hold a weight capacity of 160kgs. Perfect for those who entertain guests at home often or want to plot them in your café/bar/restaurant.
Very obviously, ACEssentials Round Bar Stool is made from intensified construction that lasts long enough to guarantee its quality. In fact, it's designed for commercial spaces and yet has a gleaming and powerful appearance. Moreover, it is multifunctional which means it can be used as a salon chair for make-up and hairdos, guitar stool for performances, garage chair, or even in a laboratory with computers.
Highlights:
Easy to assemble as a DIY product
Super high weight capacity
Versatile to fit into various locations
Click here for ACEssentials Round Bar Stool
8. Homez Metal Bar Stool
Here's giving you yet another affordable option for bar stools in Singapore. We suggest you add the Homez Metal Bar Stool in your shopping cart while considering economical but significant options. Why though? Well, this one might be cheaper but it is as strong and durable as many others on this list. Moreover, the seating material used made of premium quality metal.
What's the best part you ask? Have you seen the sexy wooden legs? They are high on qualiy as well as gorgeousness and super low on the pocket. If this is not a steal-deal, what is!? Furthermore, its capacity is better than many others -130 kgs! To conclude, its sleek design, affordability, weight capacity and high0end materials make it Singapore's most loved bar stool, indeed! Warning: Do call for help while assembling this piece due to the heaviness it comes with.
Highlights:
High on quality and weight capacity
Premium wooden legs that add character to your home interiors
Strong metal leg and anti-slip rubber
Click here for Homez Metal Bar Stool
9. Bartell Barstool
With so many options in the market, it could get hard to choose something appropriate for your home. Everyone looks for something that is functional as well as complementary to their style. Although, there is a certain bar stool that complements ANY space with its classic wooden finish. Here's introducing the Bartell Barstool that is exemplary, reliable, and extraordinary by nature.
Furthermore, feel It can place the Bartell bar stool in your minibars and office pantries. Its Scandinavian style stool is the best answer to your confused look while choosing a bar stool that suits your interiors. Mostly designed for industrial use, they can be plotted at your homes too. In other words, it's strong and designed to look quintessentially chic. Take your pick from classic no-frill designs or red hot designs that fit right into an art gallery 🙂
Highlights:
Powerful, vintage, and superfine design
Wooden finish for a classic look
Simple but versatile to complement any décor
Click here for Bartell Barstool
In conclusion, there is something for everyone on this list of the Best 10 Bar Stools in Singapore. Check out more variations on the mentioned websites for variety. And in case of dilemmas, go for the classics.
To have the furniture home delivered, you have to read our 8 Best Furniture Delivery in Singapore!
Related posts
Subscribe for newsletter
* You will receive the latest news and updates on Singapore's best trends!