16 Best Art Jamming Places in Singapore You Should Check Out [2022]
Zoya, 2 years ago
17 min

read
5389
If you find yourself clicking on this article, you are either wondering "what on earth is art jamming?" or you simply want to know what is the best place to go art jamming in Singapore. Well, to answer your question, art jamming involves two things: art and people. It is a form of activity where you gather around with your peers, friends, families, or even strangers to create an individual art piece or a large artwork where you are all involved in the creation process. It is a great activity to socialize, whilst clearing your thoughts and getting your creative juices rolling.
If this sounds like an activity you would want to take part in, then you are on the right track. In this article, we tell you the best art jamming places to visit in Singapore.
Highlights:
Multiple outlets
Free beverage
Wide variety of food options available
Located in three popular areas of Singapore, Arteastiq is a boutique tea house oasis that is also a respite from the beat of the city. Not only can you unleash your creativity in Arteastiq, but you also have the opportunity to sip on some gourmet tea.
The premium tea lounge has an elegant chi-chi ambiance with a comprehensive medley of artisanal tea selections for all occasions. Bonus: the first beverage is free. A small beverage alongside having the time to yourself to create your artwork seems like a rather therapeutic option, doesn't it?
Each session costs $48, so don't hesitate and bring along your friends, family or colleagues and enjoy some hot beverages whilst letting your creative energy flow.
Address
Mandarin Gallery, #04-14/15 333A Orchard Road, Singapore 23889,
68 Orchard Road #03-70.72, Plaza Singapura, Singapore 238839
78 Airport Boulevard #05-201 Singapore 819666
Contact Information
+65 6235 8705 | mandaringallery@arteastiq.com
Business Hours
See here
Highlights:
Calming atmosphere
Relaxing aromatherapy
Central location
Lionheart Studios offers you the perfect peaceful ambiance, with soft fairy lights and a free flow of hot drinks. On top of this, the studio also includes some relaxing aromatherapy, creating the ideal place to get your troubling thoughts off your head and focus solely on getting rid of them creatively.
It is situated right in the central business district area of Singapore. Providing you with a beautiful city view of Singapore, it is also surrounded by greenery. It gives you an impeccable vibe, mixing in both the busy, bustling city life feeling with the serenity radiating off the greenery.
Each two-hour session costs $35 per pax, including a bit of guidance from instructors. However, they are temporarily closed due to the ongoing coronavirus pandemic. Thus, you may need to wait a while before checking this studio out.
| | |
| --- | --- |
| Address | Havelock II @ 2 Havelock Road, #03-08, Singapore 059763 |
| Contact Information | general@lionheart-studio.com |
| Business Hours | Tuesday to Sunday: 10 AM to 6 PM |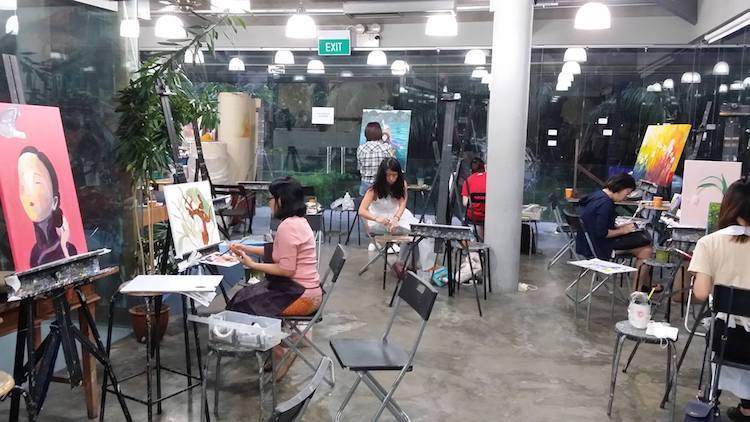 Highlights:
Convenient location
Relaxing atmosphere
Drinks are available
Located just a few minute's walk away from Dhoby Ghaut MRT station, this art jamming venue has two studios: Waterfront studio and Pavilion studio. Art jamming sessions usually occur in the Waterfront studio on the first floor, so you have the opportunity to face the beautiful pool in front whilst putting your enthusiastic creative self into use.
In addition to the studio itself being comfortable and tranquil, they also provide relaxing background music and offer customers coffee, tea and cold drink water. There is also storage space for you to store your unfinished paintings and creative tools.
Each session consists of 2.5 hours, costing $34 per pax. This package included a canvas, essential tools that can be rented, unlimited paints and a wet paint carrier that is free. However, if you bring your own materials, it costs $25.
Address
Istana Park, 31 Orchard Road, Singapore 238888
Contact Information
+65 9012 9717
Business Hours
Monday, Tuesday, Thursday: 10.30 AM to 3 PM
Friday: 10.30 AM to 1 PM
Saturday to Sunday: 10 to 11.30 AM, 1.30 PM to 3 PM
Highlights:
Unguided and guided art jam sessions available
Affordable
Cozy venue
Looking for a venue to art jam without any guidance? Or, are you searching for a studio where you hope they will guide you at least slightly? Well, fear not because Artify Studio offers you both options.
If you are opting for an unguided art jam session, go for the Unguided Art Jam, which is conducted from Tuesdays to Thursdays. Each 2.5 hours session costs $25 and you will be provided with all the art tools that are needed. Note that since it has no guidance at all, only questions regarding equipment will be regarded.
On the other hand, if you are trying to find a guided art jam session, Liberty Art Jam at Artify Studio is great! You will find sessions from Tuesdays to Sundays, and it costs $35 for a 2.5-hour session. If you have no prior experience of painting whatsoever, don't be worried as you will be guided throughout the session.
Address
200 Jln Sultan, #12-07, Textile Centre, Singapore 199018
Contact Information
+65 9011 1431
Business Hours
Tuesday to Friday: 11:00 AM – 5:30 PM, 7:00 PM – 9:30 PM
Saturday: 10:00 AM – 3:30 PM, 4:15 PM – 6:45 PM
Sunday: 12:30 PM – 3:00 PM, 3:30 PM – 6:00 PM
Highlights:
Unique patented spinner
Only art jamming place to create abstract art
Plenty of packages
Art shouldn't be restricted by anything, and Motion Art Space is a firm believer in this. But, that isn't what makes Motion Art Space stand out from other places. Now, many of us may have hated physics and Newton during school but over at Motion Art Space, you'll get to experience how science and art come together to create stunning works of art.
All that you need to do is give their unique patent-applied spinner a spin, and voila! Gravity does all the work for you and your very own masterpiece is created. You don't even need to be good at painting; which makes it a great way to pass the time with your friends, family and even strangers! All sessions are one hour each so it won't even require too much time of your busy schedule.
From couple packages (which cost $129) to even group packages (which cost $299 for 5 pax), they'll provide all the equipment that you'll need to get started. So what are you waiting for, your masterpiece awaits your arrival.
| | |
| --- | --- |
| Address | 36A Arab St, Level 2 Singapore, Singapore 199735 Singapore |
| Contact | +65 8448 9750 |
| Pricing | Prices start from $59.00 |
If you are looking for teamwork and socialising whilst letting your creativity flow out of the box, Heartroom Gallery is the perfect place for you! You can choose whether to create an individual piece or one piece as a whole team. No matter what you choose, the session starts with a small group discussion to set the common theme of the session, encouraging team building.
No need to worry, no prior experience is needed. Furthermore, you will be provided with all the materials. Each session goes on for 2.5 hours at $38 and additionally, you can bring your own food. Enjoy munching on some snacks whilst painting.
If you are trying to find a place perfect for socialising with strangers (or maybe even your colleagues, friends or family), snacking and creating artworks, do check out Heartroom Gallery.
Address
Blk 41 Cambridge Road #01-17 Singapore 210041
Contact Information
+65 9672 7849
Business Hours
Monday and Wednesday: 10 AM to 5 PM
Thursday and Friday: 10 AM to 9.30 PM
Saturday and Sunday: 10 AM to 5.30 PM
Highlights:
Private and intimate sessions
Able to do art jamming at your own home
Affordable prices
Located near northeast Singapore, you will find the perfect place for art jamming. Since their official studio is temporarily closed, you can have a private and intimate session with people for your choice at your own venue and time of choice. A minimum of 2 people are needed and a maximum of 4 is offered. You can check out the price range and workshop here.
Furthermore, they are also providing customers with art painting tutorials online to get you started on the road to art jamming. You can shop their kits to get your materials and tutorials if you are interested in art jamming at the comfort of your own comfortable home.
Address
371 Beach Rd, #B1-57 City Gate, Singapore 199597
Contact Information
+65 8922 6046
Business Hours
Tuesday to Friday: 1 PM to 9.30 PM
Saturday and Sunday: 11 AM to 7 PM
Highlights:
Complimentary beverage
Relaxing surroundings
Friendly guides
In Artefakts, you will find non-guided sessions with soft background music playing and a complimentary cold or hot beverage. The studio itself is well lit and air-conditioned, making the atmosphere even more relaxing. However, don't feel apprehensive if you have no experience with painting techniques or how to use specific tools, as there will be friendly guides who would love to direct you.
Usually, a group of 12 people are in each session, so feel free to bring along your friends and family to share the canvas! Or, if you want to work on your own piece, you are free to do so too. All materials will be provided to you, which included a canvas, unlimited paint, brushes, palette and aprons. You can pay an additional fee of $15 if you need some more time to finish your artwork before you take it back home.
Address
90 Goodman Road, Block O, #02-64, Goodman Arts Centre, Singapore 439053
Contact Information
+65 8189 4281
Business Hours
Monday, Tuesday, Wednesday, Friday: 7 PM to 10 PM
Thursday: 2 PM to 9.30 PM
Saturday: 10.30 AM to 4.30 PM
Highlights:
Indoor and outdoor studio available
Spacious studios
Small class size
There is nothing more relaxing than waltzing your paintbrush on your canvas as the cool breeze blows around you. That is exactly what Breezedeck Art Jamming offers you. Whilst they have an indoor studio, they also provide customers with an outdoor studio, creating an ideal peaceful and creative ambience around you to destress.
Furthermore, the studios are very spacious so you do not need to worry about being too close to anyone, with 10 being the maximum number of people who can attend each session. Be prepared to express yourself freely through your acrylic brushstrokes, whilst having your loved ones around you.
| | |
| --- | --- |
| Address | Triple 2 Studio, 231 Cantonment Rd, Singapore 089764 |
| Contact Information | +65 8753 5648 |
| Business Hours | Sunday: 9.30 AM to 5.30 PM |
Highlights:
For both children and adults
Relaxed ambiance
Professional instructors
At Arhaus, you will find the perfect non-judgemental space and make your creativity surge through you freely. It offers sessions for both children and adults, but separately, thus creating a much more relaxed ambience and makes it much easier for your children to socialise and befriend others.
Compared to the previous venues, Arthaus is slightly more on the pricier side. For adults, each session is $70 for two hours with all materials being provided and an instructor who will guide you. The sessions are flexible, with no fixed date. However, it does need prior booking.
Most importantly, ARThaus aims to create a space where adults and children are able to discover, explore and express freely the creativity in them all set in a stress-free and cosy environment. They believe in providing the best with close guidance from our experienced instructors. So, they welcome all art enthusiasts to come to join them in this fulfilling and enriching experience!
| | |
| --- | --- |
| Address | 901A Bukit Timah Rd, Singapore 589619 |
| Contact Information | +65 9023 0458 |
| Business Hours | NA |
Highlights:
Marbling workshops
Basic to advanced skill levels
Professional guidance
Established in 2015, SLIK Studios is a marbling studio that specializes in the art of marbling. Water marbling or paper marbling is a technique that has origins in Turkey, Japan, and Europe. The method involves floating paints on the surface of a thickened solution and carefully transferring it onto paper.
From paper marbling to candles, coasters, or canvas tote bags, the team at SLIK Studios experiments with other surfaces and objects to create a new and exciting way to experience the art of marbling.
​The process of marbling is a magical process that will easily have you hooked with endless possibilities. The only limitation will be your imagination! It is easy and fun for all ages!
Experience the magical art of marbling at our community events, corporate events, or school workshops! The studio has different marbling workshop variations from basic to advanced, on paper or fabric! With live demonstrations and step-wise guidance, participants will be able to express themselves within a fluidic canvas.
All materials are provided and participants will even get a mini marbling kit to take home after the workshop! Workshops are by appointment only and registered participants will be notified.
SLIK Studios is helmed by Karen Heng, a marbling artist. She has worked with many international brands and government agencies in Singapore. Come learn the art of marbling with Karen at SLIK Studios and immerse yourself in this unique, mesmerizing and intriguing art form!
| | |
| --- | --- |
| Address | Goodman Arts Centre, Singapore 439053 (By Appointment Only) |
| Contact Information | +65 9674 8644 |
| Business Hours | 9 AM to 11 PM, Daily |
Highlights:
No prior experience needed
Wide range of workshops
Public and private workshops available
Room To Imagine is a creative sanctuary for people to come together to learn something new, make friends, and express themselves through art.
Get in touch with your creative side at the art workshops held weekly at the studio. Discover the expressive art of Acrylic Pour with our Discovery Workshop, where you can create unique abstract artworks in the span of a few hours.
You can also choose to learn about the fascinating world of resin in their Resin Coffee Table Workshop and many more. Other than our public workshops, Room To Imagine is also open to discussing corporate workshops, bridal showers and private lessons.
Their classes are perfect for all ages as they will provide step-by-step guidance and generally, no prior art background is required. They are a great way of relieving stress and as a weekend activity with friends and family. So ask a friend along, or come along and make new friends. Other than workshops, the studio also stock a huge range of art supplies and artisanal merchandise that would make perfect gifts for any occasion.
| | |
| --- | --- |
| Address | 395 Jalan Besar, #04-01, Singapore 209006 |
| Contact Information | hello@roomtoimagine.sg |
| Business Hours | Strictly by appointment only |
Highlights:
Paint on tote bags or shirts
Stay-at-home painting kits available
Affordable
Streaks n Strokes is an art jamming studio with a twist on the usual painting fare. Unlike other art jamming studios whose primary focus is painting on a canvas, Streaks n Strokes has differentiated itself from the crowd by offering you to paint your own designs on T-shirts and tote bags which can be brought home and worn later. What can be better than showing off your artistic flair to your friends and family by donning on your work and exclaiming that you are the legend behind the masterpieces?
They pride themselves on their "in-house innovated and manufacture fabric ink from [their very own] Singapore production plant" which is perfect for painting on the textiles at their studio.
If you prefer to paint in the comfort of your own home, you would be glad to know that they are selling their stay-at-home painting kits online. This means that you can bring the painting kits out with you to the desired location to paint. Additionally, you may even spend some quality time with your other half at home thinking up creative designs to paint on your T-shirts and tote bags.
| | |
| --- | --- |
| Address | 38 Ang Mo Kio Ind Park 2, #04-55, Singapore 569511 |
| Contact Information | +65 8587 8884 |
| Business Hours | Monday to Friday: 10.30 AM to 7 PM |
Highlights:
Affordable pricing
First Ever Neon Art Jamming In Singapore
Convenient locations
The Fun Empire is a vertically integrated, one-stop event solutions provider that offers a wide range of activities, workshops, and add-on services (corporate gifts, catering etc), all tailor-made to your needs.
As the biggest art jamming provider in Singapore, The Fun Empire can accommodate hundreds of participants at the same time. All of The Fun Emire's studios are fully air-conditioned, private venues located within walking distance of MRT Stations. They have multiple locations near the city and across Singapore, ensuring convenience for your event.
The studio offers competitive and customizable proposals to meet your event requirements and budget. In addition, their team is made up of professionally trained facilitators with our proprietary ASEA™ Quality Training Management System (ISO 9001 Certified) to ensure the best art jamming workshop experience for you.
With this long list of the 15 best art jamming places in Singapore, you can now tell your friends and families, perhaps even work colleagues, about art jamming and the several different places you can visit. Go ahead and choose studios that offer you a light beverage or something to snack on to relax you. Art jamming is a great way to de-stress and let your creativity run, so if you ever run out of relaxing activities to do in Singapore, maybe give art jamming a try!
| | |
| --- | --- |
| Address | 5B Guillemard Rd, level 3 Wing Fong Building, Singapore 399685 |
| Contact Information | +65 6515 4146 | hello@thefunempire.com |
| Business Hours | 9 AM to 10 PM, Daily |
Highlights:
Professional artist as a guide
Individualized attention
Tailored according to student's progress
Ron's Art Lesson is created by artist Ron Wong to share her creativity and art experience with children at their homes. Lessons are carefully tailored according to students' progress and are conducted in small class sizes to ensure individualized attention and learning quality for each and every student. Ron's Art Lesson hopes to bring happiness and playfulness out of everyone.
A typical art jamming session at Ron's Art Lesson begins with an optional half-hour briefing on how to start a painting and a colour mixing demonstration. Canvas, easels and the whole set of materials will be brought right to your door, so you may enjoy with no fuss but only fun!
Feel free to prepare a picture for painting reference, or create your own imaginative painting on the spot! For parent and child, you can choose to work on one large canvas. You just have to state your preference during your registration process.
The best part of Ron's Art Lesson is that she brings the art jamming session to you! You can choose where you would like to have your session at. If you like, you do not even have to leave your home!
| | |
| --- | --- |
| Address | At your preferred location |
| Contact Information | ronartlesson@gmail.com |
| Business Hours | 9 AM to 10 PM, Daily |
Highlights:
Friendly and experienced team
Able to do the sessions at home
All materials provided
Part of The Fun Empire, Art Jamming Singapore is the largest art jamming venue in Singapore. They offer several workshops, so don't be worried if you have no prior experience! The staff are extremely experienced and professionally trained, so be assured that you can trust them with anything, starting from booking venues to art jamming.
An advantage of choosing this art jamming venue over others is that Art Jamming Singapore allows you to book art jamming sessions at any venue, including your own home. During the ongoing pandemic, it is understandable why you would not want to go out. Thus, you have the perfect opportunity to enjoy an art jamming session with your family or friends in the comfort of your own house.
They provide all the needed materials and during the session, be assured that you will have an unlimited supply of materials. Click here to view the cost ranges for each workshop and packages.
Address
5B Guillemard Road, Level 3 Wing Fong Building, Singapore 39968
91A Lavender Street S(338719)
Contact Information
+65 6515 4146
Business Hours
9 AM to 10 PM, Daily
Art jamming is a great activity for you, whether you are planning a friend group outing, a family gathering, or a date with your partner! With these best art jamming places, we are sure that you would have a lot of fun with your loved ones!
If you are looking for more things to do in Singapore, check out our article here on 101 best things to do in Singapore cooking classes here!
Zoya
Queen of Obscure References and occasional writer. When not exercising my thumbs on Instagram, you can find me looking for good author bios on Google.
Related posts
Subscribe for newsletter
* You will receive the latest news and updates on Singapore's best trends!