10 Best Art Jamming Places in Singapore [2021]
Gee, 4 months ago
9 min

read
401
If you find yourself clicking on this article, you're either wondering what on earth is art jamming or you simply want to know what's the best place to go art jamming in Singapore. Well, to answer your question, art jamming involves two things: art and people. It's a form of an activity where you gather around with your peers, friends, families, or even strangers to create an individual art piece or a large artwork where you're all involved in the creation process. It's a great activity to socialize, whilst clearing your thoughts and getting your creative juices rolling.
If this sounds like an activity you would want to take part in, then you're on the right track. In this article, we tell you the best 10 art jamming places to visit in Singapore.
Located in two central areas of Singapore, not only can you unleash your creativity in Arteastiq, but you also have the opportunity to sip on some gourmet tea. Bonus: the first beverage is free. A small beverage alongside having the time to yourself to create your artwork seems like a rather therapeutic option, doesn't it?
Each session costs $48, so don't hesitate and bring along your friends, family or colleagues and enjoy some hot beverages whilst letting your creative energy flow.
Official Pages: Website I Instagram I Facebook
Address: Mandarin Gallery, #04-14/15 333A Orchard Road, Singapore 23889,
68 Orchard Road #03-70.72, Plaza Singapura, Singapore 238839
Lionheart Studios offers you the perfect peaceful ambience, with soft fairy lights and a free flow of hot drinks. On top of this, the studio also includes some relaxing aromatherapy, creating the ideal place to get your troubling thoughts off your head and focus solely on getting rid of them creatively.
It is situated right in the central business district area of Singapore. Providing you with a beautiful city view of Singapore, it is also surrounded by greenery. It gives you an impeccable vibe, mixing in both the busy, bustling city life feeling with the serenity radiating off the greenery.
Each two-hour session costs $35 per pax, including a bit of guidance from instructors. However, they are temporarily closed due to the ongoing coronavirus pandemic. Thus, you may need to wait a while before checking this studio out.
Official Pages: Website I Instagram I Facebook
Address: Havelock II @ 2 Havelock Road, #03-08, Singapore 059763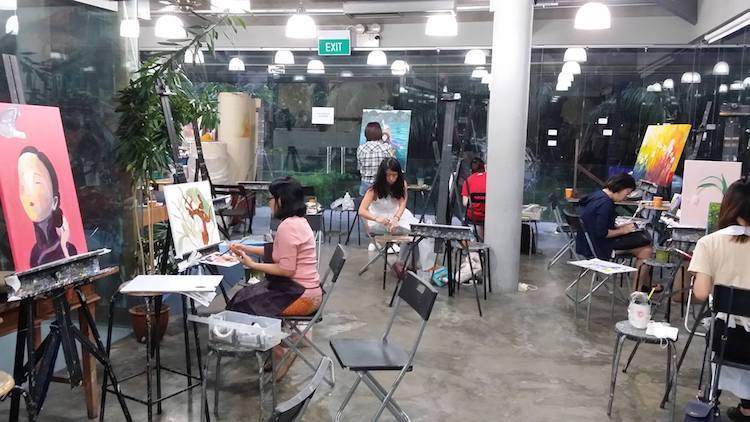 Located just a few minutes walk away from Dhoby Ghaut MRT station, this art jamming venue has two studios: Waterfront studio and Pavilion studio. Art jamming sessions usually occur in the Waterfront studio on the first floor, so you have the opportunity to face the beautiful pool in front whilst putting your enthusiastic creative self into use.
In addition to the studio itself being comfortable and tranquil, they also provide relaxing background music and offer customers coffee, tea and cold drink water. There is also storage space for you to store your unfinished paintings and creative tools.
Each session consists of 2.5 hours, costing $34 per pax. This package included a canvas, essential tools that can be rented, unlimited paints and a wet paint carrier that is free. However, if you bring your own materials, it costs $25.
Official Pages: Website I Instagram I Facebook
Address: Istana Park, 31 Orchard Road, Singapore 238888
Looking for a venue to art jam without any guidance? Or, are you searching for a studio where you hope they will guide you at least slightly? Well, fear not because Artify Studio offers you both options.
If you are opting for an unguided art jam session, go for the Unguided Art Jam, which is conducted from Tuesdays to Thursdays. Each 2.5 hours session costs $25 and you will be provided with all the art tools that are needed. Note that since it has no guidance at all, only questions regarding equipment will be regarded.
On the other hand, if you are trying to find a guided art jam session, Liberty Art Jam at Artify Studio is great! You will find sessions from Tuesdays to Sundays, and it costs $35 for a 2.5 hour session. If you have no prior experience of painting whatsoever, don't be worried as you will be guided throughout the session.
Official Pages: Website I Instagram I Facebook
Address: 200 Jln Sultan, #12-07, Textile Centre, Singapore 199018
Part of The Fun Empire, Art Jamming Singapore is the largest art jamming venue in Singapore. They offer several workshops, so don't be worried if you have no prior experience! The staff are extremely experienced and professionally trained, so be assured that you can trust them with anything, starting from booking venues to art jamming.
An advantage of choosing this art jamming venue over others is that Art Jamming Singapore allows you to book art jamming sessions at any venue, including your own home. During the ongoing pandemic, it is understandable why you would not want to go out. Thus, you have the perfect opportunity to enjoy an art jamming session with your family or friends at the comfort of your own house.
They provide all the needed materials and during the session, be assured that you will have an unlimited supply of materials. Click here to view the cost ranges for each workshop and packages.
Official Pages: Website I Instagram I Facebook
Addresses: 5B Guillemard Road, Level 3 Wing Fong Building, Singapore 39968
91A Lavender Street S(338719)
If you are looking for teamwork and socialising whilst letting your creative flow out of the box, Heartroom Gallery is the perfect place for you! You can choose whether to create an individual piece or one piece as a whole team. No matter what you choose, the session starts with a small group discussion to set the common theme of the session, encouraging team building.
No need to worry, no prior experience is needed. Furthermore, you will be provided with all the materials. Each session goes on for 2.5 hours at $38 and additionally, you can bring your own food. Enjoy munching on some snacks whilst painting.
If you are trying to find a place perfect for socialising with strangers (or maybe even your colleagues, friends or family), snacking and creating artworks, do check out Heartroom Gallery.
Official Pages: Website I Instagram I Facebook
Address: Blk 41 Cambridge Road #01-17 Singapore 210041
Located near north-east Singapore, you will find the perfect place for art jamming. Since their official studio is temporarily closed, you can have a private and intimate session with people for your choice at your own venue and time of choice. A minimum of 2 people are needed and a maximum of 4 is offered. You can check out the price range and workshop here.
Furthermore, they are also providing customers with art painting tutorials online to get you started on the road to art jamming. You can shop their kits to get your materials and tutorials if you are interested in art jamming at the comfort of your own comfortable home.
Official Pages: Website I Instagram I Facebook
Address: #02-12 Oasis Terraces, 681 Punggol Drive, Singapore 820681
In Artefakts, you will find non-guided sessions with soft background music playing and a complimentary cold or hot beverage. The studio itself is well lit and air-conditioned, making the atmosphere even more relaxing. However, don't feel apprehensive if you have no experience with painting techniques or how to use specific tools, as there will be friendly guides who would love to direct you.
Usually, a group of 12 people are in each session, so feel free to bring along your friends and family to share the canvas! Or, if you want to work on your own piece, you are free to do so too. All materials will be provided to you, which included a canvas, unlimited paint, brushes, palette and aprons. You can pay an additional fee of $15 if you need some more time finishing your artwork before you take it back home.
Official Pages: Website I Instagram I Facebook
Address: 90 Goodman Road, Block O, #02-64, Goodman Arts Centre, Singapore 439053
There is nothing more relaxing than waltzing your paintbrush on your canvas as the cool breeze blows around you. That is exactly what Breezedeck Art Jamming offers you. Whilst they have an indoor studio, they also provide customers with an outdoor studio, creating an ideal peaceful and creative ambience around you to destress.
Furthermore, the studios are very spacious so you do not need to worry about being too close to anyone, with 10 being the maximum number of people who can attend each session. Be prepared to express yourself freely through your acrylic brushstrokes, whilst having your loved ones around you.
Official Pages: Website I Facebook
Address: Triple 2 Studio, 231 Cantonment Rd, Singapore 089764
At Arhaus, you will find the perfect non-judgemental space and make your creativity surge through you freely. It offers sessions for both children and adults, but separately, thus creating a much more relaxed ambience and makes it much easier for your children to socialise and befriend others.
Compared to the previous venues, Arthaus is slightly more on the pricier side. For adults, each session is $70 for two hours with all materials being provided and an instructor who will guide you. The sessions are flexible, with no fixed date. However, it does need prior booking.
Official Pages: Website I Instagram I Facebook
Address: 901A Bukit Timah Rd, Singapore 589619
With this long list of the 10 best art jamming places in Singapore, you can now tell your friends and families, perhaps even work colleagues, about art jamming and the several different places you can visit. Go ahead and choose studios which offer you a light beverage or something to snack on to relax you. Art jamming is a great way to de-stress and let your creativity run, so if you ever run out of relaxing activities to do in Singapore, maybe give art jamming a try!
Check our other articles: Best 10 Bowling Alleys in Singapore, Top 10 Things To Do in Orchard Singapore
Related posts