10 Best Arcades in Singapore You Should Visit [2022]
Emily Hopkins, 2 years ago
8 min

read
14457
Arcades bring fond memories; when you were always trying to beat top scores on basketball machines or space invaders. You feel accomplished and every hour spend perfecting your shot counts. Whether you are looking to have fun with modern innovations or old classics, arcades have all the games you may want.
Nothing is more stress-relieving than spending time in arcades bashing buttons and claiming your prices. Here are the ten best arcades where all games including your old favorites, the latest innovative games in arcades, and exclusive new games you should try!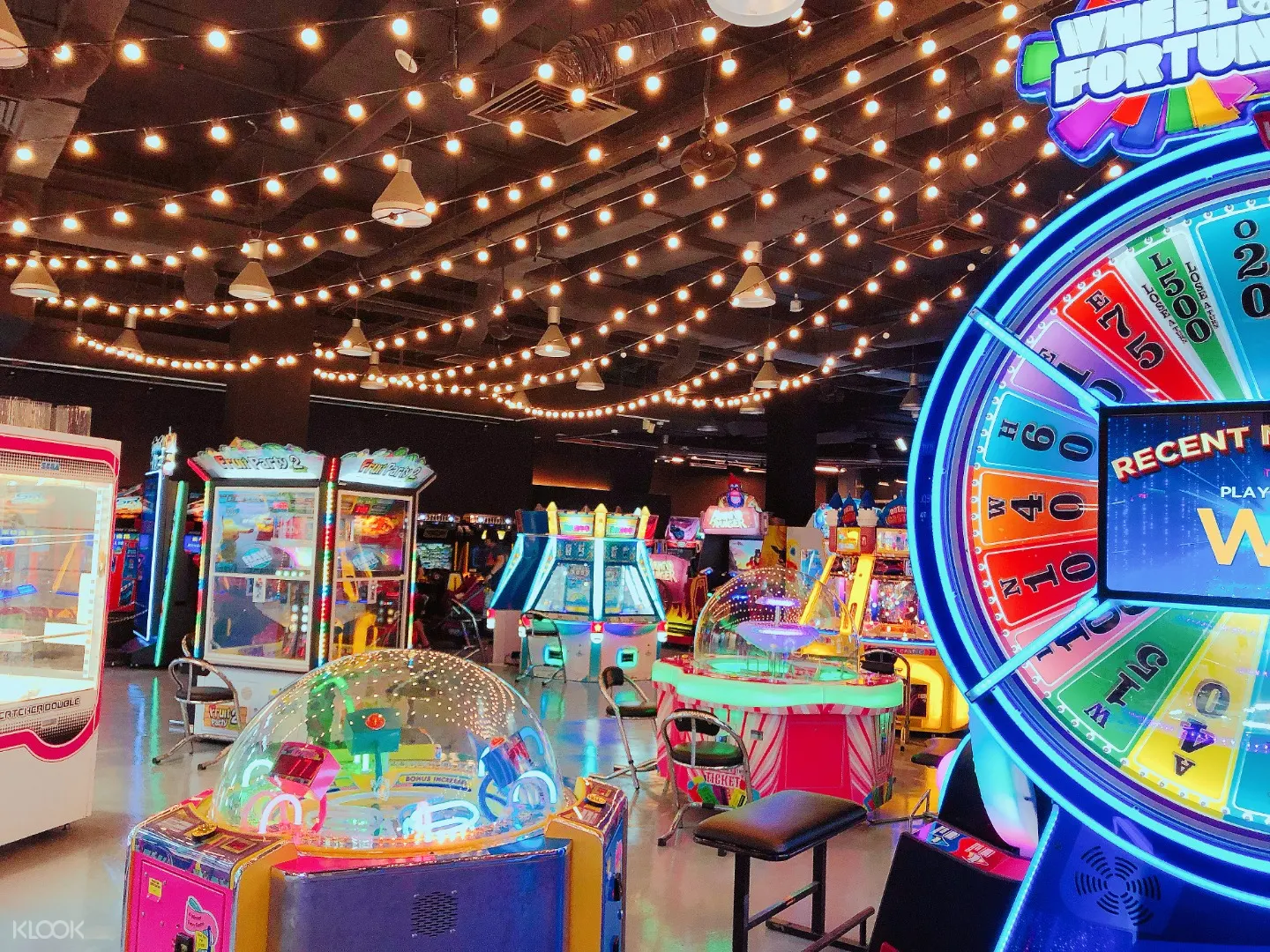 Fat cat arcade is the biggest arcade in town. It has over 100 playing machines on both outlets. For people in Easties, Djitsun Mall is the best place to visit. They have basketball machines and coin drop games that give coins for games played. The tickets are used to redeem prizes won, such as toys, accessories, and plushies or more tokens. A single game can cost $0.96, while machine games cost between one and six tickets. For $50, you get 300 tickets. However, there are promotions where tickets can be bought at discounted prices.
Address: 445 Bedok North Street 1 Level 2, Djitsun Mall, Singapore 469661
Contact: Tel (+65) 6242 0221
Opening Hours: Open Daily from 11 am to 1 am.
Social media: Facebook | Instagram
Nineteen80 Arcade has impressive games with a neon-lit tunnel entrance. It transports party owls to old tunes, magical cocktails, and a vintage interior that satisfies your thirst for old memories. Nineteen80 is getting bigger and bolder by expanding its spot from a single unit to four units, making nightlife more enjoyable.
Nineteen80 offers a cocktail menu with many arcade machines with plenty of space to celebrate the classic hits of the 80s and 90s.
At Nineteen80, you get classics such as Ribena and funky remixes such as Blue Lagoon finished with a yuzu. Other games available include PacMan, Mortal Kombat, Street Fighter, and Space Invaders.
Address: #01-02-05 21 Tanjong Pagar Rd Singapore 088444
Contact: Tel (+65) 9183 6073
Opening hours: Tue & Thu 5.30pm-1am; Wed & Fri 5.30pm-3am; Sat 7pm-4am
Social Media: Facebook | Instagram
This Arcade is hidden from the mainland city and located in Universal Studios in Singapore. They do not have age restrictions and therefore allow all people. The Arcade has tiled marble floors, is very posh and big. It has three sections where one section has Daytona, another area has claw catchers, and the last has arcade games that you can play by purchasing tickets.
The advantage of Hollywood China Arcade is that you do not need tickets to Universal Studios. A trip to Universal Studios might not be that exciting. If you need a good time to wind up and have an excellent time, it is a perfect place.
Address: Universal Studios 8 Sentosa Gateway Singapore 098269
Contact: Tel: (+65) 6577 8899
Opening hours: Thursday to Sunday 2.00pm to 9.00pm. Closed from Monday to Wednesday.
Social Media: Facebook| Instagram
With its witty name "cow play cow moo" and using neon lights to draw attention to the business, cow play is among the giant Arcades in Singapore. With a big area, there is always plenty of space to have fun. The games include space invaders, UFO catcher games, and fishing.
Most games need three tokens. If you are on a tight budget, you can go for one token games where you'll spend 20 cents on each receipt. You can get a discount of $5 tickets if you spend $20 to buy tickets. Your tokens will therefore be at the cost of $0.16.
Cow play cow Mo also has many claw machines. The machines are licensed and have stocked Japanese toys.
Address: 8 Temasek Blvd, #03-372, Suntec City, Singapore 038988. 1 Pasir Ris Close #04-105, Downtown East E-Hub Singapore 519599
Opening Hours: Daily from 11am to 1am
Social Media: Facebook | Instagram
An affiliate company to Cow Play Cow Mo, Arcade planet is a perfect place to play rhythmic games. The old school hits are relatable to the 90s kid crowd. There is a revolution, Jubeat, to Dance Dance. If you like trying out new games, new machines like Nostalgia Op.2 are readily available.
Other games available at Arcade planet include four-player Bishi Bashi machine, 40 claws, and Pokémon pinball. All the games are a sure bet to have you hooked.
Many games cost $1, which makes your gaming experience memorable.
Address: 3 Temasek Boulevard, # 02-408/409 Suntec City (West Wing), Singapore 038983
Opening hours: Daily from 11am to 11pm
Social Media: Facebook | Instagram
With a prize station, you'll be able to exercise your toy skills. You get to play Pokémon plushies all day long. The prize station also has claw machines that are the ultimate new craze around arcades. Other available games include electronic basketball and car racing.
There are plenty of toys and collectibles at the prize station. The store also accepts capital voucher redemptions to be used in gaming.
Gameplay cost is between $1 and $2.
Address: 201 Victoria Street, Bugis+ #03-25/26, Singapore 188067
Contact: Tel (+65) 6634 6810
Opening hours: Daily from 11am to 10:30pm
Social Media: Facebook| Instagram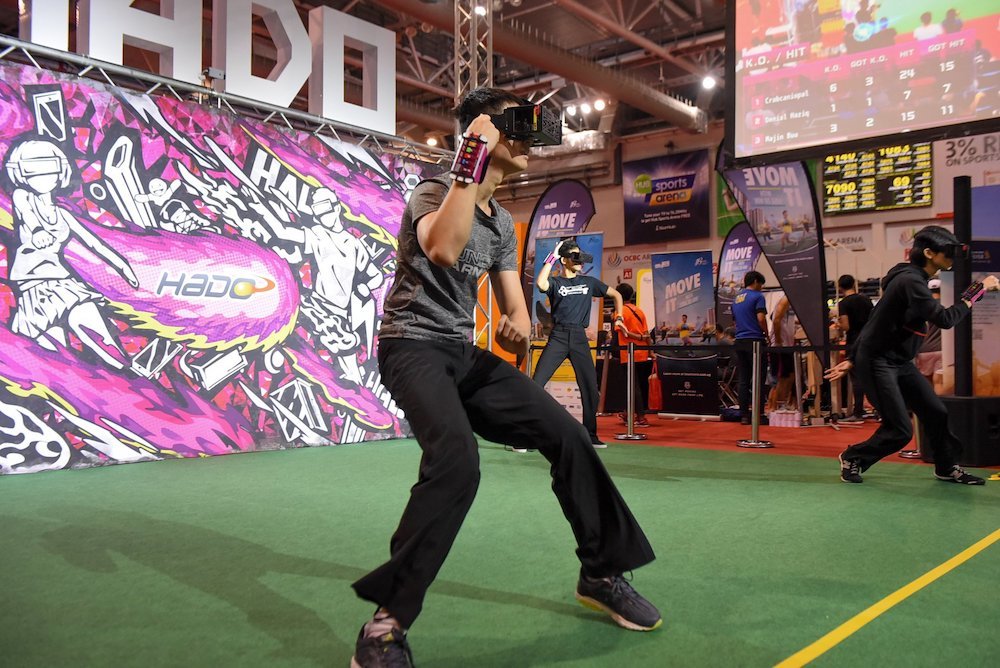 Hado Singapore is a virtual reality arcade. The games are fun and of a kind; using technology to bring a whole new gaming experience. Hado offers an adrenaline-packed gaming experience. You get to virtual elements into the real world, play with fireballs, mushrooms, and dragons.
Besides, you'll experience motion and movement once you play techno sports. The games are dodgeball, Hado shoot, monster battle, Hado kart, and Hado.
Hado Singapore also gives you venues to organize private parties and team building activities on their grounds. Hado aims to enhance bonding for people of all ages. It also focuses on ensuring a healthy and active lifestyle through sports.
Their games are priced between $20 to $23 for all competitions that will last half an hour.
Address: 10 Ubi Cres, Ubi Techpark, Singapore 408564
Contact: Tel (+65) 8802 7527
Opening Hours: Daily from 10am to 8pm
Social Media: Facebook | Instagram
Timezone is packed with classical games. Favourite games here are table hockey, VR rides, and bowling alleys. At their Vivo city outlet, you get to play flashy LED-lit bumper cars.
Timezone has promotions on many available games. To get the benefits, sign up for a Timezone powercard at $10 in stores or online. You will also be notified of the latest promotions and games.
You can take advantage of their many promotions and discounts. They have a variety of deal packages that you can view here and with the best being 100% bonus game credits given. (E.g Buy $50 get $50)! Don't forget to always check out their hot deals to see the latest promotions.
To add on to that, they also have special bundles so you can play to your heart's content without busting your wallet:
Address: Multiple venues, click here to check
Contacts: Tel (+65) 6893 2917
Opening Hours: Depends on location, click here to check
Social Media: Facebook | Instagram
Zone X is a leading amusement and entertainment player center in Singapore. While Zone X is popular with the 90s kids, their games amuse people of all ages. It has brought new games such as collectible card battle, dance simulation, version 10 planet buster, and football gaming.
Other games include Hero of Robots version 3, midnight maximum Tune4, and animal Kaiser evolution. There are music machines and entertaining games such as Let's Go Island.
The game price is between $1.20. Regulars can sign a card at $85.60 and get lower prices. Their gaming costs come to $ 0.20. Other promotions are also available during the holidays.
Address: Eastpoint Mall 3 Simei street 6, #B1-01/02/19/20/21 Singapore 528833
Contact: Tel (+65) 6721 9061
Opening hours: Mon – Fri: 10AM-11PM | Sun: 10AM- 23:00 | Sat: 10:30 – 23:00
Social Media: Facebook | Instagram
Virtualand is popular with many games that will make you pop and tap your feet to EDM. Such amazing games are hard to resist. You get more rhythmic games from virtualand. Some of the games include Rhythm vaders, Maimai, and Jubeat.
Virtualand also has virtualand's tournaments that can allow you to take the grand title in the gaming champion.
Games cost between 0.50 to $ 2.
Virtualand Serangoon
Address: 23 Serangoon Central, #04-65, Nex, Singapore 556083
Opening hours: Sun- Thurs: 1030AM-1159PM | Fri, Sat, PH Eve: 1030AM-1AM
Contact: Tel (+65) 6634 2623
Virtualand Bugis
Address: 201 Victoria Street, Bugis+, #05-04/05/06, Singapore 188067
Opening hours: Sun-Thurs: 11AM – 10AM | Fri, Sat, PH Eve: 11AM – 1130PM
Contact: Tel (+65) 6634 2623
Virtualand Tiong Bahru
Address: 302 Tiong Bahru Rd, #04-101, Tiong Bahru Plaza, Singapore 168732
Opening hours: Mon-Thurs: 11AM-10PM | Fri, Sat, PH: 10AM-11PM | Sun: 10AM – 1000
Contact: Tel (+65) 6883 1618
Social Media: Facebook
The above best arcades in Singapore are a perfect selection for a day out, romantic dates, and team-building events. With all the fun activities, you can forget all the aimless rounds in malls. While in arcades, you need to take precautionary measures laid down for your safety. Ensure you follow all the safety measures, instructions, and the laid procedures laid down in arcades.
Other Arcades that are worth your time are the virtual reality arcades. Those arcades offer new experiences, where you can play more games as a team. It is possible to bond with your teammates or family through these arcades. Though highly-priced than other arcades, you will have a memorable time in these arcades. Walk to one of these arcades today and enjoy your favourite activity!
Emily Hopkins
I'm an accomplished and detail-driven content writer with copious experience in producing compelling, engaging and flawless content for a variety of blogs and websites for several years.
Related posts
Subscribe for newsletter
* You will receive the latest news and updates on Singapore's best trends!
Trending Posts
May 30, 2023

What is Matcha? Matcha...

May 31, 2023

TLDR: In this article,...

May 31, 2023

TLDR: As an audio...