7 Best Android TV Boxes in Singapore [2022]
, 3 years ago
9 min

read
13023
Running out of new TV channels to watch? Tempted to get a new smart TV but low budget? Fret not, with Android Boxes being in a rise lately, you will be able to stream whatever you want and take your TV experience to the next level. Read on more to find out on the best 7 Android Boxes in Singapore and how they are worth your purchase.
What is a Android TV Box?
TV box is a new way to add value to your entertainment setup at home. Get a wide range of options and forget about regular satellite or cable channels. Android TV boxes have been designed to give the user the ability to stream content locally and online.
But, how do these devices work? The answer is simple! These little boxes work as a media centre that can be plugged into any television with an easy setup. Offering users the possibility of expanding your streaming options. Enjoy high-quality movies, download video games, and even your favourite songs in just one click.
As compared to a Smart TV, this TV box will be more budget-friendly. Therefore, it will be a worthwhile investment for every household.
Considerations before making the splurge
Before making an impulsive purchase, it is important to sit down and analyze what you are looking for and what your needs are. Currently, there are a wide variety of TV boxes that offer options such as access to Google Play Store, smart home assistants like Google Home Mini, and even support Microsoft Office.
All this and more turns Android box into the future of entertainment. So, here are a few things to look out for:
Support System
Some Smart TV box come with pre-installed third-party apps and don't support Google Play. This greatly reduces your download options. So, it is important when making the purchase to check that the device you choose can hold Google Play Store.
Speed Performance
To enjoy the best streaming quality without interruptions it is important to have a good processor in order to enjoy a good speed performance. So, it is advisable to search for TV boxes with a good RAM capacity, and at least a 1.5 GHz-quad core CP.
Connectivity
Many TV boxes offer the option to connect the device directly to the Ethernet port or enable Wi-Fi. It all depends on the needs of the user. However, it is recommended to buy a smart TV box that has at least 802.11ac, which allows a smooth transmission without interruptions. In addition, there are devices that have Bluetooth connectivity which allows you to transfer files quickly.
Storage Capacity
If you are the type of person who usually downloads videos to watch them later, storage capacity is something you should pay attention to. Many of these devices come with limited storage space and support fewer applications. Although many Android boxes allow you to transfer downloaded files, it's always important to check what capacity the model offers.
Following this line of thought, we suggest you look for TV boxes with at least 4GB of RAM and a minimum of 32GB internal storage.
Is TV Box Illegal in Singapore?
One of the biggest concerns of many users in Singapore is whether these devices are legal in the country or not. Well, let's set things straight! Android TV boxes are not illegal in Singapore, the only way these devices are considered illegal is if the user decides to acquire a box with "free" streaming apps.
Bear in mind that these boxes were designed to connect your TV and stream videos from other platforms like Google Play Store. Many of those apps and services require a subscription fee, therefore if the user avoids paying it, it is considered a crime.
Without further ado, let's begin!
Are you looking for high-spec PC gaming streamed on your TV? Nvidia Shield is all you need. This model remains the best Android TV box for gaming. Nothing surprising at all because this beauty has integrated a smart home control center, HDR formats, and dynamic audio quality via Dolby Atmos.
Nvidia Shield TV is the dream of any gamer because it offers the opportunity to enjoy your favorite cloud games on the big screen. That's why it supports Google Play Games and GeForce. Its fast and high-quality performance allows the user to live a unique gaming experience that involves all his senses from the comfort of his chair. Overall, this TV box is definitely deserving to top our list of the best Android TV boxes in Singapore.
Highlights
NVIDIA Tegra X1+ processor
4K HDR
256-core GPU
RAM 3 GB
Bluetooth 4.1/BLE
Audio: Dolby Atmos
If you are feeling nostalgic for those old video game consoles, the Mecool KM9 Pro will become your favorite TV box. This device provides the opportunity to enjoy video games originally from PS1, Nintendo N64, and Sega Genesis.
It has a CPU: Amlogic S905X2 Quad-core ARM Cortex-A53 that offers a great performance to stream media and play videogames. In addition, it comes with a 4GB RAM and 32GB ROM. This capacity brings you a smooth execution regardless of the storing media files you may have on the device. Finally, it also lets you transfer files from external devices through a USB 3.0 port that allows a quicker data transfer.
Highlights:
Amlogic S905X2 processor
RAM: 4GB
ROM: 32GB
Google Home
LAN Ethernet: 10 / 100M
Voice remote control
If you are looking to enjoy a good graphic experience, at a more affordable price than the Nvidia Shield when playing video games, you will love the Minix NEO T5 Android TV Box.
Among the specifications we must highlight on this device, we must mention that it can hold 4K streaming thanks to its ability to support HDMI 2.1. In addition, it counts with an internal memory of 16GB, Chromecast, Google Assistant, and Wi-Fi connectivity to complete your streaming experience at home. Finally, it has a Micro-SD card reader in case you wish to expand the total storage capacity. All in all, a great TV box and truly one of the best Android TV boxes in Singapore.
Highlights
Android TV™ 9.0 Pie system
4K streaming
16GB memory
Chromecast capability
Google Assistant
Micro-SD card reader
Xiaomi has become well-known for selling reliable and budget-friendly gadgets.
Xiaomi Mi Box S is an excellent option for people on a tight budget, but at the same time, who are looking to get a good performance. In fact, this device can work very well for people looking to expand their home entertainment options at a competitive price.
What makes the Xiaomi Mi Box S a great deal is that it offers 4K HDR technology alongside a solid high-speed quad-core CPU. In addition, Mi Box S comes with Google Android TV pre-installed. So, you can easily download any app you want through Google App Store.
Finally, enjoy benefits such as Chromecast and Google Assistant, and relish a more complete, fast, and friendly-user integration in just one click.
Highlights
4K Ultra HD Streaming Media Player
Powered by Android 8.1
RAM: 2GB DDR3
Storage: 8GB eMMC
Wireless screen mirroring at the tap of a button
Supports Wired and Wireless Connections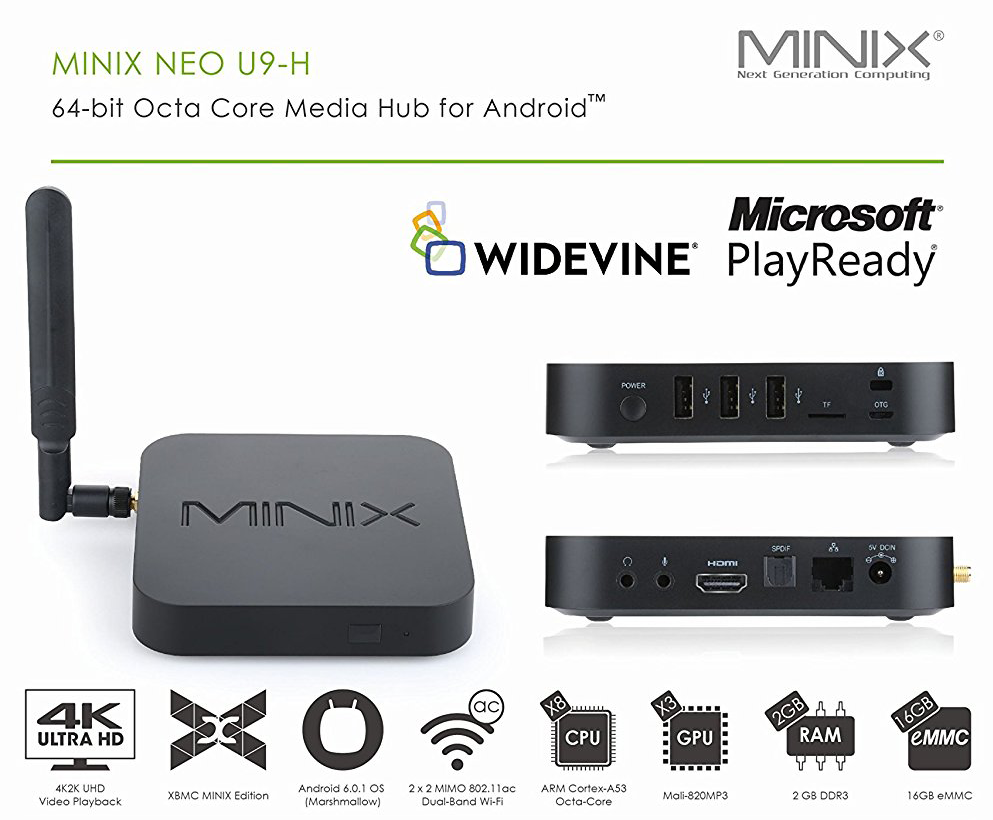 The U9H Box is considered a premium multi-media player that offers its users an unmatched experience in streaming. In fact, this device promises to change the way you watch movies or videos from the comfort of your home.
The U9H supports up to 4K Ultra HD at 60fps. Thanks to its cutting-edge technologies, this TV box brings a wide range of colors to your screen that enhances the entire viewing experience. But in addition to excellent in image and audio quality, this model allows the user to enjoy a better application browsing experience.
However, we must emphasize that not all apps are compatible with this device. We suggest checking which apps you want to download and check if they are compatible before purchasing this TV box. Hands down one of the best Android TV boxes in Singapore!
Highlights
Android Marshmallow
4K Ultra HD
ARM Cortex-A53 octa-core processor
Dolby Digital Audio
MicroSD card reader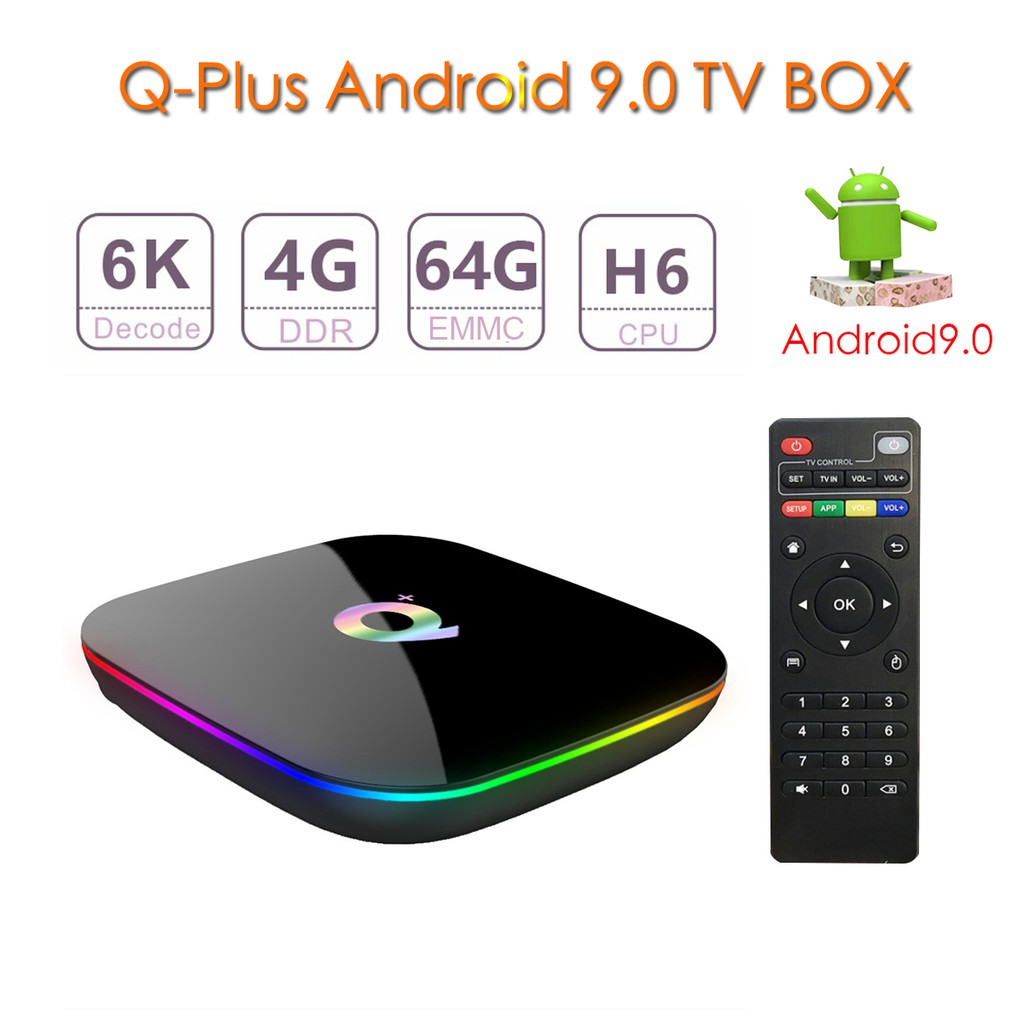 For those who are looking for cutting-edge technology and a TV box with an appealing design to look at, the Q + Android TV Box is what you need at home. This device holds a CPU Quad-core ARM Cortex-A53, alongside storage of 32GB/64GB, and a capacity of 4GB.
It is perfect for people who do not have high expectations in streaming or video games. The Q + Android TV Box comes with pre-installed channels which makes it ideal for families who seek a different option without having to worry about investing their time installing or downloading any app.
This TV box offers you a 4K resolution perfect to binge-watch your favorite TV shows on Netflix. In addition to allowing you to check your Facebook and Twitter feed.
Highlights
Quad-core ARM Cortex-A53
Memory: 4GB DDR3
Storage: 32GB/64GB EMMC
Ethernet: 10M/100M Standard RJ-45
USB Port: 1 USB 3.0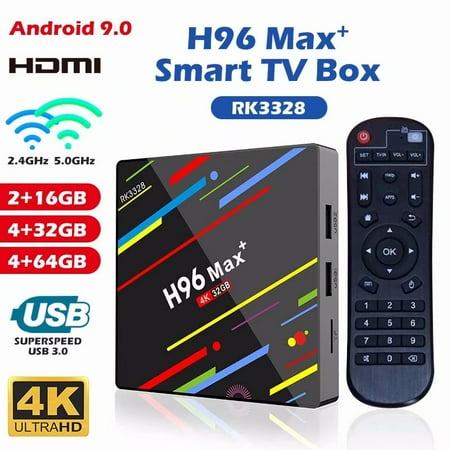 Price: $ 49.00
The H96 Max Plus is another budget-friendly TV box. This device supports 4K media streaming and comes with remote control. It's perfect for people looking to expand their options when watching television at home, but do not have high expectations in resolution, speed, and ability to download other apps.
The H96 Max plus offers you a quad-core Cortex-A53 processor with 4GB RAM and internal storage of 32GB. Besides, you can choose between wired Ethernet or wireless Wi-Fi, and Bluetooth. Overall, truly one of the best Android TV boxes in Singapore.
Highlights
CPU: RK3328 Quad-Core 64bit Cortex-A53
RAM: 4GB DDR3
ROM: 32GB
4K VP9 Video decoder
Ethernet or wireless Wi-Fi
USB 3.0
Level up your home entertainment
With just an Android TV box, you can explore endless entertainment for you and your loved ones. Especially during special occasions, you won't need to fret about your empty home.
You won't have to worry about being bored at home with our list of video streaming app. Perhaps also set up your entertainment corner with this list of soundbars, bean bags, and projectors and dim the lights – your home cinema is all ready.
Don't worry that you will have to leave the comfort of your home to buy your snacks. Grab some comfort food with our list of ice cream delivery, pizza delivery, bubble tea delivery services. After, you can enjoy and watch our recommended Netflix series!
Likewise, if you ever got tired of just watching movies, we have recommended some home-based karaoke systems for you to satisfy your KTV needs. Now, this is all the reason why you will need an Android TV box to keep yourself occupied!
Related posts
Subscribe for newsletter
* You will receive the latest news and updates on Singapore's best trends!