5 Best Air Fryers in Singapore [2022]
Gee, 3 years ago
9 min

read
7383
Air fryers seem to have become an essential utensil in any kitchen today. For people who love that crispy texture with the mixture of flavours that you get when frying something, air fryers have become their best ally. These devices innovated the market by offering fried food in a quick and healthier way, resulting in the perfect formula to enjoy the characteristic flavours of fried foods without worrying about the unhealthy fat parts. That is why today we have decided to break down a list of the 5 best air fryers in Singapore. So, if you have been thinking about buying one of these devices, but do not know where to start, this list will be perfect for you.
Updated 26 November 2020
Most Common User Concerns before Buying an Air Fryer
Due to its increasing popularity, today you can find endless options that suit your needs. However, it's important to look at details like dimensions, safety features, cleaning process, and temperatures it handles, before making any buy.
Below we listed some of the most common concerns of users and things you should look out to make the right decision:
What can you actually cook in an air fryer?
You can cook almost anything in an air fryer. From vegetables to chicken, including frozen food. These devices offer hundreds of options! However, we always suggest checking the model you intend to buy to be sure you can use it to cook what you want.
Some of the most common recipes you can cook in an air fryer are salmon, potatoes, chicken, pizzas, and corn on the cob, apples, and vegetables.
Safety Features:
Air fryers can get extremely hot when you are cooking. So, it's important to check what type of safety features does the model you like offers. For example, some air fryers come with an auto-shutoff button, and an external structure cool to the touch.
Dimensions:
Some air fryers can have a very bulky structure. So, it is advisable to take a moment to think about where in the kitchen you want to place it. Ask yourself, do I have enough space for this device without it becoming a nuisance in my kitchen?
If you plan to use it regularly, it is important to choose models with ergonomic designs and that does not take up much space on the top of your counter.
How long does it take to cook something?
It all depends on what you are cooking. For example, vegetables usually take 5-7 minutes. While salmon and chicken thighs can range from 15- 20 minutes. In fact, most air fryers can handle cooking for more than an hour.
But it is always recommended to check the specifications of your device as well as the instruction manual. Bear in mind that you can always google some of the most popular recipes to make with an air fryer.
Temperature:
Temperature is essential when choosing the right air fryer for you. If you want to cook more complex meals you need to have a device that handles temperatures around 390-400*.
Keep in mind that if you want to cook meals with chicken or meat, you'll need to cook at a temperature close to 400*. In addition, seek air fryers with a timer, this will make your life easier and you will be able to set a proper time.
But if your expectations are low and you simply want to cook recipes that do not require a long cooking process, you can choose a more basic model.
Cleaning Process:
Most air fryers are easy to clean! You just need to unplug it and wipe the outside with a damp cloth. Finally, wash the tray, pan, and basket with water and using dishwashing soap.
Bear in mind, that each device is different. So, do not forget to check the instruction manual of your device for more information about the cleaning process.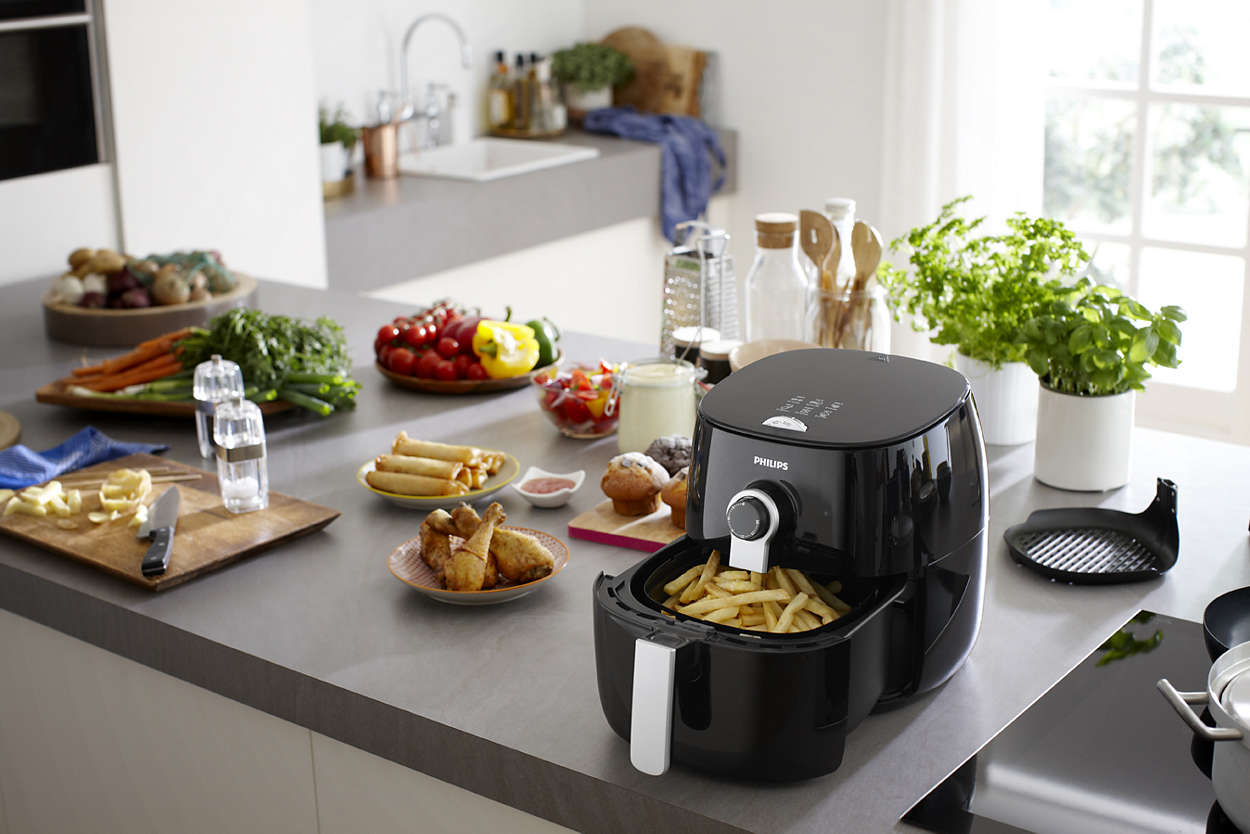 Price: $288 – $309
Philips is one of the brands that is currently leading the market of air fryers. Thus, it is not surprising to see so many models of the brand among the users' favorites.
The Philips Viva Collection Air Fryer is an ideal option for those looking for a more compact model. This air fryer has a capacity of 0.8kg of fries, making it a great option for people who most of the time cook for two.
This model allows you to reduce fat and preserve that characteristic flavor you love in fried food. Finally, thanks to its Twin TurboStar technology it cooks faster and more efficiently. Overall, truly deserving to top our list of the best air fryers in Singapore.
Twin TurboStar technology
Easy to clean unit
Compact design
Cool wall exterior
Automatic shut-off
Temperature control: 80 – 200 °C
Time control: Up to 30 minutes
Price $389
Do you want to enjoy that characteristic flavor of fried foods, and at the same time, reduce your calorie intake? The Philips Avance AirFryer XXL is what you need! This device offers you the best of both worlds in just one click, and is indeed one of the best air fryers in Singapore.
What do we love about this air fryer? The answer is simple, it allows you to cook in an easy, and quick way. It doesn't require preheat and food comes out with a crispy and delicious texture.
You can fry, bake, grill, and even roast your favorite food at home. And the best thing about this model is that it allows you to cook family size meals with 90% less fat.
The cons? It takes up a lot of space due to its bulky structure. It can be noisy sometimes, and it doesn't have digital controls. This means that it can be hard to set the temperature and time precisely.
Fry, bake, grill, and roast any food.
Fits a whole chicken
Cleans up process in 90 secs
No preheat required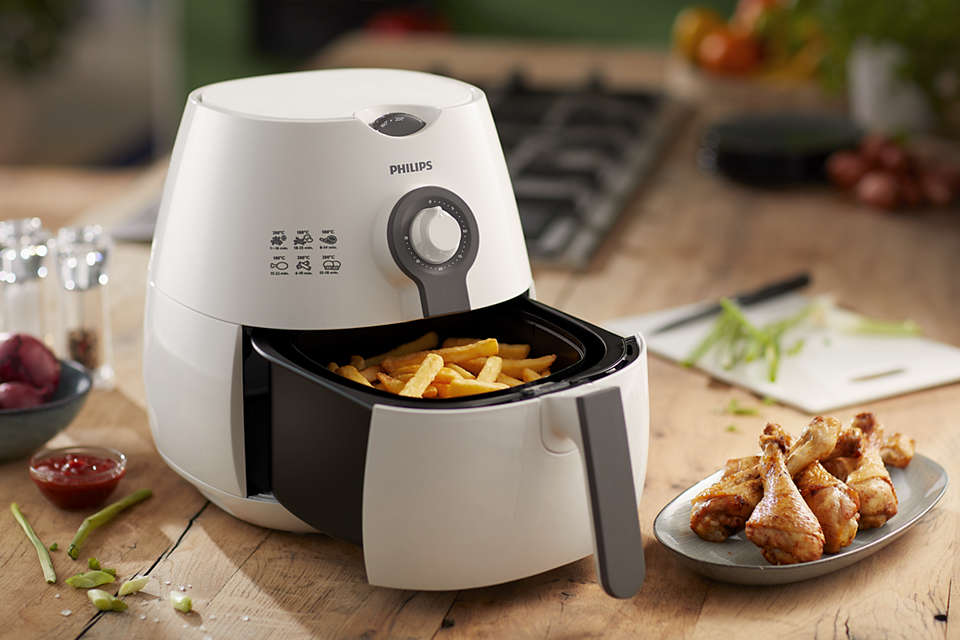 Price: $229
Philips Daily Collection Air Fryer is the perfect option for people who are seeking good performance, but at the same time, something a little bit more budget-friendly.
If it is the first time that you are going to buy an air fryer, this model will surely be the best option for you! It comes in a compact and elegant design, offers a quick cook, and it's easy to clean.
Among its specs, we can mention that it allows you to fry, grill, roast, and bake whatever you want. You can also adjust the time and temperature of cooking. And its Rapid Air technology and low-fat cooking, let you enjoy a crispy meal rich in flavors in a few minutes.
Rapid Air technology
Fry, grill, roast, and bake
Adjustable time and temperature control
Pre-set cooking times up to 30 minutes
Easy to clean
Its design and technology allows reducing odors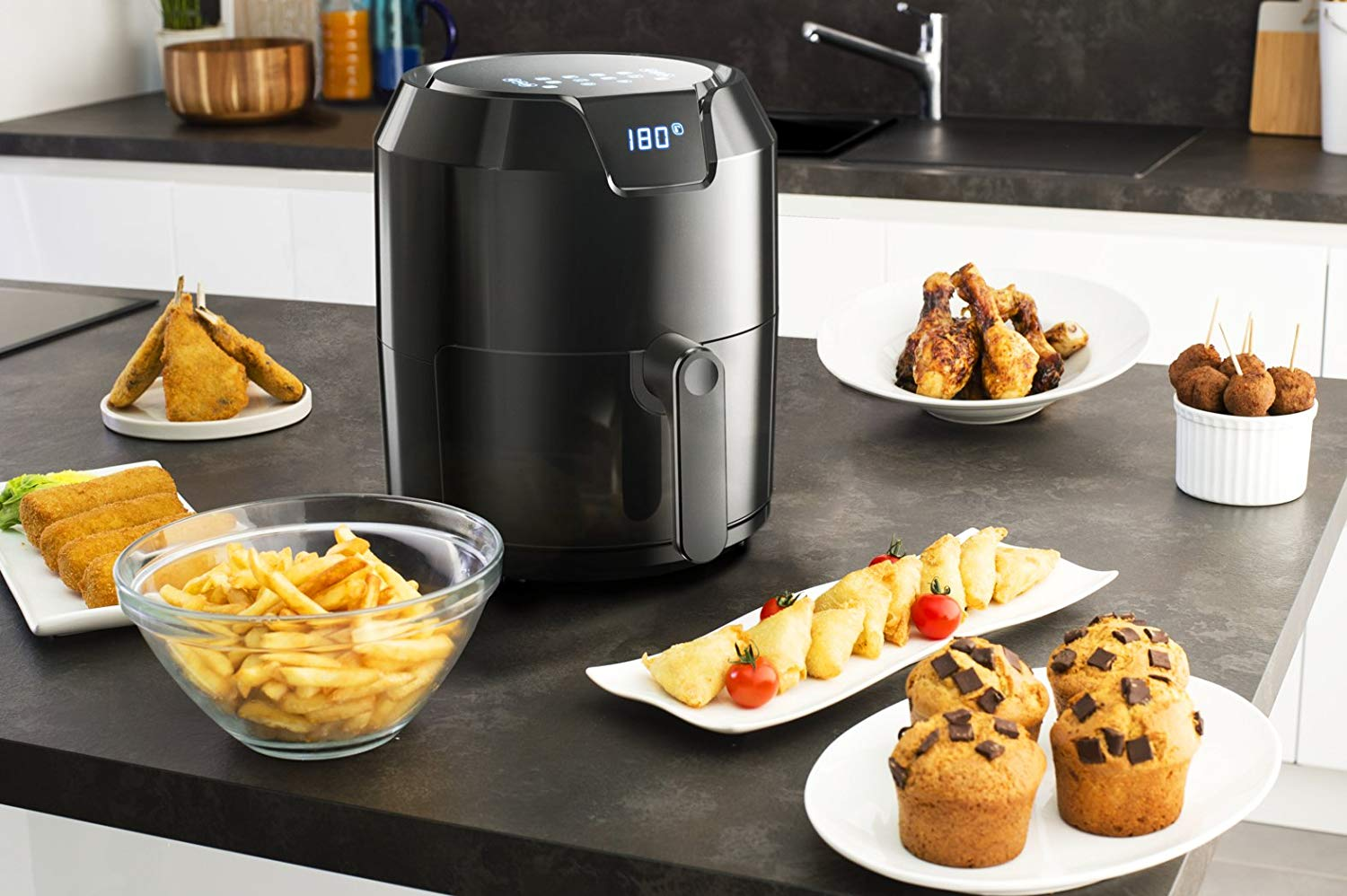 Price: $ 188.72
But in the market, you can also find other brands that offer good performance and results like Philips air fryers. That is the case of the Tefal Air Fryer EY401, a device that offers excellent quality at a more affordable price.
This model is ideal for families or people who usually cook for more than two people. Its 4.2-liter capacity allows you to serve up to 4 people and helps you save time when cooking for large groups.
Its Air Pulse technology lets you cook low-fat meals with a crispy result. While you will need little to no oil to cook your favorite meals. Finally, another thing we love about this air fryer is its compact and slim design. Which is why it can fit without a problem on your kitchen countertop. Definitely one of the best air fryers in Singapore!
Air Pulse technology
XL Capacity
Dishwasher safe
Digital screen
60 minutes timer auto-off
Patented basket system
8 preset modes: fries, steak, shrimp, cake, pizza, fish, grill, and roast
High precision temperature 80-200 degree
Price: $78
Are you on a really tight budget? Do not worry! A Mayer Air Fryer MMAF88B is what you will need. This device is best known in the market for its low cost and excellent performance, which makes it a great deal for large families.
Despite the fact that this model is more basic than the previous devices, it fulfills its function 100%. The Mayer Air Fryer MMAF88B has a capacity of 3.5L. This means that you will be able to cook for a large group of people in just one cooking session.
In addition, you can cook with up to 80% less oil. It comes with 200-degree temperature control and a 30 minutes timer. Finally, its compact structure makes it easy to place in your kitchen, and it's easy to clean.
The cons? It is not as powerful as most Philip Air fryers. It requires a longer time and higher temperature for cooking, and it does not have external temperature control. This means this air fryer doesn't have a cool wall exterior and you will need to be careful when cooking.
3.5L capacity
30 minutes timer
200-degree temperature control
Up to 80% less oil
Setup in simple steps
Easy to clean
Philips leads the air fryers market worldwide! Its wide range of models, both high-end and low-end, offer a perfect performance with that fried flavor that everyone is looking for.
Get that crispy texture while you reduce your intake of fat. According to experts, air fryers require less oil than when you fry something in a traditional way. This significantly reduces the overall calorie intake of a person. In fact, you can reduce your calorie intake by 70% to 80% when using air fryers
And although we highly recommend Philips air fryers, you can also find other reliable brands that may suit your budget and needs as well. Just remember!
Final reminder: when buying air fryers you always need to look out for features like size, safety features, cooking time, the temperature it handles, and the cleaning process. Overall, all these 5 air fryers we recommended are truly the best in Singapore, so hope this list helped you decide on which fryer is the right one for you!
Related posts
Subscribe for newsletter
* You will receive the latest news and updates on Singapore's best trends!