Aerial yoga is also often referred to as "anti-gravity yoga" or "flying yoga". It involves being suspended by a hammock which is supported by carabineers, support chains, as well as webbing straps. While suspended in mid-air, participants would perform different yoga poses. Classes also often incorporate elements of Pilates and dance! Because the suspension of the hammocks is considerably close to the floor, aerial yoga is a great option even for those of you who are afraid of heights and are reluctant to be swinging around too far from the ground.
This popular trend may sound a little daunting at first, but it is certainly an interesting and exciting choice once you try it. Additionally, aerial yoga is tied to a myriad of health benefits. For example, it improves blood flow to your brain, it helps to increase your flexibility, it improves your focus, and it is a great upper body workout! So, if you're ready to take on a new challenge, read on as we explore the Top 10 Aerial Yoga Classes in Singapore for you to try out!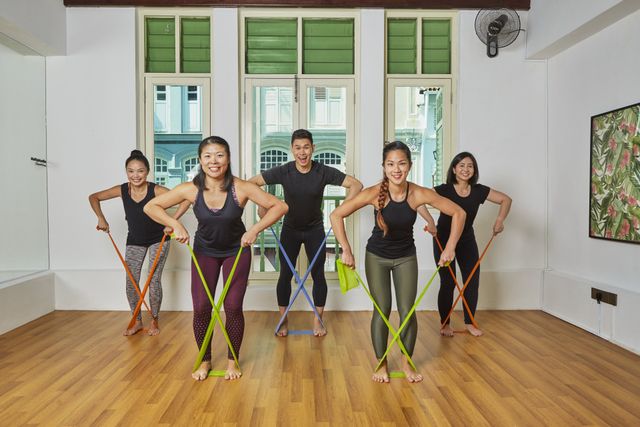 Highlights:
Combines Yoga, Pilates, TRX Suspension Training and also the Aerial Arts
Available in different skill and intensity levels
Multiple locations
Conveniently located across 2 locations at Woodleigh Park and Ann Siang Road, FlyWith Fitness aims to combine wellness, mindfulness, as well as nutrition education to help each individual achieve their best. Above all, each class at FlyWith Fitness is uniquely and carefully tailored to the needs and abilities of each client. In other words, you do not have to be intimidated by the pros, because you are able to choose classes ranging from high, medium, to low sweat, depending on your comfort level and how your body feels. On top of aerial yoga, FlyWith fitness offers Pilates, Dynamic Fusion, as well as Movement on the Roller.
Address
8 Woodleigh Park (The Arena), Singapore 357844 /
14 Ann Siang Road, Singapore 069694
Contact Number
9150 1156
Business Hours
See website
Highlights:
Offers beginner, intermediate, as well as advanced aerial yoga classes
Group, private, and also corporate classes available
Online group classes also available
Lin, the founder of Refindery Fitness, put together a team of passionate teachers who above all want to enable others to reconnect with themselves and improve their fitness and well-being. Her interest in fitness and aerial peaked after she struggled with vertigo and low immunity as a result of years of 'not having time to exercise' during her corporate days.
Because the team understands the challenges faced by individuals who are early in or re-starting their fitness journey, the friendly instructors strive to cater their classes to varied levels of experience.
Consequently, beginner, intermediate, and advanced classes are offered in the studio. On top of aerial yoga, this multi-programme studio also offers classes in Pilates Mat and Reformer, Yoga, Barreless, and Singing Bowl Therapy.
Address
46 Kim Yam Road, 02-25 The Herencia Singapore, Singapore 239351
Contact Number
8121 3245
Business Hours
Monday
11:30 AM – 8:45 PM
Tuesday
10:30 AM – 8:45 PM
Wednesday
10 AM – 8:45 PM
Thursday
9:30 AM – 8:30 PM
Friday
11:00 AM – 1:10 PM
Saturday
8 AM – 1:40 PM
Sunday
10 AM – 12:10 PM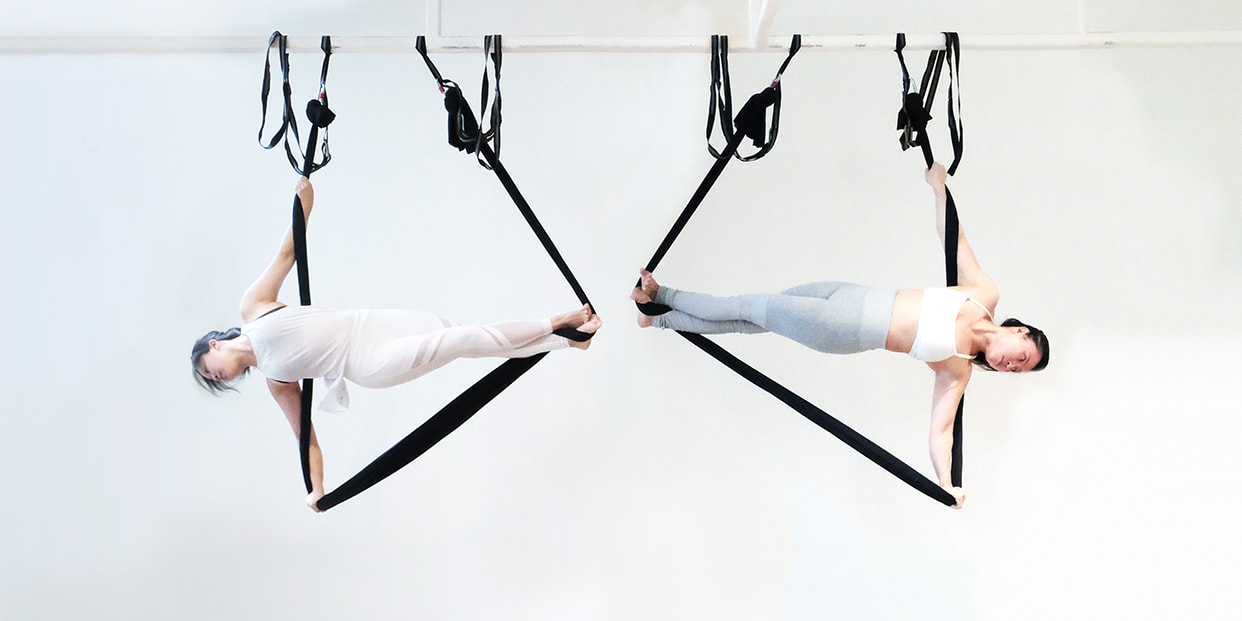 Highlights:
Offers aerial yoga daily and at different timings
Conveniently located near Tanjong Pagar MRT station
Bath facilities available
Hale Yoga is a contemporary yoga studio offering professional guidance to its clients. The studio promises that each class is tailored to individual aerial physical ability so as to ensure a safe environment to safely practice aerial yoga. 2 different types of fabric (Parachute trapeze and Stretchy silk) are also available, so that trainees are able to experience the different benefits of aerial yoga! With a range of classes that differ in difficulty and intensity levels, you would certainly be able to find a class that fits you no matter your experience or fitness level. In addition to aerial yoga, the studio offers Wheel yoga, Hatha yoga, and Vinyasa flow.
Furthermore, the studio is equipped with bath facilities! This means that you would be able to sneak in a quick workout session before heading back to work if needed!
Address
144 Robinson Road, Robinson Square #19-02 Singapore 068908
Contact Number
6581 3200
Business Hours
Monday to Friday 11.30 AM – 8.30 PM
Saturday 11 AM – 4.30 PM
Sunday 12 PM – 3.30 PM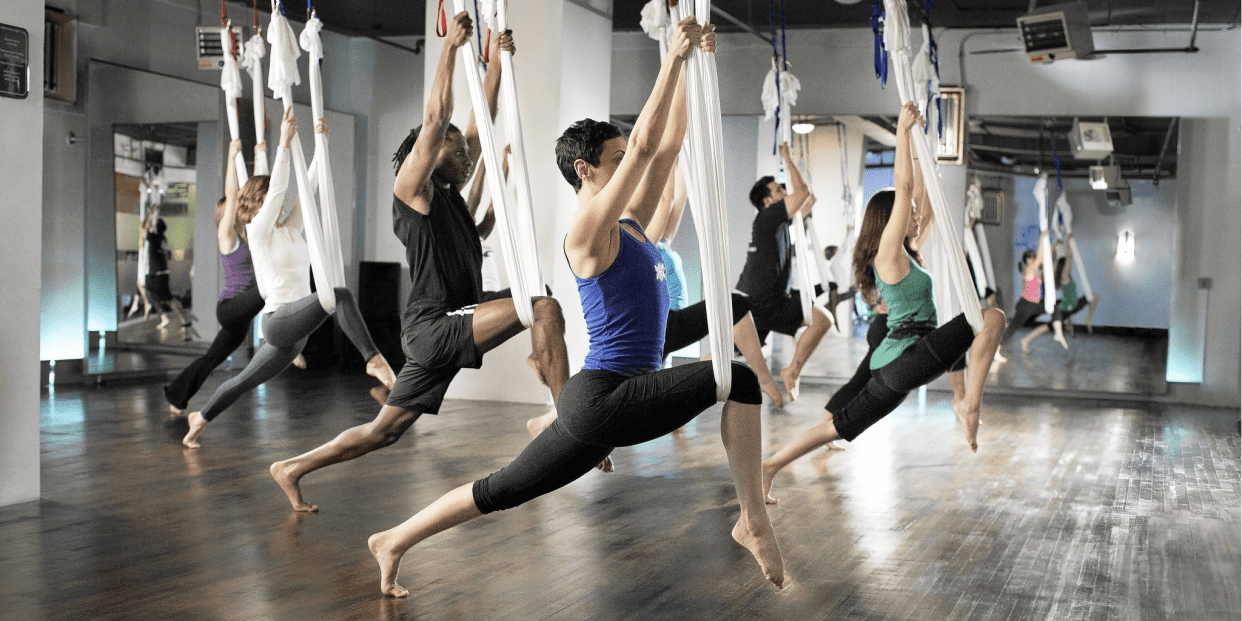 Highlights:
Small and personalized classes
Wide range of workshops
Virtual WebEx classes are also available
Mindful Movement aims to help its clients better understand their bodies. They offer small, personalized classes so that clients are given individual attention even within a group setting. Furthermore, if you have specific needs, injuries, or goals, the studio offers one-to-one private sessions too! On top of aerial yoga, the studio also offers a wide array of workshops including Pilates Classes, Breathing Workshops, Postural Awareness Workshops, Scoliosis Workshops, and BackCare Workshops. Whatever your fitness goal is, Mindful Movement will certainly help you to work towards it.
Address
11-07, 24 Raffles Place, Clifford Center, 048621
Contact Number
–
Business Hours
Monday and Tuesday 10 AM – 7:30 PM
Wednesday 10 AM – 9PM
Thursday 8 PM – 7:30 PM
Friday 8 AM –9 PM
Highlights:
First professional aerial studio in Singapore
Small Classes
Offers classes in aerial silks, lyra, static, trapeze, aerial yoga, stretch, inversions, dance as well as fitness
Along with a team of professionally qualified instructors, Aerial Fitness Studio is the first professional aerial studio in Singapore. As a result of their beginner courses, Aerial Fitness Studio makes it possible for anyone to be able to feel like an aerial acrobat. In addition, the studio aims at building the strength and muscle awareness of pure beginners with zero experience in yoga! In other words, if you are completely new to the fitness game or entirely unfamiliar with aerial yoga or yoga in general, fret not, because their Aerial Yoga Basics course will help you to start somewhere. The instructors at Aerial Fitness Studio will also make modifications according to your level of expertise and mobility limitations so you can rest assured that you are in great hands!
| | |
| --- | --- |
| Address | CT Hub 2, 114 Lavender Street #01 – 42, Singapore 338729 |
| Contact Number | See Website |
| Business Hours | Only open when there are classes |
Highlights:
Conveniently located across 6 locations island wide
Livestream yoga classes are also available
Offers the 5 elements of Yoga: space, air, fire, water, as well as earth.
Platinum Yoga offers traditional yoga practices like meditation as well as modern practices such as aerial yoga. Above all, the studio firmly believes that yoga is for everyone. Therefore, their instructors from all around the world are trained to work with clients of all skill levels. With 6 yoga centers across Singapore, you have the luxury to choose the studio that is nearest to you!
Highlights:
Incorporates weights, resistance bands, gilders as well as other props with aerial yoga
Suitable for all levels from beginners to seasoned pros
Single class options are also available
Motionwerkz Yoga interestingly incorporates weights, resistance bands, gilders and other props in their aerial yoga classes, which are also know as Swing classes. Each class size is limited to 8 people so that each client gets the attention they deserve. Classes are also available for experienced practitioners or complete newcomers or anyone in between! As you move your body through each pose, this workout would certainly help you to strengthen, tone and sculpt your muscle groups.
Address
2 Kallang Ave #07-22 CT Hub, Singapore 339407
Contact Number
8811 1483
Business Hours
Monday to Friday 12 PM – 9 PM
Saturday and Sunday 10.30 AM – 6 PM
Highlights:
Central location near Raffles Place MRT
Flexible membership plans
Small class sizes
With a host of experienced yoga instructors, Yoga Mala offers varying styles of yoga class that range from traditional Hatha, aerial yoga, prenatal yoga, as well as meditation. In their aerial yoga class, you will learn how to manoeuvre poses in a hammock safely with precise instructions on getting into, standing on, holding the fabric, going upside down, using the core as well as finding your balance. In addition to yoga classes for the public, Yoga Mala also has a yoga academy where they provide training for yoga teachers.
Address
49A, Circular Road, Singapore 049404
Contact Number
8498 1649
Business Hours
Monday to Friday 7 AM – 9 PM
Saturday 8.30 AM – 3 PM
Sunday 7 AM – 11 AM
Highlights:
Classes for kids are also available
Conveniently located near Lavender MRT
Complimentary towels and drinks
Trium Fitness is a fitness studio most popular for its aerial classes. They also pride in their top-quality services, and provide complimentary towels and drinks as well as clean showering facilities for their clients. On top of that, students of their aerial yoga class will get to enjoy the benefits of spinal decompression, pain relief and ease in inversions in addition to other physical benefits. Trium Fitness also conducts classes for kids so that you can get your little ones to start their yoga journey young!
| | |
| --- | --- |
| Address | 12 Kallang Ave, #03-01/02 Aperia Mall |
| Contact Number | 8782 8633 |
| Business Hours | See Website |
Highlights:
Classes for all skill levels
Affordable classes
Located in the heart of town in the CBD area
Club Yoga offers a variety of yoga classes including aerial, rope, as well as wheel. In addition, The studio aims to make yoga accessible to everyone through affordable classes and packages for all skill levels. With over 30 classes to choose from, Club Yoga has something for you, whether you are looking to try something new or an experienced practitioner seeking to enhance your practice!
| | |
| --- | --- |
| Address | 28B Hong Kong Street Singapore 059667 |
| Contact Number | 9144 4948 |
| Business Hours | See Website |
With more and more awareness about aerial yoga and its health benefits over the years, many of us are curious about the workout. Many of us, however, may shun away from it because it appears daunting to many on first look. But along with the right trainers and tools, aerial yoga is suitable for anyone and everyone! Certainly, with these Top 10 Aerial Yoga Classes in Singapore, you would be able to find one that suits your needs and fitness goals. So why not challenge yourself and push your limits with this fun and exciting activity? Go ahead, grab your fitness gears and start today!
Related posts