7 Best Acai Bowl Delivery in Singapore [2021]
Sarah, 6 months ago
6 min

read
1173
Over the past decade, the Acai berry has been a hot topic, according to Google Trends. Now that we have rising acai berry stores, we are thinking of ways to get Acai Bowl Delivery in Singapore.
Pronounced "Ah-SAI-EE", this particular berry gained popularity back in 2010 in many countries worldwide due to its association with topics like healthy "diet and nutrition", "weight loss" and "cleanse". 
What do we know about Acai Berries?
Whilst individuals here and there are searching for the next convenient and tasty weight loss fad, acai berry has a long history since they are native to Brazil. Peru, Trinidad and others in the Amazonian region.
In fact, these tiny berries actually grow on palm trees in floodplain areas and are quite difficult to harvest due to their perishable nature and if not frozen, they begin to ferment within 48 hours. 
Thus, this is why acai berries are generally quite expensive in Singapore especially since they are imported from far.
They aren't really 'berries', they're actually drupes (like peaches, plums and cherries)
Packed with antioxidants that can potentially reduce the risk of cancer
Known to reduce the bad "LDL" cholesterol
Proven to protect the brain from a build up of beta-amyloid which is known to cause Alzheimer's disease
In addition, Acai berries taste a mostly tart with a hint of sweetness.
Therefore, berries are best to form a base to many fruit bowls. You can add different toppings such as fruits and granola to perfect it.
If you're craving for acai at home, we recommend the best 7 Acai Bowl Delivery in Singapore.
At the Acai Lab, you get a one of a kind Acai experience that you can't easily attain here.
Above all, this store doesn't use the typical Acai base, they have their own signature Purpleblend™ that mixes Acai with other nutrient packed ingredients like other superberries (like elderberries and figs) in addition to vegan milk and banana.
As such, this gives a creamier base rather than pure berry puree that you would usually get at other places. At this store, you get to choose out of four different themes of acai bowls such as their signature, berry berries, tropical and fruity.
So, if you're looking for the best place for Acai bowls, this is the one for you. 
Starting from $9.90, grab yours today!
Website
Order | Instagram | Facebook
Contact Details
General Enquiries: [email protected]
Delivery Hours
Monday – Thursday | 11:00am – 10:15pm
Friday – Sunday | 11:00am – 12:15am
Delivery Details
* Free Delivery For Orders Above $40
* Island-wide Delivery
* No Minimum Order
Oatberry Café is the fruit of Oatberry founders' passion for creating healthy treats that appeal to both young and old. Nestled in a cozy corner under a block of flats in leafy Telok Blangah, Oatberry Cafe is modeled after what a comfortable, stylish, yet unpretentious living room would feel like.
A place where people can "Start The Day Right" with well-balanced menu offerings, put a smile on someone's face when surprising them with açaí bowl deliveries, or escape the heat with refreshing smoothies over a chat with friends.
Oatberry Cafe's açaí bowls are made with organic fair-trade açaí, so they not only taste good, but they also do good! They are topped with luxurious roasted macadamia butter and all-natural freshly baked granola, all made in-house.
| | |
| --- | --- |
| Website | Order | Facebook |
| Contact Details | +65 6962 1509 |
| Delivery Hours | Monday – Sunday | 11:00 AM – 07:30 PM |
| Delivery Details | * Free delivery with a minimum order of $75 |
Acai lovers in Singapore would definitely know this restaurant as they offer one of the more affordable options of Acai in Singapore and Acai is expensive (if you know how it's made, you know it's rightfully so).
With so many nutrients, antioxidants and benefits packed in this superfood, some might even feel the exorbitant cost for one meal might be worth it.
However, for those looking for decently priced options and amazing Keto-salads such as their salmon and tuna salads, Haakon is the perfect place for you and of course, they do delivery. Experience the Hygge (Danish: easy, comforting, content) lifestyle at Haakon.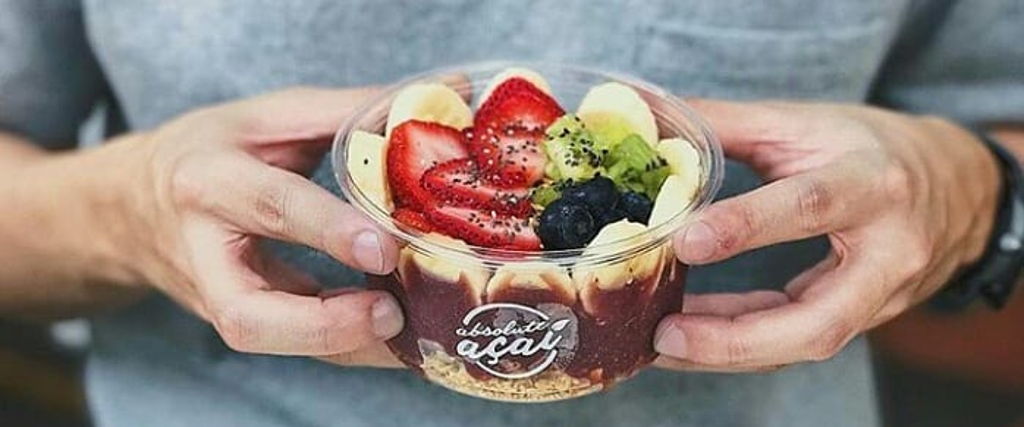 Absolute Acai offers an absolutely delectable acai bowl. With Absolute Acai, you can choose out of their preset bowls or if you're a picky eater.
You can customize your bowls — beginning with its size and then what dry, nut, fruit, superfood or drizzle toppings you ever so desire.
Want just a small taste? Absolute Acai is the best place for you to try. 
| | |
| --- | --- |
| Website | Menu | Deliveroo | Food Panda |
| Contact Details | +65 9141 7925 (Island-wide Delivery) |
| Delivery Details | Delivery is free for orders above $50.00 (to one destination) |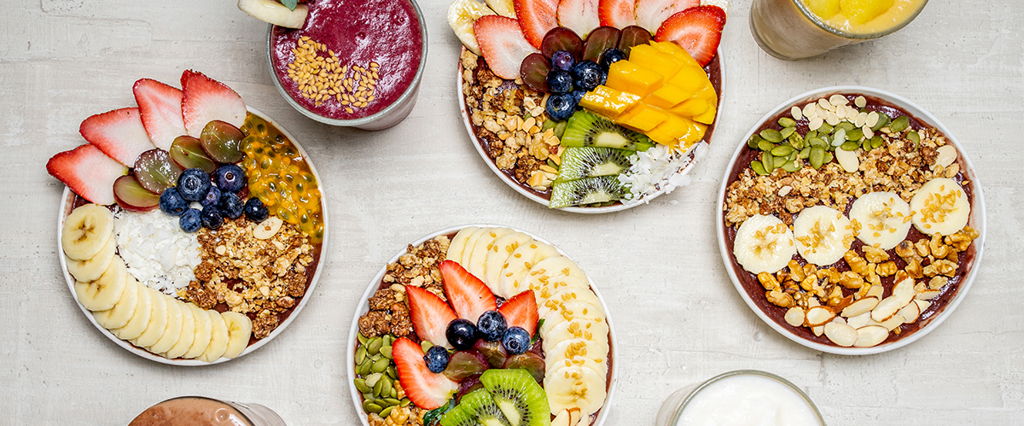 At Randy Indulgence, you can get Ready-to-eat Acai by the pint for acai meals for the week (or two days if you really love acai). My personal favourite is their Signature SHIOK Acai bowls for a familiar Singaporean spin on this healthy dish.
With so many varieties available in their website, I believe you will find an acai of your dreams!
With Shake Farm, not only do you get to customise your acai bowl (AMAZEbowl), their restaurant is so beautiful.
Make sure to check them out after COVID-19 turns better. Fret not! They do deliveries!
In addition, you can match your acai bowl with one of their nutritious shakes or their immunity boosters.
While acai is technically halal since it doesn't contain alcohol nor any meat products, for some of our Muslim-friends who want to buy more than just the acai, they can comfortably do so at Limaa!
On a side note
You can make your own Acai Bowls at home with GrateFood Co!
If you need acai as your consistent diet, making your own acai bowls might be a more sustainable option. Too much to finish? Instead, why not share your acai bowls with your family or friends?
Therefore, you can make your own bowls with toppings of your liking and have them at any time of the day.
Shop here to discover Gratefood's Acai Pulp here.

With that, we had presented you with the best 7 Acai Bowl Delivery in Singapore. May you have a great Acai day!
Related Topics: Best 5 Organic Food Delivery in Singapore
Top 10 Fruit Delivery Services in Singapore

Related posts