15 Best Acai Bowl Delivery in Singapore [2022]
angeline, 3 years ago
10 min

read
8442
Over the past decade, the Acai berry has been a hot topic, according to Google Trends. Now that we have rising Acai berry stores, we are thinking of ways to get Acai Bowl Delivery in Singapore.
Pronounced 'Ah-SAI-EE, this frozen dessert gained popularity back in 2010. It is favourited in many countries worldwide due to an increased interest in a healthy diet, weight loss, and health cleansing.
What do we know about Acai Berries?
Acai berry are native to Brazil, Peru, Trinidad, and other parts in the Amazonian region.
In fact, these tiny berries grow on palm trees in floodplain areas and are quite difficult to harvest due to their perishable nature, and if not frozen, they begin to ferment within 48 hours.
Thus, acai berries are generally expensive in Singapore.
They aren't really 'berries', they're actually drupes (like peaches, plums, and cherries)
Packed with antioxidants that can potentially reduce the risk of cancer
Known to reduce the bad "LDL" cholesterol
Proven to protect the brain from a build-up of beta-amyloid which is known to cause Alzheimer's disease
In addition, Acai berries taste a mostly tart with a hint of sweetness.
Therefore, these berries are the best to form a base for many fruit bowls. You can add different toppings such as fruits and granola to perfect it.
If you're craving for acai at home, we recommend these 15 best Acai Bowl Deliveries in Singapore.
Image Credit: The Acai Lab Official Website
At the Acai Lab, you get a one of a kind Acai experience that you can't easily attain anywhere else.
Above all, this store doesn't use the typical Acai base. They have their own signature Purpleblend™ that mixes Acai with other nutrient-packed ingredients like other super berries (like elderberries and figs) in addition to vegan milk and banana.
This gives a thick creamy base, unlike the usual pure berry puree. Here, you get to choose from four different acai bowls including their best-sellers; berry berries, tropical and fruity bowls.
So, if you're looking for a unique place for Acai bowls, this is the one for you.
Photo credit: Oatberry
Oatberry Café is the fruit of Oatberry founders' passion for creating healthy treats that appeal to both young and old. Nestled in a cozy corner under a block of flats in leafy Telok Blangah, Oatberry Cafe is modeled after what a comfortable, stylish, yet unpretentious living room would feel like.
A place where people can "Start The Day Right" with well-balanced menu offerings, put a smile on someone's face when surprising them with açaí bowl deliveries, or even escape the heat with refreshing smoothies over a chat with friends.
Oatberry Cafe's açaí bowls are made with organic fair-trade açaí, so they not only taste good, but they also do good! They are topped with luxurious roasted macadamia butter and all-natural freshly baked granola, all made in-house.
Photo credit: Haakon
Acai lovers in Singapore would definitely know this store as they offer one of the more affordable options of Acai in Singapore when Acai is known to be expensive.
There are many nutrients, antioxidants, and benefits packed in this superfood. Some might even feel the exorbitant cost for one meal might be worth it.
Furthermore, for those looking for affordable Keto-salads, Haakon is the perfect place for you. They offer salad bowls such as salmon and tuna salads. Of course, they also do delivery. You can experience the easy and comforting lifestyle at Haakon.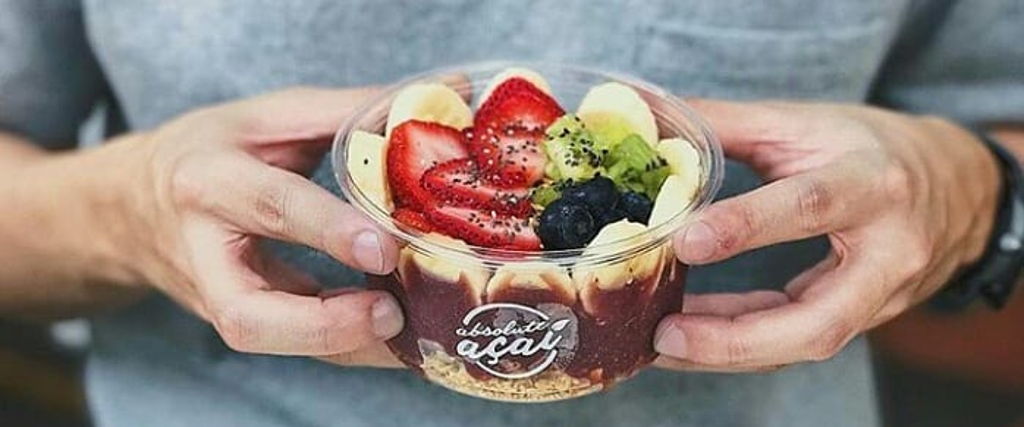 Photo credit: Absolute Acai
Absolute Acai offers an absolutely delectable acai bowl. You can choose from their range of preset bowls.
If you're a picky eater, you can customize your bowls — beginning with its size and then what dry, nut, fruit, superfood, or drizzle toppings you ever so desire.
Want just a small taste? Absolute Acai is the best place for you to try.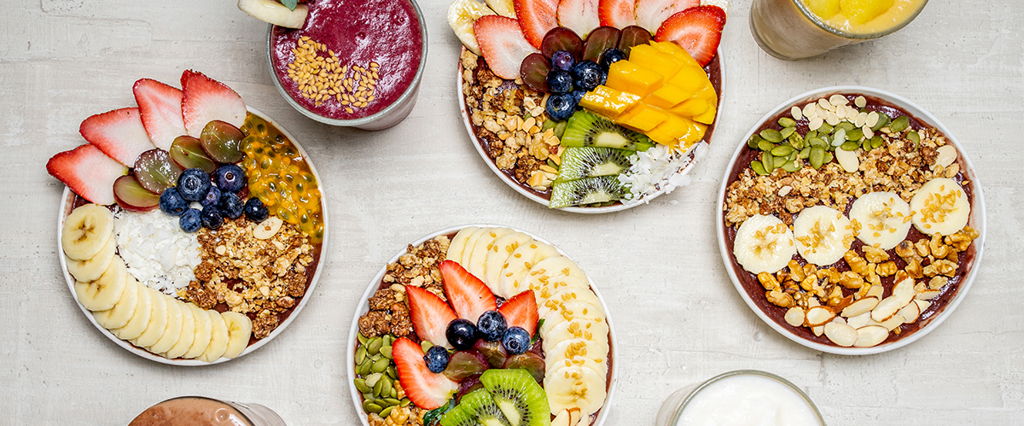 Photo credit: Randy Indulgence
At Randy Indulgence, you can get Ready-to-eat Acai by the pint for acai meals for the week (or two days if you really love acai). Their Signature SHIOK Acai bowls are a must-try for a familiar Singaporean spin on this healthy dish.
With so many varieties available on their website, you are bound to find one that suits your tastes buds!
Photo credit: Healthy in SG
With Shake Farm, you can customize your acai bowl (AMAZEbowl). Make sure to check them out if you are craving for Acai. But fret not, they also do deliveries. In addition, you can match your acai bowl with their nutritious shakes or immunity boosters.
Photo credit: Seth Lui
While acai is technically halal since it doesn't contain alcohol nor any meat products, for some of our Muslim-friends who want to buy more than just the acai, they can comfortably do so at Limaa!
Image Credit: Moam Poke and Acai
At Moam Poke and Acai, you'll get food that's not just delicious, but healthy as well. They aim to change the perception of healthy eating being a hassle, and thus, strive to provide their customers with the perfect guilt-free meals.
You can choose from their range of poke bowls, then pick out an acai bowl as a dessert for a sweet ending. What's even better is that they offer island-wide delivery, so you'll be able to satisfy your acai cravings no matter wherever.
Image Credit: Coocaça
Coocaça is known for their unique acai bowls, including Pure Vida (topped with Granola, Fresh Fruit, Coconut flakes), Sao Paolo (topped with Almond butter, Coconut flakes, Granola, Cacao nibs and Goji berries) and Big Surf (topped with Granola, Banana, Pomegranate, Coconut flakes and Honey)
Apart from soft-served acai bowls, Coocaça also specialises in other healthy treats including frozen yogurt refreshing smoothies and smoothie bowls. Their central locations also enable you to grab a healthy snack during your breaks from work!
Image Credit: Smoof.co
Smoof is a start-up that focuses on delivering delicious smoothies and frozen desserts featuring superfoods that that are healthy and nutritious. They carry a wide range of superfood desserts to cater to your various nutritional needs.
On their website, they offer many toppings along with generous acai pints for you to customise your desired acai bowl in the comfort of your own home. This is especially great for picky-eaters as you get to decide everything that goes into your acai bowl from scratch.
Image Credit: The Good Boys
The Good Boys has a long standing history of serving a range of quality health foods. Their menu features a wide variety ranging from açai bowls to healthy poke bowls. They also carry customisable options for pickier eaters.
They focus heavily on quality ingredients and service, meaning that all their staff are welcoming and ingredients used are nothing short of the finest. If you're in need of a caffeine kick, their coffees are brewed and freshly made in-house as well.
Image Credit: Oh Some Bowls
Oh Some Bowls has got your back if you're craving salads, poke bowls, or even japanese healthy cuisine. Their large variety is also paired with relatively affordable prices, so eating healthy won't feel like you're stabbing your wallet.
Their best sellers include the Salmon Poke Bowl, Beef Bowl as well as the Awesome Salad, which allows you to pick from a range of condiments and bases, so you know and get to decide what goes into your diet specifically.
Image Credit: Project Acai
From what started out as a local business in Singapore, Project Acai aims to share the goodness of health and superfoods with a greater audience. They ensure that their acai is freshly made without any forms of preservatives, which can be harmful to the body.
At Project Acai, the acai is blended freshly in-house using Sambazon Superfruit acai packs. This means that you'll be served the freshest acai there is. They feature a range of classic must-try acai bowls and even acai smoothies, which are great for convenience on – the – go.
Image Credit: An Acai Affair
An Acai Affair aims to bring fun into eating healthy. Their acai is fresh, organic and is GMO-free, along with other great factors. They promise that their acai bowls are made the freshest and are the most organic, meaning that they have the lowest calorie and sugar levels.
Their acai is not just aesthetically-pleasing for the gram, but is also packed with nutrients and vitamins that you'll want in your diet. Their acai options are aplenty, so you're bound to discover your new favourite here.
Image Credit: The Acai Collective
The Acai Collective believes in using unsweetened, organic, acai and frozen bananas for their acai bases, This means that you'll be ensured that your acai is 100% pure with no added sugar and sweeteners!
They carry the first Acerola (sweet citrus acerola cherry base is a blend of organic acerola, bananas and mangoes) and Spirulina bowls (premium spirulina base is blended with frozen banana and kiwis) in Singapore, so you'll want to check them out to try these delicacies for yourself.
On a side note
You can make your own Acai Bowls at home with GrateFood Co!
If you need acai as your consistent diet, making your own acai bowls might be a more sustainable option. Too much to finish? Instead, why not share your acai bowls with your family or friends?
Shop here to discover Gratefood's Acai Pulp here.
To Conclude
Acai can be enjoyed anywhere, at any time. Do you know what goes well with your Acai Bowl other than fruits? It's Honey! If you are keen, we have a list of local honey brands for you to choose from. Or our list of manuka honey, which gives you all the organic benefits you might need.
If you are interested, you can find out more from our list of places that offer organic food delivery for your organic food supplies. Likewise, you can read more on our list of keto-friendly restaurants to get into the routine of clean-eating.
With that, we had presented you with the best 15 Acai Bowl Delivery in Singapore.

Related posts
Subscribe for newsletter
* You will receive the latest news and updates on Singapore's best trends!